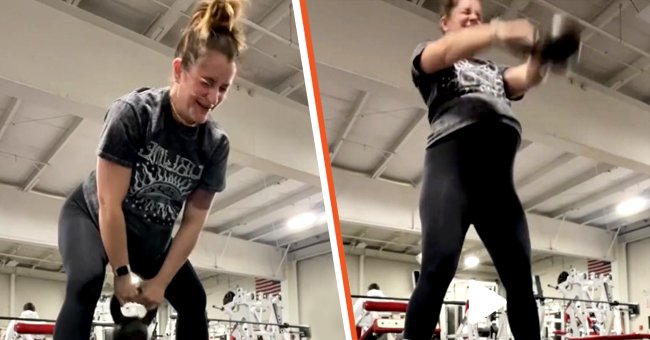 tiktok.com/weirdjaime
38-Weeks-Pregnant Woman Swings Heavy Kettlebell, Feels Her Baby Bump 'Drop Down' Moments Later
Pregnant women experience the most dramatic changes on the planet from the time of conception to delivery. This calls for the need to stay healthy and fit.
This was exactly what a 38-week pregnant woman was doing when she swung a heavy kettlebell before her baby bump dropped down. Every pregnant woman goes through discomfort, no matter how little, from the morning sickness, constant nausea, and body aches.
This is because a new child is growing inside them, and while science has tried to describe it, none other than a pregnant woman understands how it truly feels to house another human.
Picture of Jaime during her workout session | Source: tiktok/weirdjaime
A pregnant woman needs proper care, even though many have argued that it is not healthy for them to be involved in exercise and any fitness routine at all.
Despite the studies or medical opinions about how essential it is for expectant mothers to exercise and keep up daily routines, which makes them less likely to encounter labor problems, there have been lingering debates on the subject.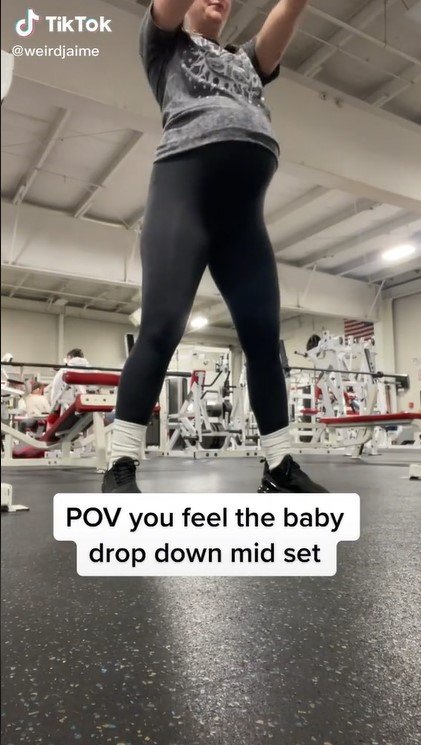 Picture of Jaime during her workout session | Source: tiktok/weirdjaime
However, Jaime is not taking any chances and has committed herself to a fitness journey. Even though the pregnant mother faced backlash from her online audience, she chose to stay true to her identity as an active mother-to-be.
JAIME'S POST VIA HER TIKTOK ACCOUNT THAT WENT VIRAL
Via her TikTok account @WeirdJaime, the 38-weeks-pregnant woman has been generous in sharing details about her lifestyle, which includes workout routines that are religiously followed.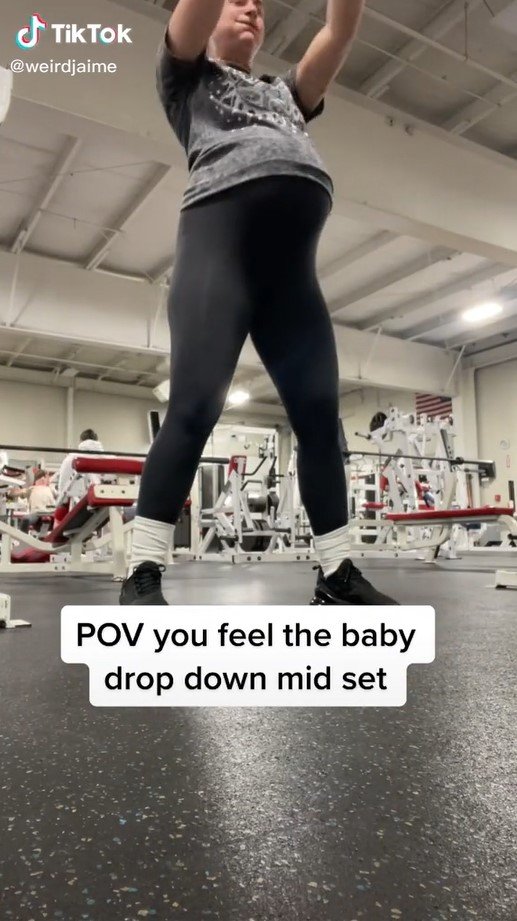 Picture of Jaime during her workout session | Source: tiktok/weirdjaime
In March 2022, she posted an update that gained the audience of many internet users. In the clip, Jaime, dressed in leggings, a round-neck top, and gym shoes, could be seen swinging a kettlebell.
She performed the tasking exercise of carrying the kettlebell to chest height and releasing it down to rest in between her legs as she crouched.
A few seconds into the routine, Jaime's baby bump dropped down. The effects of this tremendous change halted the expectant mother, who frowned a little before breaking her face into adorable laughter.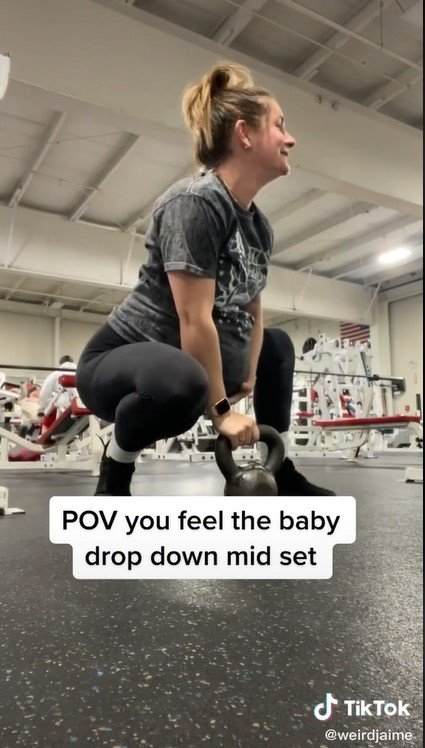 Picture of Jaime during her workout session | Source: tiktok/weirdjaime
Jaime stopped the exercise to hold her baby bump after squatting. In the uploaded clip was her confession of everything that went on at the gym via the caption that read:
"POV you feel the baby drop down mid-set. I nearly peed myself."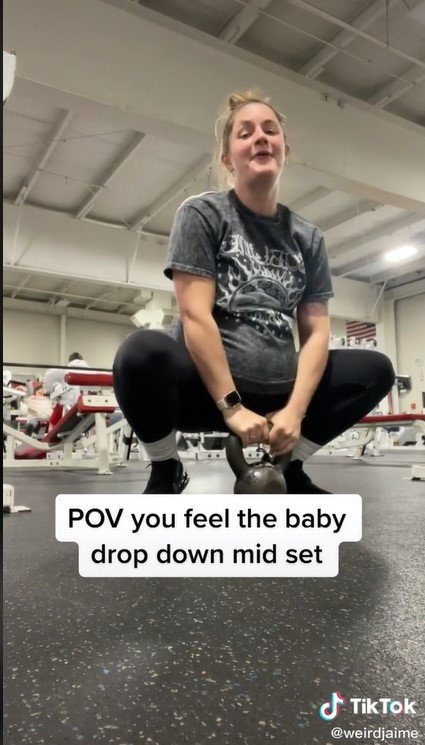 Picture of Jaime during her workout session | Source: tiktok/weirdjaime
The video garnered about 550.2k likes and hundreds of comments from people who were shocked to witness the baby bump-dropping moment.
Some argued that the exercise was grueling, while others found it inspiring, as they agreed with Jaime that the baby really shifted. One person quipped, "Oh wow!! I saw baby drop from here!!!" Another added, "Lol, I saw it !!!"
A third commenter maintained that the baby was protesting. The TikToker wrote, "Lol baby is like that's it i have had enough!" This was one of the comments that caught Jaime's attention, to which she replied, "He should be used to it, haha, a few weeks ago I was squatting & deadlifting still."
Even though Jaime expected her son to be used to it, she fell tired after the day's work, admitting that the exercise made her nap all day.
LIFE AFTER THE VIRAL POST
Ultimately, Jaime concentrated on her followers' positive comments and words of encouragement, and she maintained her strict routine.
She shared a video of herself working out in front of a garage in another post. Although she was not in the gym this time, Jaime's routine involved gym equipment, and she had a partner. She used the medium to thank her loved ones. She wrote:
"Thank you for all of your support. The sunshine fills my spirit and refreshes my soul. Garage workout season is officially back in session."
A few weeks later, Jaime stunned her followers with the birth arrival news of her son, born on April 18, 2022. The clip showed mother and child in healthy conditions.
Jaime and her husband cradled their adorable little creature, showing that they could not be more proud to have such a charmer weighing 9lb 2oz.
THE STORY OF ANOTHER WORKOUT MOM
Jaime's workout posts bring to the forefront people's opinions about a pregnant woman staying fit and lifting gym equipment. As established earlier, some people choose not to conform to medical opinions and would rather criticize women who want to.
While this is a prevalent situation, for people like Melissa Mantor, who decided to exercise, she was faced with a different situation—what she termed discrimination and embarrassment from a gym.
In 2014, the expectant mom alleged that she was instructed to cover up or risk losing her membership card at Planet Fitness. According to Mantor, she wore a tank top (which she has always worn except that she was pregnant and had a different fit) but was told by a staff member that she violated the gym's dress code because her "belly was hanging out."
Mantor, who was 19 weeks along, was given an oversized shirt and asked to cover up or forsake her membership.
Later, the expectant mom, who possibly left the facility, claimed that many lawyers reached out to her in an attempt to sue the gym; however, she refused, adding that it would be a disservice to the other gym members.
Mantor left the gym and chose to remain at home, practicing with DVDs. She explained that the incident made her feel judged; however, the pregnant mother did not stop in her tracks for fitness—making her pregnancy all about her and her baby's health!
Please fill in your e-mail so we can share with you our top stories!
The information in this article is not intended or implied to be a substitute for professional medical advice, diagnosis or treatment. All content, including text, and images contained on news.AmoMama.com, or available through news.AmoMama.com is for general information purposes only. news.AmoMama.com does not take responsibility for any action taken as a result of reading this article. Before undertaking any course of treatment please consult with your healthcare provider.