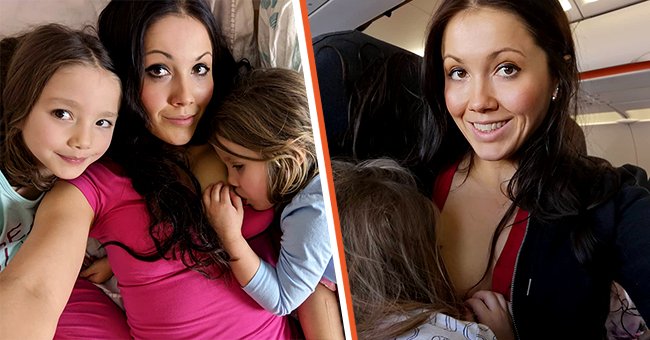 Mei Lan and her children | Source: instagram.com/sophiemeilan_
Mom Breastfeeds 7-Year-Old Daughter before and after School, Says It's Completely Natural
Many people were appalled when a mother breastfed her daughter past the expected timeframe. However, the woman stuck to what felt right for her family. Read her unique story and discover how she responded to the critique.
Mothers have to make various personal and difficult decisions when welcoming children into the world. Using milk formula or breastfeeding are just a few of the choices moms grapple with.
While outsiders often offer their opinions, the final say belongs to the mother. Sadly, woman's decisions aren't always respected, and one woman faced severe backlash because she opted for extended breastfeeding with her kids.
The Mother Defended Her Decision
Sophie Mei Lan is a proud mother of two girls, Jasmine and Ariana. When the Wakefield, England, mother discovered she was pregnant with her first child, she bought formula and had no strong feelings about breastfeeding.
However, things changed when she became a mom and found that breastfeeding was soothing. She did research and felt confident with her decision to supply milk for her kids until they were ready to stop.
In 2017, she was still breastfeeding her five-year-old, and while people had a lot to say about her decision, Mei Lan noted:
"I don't think there's anything strange about feeding your children. Breast milk is nourishing, soothing and it's free. I must have saved thousands of pounds over the years."
Her Husband's Reaction
Mei Lan's extended breastfeeding came with various challenges, including turmoil in her marriage with her husband, Chris Hale. She developed a tight bond with her daughters, but it came at a price.
Chris slept in a separate bed so that Jasmine and Ariana could latch onto their mom for a feed before going to sleep each night. The routine created some distance between the couple. Mei Lan shared:
"It's caused a bit of friction in my relationship. Chris would like me to stop because it's so tiring. We do argue about it, but we know breast milk is one of the healthiest things we can give our children."
She Will Stop When Her Daughters Are Ready
The mother of two had no precise timeframe for ending her breastfeeding routine, but she showed a desire to stop because it was extremely taxing on her body.
However, Mei Lan believed her daughters would stop asking for milk when they were ready. She told her eldest daughter that most kids at her school would not be feeding, but the girl wasn't worried.
In 2019, a then-seven-year-old Jasmine attended a mainstream educational establishment and continued to ask for milk before and after school.
She Aimed to Normalize Breastfeeding
As Mei Lan's girls grew older, people continued to criticize her, and she received more looks of disapproval—however, she ignored them and did what felt right for her family. She said:
"I did feel more embarrassed as the girls got older but it's not my problem that people have decided to sexualize it in a way that makes it seem 'abnormal' as it's completely natural to breastfeed."
Despite the backlash, Mei Lan's mission to normalize breastfeeding persevered. She was working on a children's book about older children breastfeeding and hoped that the stories and images would encourage others to accept it.
The Breastfeeding Ended after Her Breakup
In 2020, Mei Lan revealed that she split from her husband, and after the breakup, both her daughters stopped breastfeeding. The decision was made for logistical purposes.
The single mother explained: "The girls now spend a proportion of their time with their dad and wouldn't be able to breastfeed every day."
People Said It Was Child Cruelty
Mei Lan stood by her actions through the ups and downs, including being labeled a "child abuser." While it wasn't easy being accused of child cruelty, she enjoyed challenging the naysayers. She noted:
"I enjoyed challenging backlash in the street as it was interested to know why I should 'put it away' or how in any way it was 'child cruelty.'"
She Encourages Women to Do What Feels Right
For Mei Lan, the justification for extended breastfeeding was simple—she did what felt right for her children. After doing research, the mother felt safe continuing to produce milk until the girls no longer asked for it.
She doesn't urge other moms to follow her actions, but she does encourage them to do what feels best for their families. She expressed:
"I wouldn't say that other women should breastfeed for as long as I did. Just do it for as long as it works for you."
Mei Lan also shared that breastfeeding improved her mental health because she knew she was doing the best for her daughters. At first, the feeding felt alien to her, but over time it got better, and she added: "I went on to do it for 12 years."
She Is Happy to Have Her Body Back
When Mei Lan's girls stopped asking for milk in 2019, the mother didn't want them to stop. But after some time away from breastfeeding, she realized it was for the best. She shared:
"Even though I didn't initially want to stop last year, I am now pleased to have my body back and it's nice that the girls just want a cuddle now rather than milk."
Mei Lan's journey with breastfeeding was challenging and unique, but her message to other moms is universal—do whatever is best for your children because mothers genuinely do know best.
Click here for another unusual story about a father who caught someone breastfeeding his baby. The dad realized his four-month-old was no longer drinking formula and was shocked when he saw his mother-in-law supplying milk.
Please fill in your e-mail so we can share with you our top stories!
The information in this article is not intended or implied to be a substitute for professional medical advice, diagnosis or treatment. All content, including text, and images contained on news.AmoMama.com, or available through news.AmoMama.com is for general information purposes only. news.AmoMama.com does not take responsibility for any action taken as a result of reading this article. Before undertaking any course of treatment please consult with your healthcare provider.