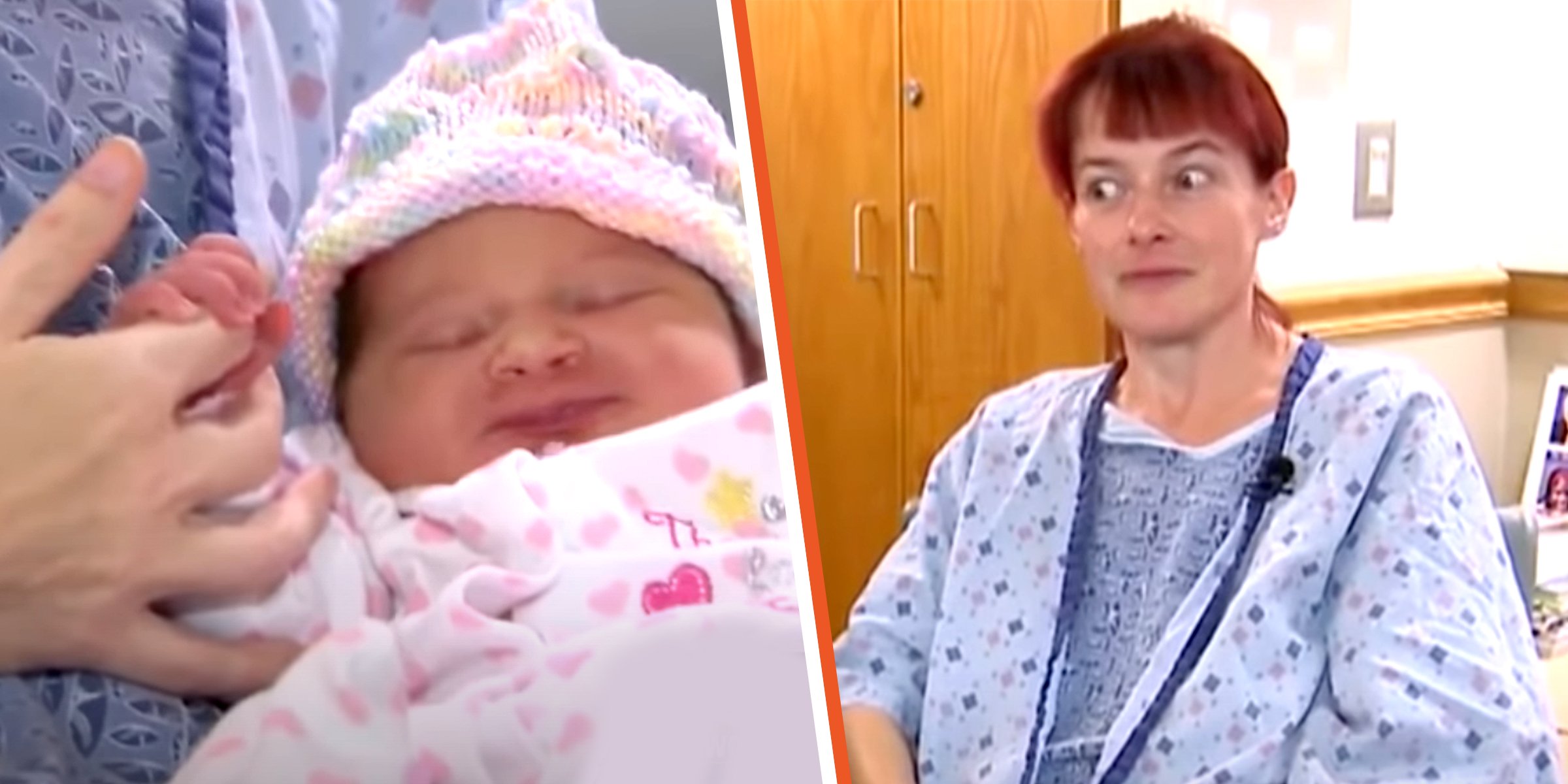 youtube.com/WCVB Channel 5 Boston
Childless 47-Year-Old Goes to Hospital with Strong Pains, Holds a Newborn in Her Hands 1 Hour Later
When a woman in her late forties felt severe abdominal pains, she became uncomfortable and decided to seek medical help. Shortly afterward, she rushed to the hospital, and what happened next was something she never saw coming.
Life hardly ever goes smoothly. Sometimes when things don't go as planned, people might feel baffled or disappointed. They might also experience indescribable emotions, ranging from plain shock and confusion to sheer amazement and joy.
Nobody can predict what the future holds, but having faith that things will eventually get better might provide comfort when we're going through trying times. Interestingly enough, the story we're sharing today encapsulates a similar theme.
Jason and Judy Brown. | Source: youtube.com/WCVB Channel 5 Boston
A couple from Beverly, Massachusetts, had a remarkable experience that changed their lives most unexpectedly and left them at a severe loss for words. Judy and Jason Brown couldn't have dreamed of what 2015 had in store.
It all began when the then-47-year-old Judy experienced terrible pain in her stomach. Initially, she hoped that the pain would subside with time, but to her utter dismay, it only intensified.
THE GROWING STOMACH PAINS
The more she waited, the more severe her abdominal pain became. She told her husband she needed to go to the hospital when she couldn't take it anymore and sought medical advice and a proper diagnosis. Judy and Jason went straight to Beverly Hospital in Beverly, Massachusetts.
Judy recalled that she attributed her growing stomach to weight gain and all her body's physical changes given her age. She said she even thought her bulging belly had something to do with her entering menopause.
Dr. Kimberly Gecsi, an obstetrician and gynecologist at the University Hospitals Case Medical Center in Cleveland, explained that some women don't realize they are pregnant until shortly before labor.
The woman explained that she was suffering from severe abdominal pain and the doctors immediately started examining her. According to WCVB, Judy also thought the pain was caused by a blockage or gall stone.
After a physical exam, the Browns said they received a piece of surprising news — one they never thought they would hear. According to Judy, the doctors told her:
"It's good news, you don't have any blockages or anything. You are pregnant - and you are going to have her now."
The Beverly couple stared at the medical staff in utter disbelief, thinking that perhaps they had misdiagnosed Judy. Moreover, Judy admitted it was the last diagnosis she expected because the mere idea of it was incredibly baffling. She told ABC News:
"It was a little bit scary getting into the hospital thinking something really bad was going on. To understand and take in that was I pregnant and was about to go into labor … it was very overwhelming."
WELCOME TO THE WORLD, BABY CAROLYN
Almost an hour later, Judy gave birth to a healthy eight-pound, two-ounce baby girl. She and her husband of 22 years welcomed Carolyn Rose, named after the couple's mothers, into their lives most unusually.
In an interview with the news outlet WCVB, the new dad cradled his daughter while the new mom lovingly gazed at her beautiful family. It was the biggest surprise of their lives and one they never thought they would embrace this way.
The surreal birth experience was just about as shocking for Jason as for his wife. According to Judy, Rose quickly became "daddy's little girl" and didn't want to let him go. Jason confessed:
"I feel like I am still going to wake up in the emergency room and say: 'Hey, this is only a dream. It felt so real.'"
Meanwhile, the Browns admitted that after being married for more than two decades, they didn't think they would embrace parenthood at a much later stage in their lives. Judy expressed:
"After being married for 22 years, it really wasn't coming up being pregnant. It was not really there in my mind."
Dr. Kimberly Gecsi, an obstetrician and gynecologist at the University Hospitals Case Medical Center in Cleveland, explained that some women don't realize they are pregnant until shortly before labor.
According to WCVB, the Browns borrowed a bassinet and a stroller to take their little princess home as their loved ones worked to help them get things ready for the surprise arrival.
The doting dad also said he wished to remain a family of three and had plans to opt for a vasectomy. Isn't this an incredibly heartwarming story? What are your biggest takeaways from Judy and Jason's incredible parental experience?
In all honesty, this story is a resounding reminder that miracles happen when we least expect them, and they have the power to alter our lives most beautifully. If you enjoyed reading this story, don't forget to share it with your family and friends.
Here's another story that you might like, and it's about a woman who found out she was pregnant only when she started giving birth at the A&E. Click here to read the whole story.
Please fill in your e-mail so we can share with you our top stories!
The information in this article is not intended or implied to be a substitute for professional medical advice, diagnosis or treatment. All content, including text, and images contained on news.AmoMama.com, or available through news.AmoMama.com is for general information purposes only. news.AmoMama.com does not take responsibility for any action taken as a result of reading this article. Before undertaking any course of treatment please consult with your healthcare provider.