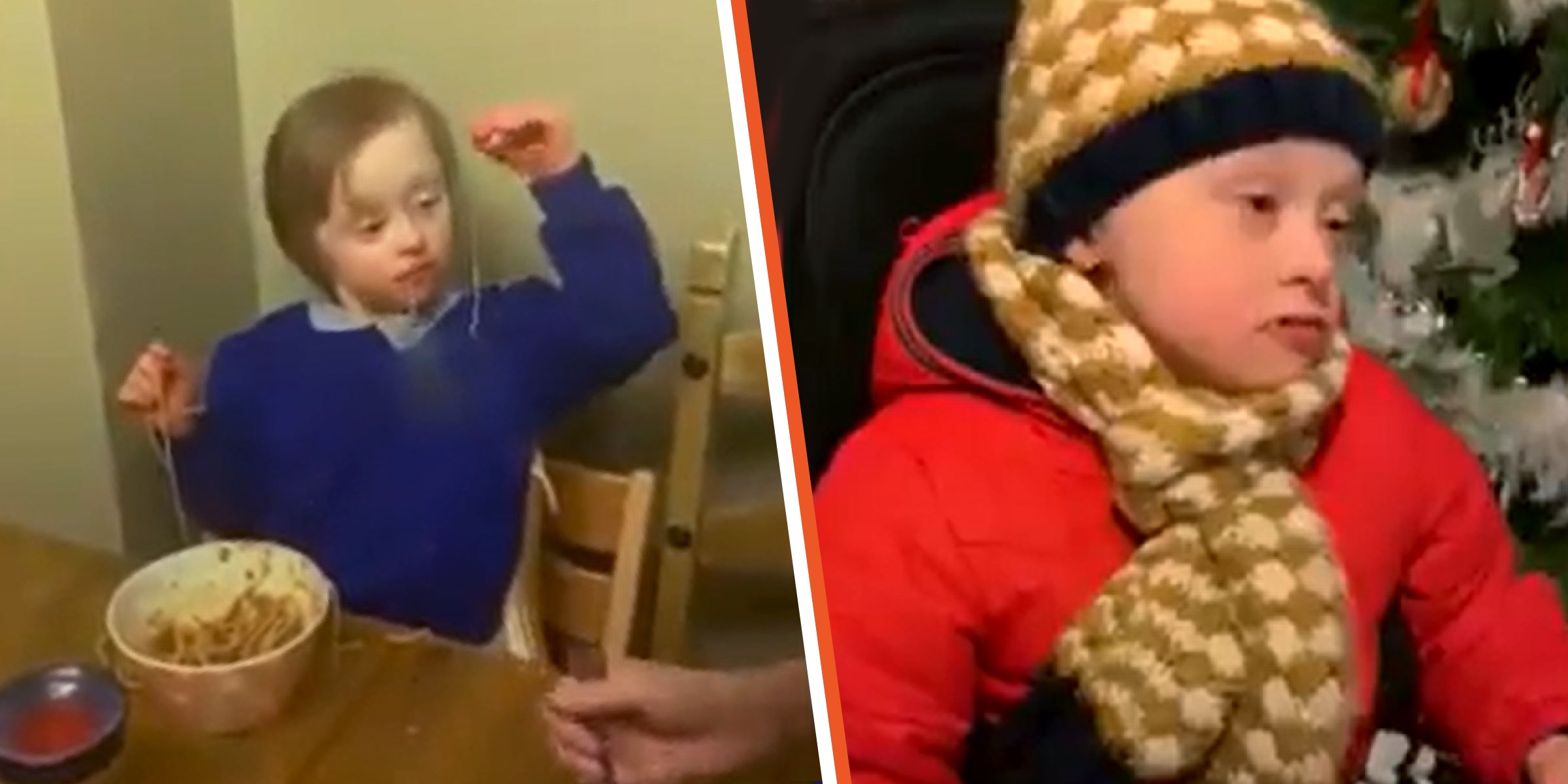 twitter.com/PA
Woman Gives Birth to Twins with Down Syndrome, Raises Them Alone after Their Dad Left
After a massive heartbreak, a woman discovered she was pregnant with twins. Later, she learned that her little ones had the same condition as their older sister. Please keep reading to discover how this mother took it upon herself to handle life's many difficulties.
Being a parent isn't an easy feat. Parenthood is a rollercoaster ride filled with numerous struggles, and every new turn comes with unique challenges. Some days might be more demanding than the rest, but the one thing that keeps parents going is the love and devotion for their little ones.
Every child deserves a loving parent and a home where they will always feel loved and protected. Sometimes, people might undergo challenging circumstances to be the best possible parents. Today's story is about a mother who refused to give up in the face of adversity.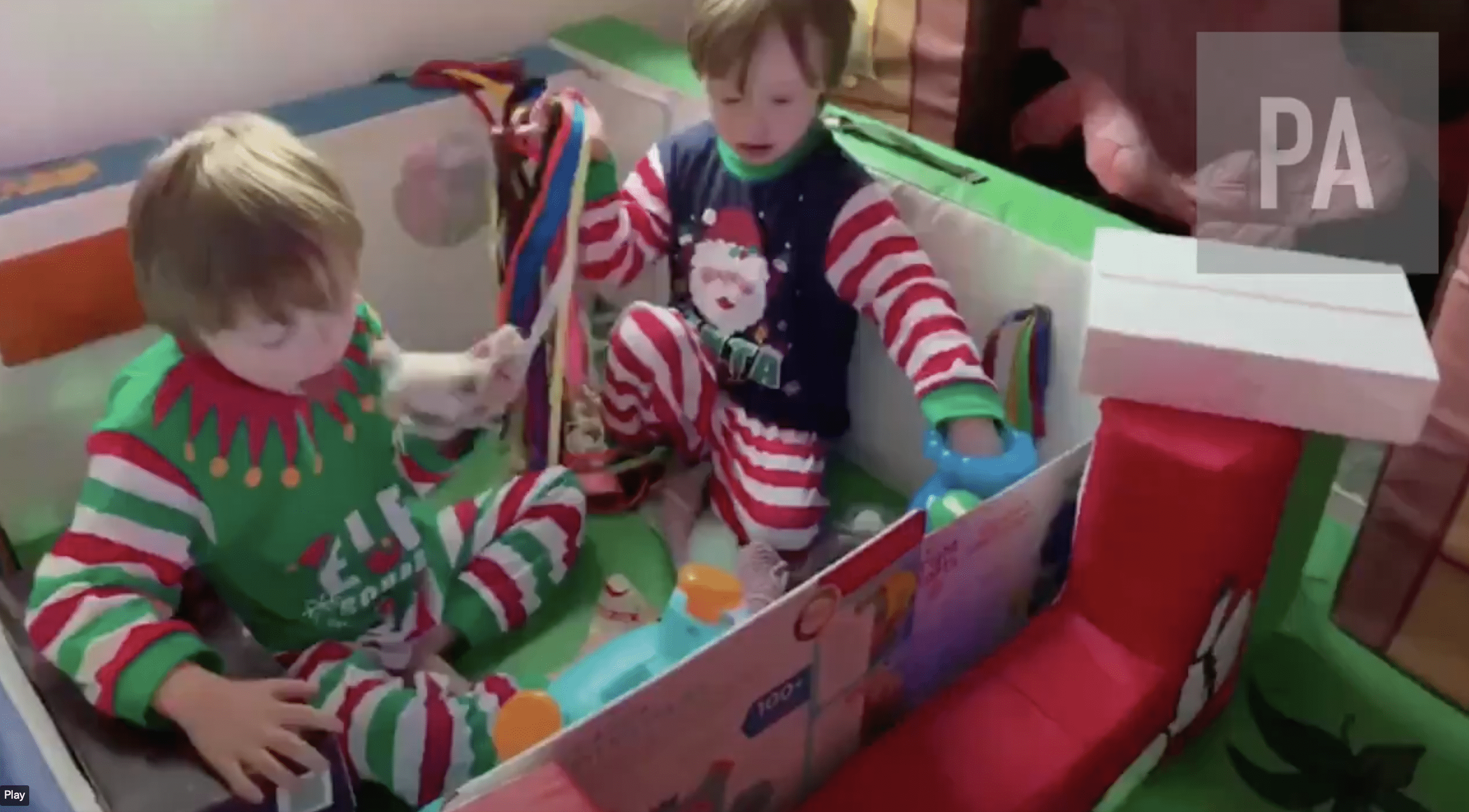 Emma Mullard's twin boys, Arthur and Alfie. | Source: twitter.com/PA
Emma Mullard, from Preston, Lancashire, England, was a mother to two boys, Harry and Ben, and a girl, Elsie. She went on to have another baby, a little girl named Molly. However, the subsequent events were such that Molly couldn't come home to join the rest of her family.
But when Mullard laid eyes on her babies for the first time, she saw their unmistakable features and knew they had the same condition as their older sister.
Ms. Mullard shared that her baby girl was born with an array of Down's syndrome-related problems, including a heart murmur and under-developed lungs. Molly was put on a life support machine that kept her alive for five months.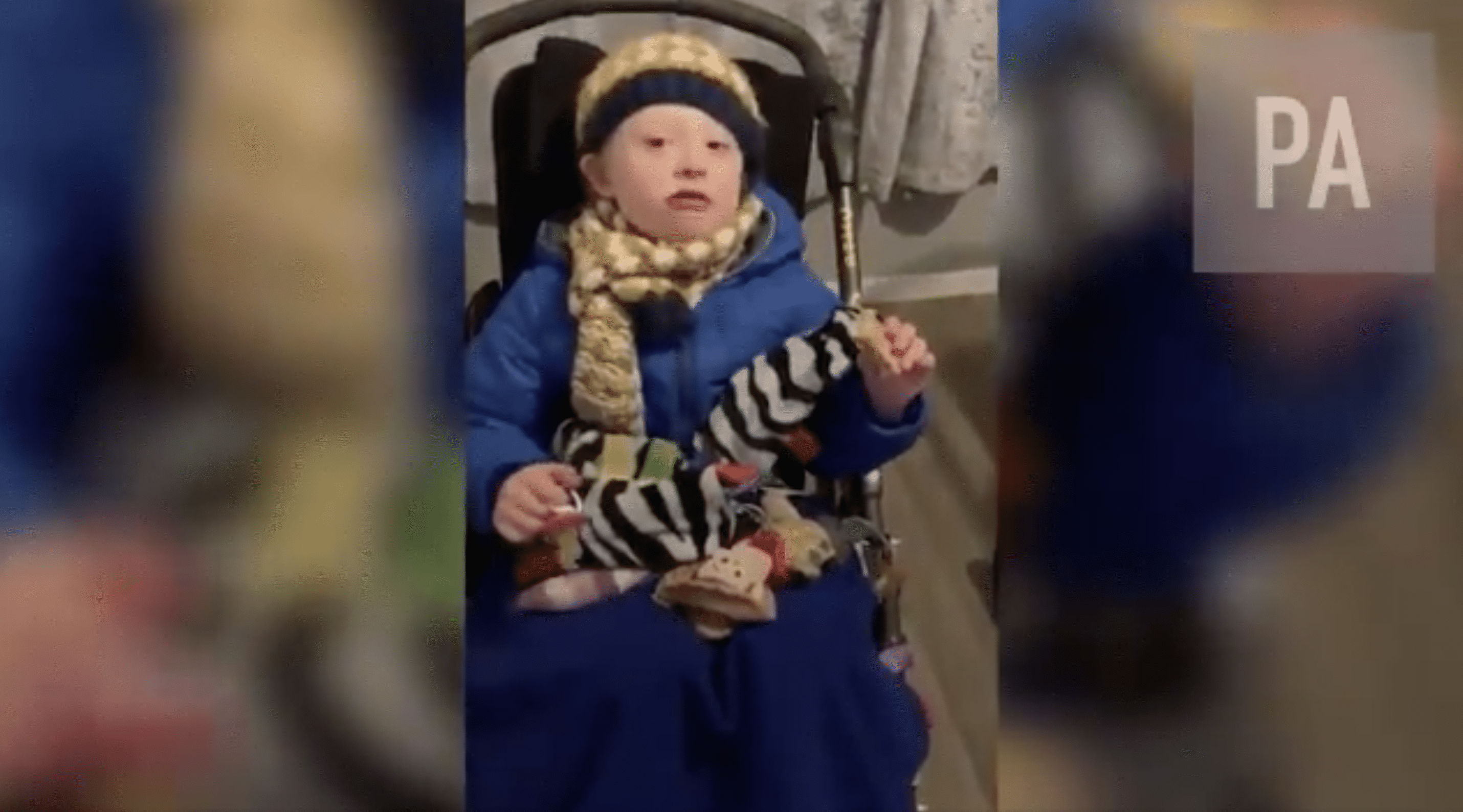 One of Emma Mullard's twin boys is pictured in a stroller. | Source: twitter.com/PA
In August 2011, Mullard said the hardest and most painful goodbye to her baby girl. The heartbroken mother recalled:
"[Molly] didn't even come home. I knew she had Down's syndrome when I was pregnant but she was born with everything possible connected to it wrong with her. The hospital did everything possible to keep her alive, but it just wasn't enough, so we removed life support and said goodbye."
Only weeks later, the then-mom-of-three received another astonishing news — she was pregnant again. Then, she learned she was carrying twins, and the news came as a breath of fresh air after a period of grief and heartbreak.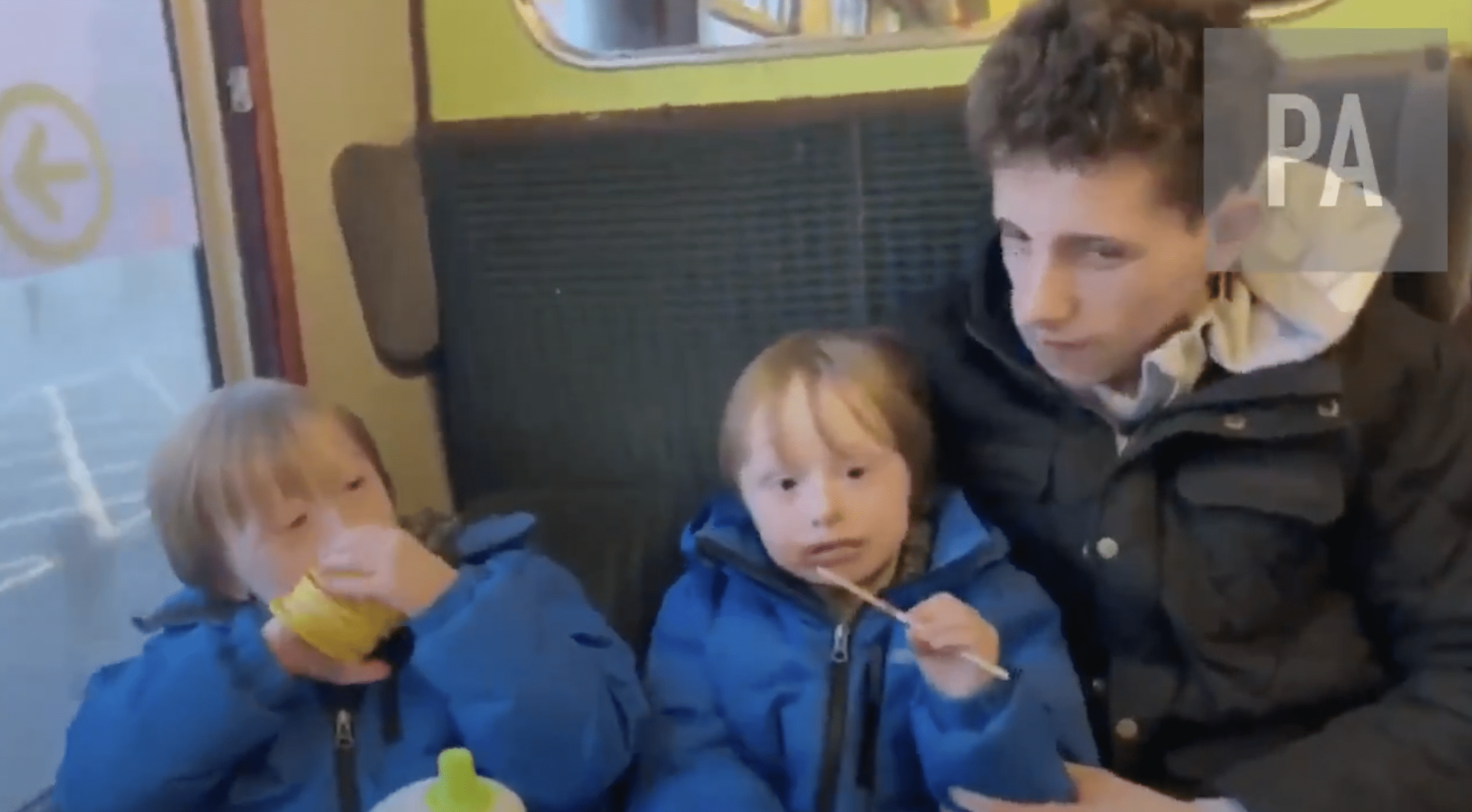 Twins Arthur and Alfie are pictured with their older brother. | Source: twitter.com/PA
EMBRACING MOTHERHOOD AGAIN
Mullard, who was 36 then, discovered at her 11-week scan that her twins were showing signs of developmental problems that the doctors could not diagnose. She recounted:
"When I found out I was having [the twins], I thought to myself, 'They're not going to have Down's syndrome, which is caused by an extra chromosome, because it's too unlikely.'"
On July 4, 2012, at the Royal Preston Hospital, Mullard gave birth to Arthur and Alfie via C-section at 36 weeks. The twins weighed 6lbs and 6lbs 12oz, respectively.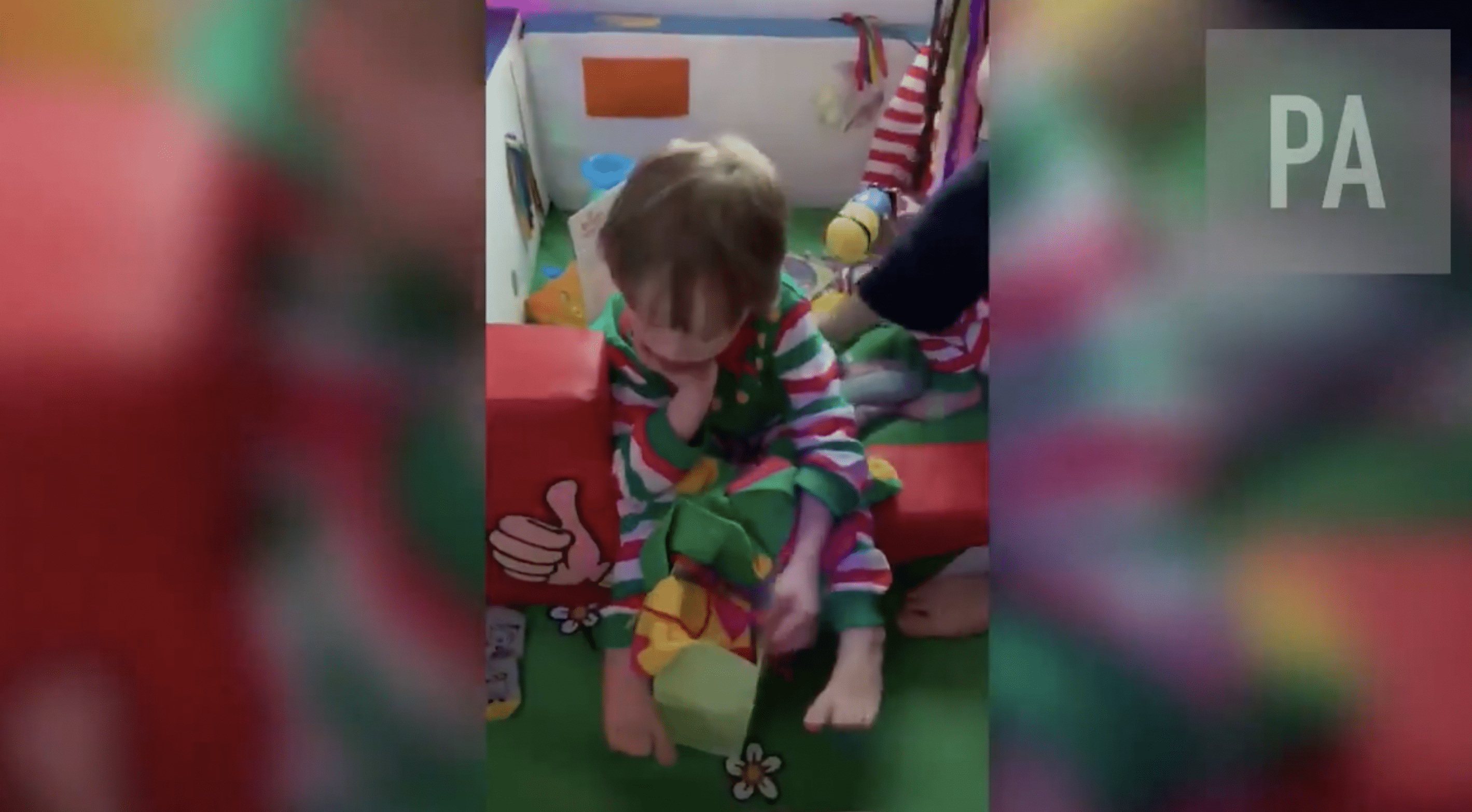 One of Mullard's twin boys is seen playing with toys. | Source: twitter.com/PA
But when Mullard laid eyes on her babies for the first time, she saw their unmistakable features and knew they had the same condition as their older sister. Recalling the twins' birth, the mother shared:
"I remember the midwife holding Alfie up and I saw the same features that Molly had. I knew as soon as they were born that they had Down's syndrome."
After seeing her little ones, Mullard said she became fearful for their survival and was reminded of losing Molly. The distraught mother noted that she couldn't bear the trauma of losing another child all over again.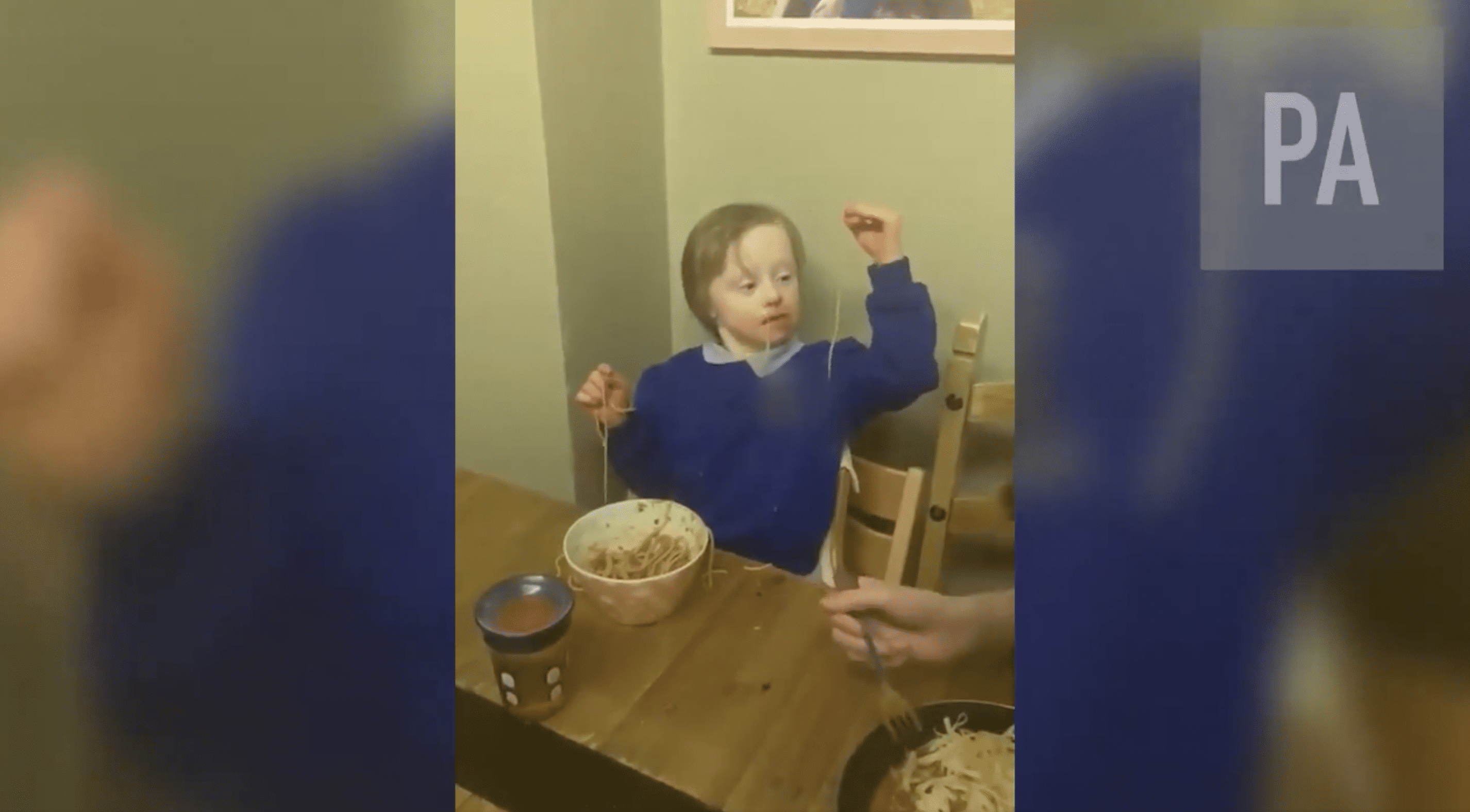 One of Emma Mullard's twin boys is pictured eating. | Source: twitter.com/PA
Shortly after their birth, the medics took the twins away, and Mullard said she finally got the chance to hold them later that night. Regarding the moment, she expressed:
"The medics swooped them away and my initial thought was that was the last time I was going to see them alive. When I finally got to hold them later that night, I scooped them both up and looked at them, vowing to look after them. I knew it was a long hard road ahead but that I would do everything possible for them."
Shortly after becoming a mother again, she and her partner split up, and she quit her job in December 2012 to become the twins' full-time carer. "Sadly, my ex-partner found it all very difficult, and having them really changed our relationship, but that's ok," explained Mullard.
A MOTHER'S HEARTFELT WISH
In addition to Down syndrome, Arthur and Alfie had autism, weak muscle tone, couldn't talk, and used walkers or wheelchairs to move around. Ms. Mullard put her twins in a Preston specialist school, where she said they were taught Makaton, a simplified version of British sign language.
Despite her immense love for Arthur and Alfie, Mullard confessed that if she could wave a magic wand and make their disabilities vanish, she would. She added:
"People say to me, 'Don't you love them as they are?' And I absolutely do, but anyone who has a child with a disability would whip it away from them if they could. It's frightening to know that they could go that young. I don't want to get old and have to bury my boys."
But despite the challenges associated with raising her one-in-a-million twins with Down syndrome, one of only 29 sets worldwide, Mullard admitted that she loved being a mother and adored her boys.
Indeed, this brave mother's story teaches us that despite life's many challenges, we should love and appreciate our kids and never give up on them. Please share this story if you think this mom is worthy of being called a hero.
Please fill in your e-mail so we can share with you our top stories!
The information in this article is not intended or implied to be a substitute for professional medical advice, diagnosis or treatment. All content, including text, and images contained on news.AmoMama.com, or available through news.AmoMama.com is for general information purposes only. news.AmoMama.com does not take responsibility for any action taken as a result of reading this article. Before undertaking any course of treatment please consult with your healthcare provider.