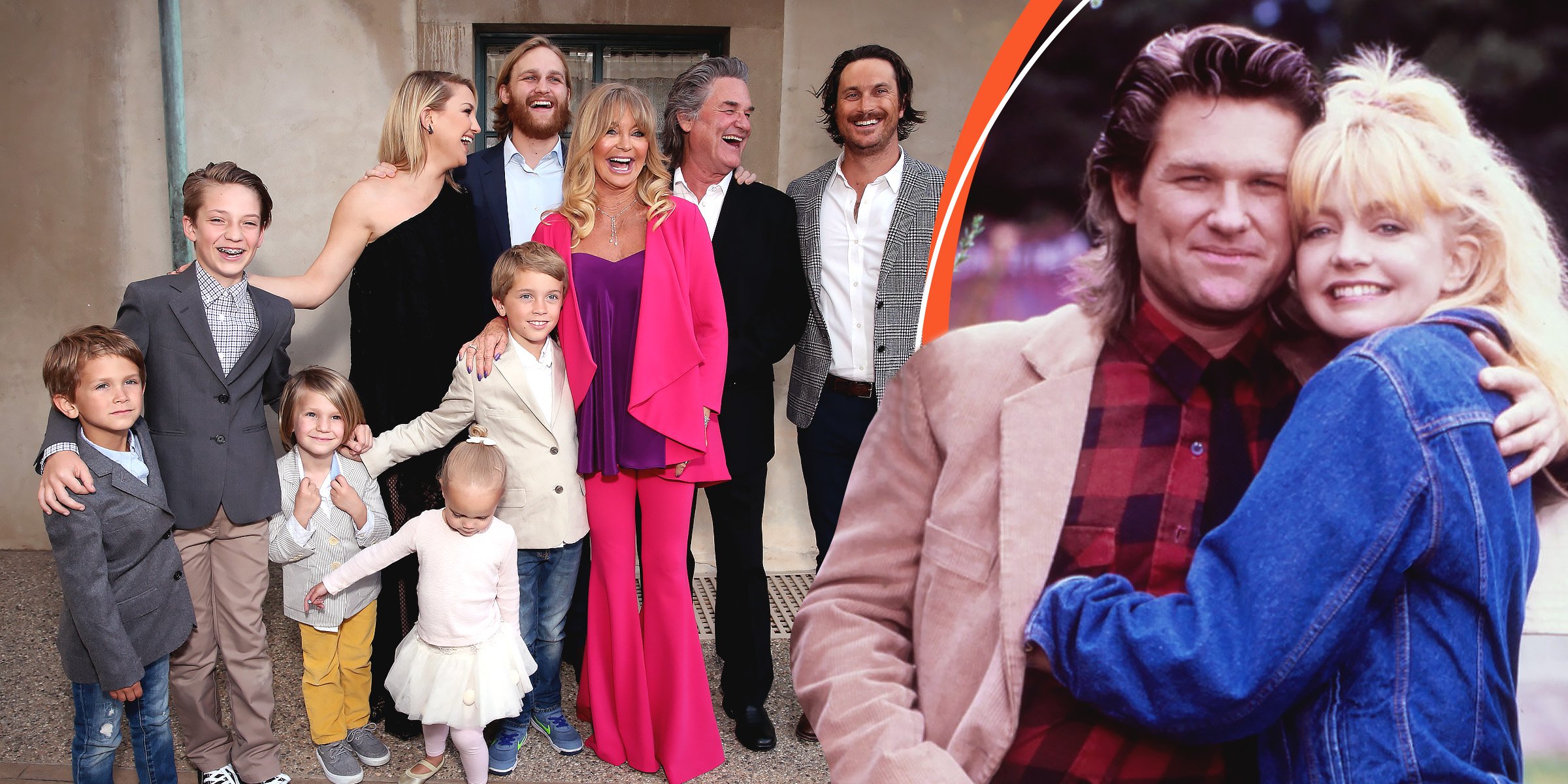 Getty Images
Goldie Hawn and Kurt Russell Are Proud Grandparents of 7 — They Welcomed the Last One in 2020

Goldie Hawn and her beloved beau, Kurt Russell, are one of Hollywood's everlasting couples. Alongside their heavenly romance, these duo raised responsible kids who blessed them with grandkids. Here's a peek into their life as proud grandparents.
Celebrities are often under pressure as their every move is watched and addressed by the media, affecting their personal decisions. However, that is not the case for actress/singer Goldie Hawn and her actor husband, Kurt Russell.
This iconic Hollywood duo has come a long way since falling in love nearly four decades ago. Even though their lives are constantly under public scrutiny, they have made a perfect fairytale romance!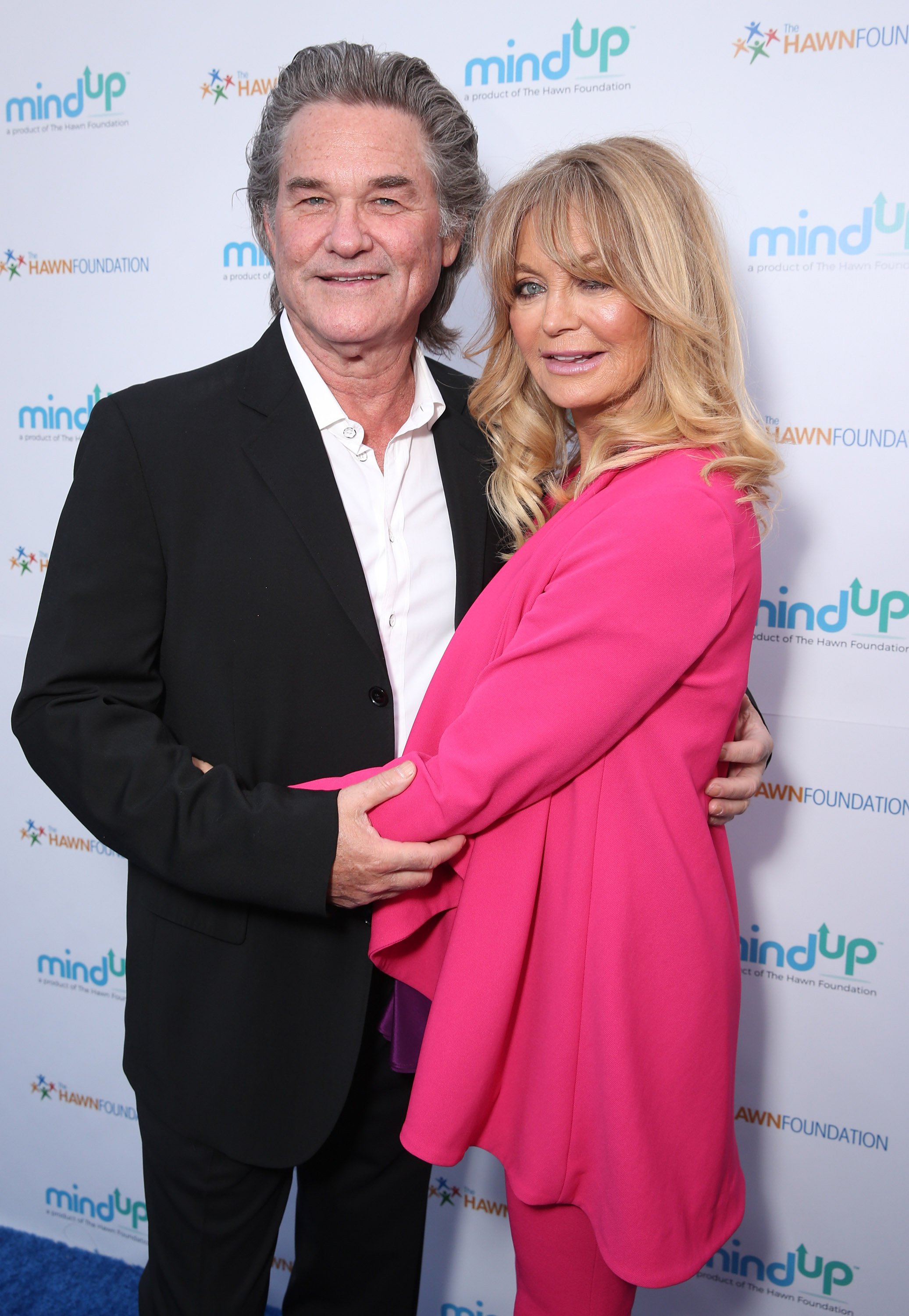 Kurt Russell and Goldie Hawn attend Annual Goldie's Love In For Kids at Ron Burkle's Green Acres Estate on May 6, 2016 | Source: Getty Images
Their love story is like something from a romance novel. Through the highs and lows, doubts and criticism, they have remained supportive of each other, proving that not all Hollywood romance ends in separation.
One would imagine that such an intense relationship would have begun when they were in high school or that it was love at first sight. Shockingly, that is not how it played out, and to add to the surprise, they are yet to share their vows!
Hawn and Kurt do not need a document or marital status to show their compatibility. Their relationship is wrapped in love, understanding, support, and making compromises over three decades.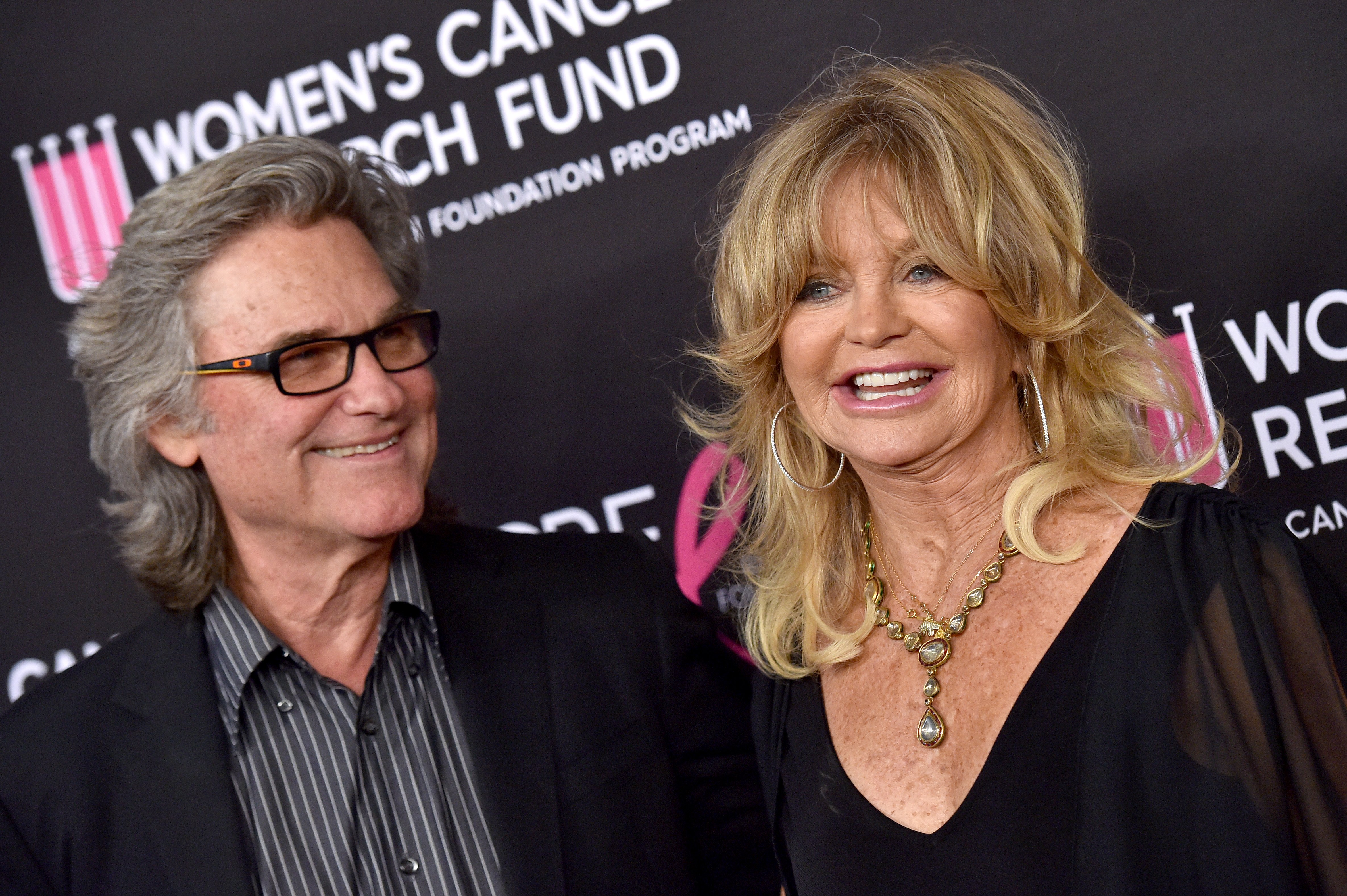 Kurt Russell and Goldie Hawn attend The Women's Cancer Research Fund's An Unforgettable Evening Benefit Gala at the Beverly Wilshire Four Seasons Hotel on February 28, 2019 | Source: Getty Images
The first time they met was in 1966 while working on "The One and Only, Genuine, Original Family Band." Their relationship was professional until seventeen years later, when they met again on the set of "Swing Shift."
While recalling the genesis of their romance, Kurt confessed that he had not seen Hawn in a long time, nor had he worked with her. However, when he saw her, he was in awe of her physique and passed an awkward compliment. He said:
"I was severely hungover…I just didn't have in my mind what I was going to see, and she had a great body. So the first thing that came out was, 'Man, you've got a great figure.' It came out quickly and it could've gone wrong, and she said, 'Why thank you.'"
Before carrying on with a love story, the duo had been involved with other people. Hawn was a two-time divorcee; she had married Gus Trinkonis for seven years and later to Bill Hudson for five years.
Following her marriage to Hudson, the singer welcomed two kids, Kate and Oliver. On the other hand, Kurt was a father-of-one, Boston Russell, whom he shares with Season Hubley, his former wife of four years.
Despite having three children in between them, Hawn and the actor were ready to begin another chapter of their lives. They lovingly accepted each other's kids and raised them with equal love.
They later added a son, Wyatt, to their blended family and have since lived happily ever after! Today, the dynamic couple are proud grandparents to seven kids they love dearly. Here are insights about their relationship with their kids and adorable grandkids!
HAWN AND KURT'S PARENTING
Parenting as a celebrity was never easy, but it was worth it. It never mattered how grueling their schedule was; Hawn and Kurt spent time with their brood, teaching, supporting, and ultimately shaping their lives.
In 2014, Hawn marveled about how much dedication they put into parenting and how it paid off. "Kurt and I are so proud. They're mirroring a lot of the way they were raised, which shows you how important it is to raise your kids well, "cause they will raise their kids well," she said.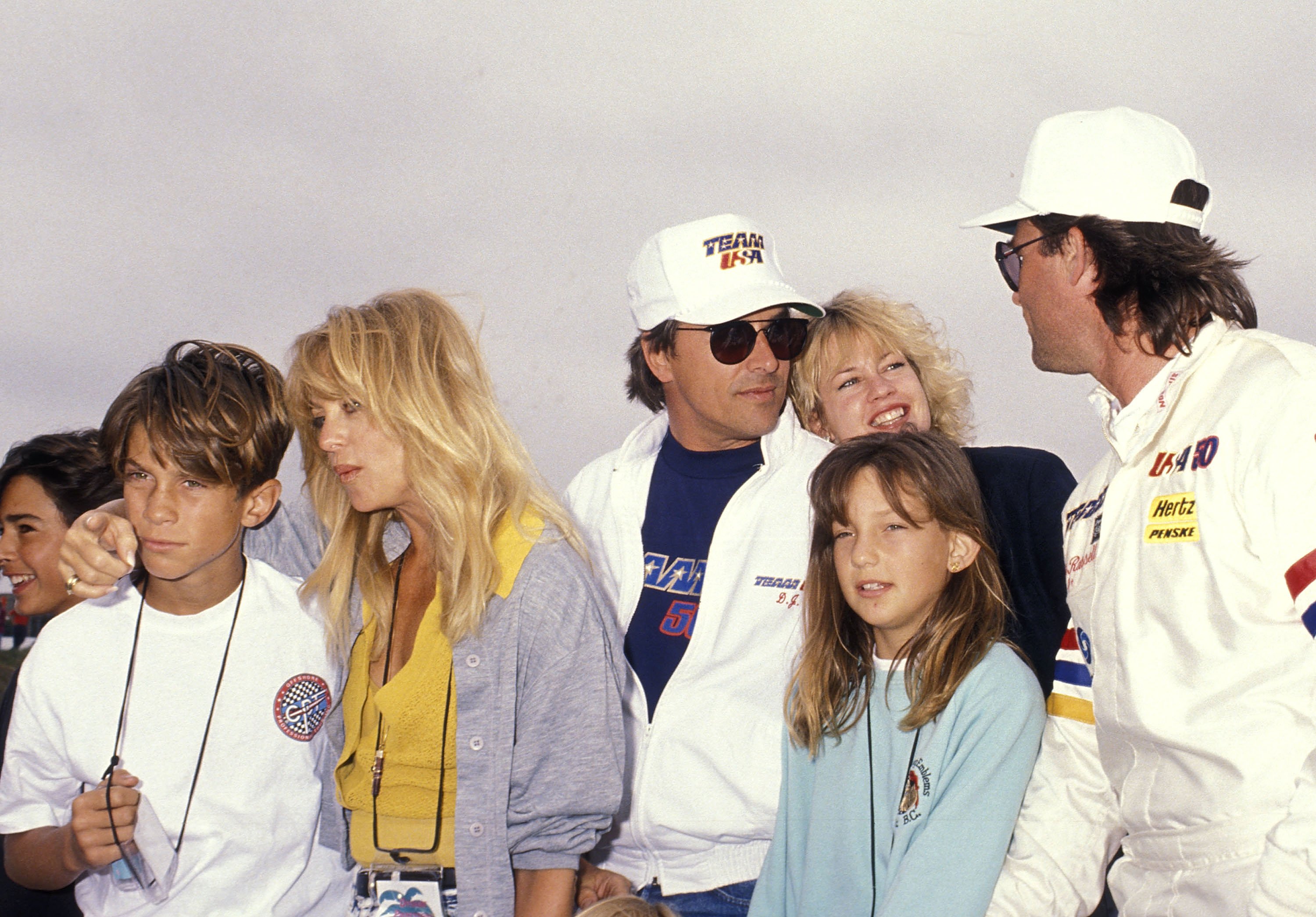 Actor Kurt Russell, actress Goldie Hawn, son Oliver Hudson, daughter Kate Hudson, actor Don Johnson and actress Melanie Griffith attend the 1990 Pacific Offshore Powerboat Races on April 14, 1990 | Source: Getty Images
Indeed, her only daughter, Kate, nodded to her mother for being an excellent parent. She believed that the family's matriarch instilled a sense of creativity in all of them, which she passed to her offspring. According to Kate:
"I remember, I used to say, 'Oh, I'm bored.' And [my mom would] be like, 'Good, be bored. Figure something else to do. Figure something out.' As I had my own kids, I realized it's really good for them to be bored and … just spark their imagination."
Kate is Hawn's only daughter and her second child with Bill. The younger actress's kids all have different dads, but she took a cue from her mother and is raising them in one big happy family.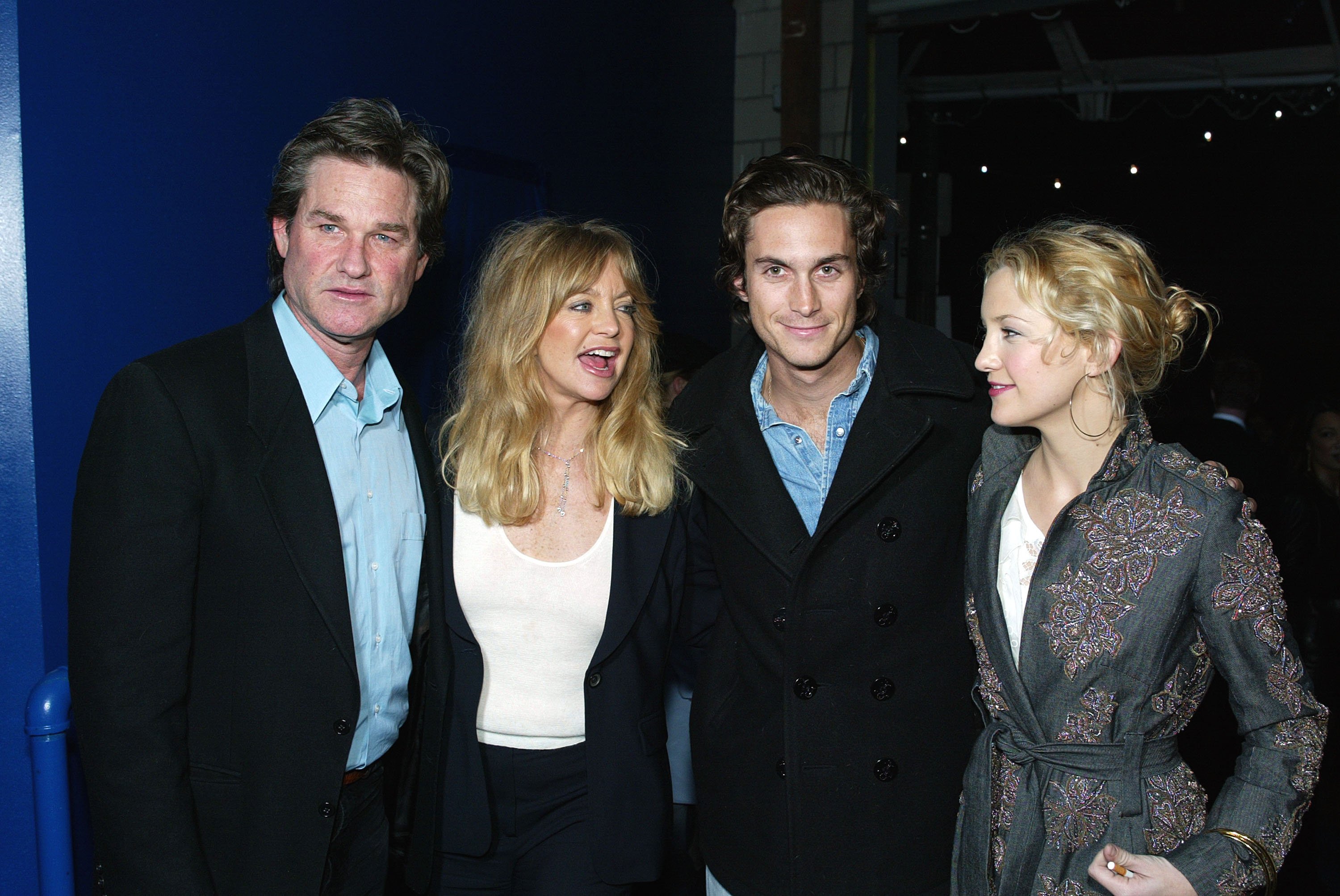 Kurt Russell, Goldie Hawn, Oliver Hudson and his sister Kate Hudson pose at the post-premiere party for "Dark Blue" on Febraury 12, 2003 | Source: Getty Images
Kate's eldest son Ryder Robinson is from her marriage to ex-husband Chris Robinson, while her second son, Bingham Bellamy, was born during her time with an ex-lover, Matt Bellamy. Also, she shares her only daughter, Rani Rose Fujikawa, with her boyfriend, Danny Fujikawa.
Amid her hands-on parenting skills, Kate is a talented actress: she won her first Golden Globe award in 2001. The Hollywood maven is also an entrepreneur who runs "Fabletics," an athletic clothing brand.
Hawn's other child with Bill is Oliver, their firstborn. He was born in 1976. Like his mother, Oliver is an actor who collaborates with his sister to co-host their "Sibling Revelry" podcast.
The podcast co-host is happily married to Erinn Bartlett, and they share three adorable kids, Wilder Brooks, Bodhi Hawn, and Rio Laura.
Hawn's stepson, aka her third child, is Boston. He was born to Kurt in 1980. Unlike his older siblings, Boston prefers life away from the spotlight. He also refused to toe his dad's career path. Very little is known about Kurt's son, but sometimes, he shows up on red carpets alongside his family to support them.
Hawn and Kurt's biological child is Wyatt, a former hockey player who became an actor. He has been married twice, first to Sanne Hamers and then to his wife, Meredith Hagner. The couple welcomed their first child, Buddy Prine, in 2020.
So far, the Hawn-Russell clan is replicating the morals learned from their famous parents, and amazingly, they are doing great. The singer, proud of her impact, calls for parents to pay more attention to their offspring.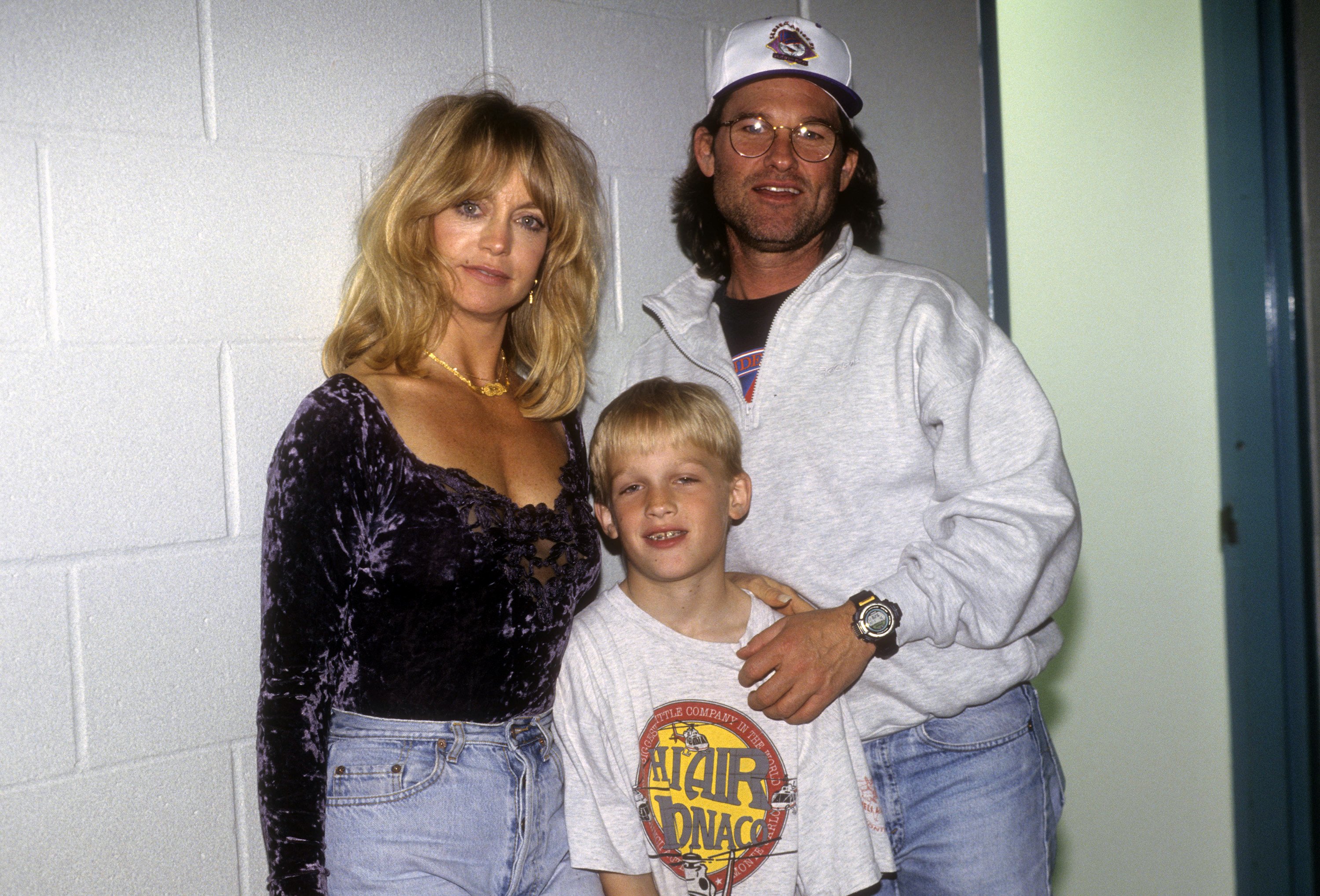 Goldie Hawn, Kurt Russell and Wyatt Russell appear backstage during a game between the Los Angeles Kings vs the St. Louis Blues at the LA Forum on March 20, 1995. | Source: Getty Images
In a recent CNN conference, Hawn, a longtime advocate for children's mental health, passionately pleaded for parents to protect their children's mental health. She said:
"We have every opportunity to change the way we educate our children… They're not automatons, they are humans, and they come in everyday with stressors, with problems."
HAWN AND KURT ARE PROUD GRANDPARENTS
Actors Oliver Hudson, Kurt Russell, Goldie Hawn, Wyatt Russell and Kate Hudson with kids Ryder Robinson, Wilder Hudson, Bodhi Hudson, Rio Hudson and Bingham Bellamy attend Annual Goldie's Love In For Kids hosted by Goldie Hawn at Ron Burkle's Green Acres Estate on May 6, 2016 | Source: Getty Images
Even with their grandkids, the couple is not changing their modus operandi— used in parenting their kids. They show the same dose of love, support, and connection with the younger generation.
Hawn and Kurt are committed to making their grandkids happy. They play and spend time with all seven of them, and the actress once confessed that whenever they are far apart, it is challenging to deal with their absence.
Hawn gushed about her large family and how it feels to be a grandmother. According to her, "A good family is the answer to happiness. I look at our kids and grandchildren, and there's nothing in the world that could make me as proud as I am of all of them." She added, "Being a grandmother is amazing; I love it. It brings incredible joy. Family is so important."
Their kids are also in awe of how they spend time with the young ones. Oliver praised them for being "amazing grandparents" and holding the family together. He added that they live close by to all their kids.
Please fill in your e-mail so we can share with you our top stories!