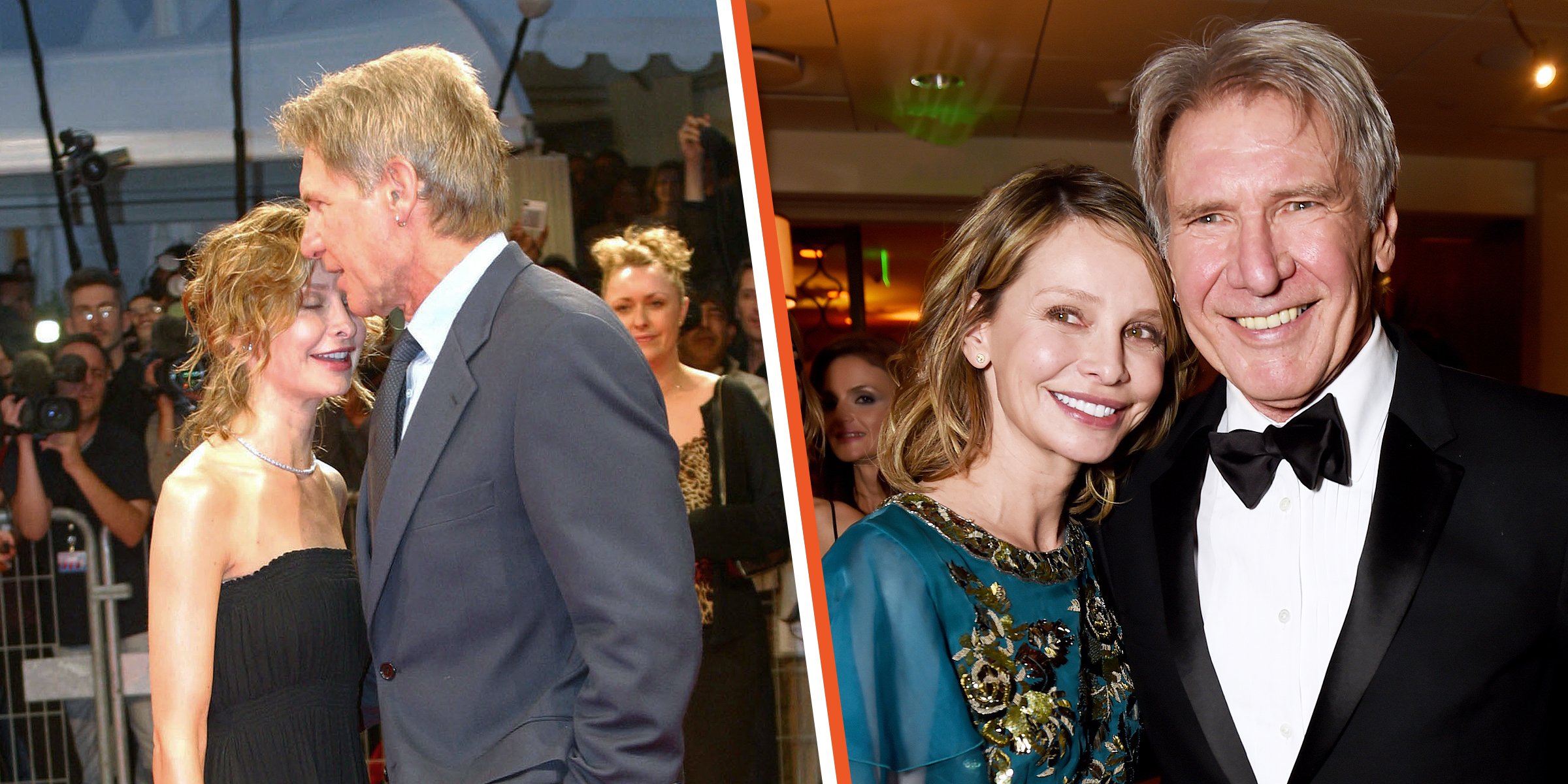 Getty Images
Harrison Ford & His 22-Years-Younger Wife Reminisce about Wingman Who Introduced Them 18 Years Ago
Calista Flockhart knew she liked Harrison Ford before he had built an interest in her. She even had a fellow actor as an indirect wingman while she tried to win Harrison over, and the couple has been together ever since.
In 2003, Calista Flockhart and Harrison Ford were interviewed by Hello! about their long-term relationship. The couple initially met in 2002 at the Golden Globe awards, with the media falsely reporting that the "Ally McBeal" star did something drastic to get Harrison's attention.
During the couple's first meeting, the press said Calista intentionally spilled her drink on the "Indiana Jones" star so they'd be forced to conversate. He clarified the incident explaining how the actress hadn't purposefully spilled her wine on him.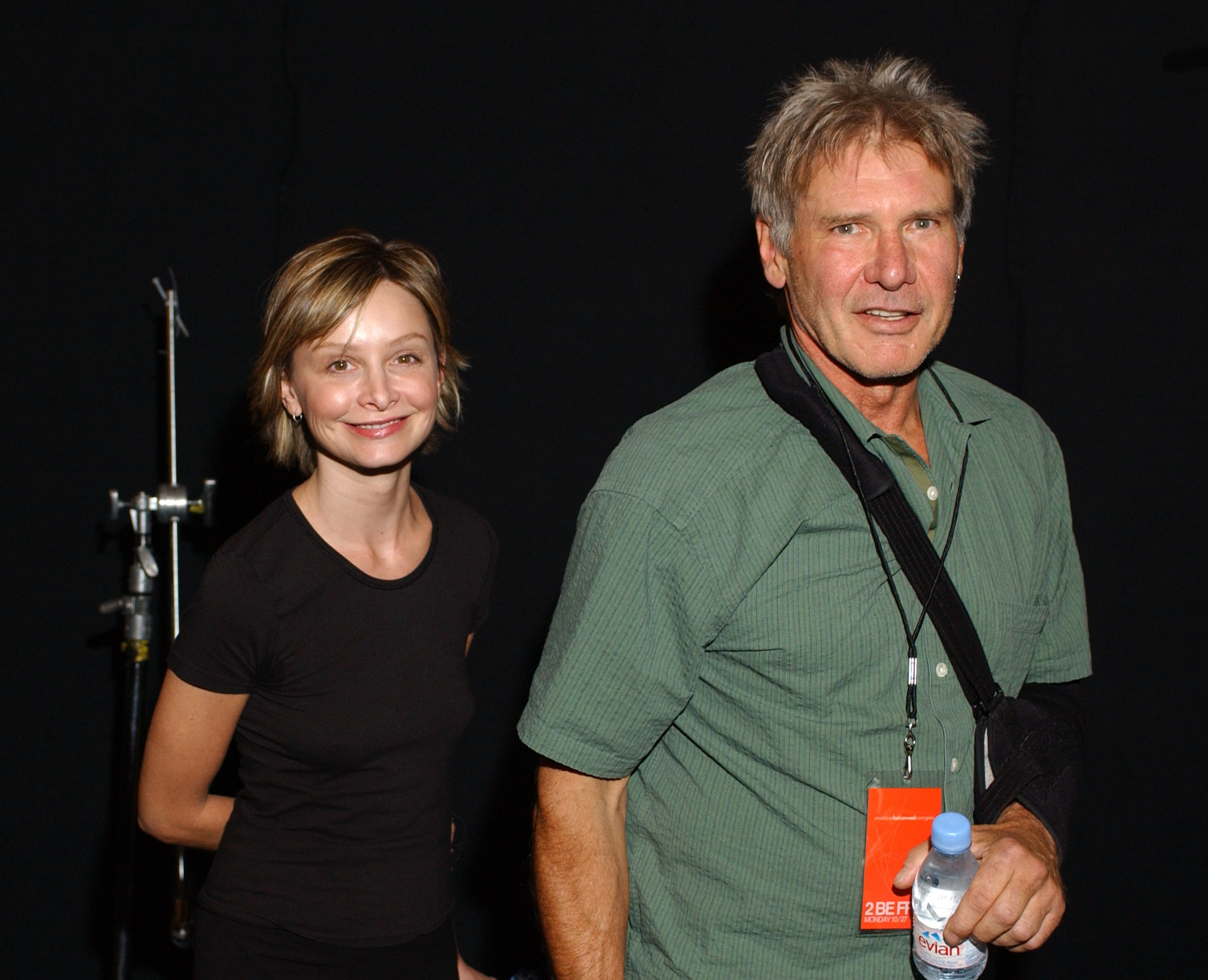 Calista Flockhart and Harrison Ford at the Smashbox LA Fashion Week Spring in Culver City, California, on October 27, 2003. | Source: Getty Images
Calista said, "We were having a conversation for maybe 20 minutes before the wine spilled, and the truth is Harrison spilled the wine!" In 2013, it was revealed that James Marsden had served as Calista's wingman in the effort to gain Harrison's attention.
The "X-Men" actor recalled how he was keen on accompanying Calista to his acting hero, Harrison's dinner date, which served as the event that would spark the pair's interest. Speaking to Playboy magazine, Marsden said the event was, fortunately for the actor, attended by a small group of people, and he became his date's wingman.
After eating at a Brentwood, Los Angeles place, the group returned to Harrison's home, where he entertained his guests with drinks and music. Marsden recalled how the host was "giggly and goofy" around Calista but remained aloof with the rest of the group, and he thought:
"'We should leave the two of them alone,' but Calista was like, 'Don't leave, don't leave...'"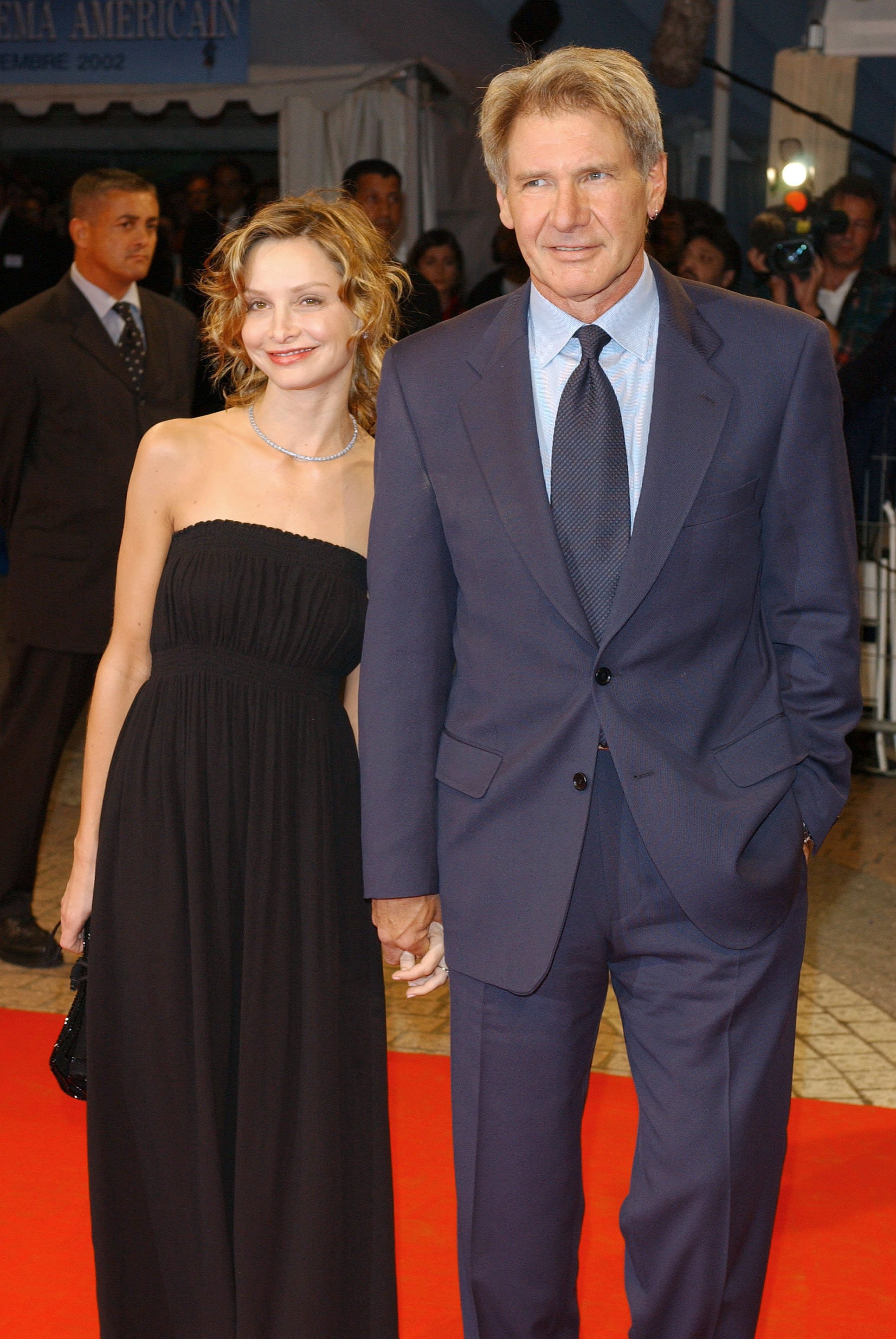 Calista Flockhart and Harrison Ford at the "K-19: The Widow Maker" premiere at the Deauville Festival of American Cinema on September 3, 2002. | Source: Getty Images
The actor shared how hospitable Harrison was and that Calista was quite nervous. After having more drinks and listening to music, at one point, the actress gave Marsden a look that told him they had to leave, and the rest was history!
With a 22-year age gap between them, most people would think it would bother the pair, but the "Brothers & Sisters" star revealed it didn't "faze" her. The actress even confessed how much the age difference was not an issue, stating:
"Wow, I keep forgetting that he's 22 years older than me."
Calista said it didn't factor into their relationship and that she loved how he looked when he woke up in the morning. She explained that it wasn't handsomeness but "more cute (sic)" because he looked like a "little boy."
CALISTA'S CHILD THAT HARRISON CO-PARENTED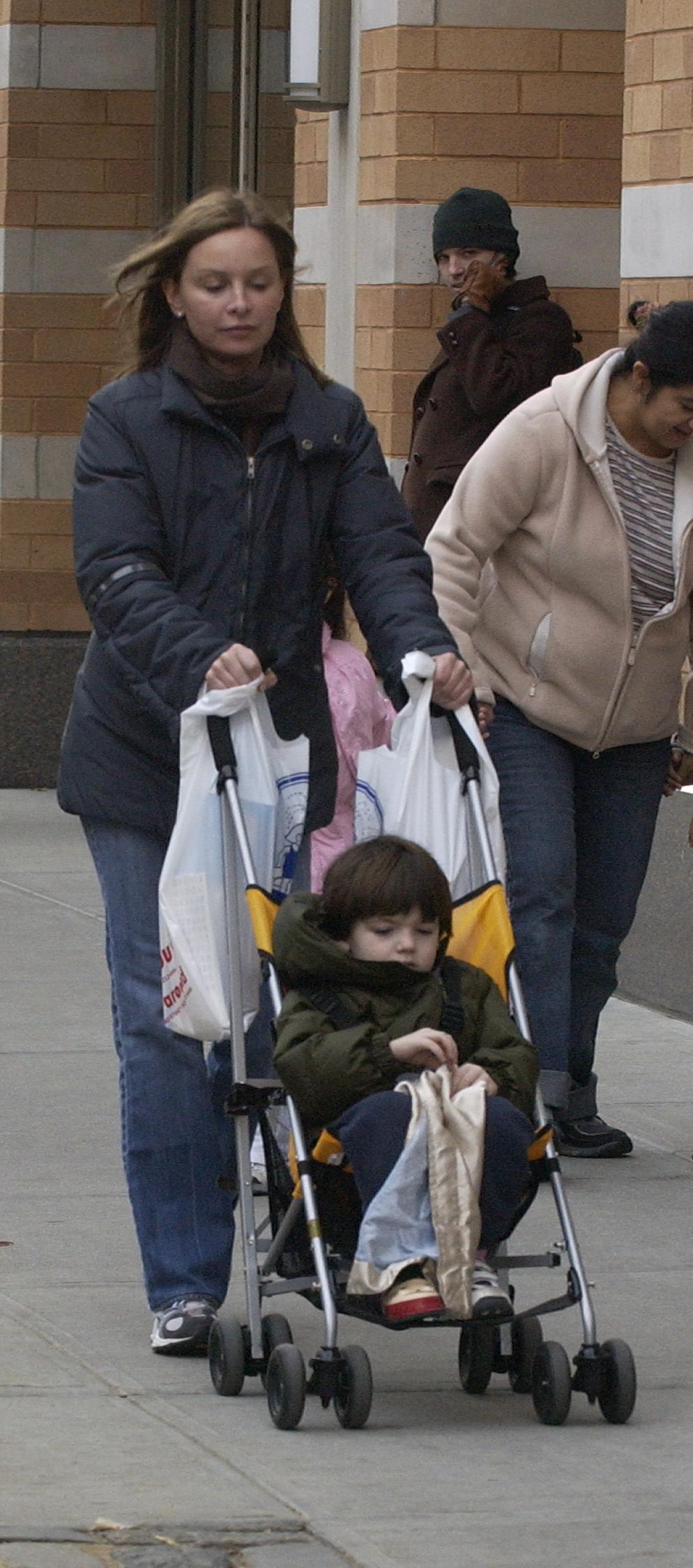 Calista Flockhart shopping in Tribeca with her son Liam on November 27, 2004, in New York City. | Source: Getty Images
Before Calista and Harrison became an item in 2002, the previous year, the actress adopted a son, Liam. The actor wanted to be in the "Supergirl" actress's life and had to reprise his role as a father in his 60s.
Harrison had four older children, sons Benjamin and Williard, from his marriage to his first wife, Mary Marquard. With his second wife, Melissa Mathison, the star had a son Malcolm, and a daughter Georgia.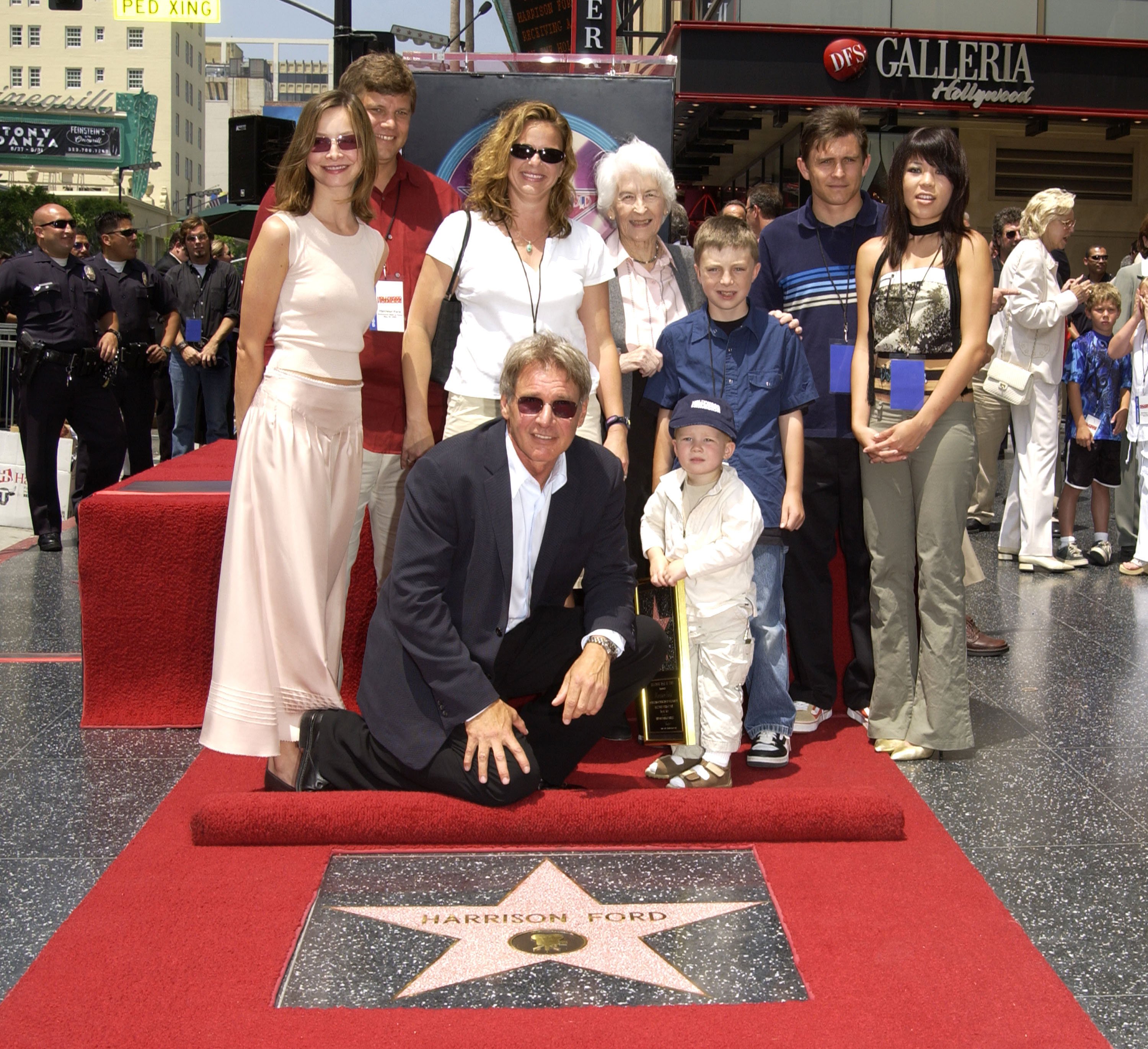 Harrison Ford, Calista Flockhart, and some of his family members as he's honored with a Star on the Hollywood Walk of Fame on May 30, 2003. | Source: Getty Images
Speaking about parenting a young child in 2008, Harrison said to "Reader's Digest," "She's brought a child back into my home." He revealed at the time that his youngest child, other than Liam, was 17 that year before.
When asked what type of mother Calista was, Harrison said she was the best in the world. He proudly noted how she was a mother by choice, having adopted the boy as a single parent before they met.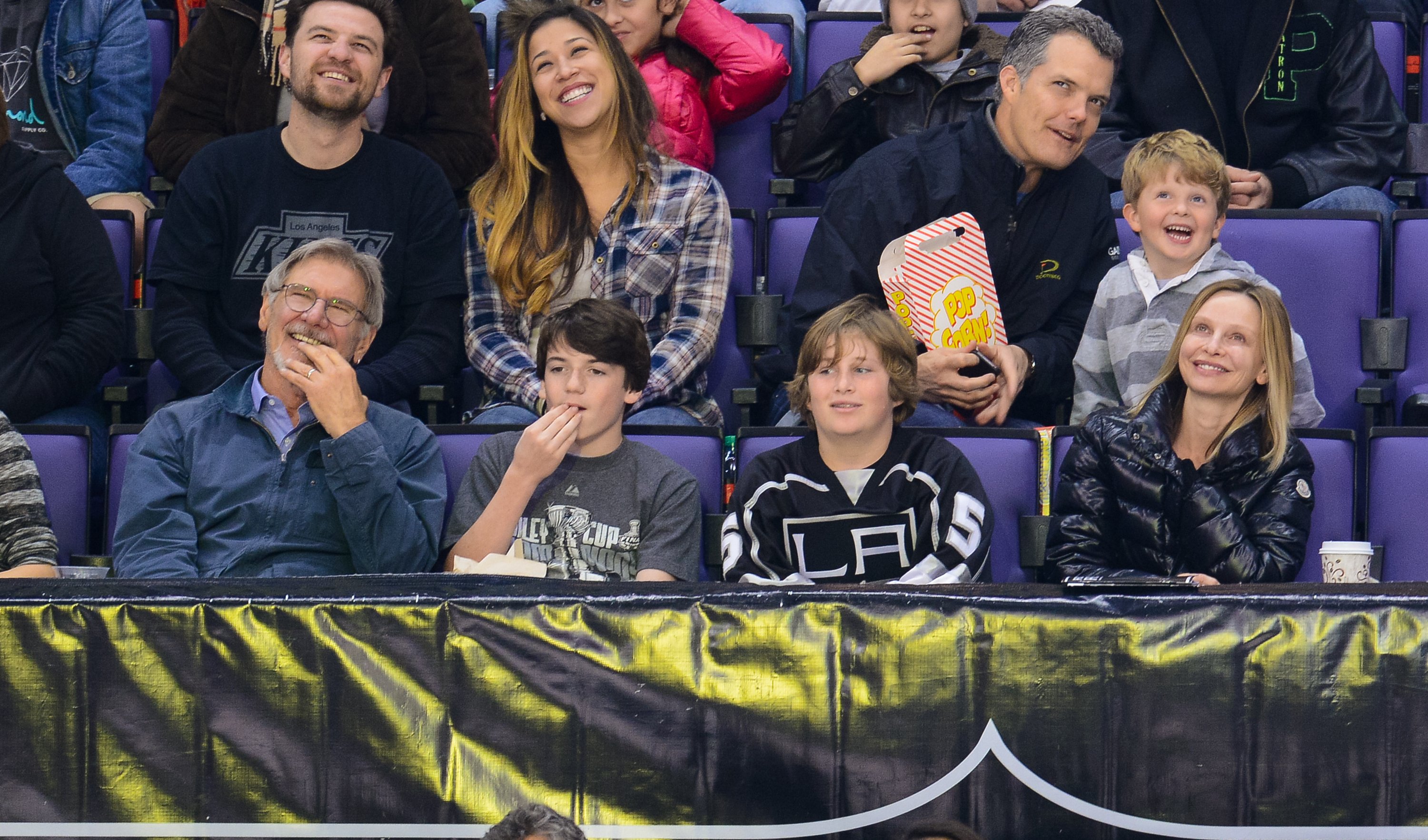 Harrison Ford, Liam Flockhart, a guest, and Calista Flockhart at a hockey game at Staples Center on March 1, 2014, in Los Angeles, California. | Source: Getty Images
The actor described Calista as devoted to Liam and had done an incredible job raising him. He shared how happy he was to co-parent with her and was asked if he was different in the role compared to when he was raising his biological children.
Harrison admitted he was different with Liam than his children because he was now "more mature." After being together for over eight years, Calista and Harrison tied the knot in June 2010.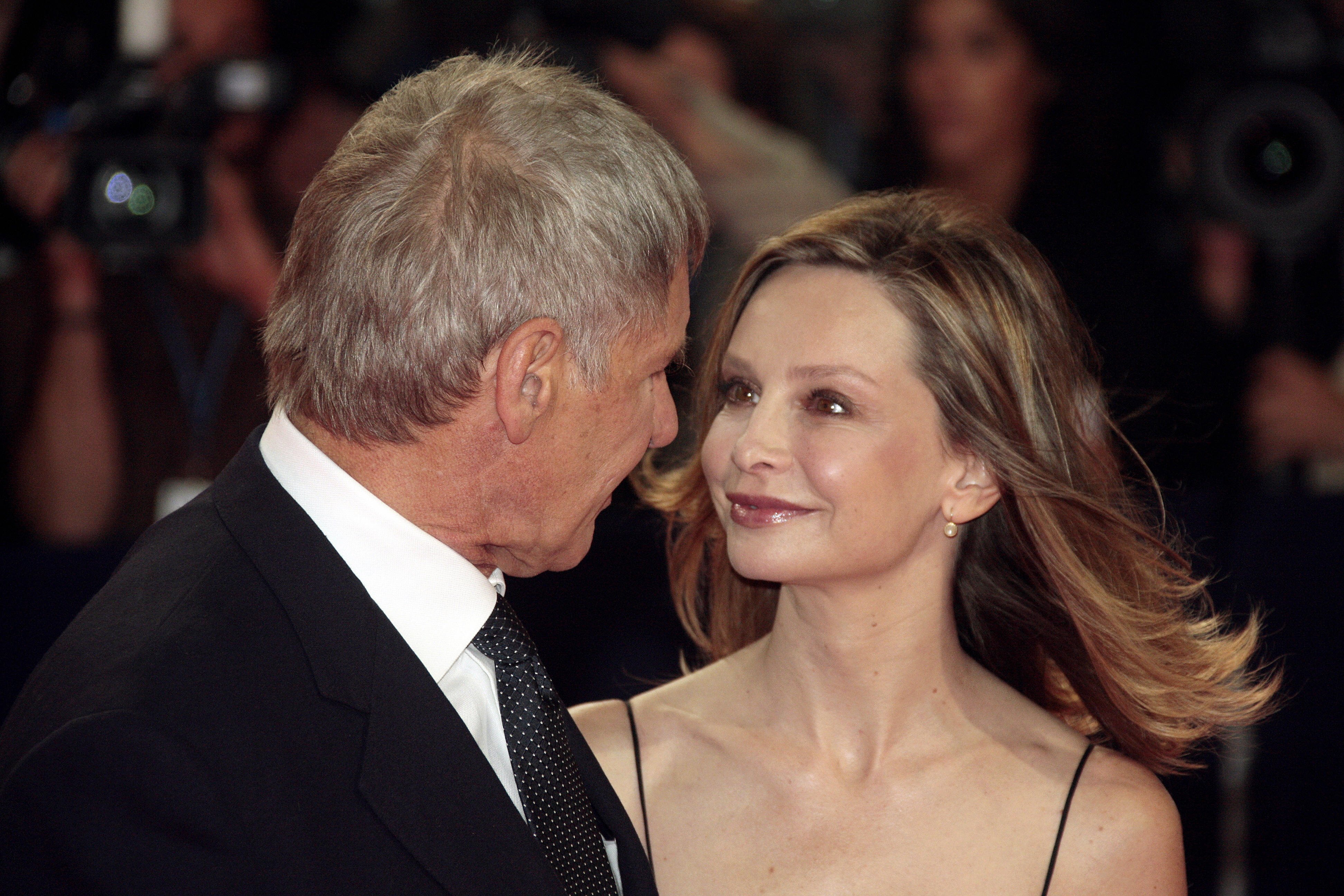 Harrison Ford and Calista Flockhart at the "The Proposal" screening on September 12, 2009, at the 35th US film festival in Deauville, western France. | Source: Getty Images
Harrison proposed the previous year on Valentine's Day, and his wedding to Calista happened in New Mexico. The state was the same as where he was filming the movie "Cowboys and Aliens."
The star [Harrison Ford] shared that he was lucky to be around to see the little boy [Liam Flockhart] growing and blossoming in front of his eyes.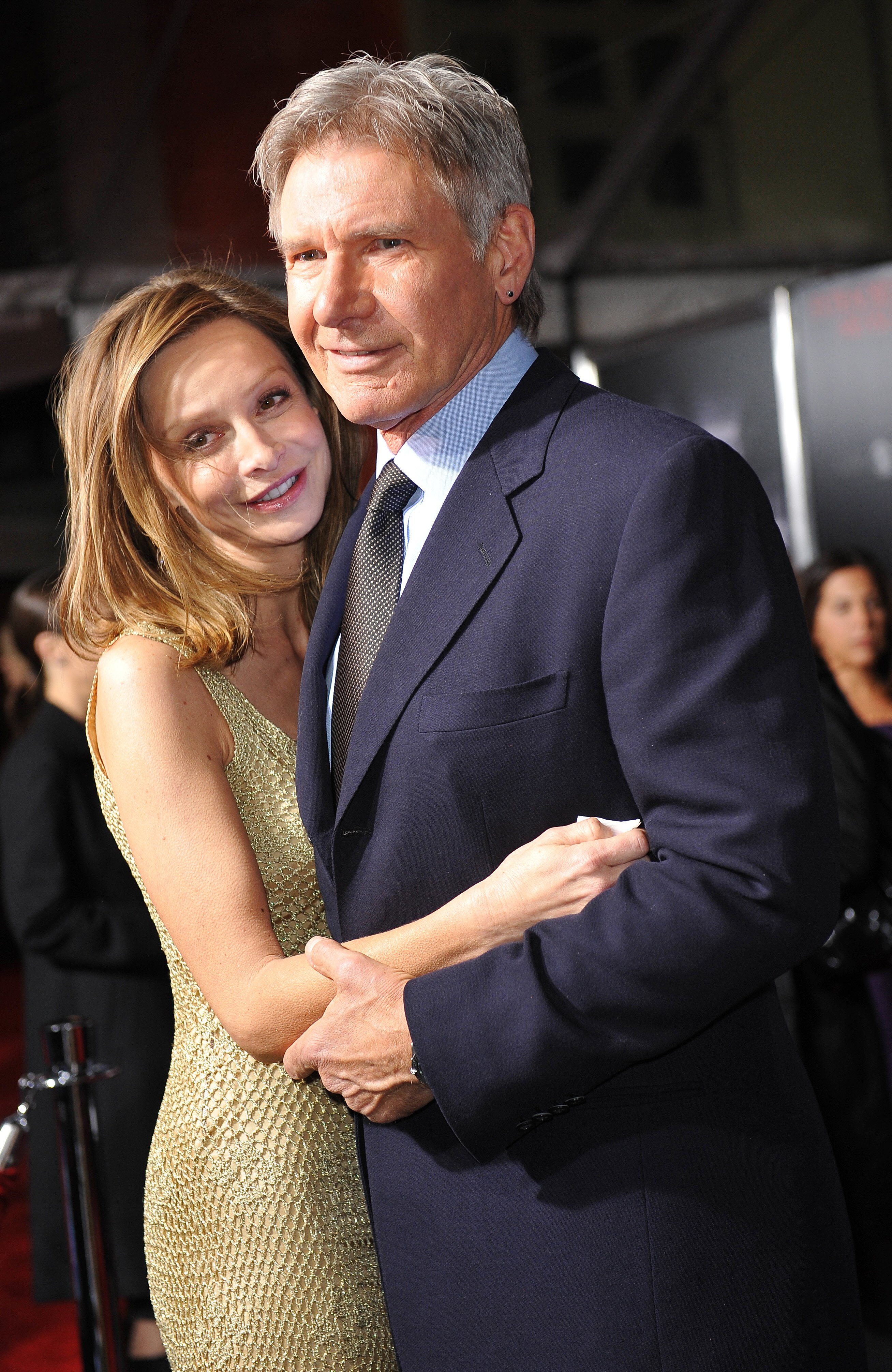 Calista Flockhart and Harrison Ford at the premiere of "Extraordinary Measures" in Hollywood, Los Angeles, on January 19, 2010. | Source: Getty Images
Governor Bill Richardson married the couple at his Santa Fe mansion with New Mexico's Chief Justice, Charles W. Daniels, giving the legal supervision. Daniels also had the task of officially declaring the duo as a married couple.
Richardson and his wife, Barbara, who were friends of the couple, also served as their witnesses. The bride and groom's son Liam, nine at the time, also attended, including the governor's official counsel.
THE COUPLE'S OVER TWO-DECADE-LONG RELATIONSHIP AND RAISING LIAM TOGETHER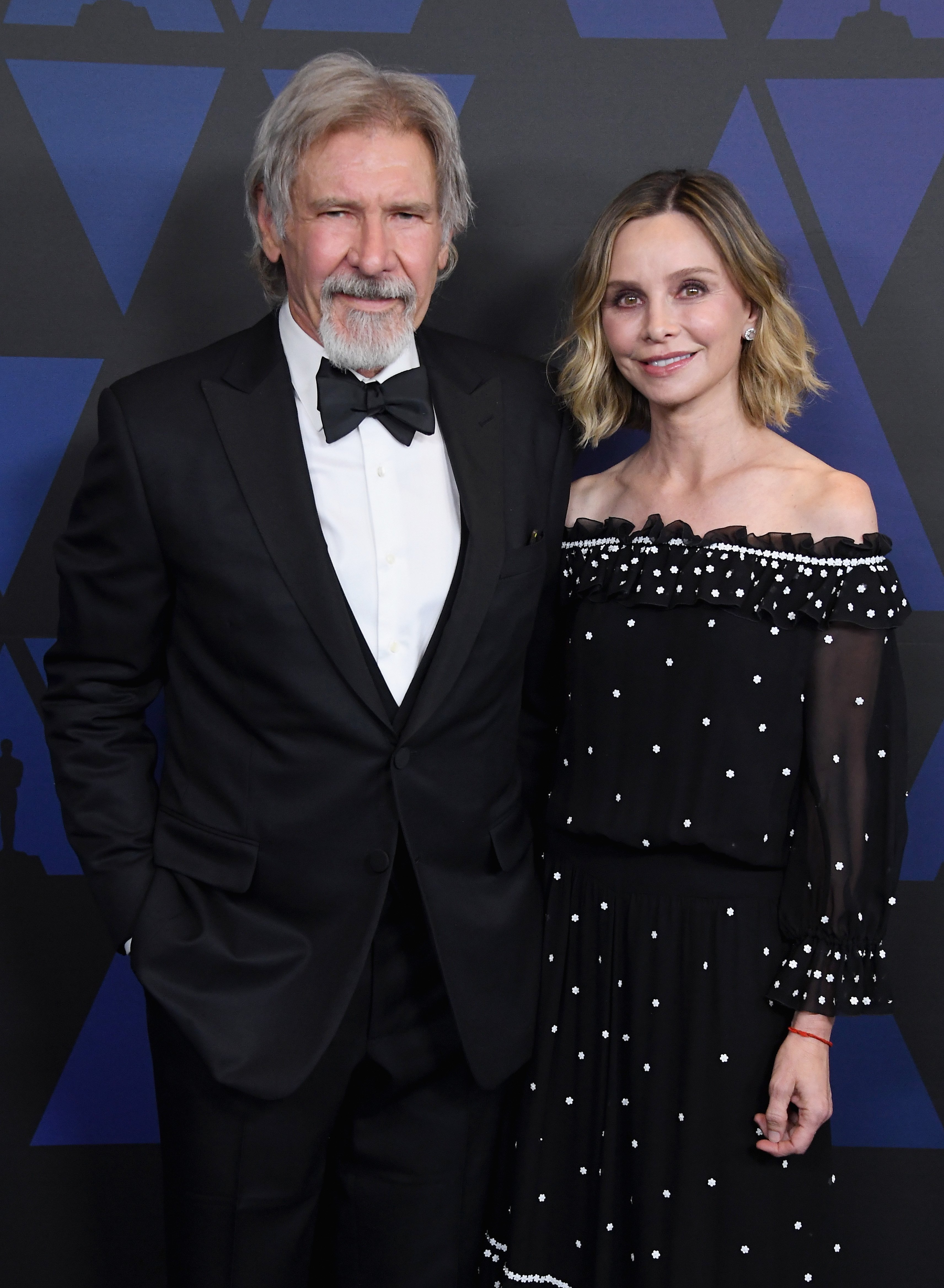 Harrison Ford and Calista Flockhart at the Academy of Motion Picture Arts and Sciences' 10th annual Governors Awards on November 18, 2018, in Hollywood, California. | Source: Getty Images
By February 2020, Harrison and Calista had been a couple for 18 years and married almost ten. During an interview with Parade, "The Call of the Wild" actor was asked what his secret was for surviving Hollywood in a romantic relationship, and his advice was:
"Don't talk. Nod your head."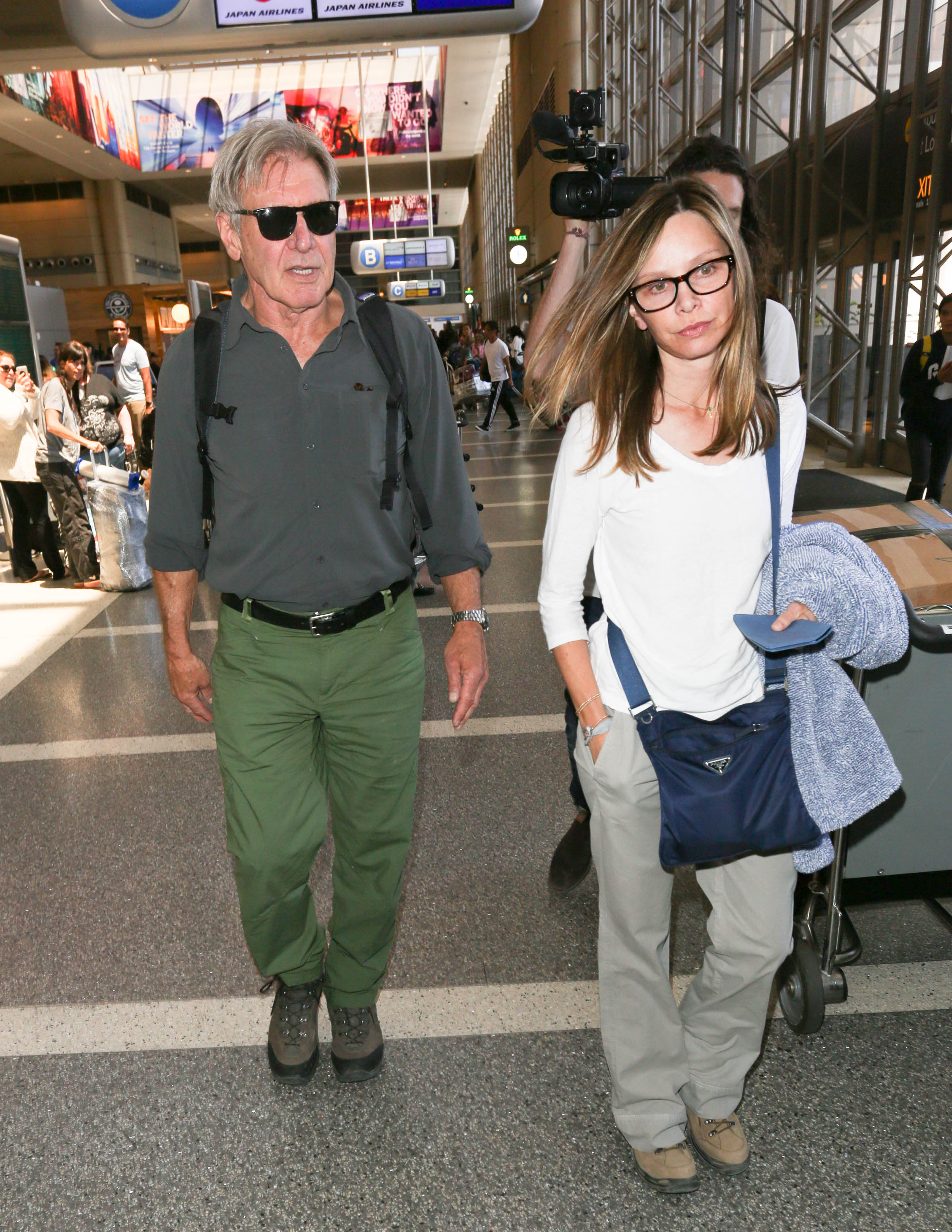 Harrison Ford and Calista Flockhart at LAX on June 28, 2017, in Los Angeles, California. | Source: Getty Images
In 2017, the couple was preparing to celebrate their seventh wedding anniversary and revealed the secret to a long-lasting marriage to Closer Weekly. Calista confessed to the publication that they "laughed a lot."
She explained how humor was everything to her, and that's how they kept their spark alive. In October 2021, the couple had been working together for 20 years to keep their romance alive and had raised Liam together.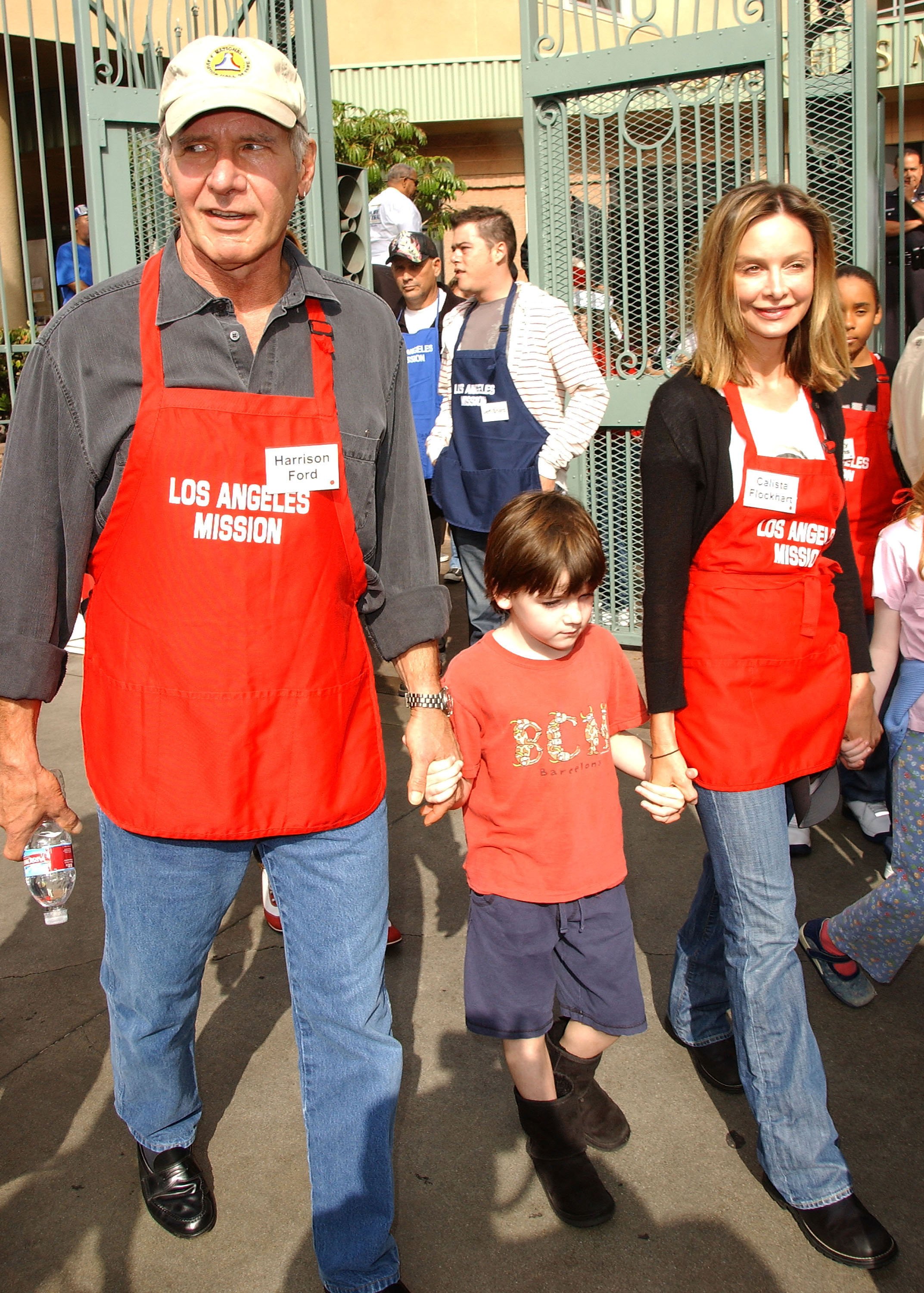 Harrison Ford and Liam and Calista Flockhart serving Thanksgiving dinner to the Skid Row homeless on November 21, 2007, in Downtown Los Angeles, California. | Source: Getty Images
The actress described her husband as a "wonderful parent" who was funny, loving, and warm. During his "Reader's Digest" interview, Harrison had something beautiful to say about raising Liam with his wife, stating:
"It's a wonderful opportunity to be part of a child's growing up, which is always an endless springtime."
The star shared that he was lucky to be around to see the little boy growing and blossoming in front of his eyes. Calista's husband explained that the wonder lay in being able to nurture Liam and seeing the final payoff from the work.
Please fill in your e-mail so we can share with you our top stories!