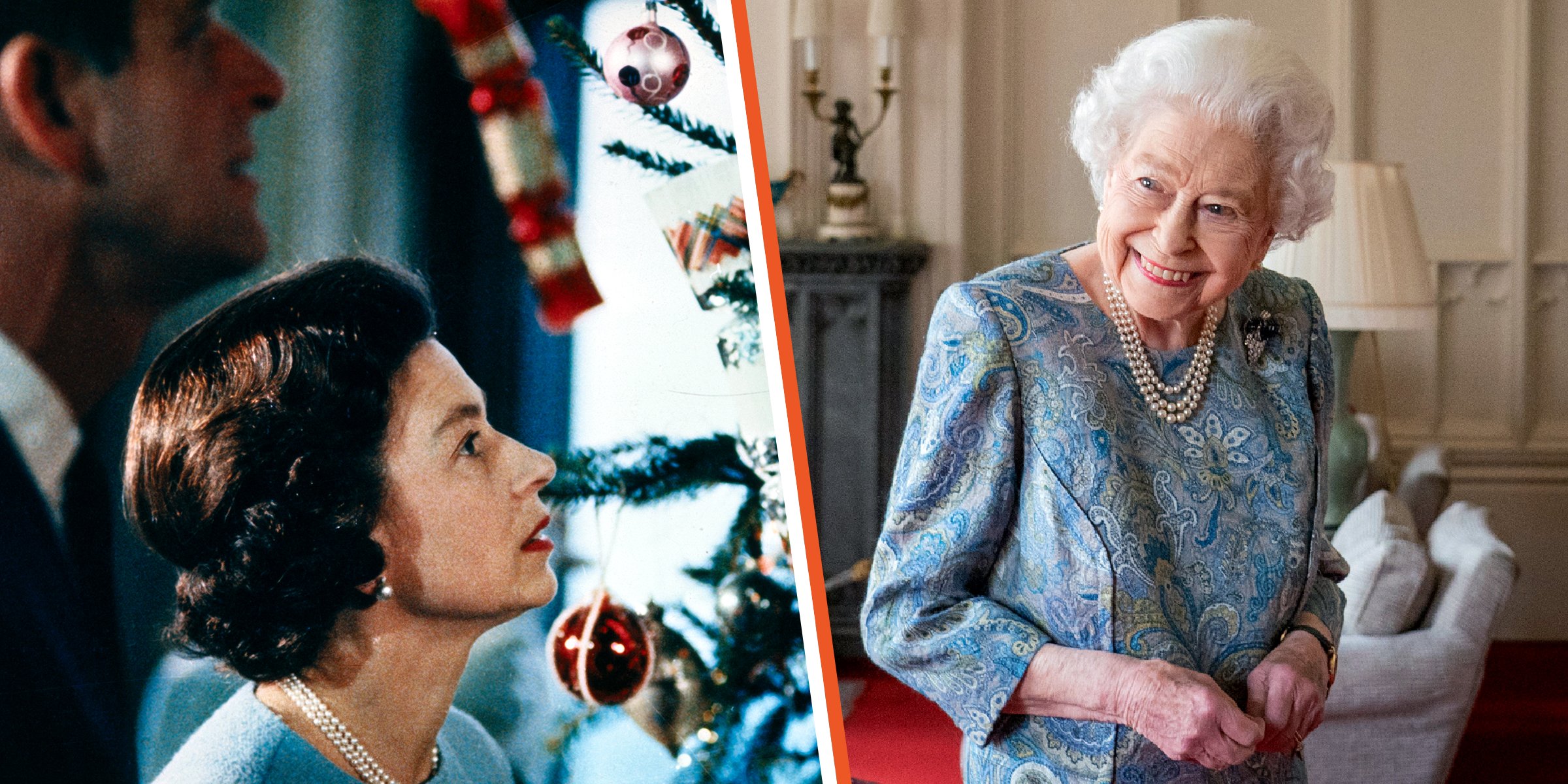 Getty Images
Inside Queen's Private Castle Where Stranger with Crossbow Interrupted Her Family Christmas Breakfast

Windsor castle has been home to over thirty monarchs. This historical home was inherited by Queen Elizabeth II, who, against all odds, continues to enjoy the glorious haven. Let's tour through the Queen's private Castle.
What is now home to Britain's reigning monarch has long been in the family. Windsor Castle was Queen Victoria's principal palace between 1837 to 1901.
King George VI also lived at Royal Lodge in Windsor Great Park. His family, including his wife and two daughters, Princess Magaret and Princess Elizabeth, spent their childhood in Windsor.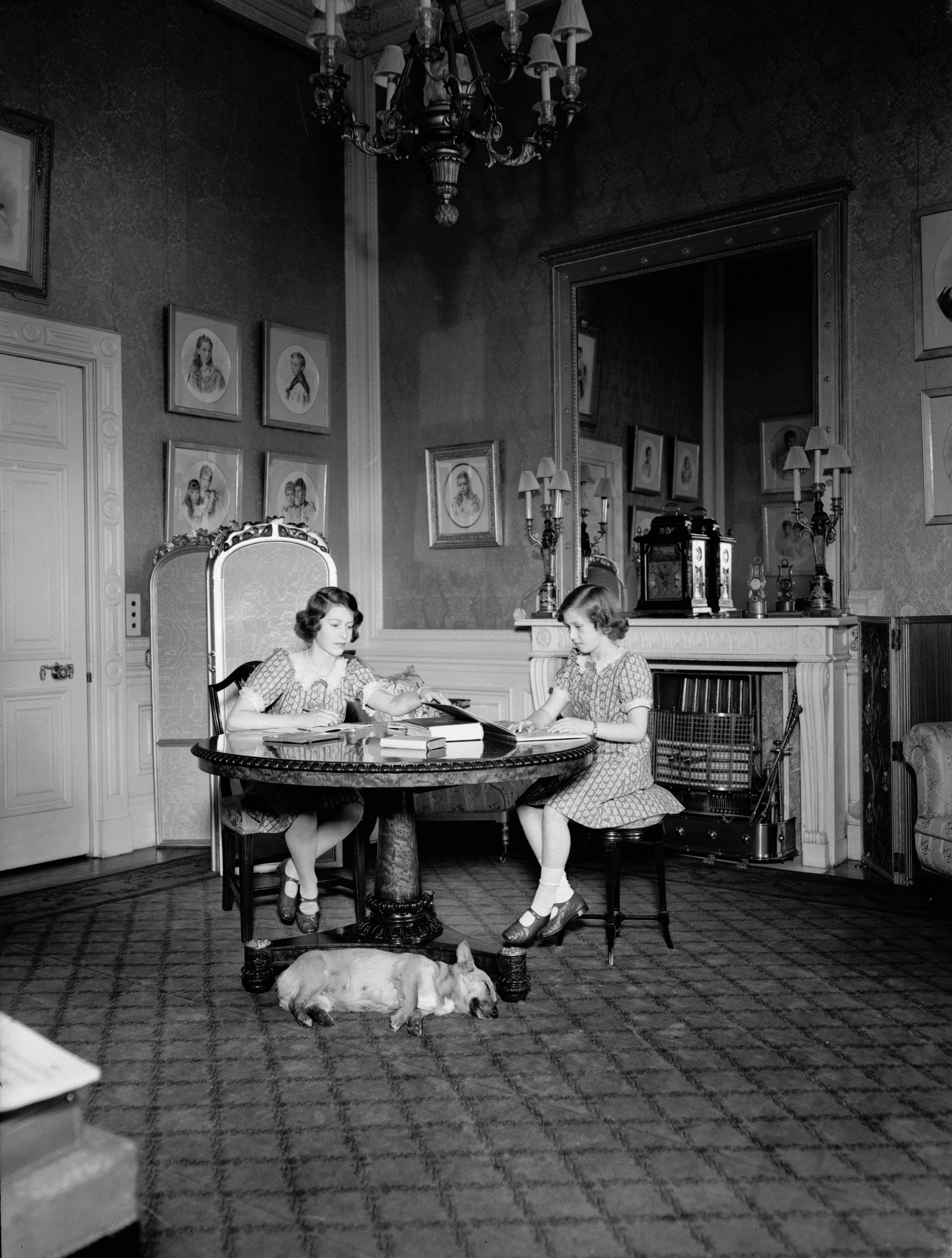 Princesses Elizabeth (left) and Margaret (1930 - 2002) studying whilst a corgi dog sleeps at their feet in a drawing room at Windsor Castle, Berkshire. | Source: Getty Images
The Princess grew up to love the home where she shared her first royal speech, addressing the nation, at age 14. Even after succeeding her father, the Queen never lost touch with her childhood home.
She has spent many weekends on the estate throughout her reign. Windsor Castle was also home to the Queen's husband, Prince Phillip, and their children.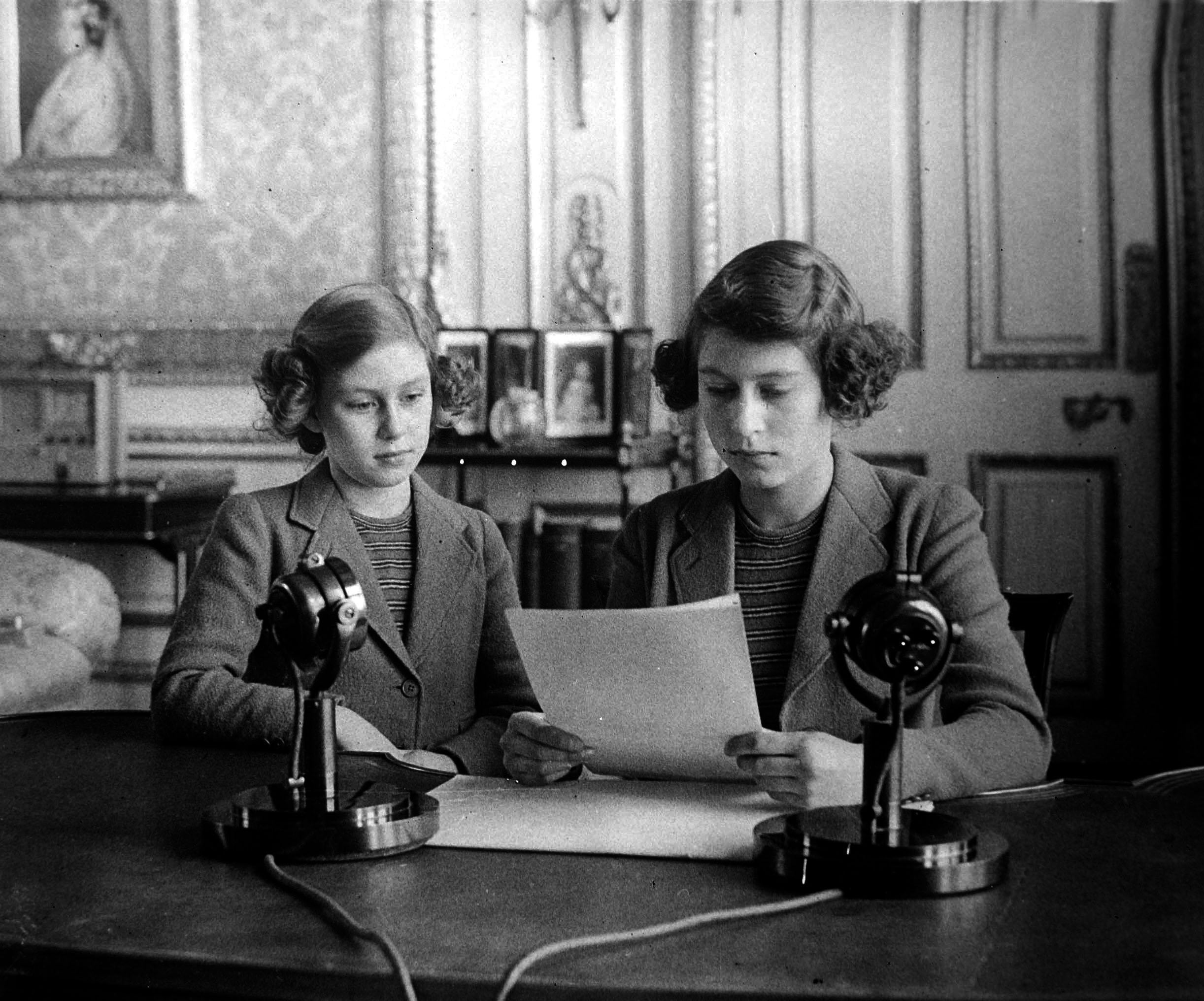 Princess Margaret (1930-2002), on left, and Princess Elizabeth give their first Children's Hour radio broadcast to the nation from Windsor Castle in Windsor, England during The Blitz and Battle of Britain in World War II on 13th October 1940. | Source: Getty Images
In 1969, the world caught a glimpse into the royal abode for a BBC documentary. It showed the Crown enjoying family time over lunch with her clan.
For many years the 96-year-old royal lived in Buckingham Palace. However, she chose to camp in Windsor Castle for special occasions and weekends. This included the Easter holidays and Royal Ascot week in June.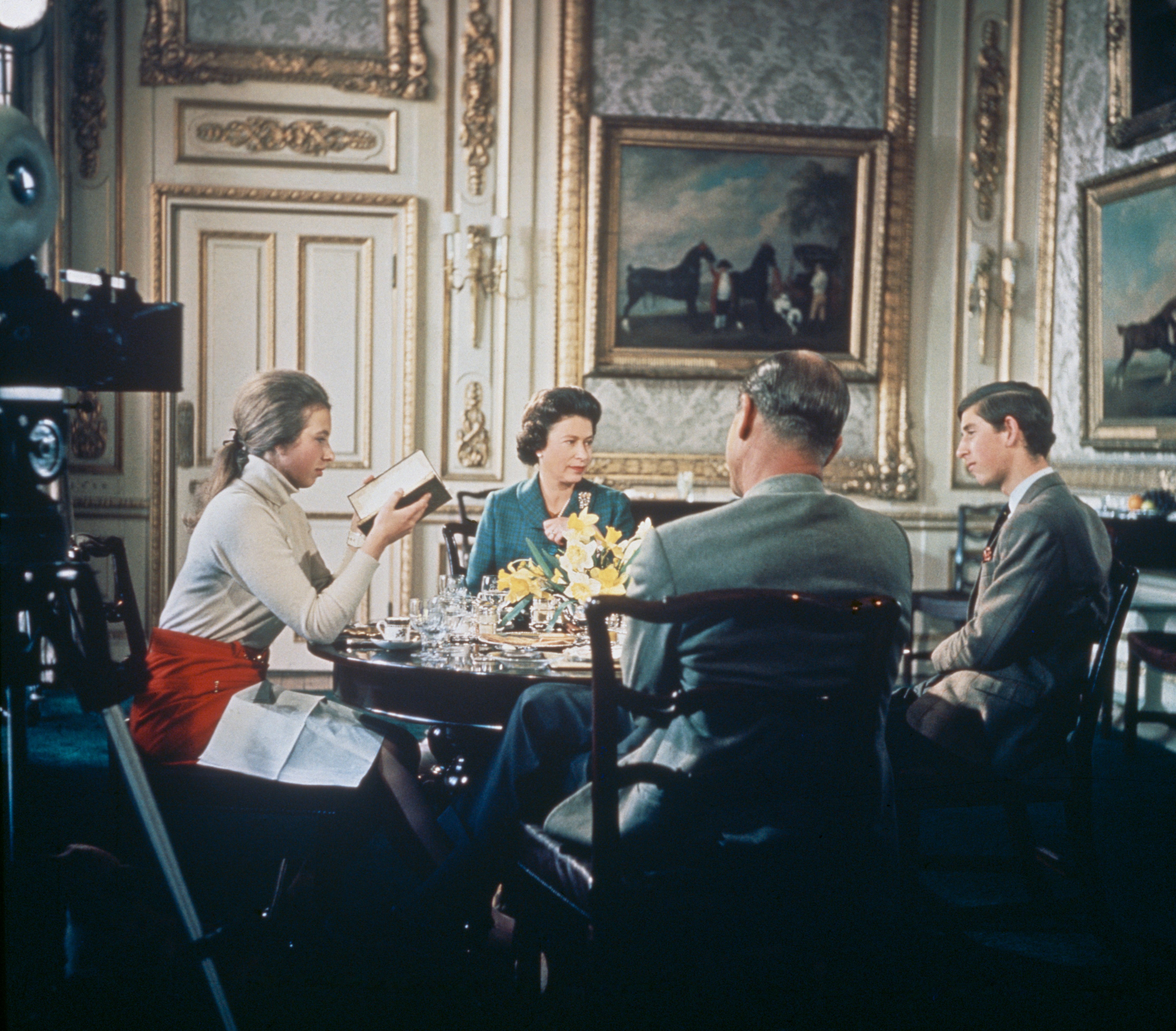 Queen Elizabeth II lunches with Prince Philip and their children Princess Anne and Prince Charles at Windsor Castle in Berkshire, circa 1969. | Source: Getty Images
All that changed in 2020 when she decided to make her childhood palace her home. It became her permanent and principal official residence.
Reports confirmed that she preferred life at the Castle after she lived there with the Duke of Edinburgh during the pandemic.
INSIDE THE MAGNIFICENT WINDSOR CASTLE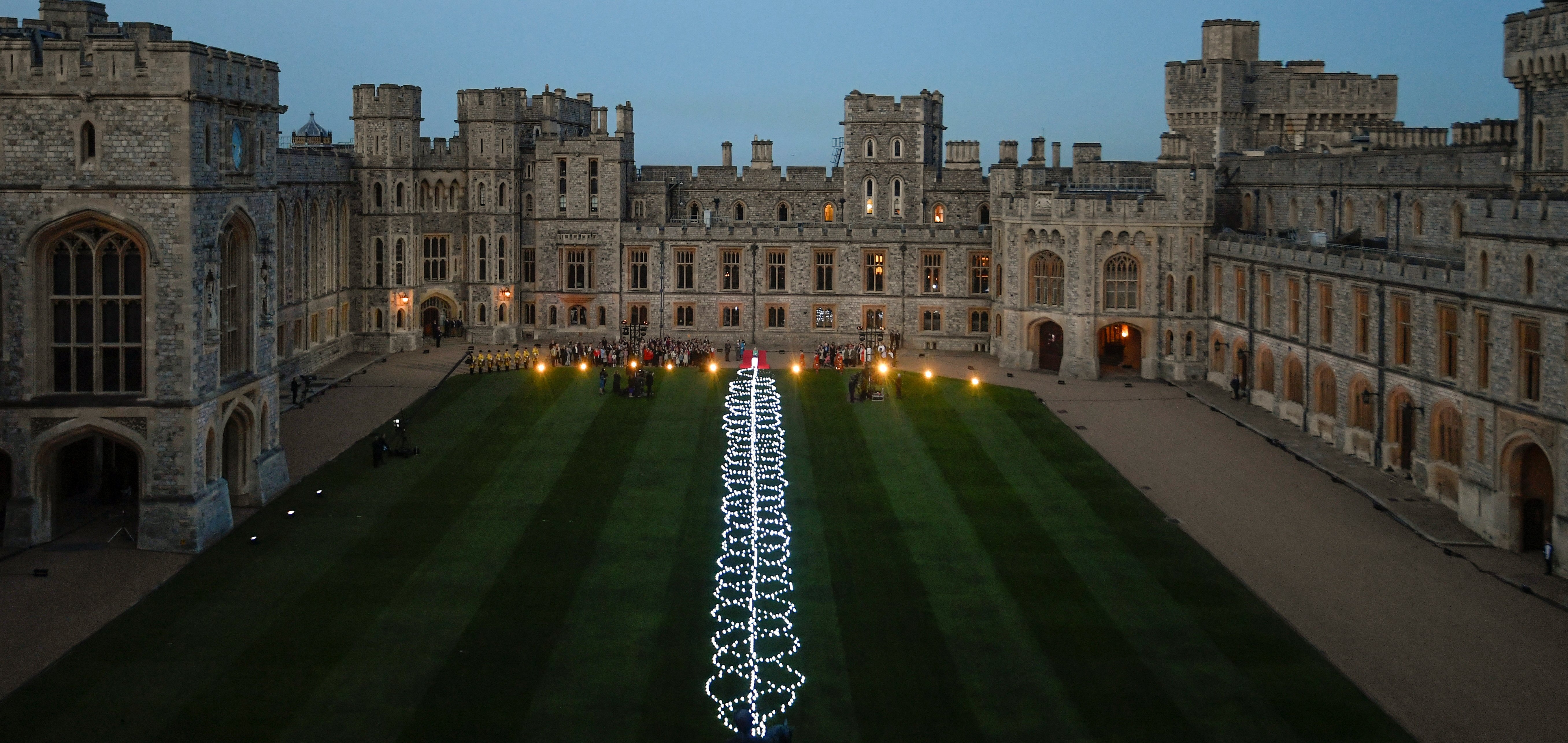 A general view as Queen Elizabeth II attends the lighting of the Principal Platinum Jubilee Beacon at Windsor Castle on June 2, 2022 in Windsor, England. | Source: Getty Images
Windsor Castle bears a historical mark. It was founded almost a thousand years ago. This magnificent construction undoubtedly possesses high walls, grand rooms, and elegant grounds— all for a royal!
So it is not surprising that it has been the most beloved residence of many royals past and present. But despite its impressive tower, Windsor Castle is first and foremost the Queen's home, which provides safety.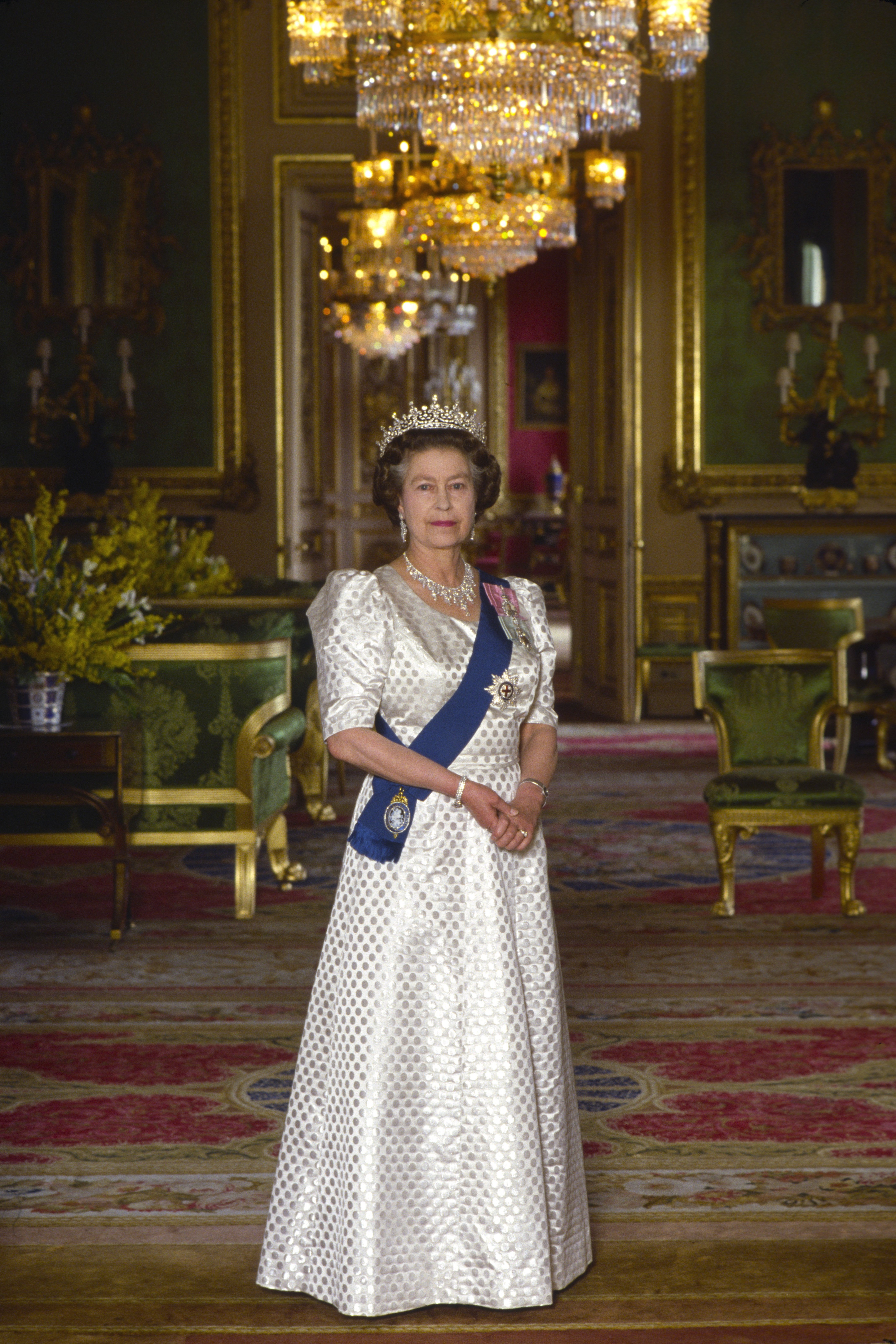 The Queen In The Green Drawing Room At Home In Windsor Castle. | Source: Getty Images
The tower has undergone several developments and constructions throughout the years— King Geroge IV remodeled the Semi-State rooms and the Grand Reception Room for $880 million in the 19th century. Still, it promises the same feelings to its residents— security and sanctuary.
The royals have also done well hiding some private apartments from the eagle-eyed media. Only state apartments, semi-state rooms, and St. George Chapel are accessible despite granting a tour of the property.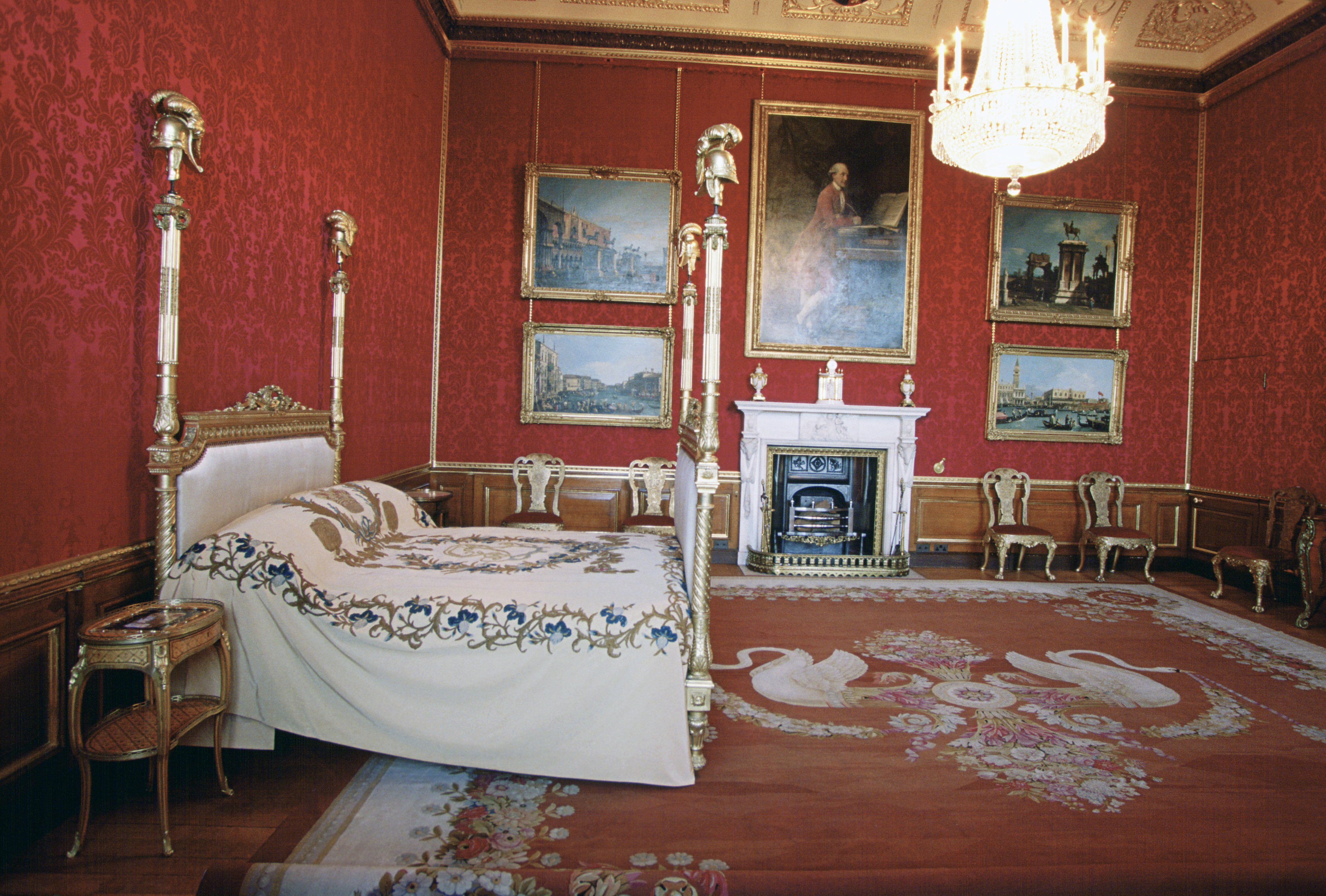 Interiors Of Windor Castle - The Kings State Bedchamber. | Source: Getty Images
Sometimes, however, royal fans catch a glimpse of the private rooms when the royals share photos. For instance, there is a picture of the Queen engrossed with Platinum Jubilee celebration cards in the Oak Room.
Even though there are some hidden areas in the palace, a glance through the estate shows that it is embellished with luxury decors, including striped sofas, wooden carpets, and striking gold furnishings.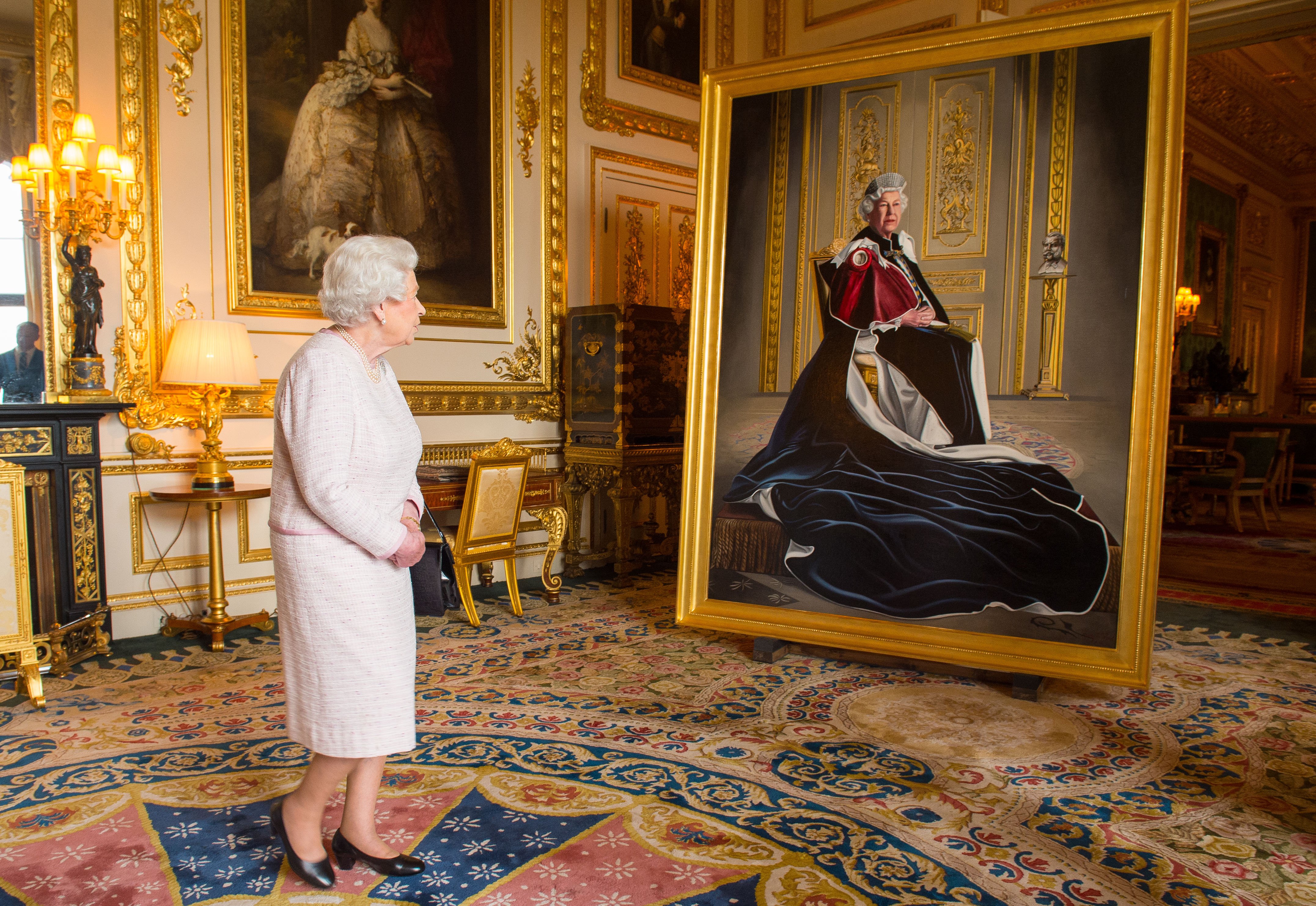 Queen Elizabeth II views a portrait of herself by British artist Henry Ward, marking six decades of patronage to the British Red Cross, which has been unveiled at Windsor Castle on October 14, 2016 in Windsor, England. | Source: Getty Images
It
boasts
gigantic wall paintings, framed pictures of family members, and a magnificent central dining tablet at the Waterloo Chambers.
Despite being a place for official matters, it is also designed to secure an exciting living space with the Queen's favorite corgis moving around the Castle.
THE QUEEN'S LAST CHRISTMAS AT WINDSOR CASTLE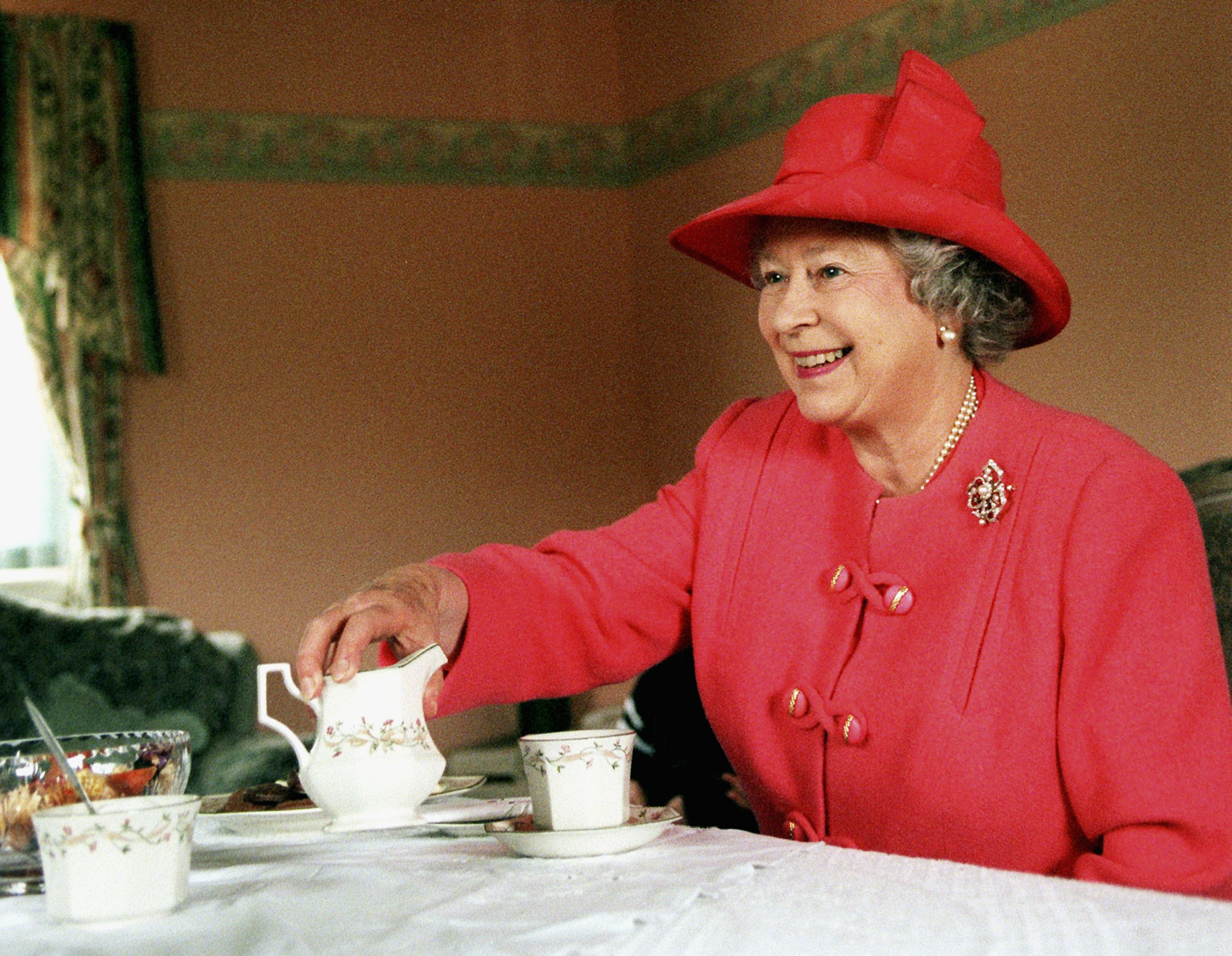 Queen Elizabeth II joins Mrs Susan McCarron, her ten-year-old son, James, and Housing Manager Liz McGinniss for tea in their home in the Castlemilk area of Glasgow in Scotland on July 7, 1999. | Source: Getty Images
Last year Christmas was a different one for the Queen. She did not celebrate the December holiday at her home in Norfolk, nor was it in her husband's company, Prince Philip.
The Prince passed away in April, so the monarch decided to visit Windsor for the yuletide. Queen Elizabeth II remained there and was soon joined by her son, Prince Charles, and his wife, Camilla.
Although the Christmas venue changed, the Queen's tradition for Christmas day remained the same. Every Christmas, she wakes early to visit St. Mary Magdalene Church at Sandringham for a private communion. By 11 a.m., the rest of her family had joined her.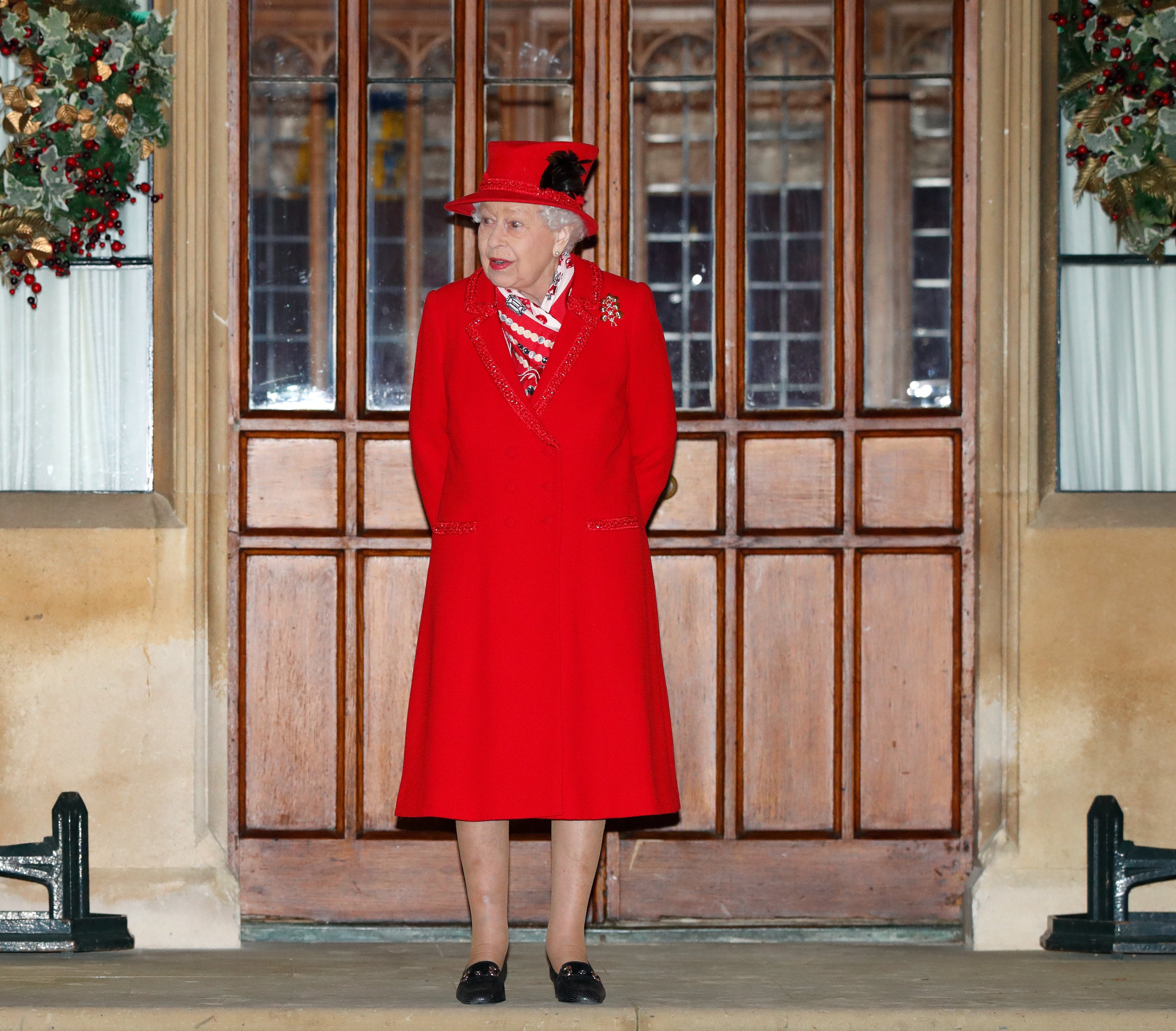 Queen Elizabeth II attends an event to thank local volunteers and key workers from organisations and charities in Berkshire on December 8, 2020 in Windsor, England. | Source: Getty Images
Before leaving home, the Queen begins her day by snacking on biscuits and Earl Grey Tea without sugar or milk. What follows is a bowl of cereal, served from a plastic storage box, as she believes it is the best way to keep it fresh. Her breakfast is served with yogurt, toast, marmalade, and sometimes, smoked haddock.
Other royals rallied around the Queen despite Philip's absence, honoring the festive ritual. For last Christmas, she was not only joined by her son but by more than fifteen others.
The list included Mike and Zara Tindall, Prince Edwards and his wife, Sophie, as well as Princess Beatrice, Princess Eugenie, and their kids. Unfortunately, while the family was enjoying their breakfast, they were interrupted by news of a break-in at Windsor Castle.
AN UNFORGETTABLE CHRISTMAS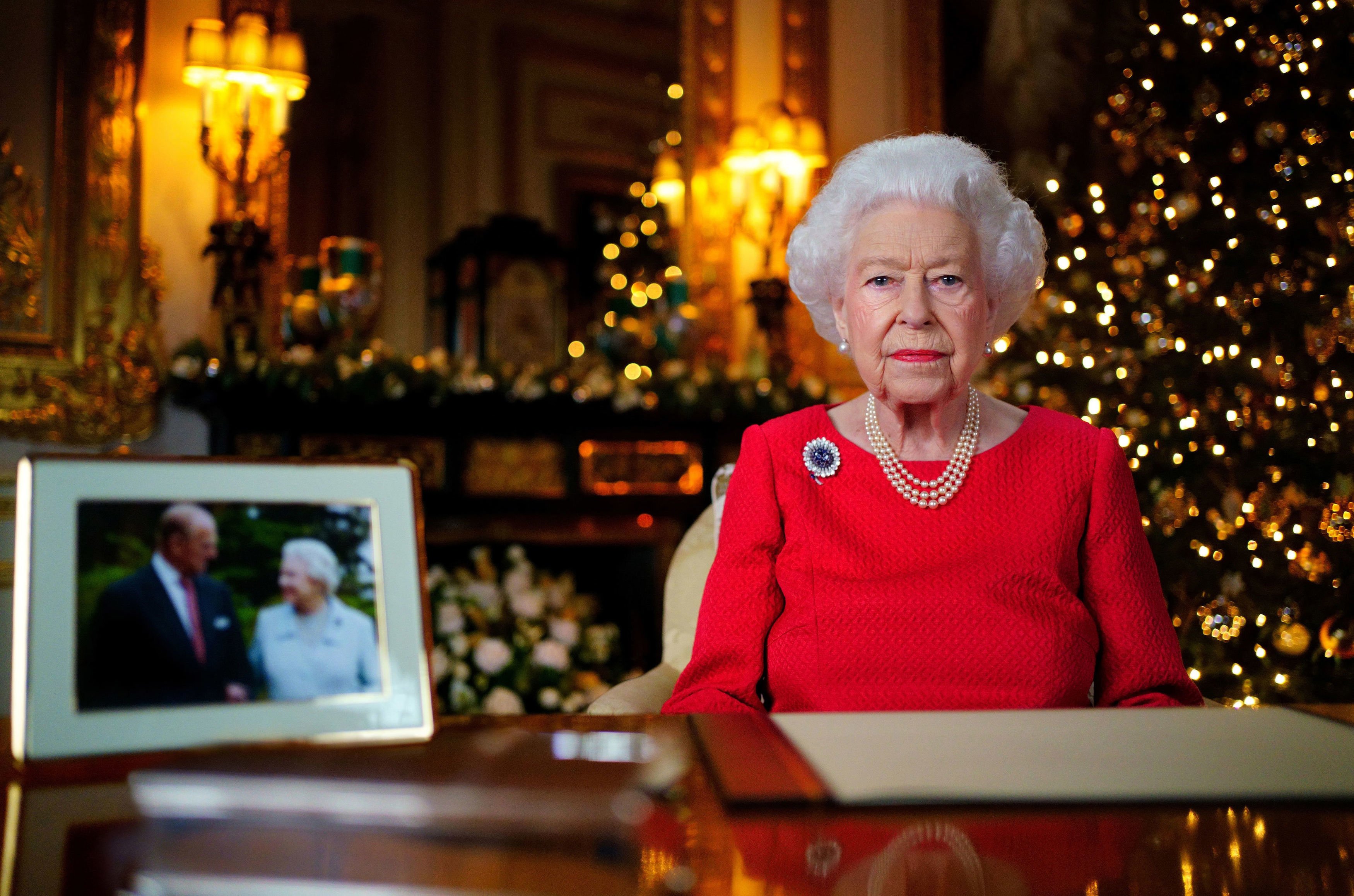 Queen Elizabeth II records her annual Christmas broadcast in the White Drawing Room in Windsor Castle, Berkshire. Issue date: Saturday December 25, 2021. | Source: Getty Images
It was gathered that the suspect who broke into the Castle was known as Jas, from Southampton, Hants. He had climbed the spiked fence with a rope ladder and was accused of having a crossbow in his possession.
The 20-year-old was only 500 meters from the Queen's private quarters inside the Castle's grounds when armed forces caught him. His time on the estate remains unclear, but the authorities were confident it was a severe crime.
Thankfully, he did not harm anybody or take anything from the palace as the triggering alarms set off in time to announce his intrusion.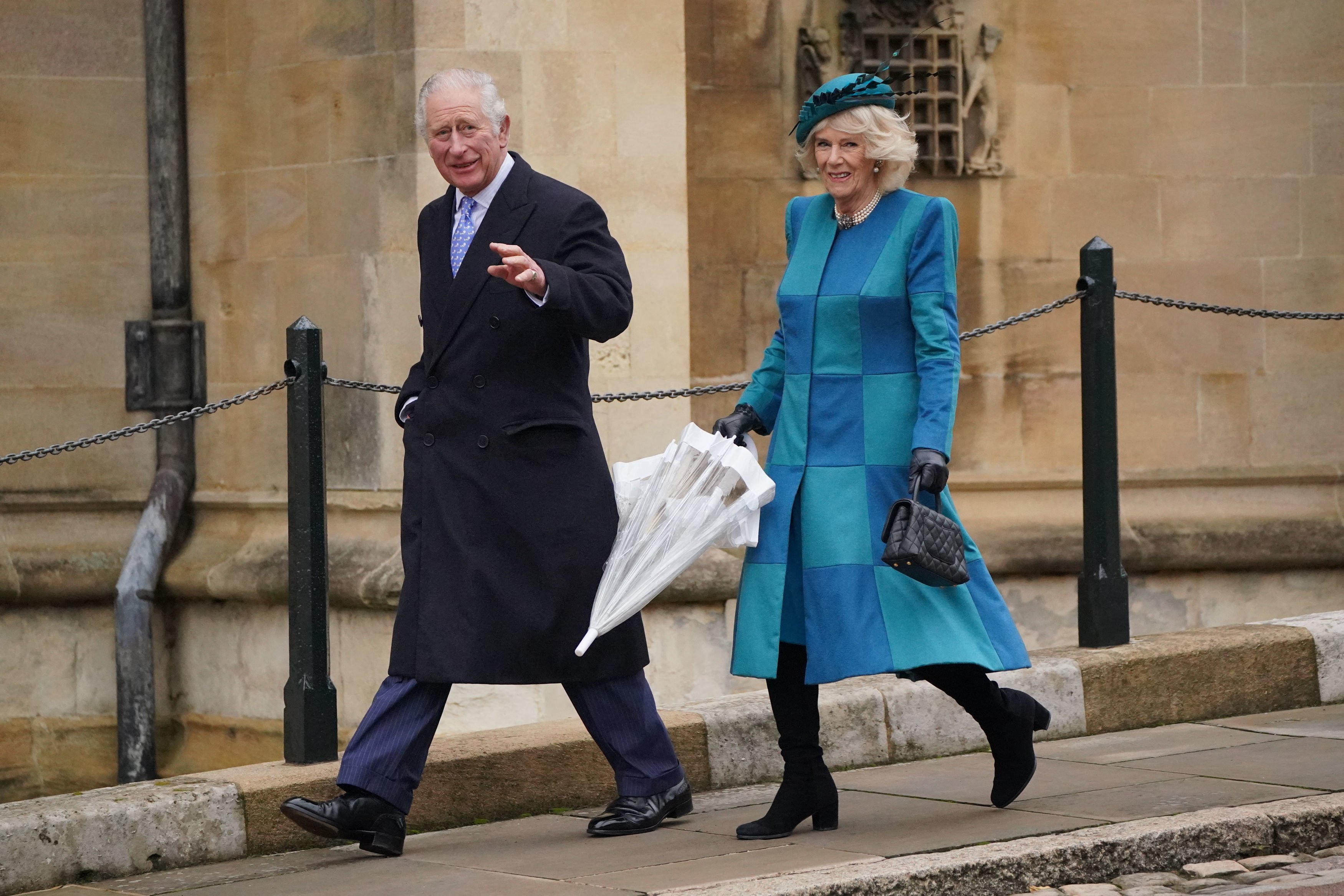 Britain's Prince Charles, Prince of Wales (L) and Britain's Camilla, Duchess of Cornwall arrive to attend the Christmas Day morning church service at St George's Chapel, Windsor Castle, Berkshire on December 25, 2021. | Source: Getty Images
The area was flooded with police, and the suspect was arrested on suspicion of trespassing and possessing an offensive weapon. Once the Met Police Counter Terrorism Command unit had the young man in custody, the Queen carried on with her affair.
She attended the traditional morning service at St George's chapel. Her children and their wives were also there to show their support.
During the Christmas celebration, the Queen shared a personal message that paid tribute to her deceased husband, whom she married for seventy-three years. In the statement, she admitted that his absence made Christmas hard.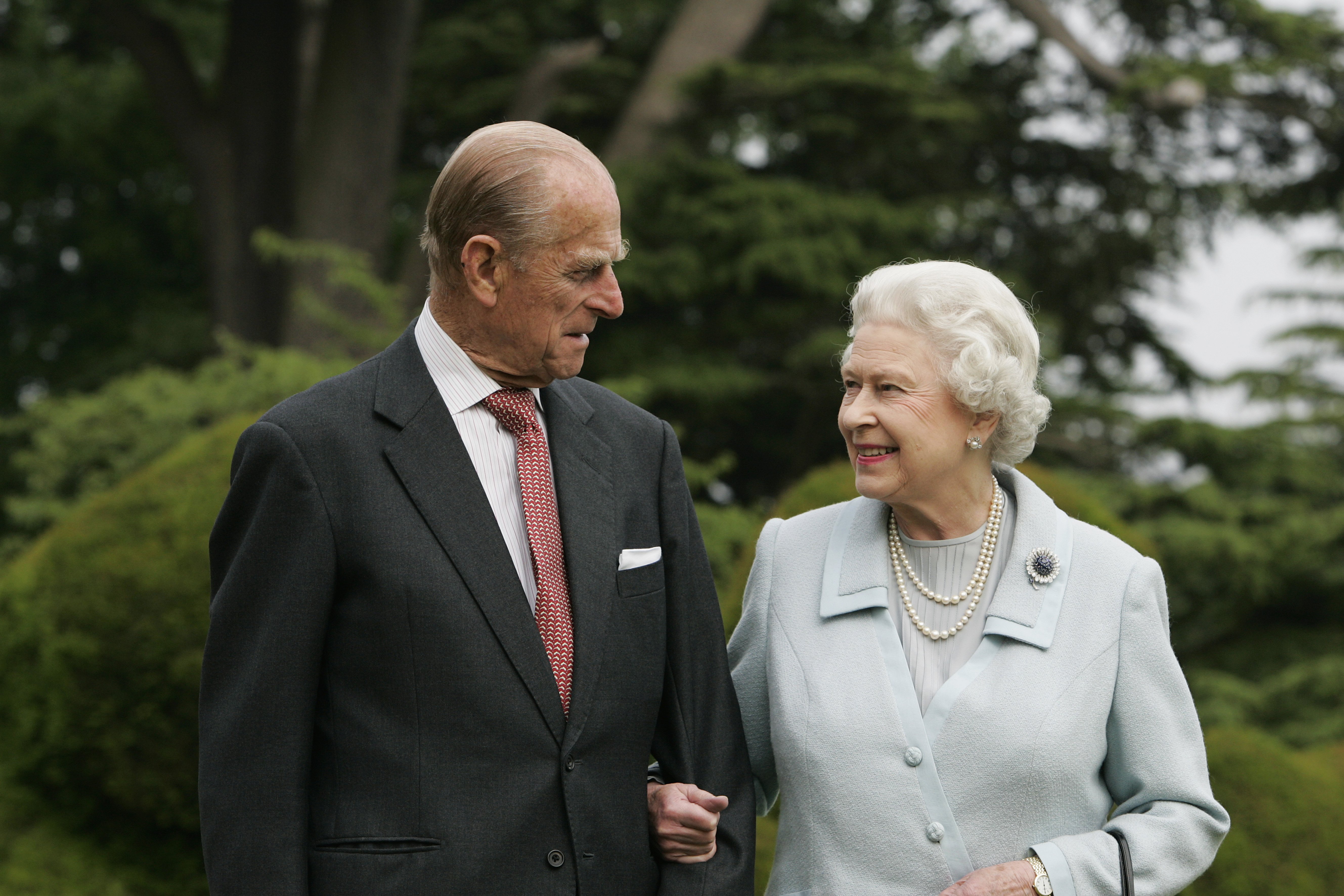 HM The Queen Elizabeth II and Prince Philip, The Duke of Edinburgh re-visit Broadlands, to mark their Diamond Wedding Anniversary on November 20. | Source: Getty Images
Queen Elizabeth II called Prince Philip her "beloved," adding that despite his absence, she felt his presence with the family.
A year after her first Christmas without Philips, and the intrusion into the palace, the suspect, Jas, was charged with three offenses, including treason, threat to kill, and possession of an offensive weapon. He is to appear at Westminster Magistrates' Court on Wednesday, August 17, for a verdict.
Please fill in your e-mail so we can share with you our top stories!