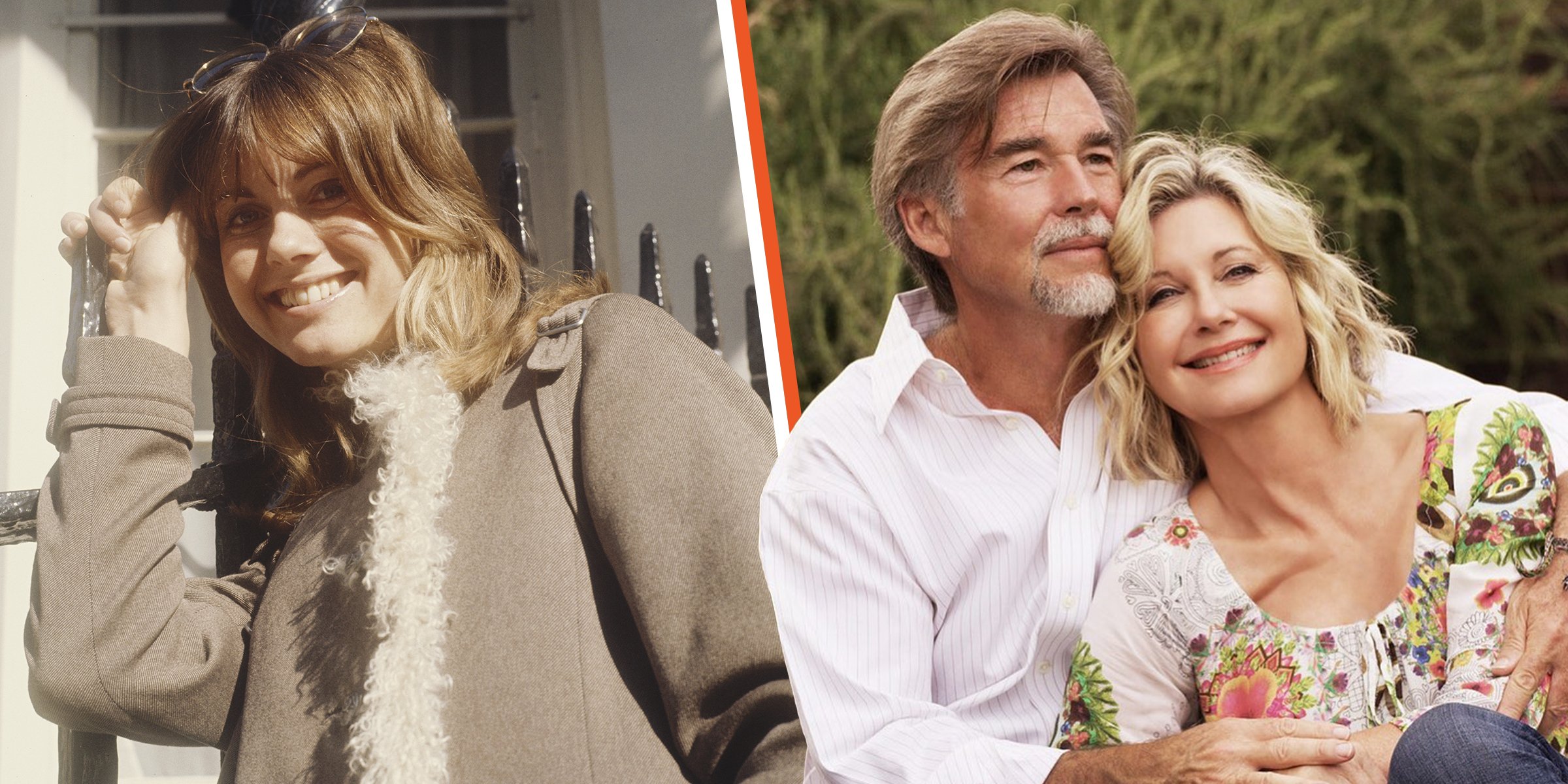 Getty Images - Instagram.com/therealonj
Olivia Newton-John Looked 'So Peaceful' in Last Post Cuddling with Husband Who She Wed after Ex Vanished

On August 8, 2022, the world lost a Hollywood icon when Olivia Newton-John lost her 30-years-long battle with cancer. Her final photograph was one that brought comfort to her fans.
Newton-John had been battling cancer for many years before she finally lost the battle at 73. The war began in 1992 when the "Grease" star was diagnosed with breast cancer. Twenty-one years later, in 2013, cancer had spread.
The film star found out in 2013 that she also had cancer in her shoulder. This time, she decided she would not share her diagnosis with her friends or family as she had done when she was diagnosed the first time.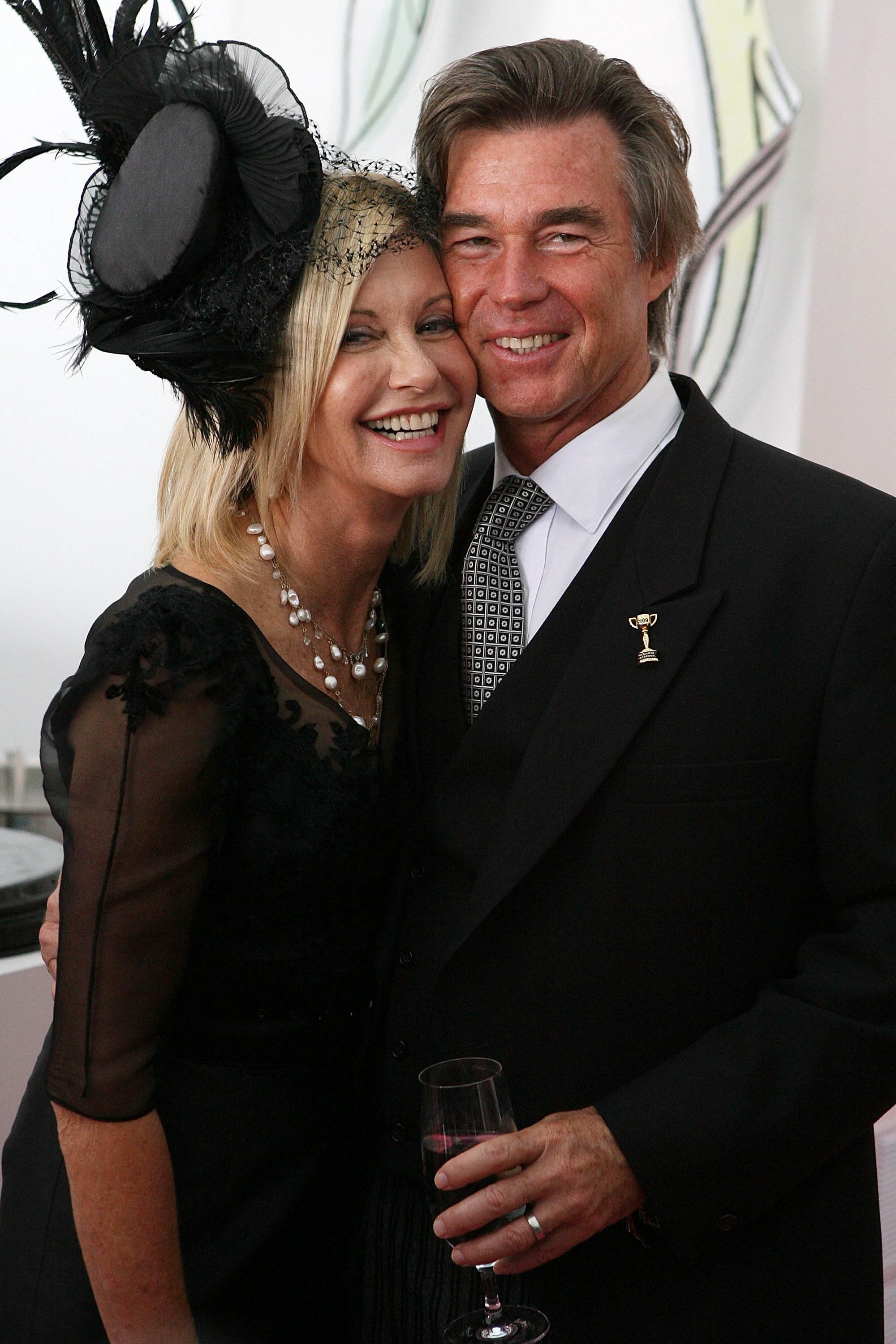 Olivia Newton-John and husband John Easterling attend Emirates Melbourne Cup Day at Flemington Racecourse. November 3, 2009. | Source: Getty Images
However, her plans to keep her illness a secret were foiled in 2017 when she found out that her cancer had returned despite all the treatments she had gone through. The cancer was now in her breasts and the base of her spine.
Newton-John shared that all of this happened just before her 70th birthday and stopped all the plans she had. Talking about how she got through it, she shared:
"Of course, I had my moments, and my tears and all that," she added, talking about how the third bout with cancer affected her mental health. "But I have a wonderful husband who supports me through those things."
While she was alive, Newton-John leaned on her husband, John Easterling, for love and support when she most needed it, and he announced the star's passing. Easterling took to Newton-John's Instagram page to share the news with fans and friends.
The post contained a photograph of Newton-John in a white shirt with a short hairstyle smiling at the camera. The caption was what caught the attention of followers, though. Easterling paid tribute to his late wife in a beautiful way.
He began the caption by announcing that Newton-John had peacefully passed away on her ranch in Southern California with her family and friends all around her. He then asked for privacy during their mourning period.
Easterling mentioned the triumphs that Newton-John had made over the years and said that her foundation, The Olivia Newton-John Foundation, was an inspiration to many. Newton-John's husband asked fans to make donations to the foundation instead of sending flowers.
While her husband made this post, it was the post before this one, made by Newton-John herself, that fans and friends found heartwarming. The post seemed to pay tribute to Easterling.
NEWTON-JOHN'S LAST INSTAGRAM POST WAS TOUCHING
Up until two days before Newton-John's death, she was in charge of her Instagram account. She often shared photos of herself and her family and took pride in showing off her triumphs throughout the years.
She also took the time to wish her followers on major holidays, such as Easter. In 2022, on April 17, Newton-John took to her Instagram page to post a photograph of herself standing in some sunflowers, wishing her followers a Happy Easter and Spring Day.
While followers loved all of the pictures the star posted, her last photo before she died tugged at the heartstrings of everybody who saw it. In the photograph, Newton-John and Easterling sit in a garden, embracing one another.
The caption on the photograph was a simple "#FlashbackFriday," but fans understood that the photo meant much more to the couple than reminiscing over time. Many commented on how beautiful the couple looked together.
One follower mentioned how peaceful Newton-John looked wrapped in her husband's arms. The woman said the photo was "absolutely stunning," and the pose was "natural." Many other followers agreed with the sentiment.
Other followers said that the photo was beautiful and that even though it was not taken recently, it was a precious picture. Another comment was that Newton-John's silence on social media was "deafening."
The commenter who pointed this out shared her thoughts about the situation by saying:
"I'm not the only one wondering if you're really okay."
This comment proved prophetic as just two days later, her husband shared the news about Newton-John's passing. Fans then understood why she had been so quiet on social media.
Although fans loved seeing Easterling on Newton-John's Instagram page, it was not something they got to see often. While Newton-John posted often, she rarely posted photographs with her husband.
The last picture that she posted with Easterling before the most recent one was back in 2020 when she shared a photo of them kissing under the mistletoe while she explained the medical benefits of mistletoe.
NEWTON-JOHN AND EASTERLING HAD A BEAUTIFUL LOVE STORY
Easterling, a natural-health businessman, and Newton-John met in the '90s. However, it was only fifteen years later that they began a romantic relationship. The couple shared an interest in holistic remedies, and Easterling helped Newton-John treat her cancer without pharmaceuticals.
In 2007, after years of knowing one another, the couple finally went public with their relationship. After telling the world that they were romantically involved, the couple tied the knot twice in June 2008.
The first ceremony was a spiritual Incan ceremony where they eloped on top of a mountain. They then returned to Florida, where they had the second ceremony surrounded by their nearest and dearest.
In 2020, Newton-John took to her Instagram page to share a photo of the couple's Incan wedding ceremony. In the image, Newton-John sits in a white dress on a wooden chair with her husband behind her and the man who performed the ceremony.
In the caption, Newton-John revealed that it felt like no time had passed over the 12 years they had married. She then wished Easterling a happy anniversary and thanked the photographer for capturing the day.
Although Easterling was not a worldwide star, he supported Newton-John throughout their marriage, often attending awards shows and helping her throughout her journey with cancer.
Easterling and Newton-John had a beautiful love story, but she found it unlikely that she would get into a relationship again at 59. Newton-John's ex, Patrick McDermott, went missing in a mysterious boating incident, and after that, she didn't think she would fall in love again.
However, when she and Easterling got into a relationship, she said he helped her to overcome the "traumatic" experience. She also shared that she thought you shouldn't give up on love, saying:
"I'm very lucky I have a wonderful, beautiful husband who is just so loving and fantastic. I always tell my friends you're never too old to find love."
We wish Easterling and the rest of Olivia Newton-John's family our deepest condolences and love during this difficult time.
Please fill in your e-mail so we can share with you our top stories!