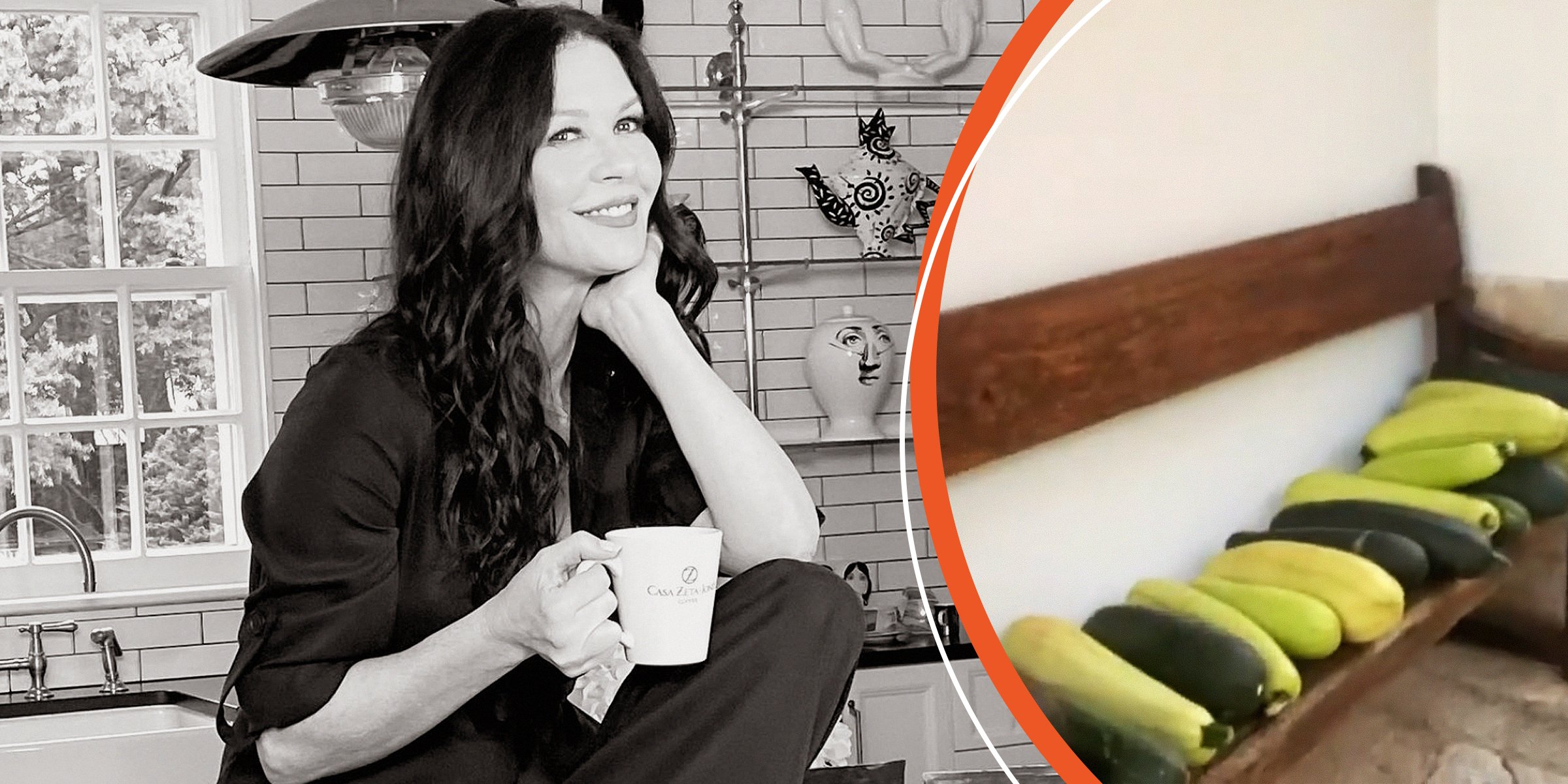 Instagram.com/catherinezetajones
Catherine Zeta-Jones Grows Zucchini in Her Garden — She Gave Glimpse of Perfect Kitchen in $4.5M New York Home

Catherine Zeta-Jones has the ultimate taste in properties, with her New York home sprawling with a zucchini garden. This breathtaking estate is just one of many she shares with her longtime husband, Michael Douglas.
When she's not out filming, Welsh actress Catherine Zeta-Jones spends her days in her magnificent New York estate, which she shares with her husband of over two decades, Michael Douglas. The Hollywood power couple has been married since 2000 and still enjoys marital bliss and are happy together.
The duo boasts an impressive real estate portfolio, with properties dotted across various states. However, their safe haven remains their $4.5 million estate in New York, purchased in 2019.
The jaw-dropping abode, sitting on 12 acres of land, boasts of glass panes, marble floors, and stunning furniture sets. The entryway features a gigantic front door framed by palatial white pillars opening into the picturesque interiors easily likened to "Wonderland."
CATHERINE ZETA-JONES IS A REAL HOUSEWIFE: INSIDE HER PERFECT KITCHEN AND GARDEN
In a post from 2021, the icon gave fans a rare glimpse into her immaculate kitchen, with a photo of herself posing atop the kitchen countertop.
She held a cup of coffee from her coffee brand Casa Zeta-Jones, taking to the comment section to bid fans good morning and ask about their morning coffee routine.
While the caption piqued fans' interest, what caught the attention of most was her stunning beauty and the perfect display of her kitchen in the background.
The kitchen featured a white paneled window overlooking her breathtaking garden. It also had a white worktop, a line of shelves on the brick-style tiled walls, and various artworks and ornaments displayed on the shelves.
Fans, thrilled to finally get a glimpse into the star's life, quickly jumped to the comment section to react to the photo and admire the one-of-a-kind display. One fan commented:
"I'm so glad I'm not the only one in Swansea that sits cross-legged on the kitchen counter."
Others commented with endearing words like "gorgeous" and "Beautiful," singing odes to the actress. Aside from her good looks and impeccable taste in lavish interiors, the 52-year-old is the epitome of positivity, adding life to everything around her.
Not only is she a famous actress, but she is also a proud mom to two kids and a homemaker with good gardening skills. Her sprawling zucchini garden, which the star grows within her New York estate, proves just how talented she could be in other areas.
In June 2021, the stunning beauty shocked fans with a rare glimpse into the glamorous garden in her $4.5 million New York estate, where she resides with her husband and kids.
While the rare display certainly stirred heated reactions, her revelation of her secret talent left the comment section exploding with chants of excitement and praise. She shared a video showing the bountiful harvest from her vegetable patch, confirming she was great at gardening.
The clip featured several zucchinis, all harvested from her garden. Via caption, the "No Reservations" star shared, "Extra large organics from my garden, my favorites! Happy Sunday all."
While panning the camera across the vegetable display, the actress' voice could be heard in the background saying, "Extremely large zucchinis, or in Britain as we call them, courgettes. But they are STUPENDOUS."
The breathtaking display of her vegetable garden was also visible in the background, proving she indeed had a green thumb. Fans could not have enough of the "Ocean's Twelve" star's horticultural talent, with heart emojis and clapping emojis flooding the comment section. One fan commented:
"Aww love that you get the same satisfaction as me with growing your own. Although I'm a newbie to growing and mine didn't quite have the same success as yours."
Another fan praised her work, saying she certainly had a green thumb or great soil to have such healthy-looking vegetables herself. One fan expressed admiration for the talented icon, saying:
"Wow, that picture is worth hanging in the kitchen or better yet the bedroom. Delicious chocolate zucchini bread coffee and cake in the morning."
Others expressed their love for the actress, heightened by discovering her secret talent. Meanwhile, most reminisced on how great it would be to enjoy home-grown zucchinis in the company of one's partner and kids.
CATHERINE ZETA-JONES AND HER HUSBAND HAVE THE PERFECT FAMILY
Catherine Zeta-Jones enjoys the comfort of her luxury home with her husband, Michael Douglas, and their two children, Carys Zeta Douglas and Dylan Zeta Douglas. Despite being married for up to 22 years, the couple's love for each other never dwindles.
Their love story began with a first meeting at the Deauville Film Festival in France in August 1998. They became acquainted after then-couple Antonio Banderas and Malanie Griffith, who were their mutual friend, introduced them. Douglas knew at once she was the one.
The actor recalled telling his to-be wife that he would be the father of her children just 30 minutes into their meeting. Soon after, they kicked off a relationship and confirmed they were expecting their first child together in November 1999.
Zeta-Jones and Douglas got engaged on New Year's eve, welcoming their first child, Dulan, in August 2000. The twosome eventually tied the knot in a dreamy ceremony conducted at the Plaza Hotel in New York City, about one year after their engagement.
Their wedding followed the finalization of Douglas's divorce from former wife Diandra Lucker, mom to his eldest son Cameron.
In April 2003, the power couple gave birth to their second child together, daughter Carys Zeta Douglas. The lovebirds spent the years that followed raising their kids together and enjoying every moment of their marriage.
Tragedy struck in 2010 when Douglas was diagnosed with stage IV squamous cell carcinoma oral cancer, commonly called throat cancer, likely caused by human papillomavirus.
The actress stood by her husband as he underwent the daunting treatment sessions, eventually surviving the ailment a year later. Zeta-Jones also experienced some health issues of her own and sought treatment for bipolar II disorder with her husband's support.
By standing by each other every step of the way, even through the hard times, Catherine Zeta-Jones and Michael Douglas have managed to sustain their romance for decades and still love each other after 22 years of marriage.
Please fill in your e-mail so we can share with you our top stories!