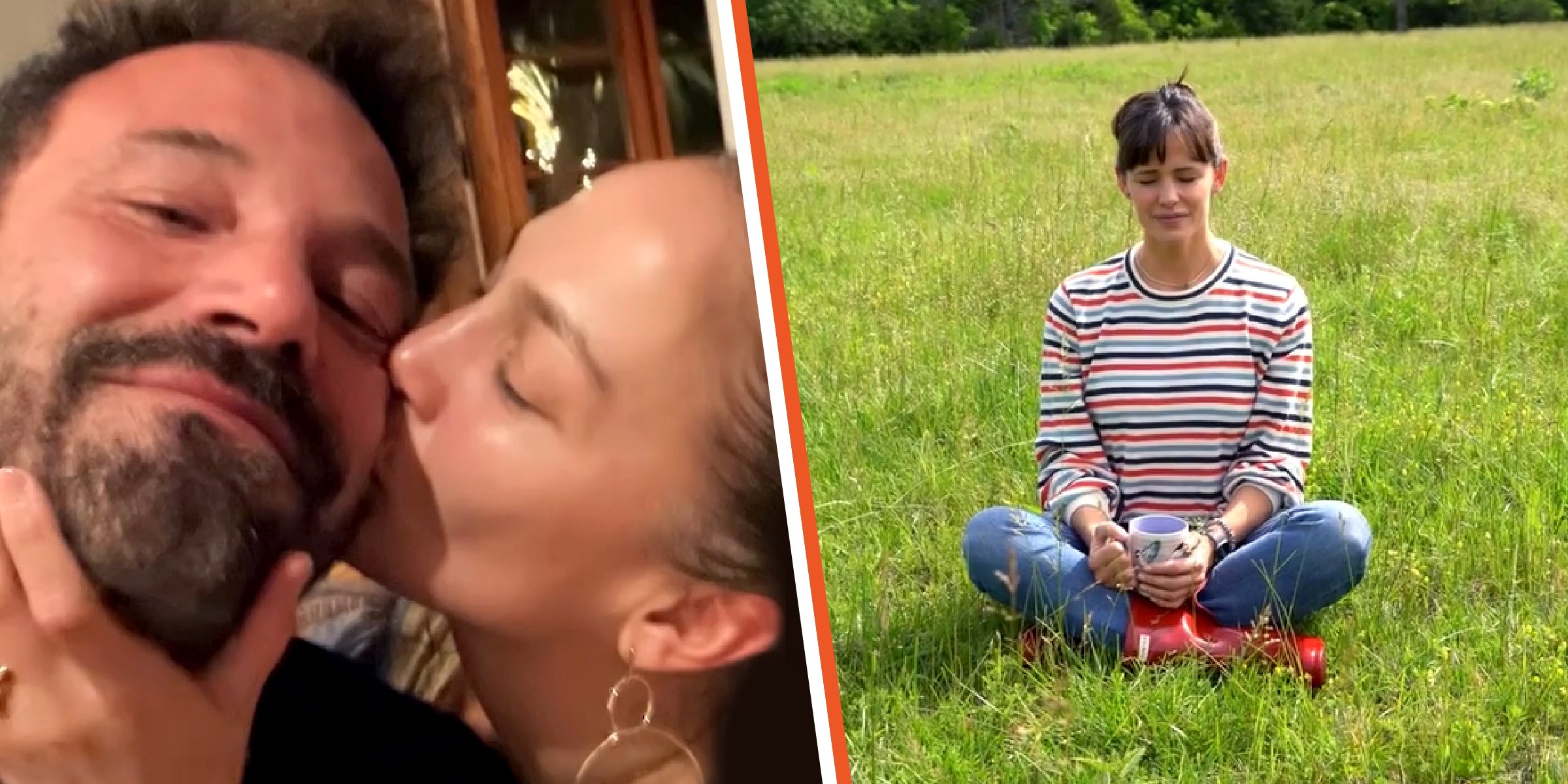 Instagram.com/jennifer.garner - Instagram.com/jlo
Jennifer Garner Relaxes Alone at Her Farm While Kids Celebrate Ben Affleck's Birthday with Him & JLo

Former Hollywood couple Jennifer Garner and Ben Affleck were married for years and welcomed three children together. However, after their marriage ended on a sour note, the pair had to settle for co-parenting, although it took them some time to reach that point.
Actor Ben Affleck and actress Jennifer Garner first crossed paths in 2000 while filming the movie "Pearl Harbor" together. At the time, Garner was still married to actor Scott Foley whom she wed in 2000 but later divorced in 2004.
Meanwhile, Affleck was dating Latina native Jennifer Lopez, to whom he proposed, but the pair later split, making room for him and Garner to become an item. However, they worked together once more before sparks flew.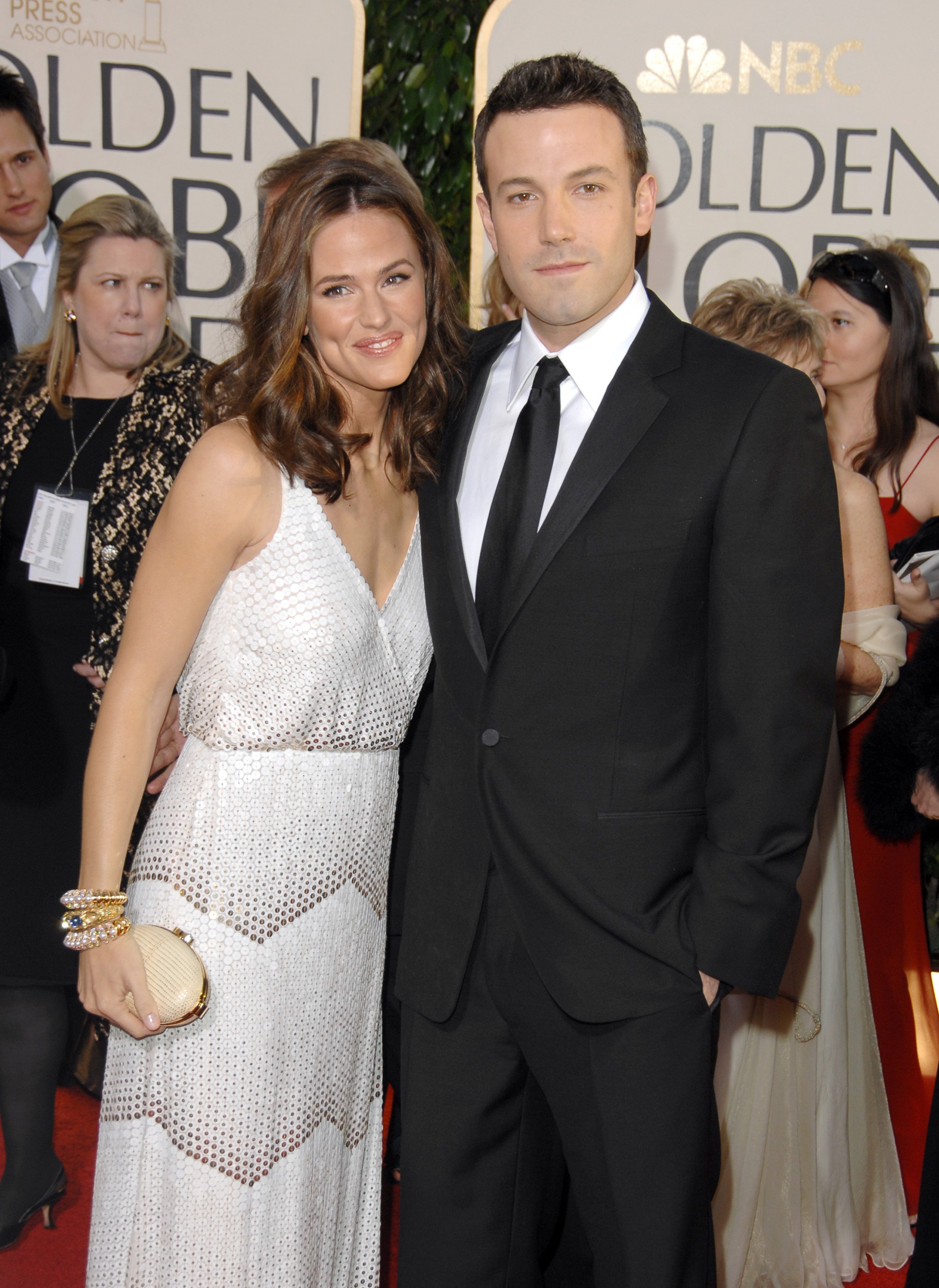 Actress Jennifer Garner and actor Ben Affleck during the 64th Annual Golden Globe Awards | Source: Getty Images
The Oscar Award winner and the "13 Going on 30" star began dating in 2004 and walked down the aisle in an intimate wedding ceremony on July 29, 2005. However, things went downhill in their decade-long marriage, which ended in 2018 following years of back and forth between the exes.
Garner and Affleck welcomed their first child together, daughter Violet in December 2005. They expanded their family when they had their second child, another daughter named Seraphina, in January 2009. The pair's third child and only son, Samuel, arrived in February 2012.
In July 2015, the "Daredevil" stars announced that they were getting a divorce. The news came after media reports disclosed that Affleck took the family's nanny, Christine Ouzounian, to Las Vegas.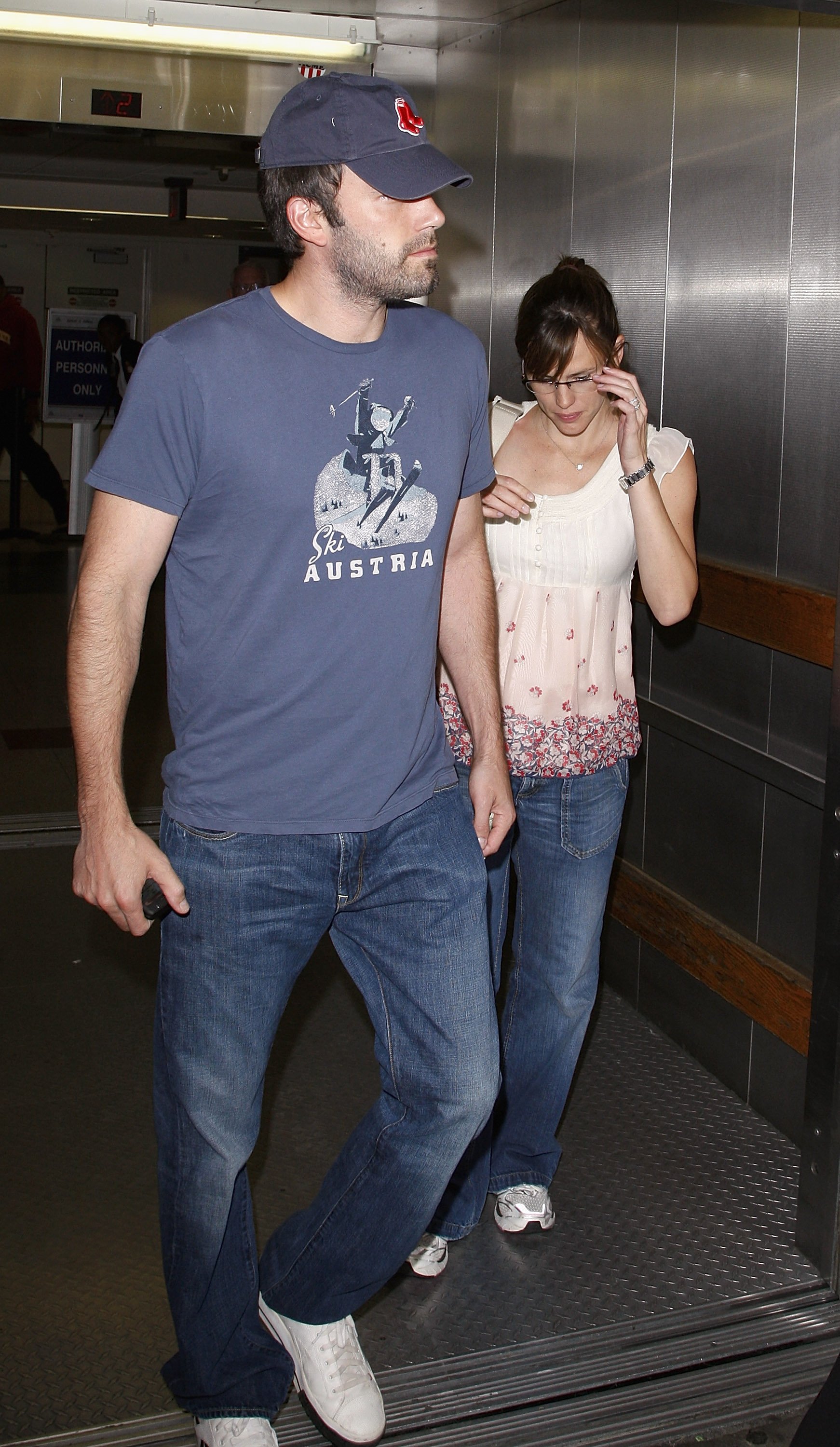 Ben Affleck and Jennifer Garner arriving at LAX airport on August 3, 2008 in Los Angeles, California | Source: Getty Images
However, his rep denied that the pair were romantically linked. In addition, Us Weekly had reported that the "Justice League" star had left his then-wife on vacation and chose to take Ouzounian to a charity poker tournament.
The following month in July 2015, the outlet reported that multiple sources had confirmed Affleck was dating the Ouzounian. Days later, Garner and Affleck released a joint media statement to People announcing they were parting ways:
"After much thought and careful consideration, we have made the difficult decision to divorce. We go forward with love and friendship for one another and a commitment to co-parenting our children."
AFFLECK HAS FINALLY FOUND HAPPINESS
After several relationships following their divorce, Affleck finally found happiness in his relationship with pop singer Lopez. The couple reunited after twenty years since they ended their engagement.
Entertainment Tonight reported in July 2022 that a source revealed that Affleck has been over the moon since he reconciled with Lopez after all these years, as they are now officially married. The lovebirds exchanged their wedding vows in a private yet spontaneous ceremony in Las Vegas in July 2022:
"Ben has been telling Jen how unbelievably happy he is that she is his wife."
In April 2022, Lopez teased fans about an announcement on her website, On The JLo.com, via a video on Twitter. She blushed when she urged her followers to check her website to see what the announcement was about. Unbeknown to fans, she was going to announce that she and Affleck were engaged to be married.
Days later, Lopez posted a clip for fans on Twitter again, who went to the website, which showed a clip of her admiring a greenstone ring as she sobbed.
According to BuzzFeed, the actress previously revealed that green was her "lucky color," adding good things always occurred whenever she was wearing something green.
Meanwhile, according to Us Magazine, her husband and Garner have remained cordial since their split. An insider told the publication in February 2020 that it took a lot for Affleck and Garner to reach a common ground:
"Things come up between them, but they are committed to doing the best they can for the kids. They stay on top of things and have a lot of meetings and check-ins. They want to be the best parents they can for the kids."
The source added that whenever the pair disagree on something, they resolve it amongst themselves to protect their brood. "They always put on happy faces for the kids and put their well-being first," the insider revealed.
AFFLECK SPOTTED SPENDING TIME WITH HIS NEW WIFE & KIDS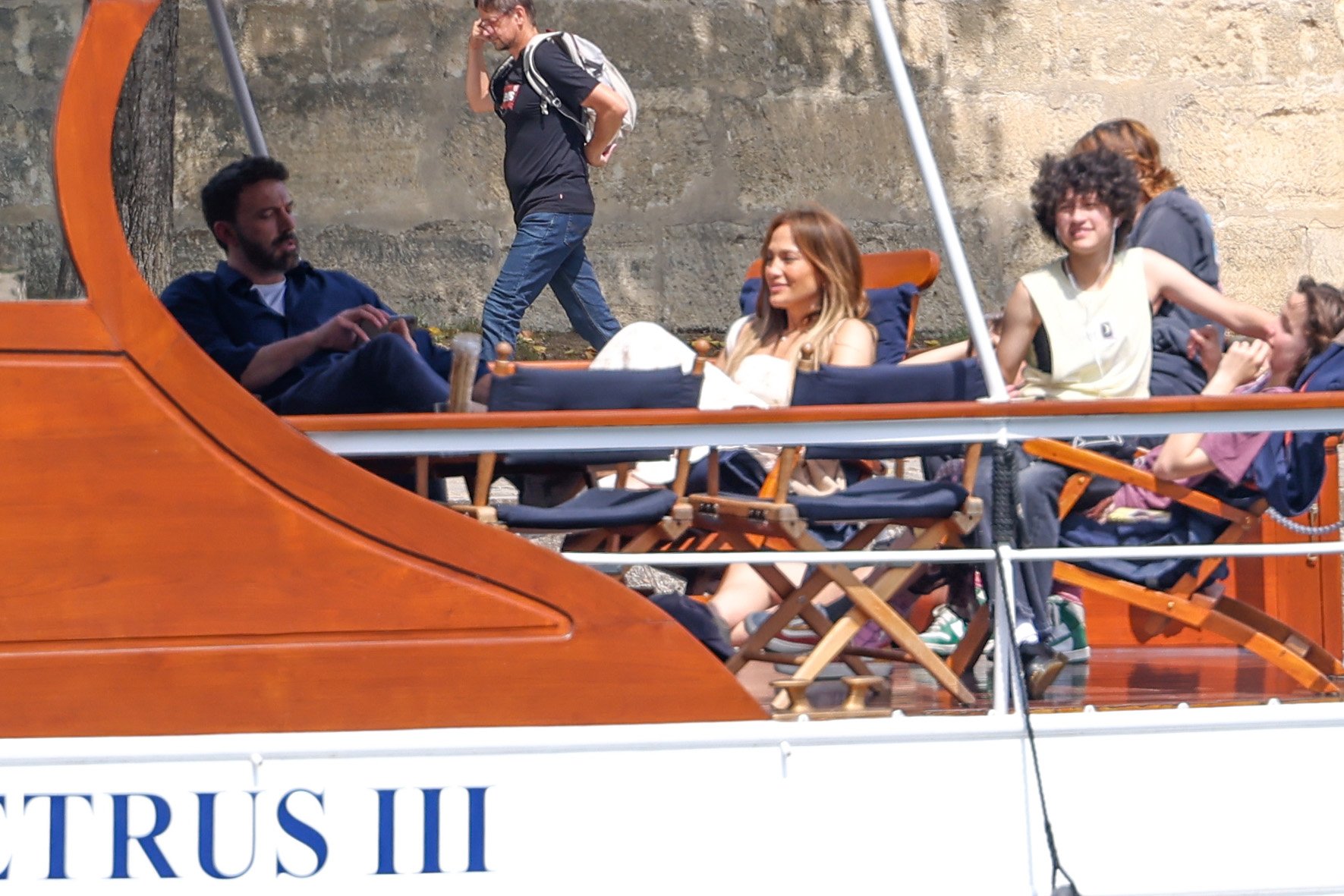 Jennifer Lopez and Ben Affleck pictured on a cruise with some of their children, Seraphina Affleck and Emme Muniz on July 23, 2022 in Paris, France | Source: Getty Images
Affleck and his newly-wedded wife, Lopez, were spotted stepping out with their blended family in New York. The filmmaker's daughter Violet and the dancer's son Max were pictured sitting with the Lopez in the car.
The mother of two shares twins Max and daughter Emme with her ex-husband, musician Marc Anthony. She and her current spouse Affleck, together with the kids, were seen just hours before he celebrated his 50th birthday.
All the while, Garner went for a more zen mode, spending time alone on a farm. She posted a video of herself sipping from a cup while sitting down with her legs crossed.
The mother of three expressed how much she was enjoying the natural surroundings. "Sound on for a deep breath on Sunday morning," she captioned the post.
GARNER'S FAMILY FARM
The Texas native has a garden space on her farm where she grows vegetables such as carrots. She has a fenced structure around her garden, consisting of many plants in the bed.
Her farm is surrounded by lots of trees in a fenced area. Garner has a farm vehicle she uses to transport her harvested vegetables, such as sweet potatoes. The muddy area also has greenery all around.
Garner has a farming background in her family. Her mother, Patricia English Garner, penned a piece for Southern Living wherein she explained how farming came about in their family.
She revealed that her parents, Harvey English and Violet English, purchased their family farm near Locust Grove, Oklahoma, in 1936. It was a two-room house and 20 acres, said Patricia, adding:
"It's been in our family ever since."
To date, her daughter is also a farmer and features on the Once Upon A Time Farm website. The page lists farmers in charge.
Under Jennifer's name, she is described as someone who "guides the Farm vision and overall brand while making sure we give back to the community."
Please fill in your e-mail so we can share with you our top stories!