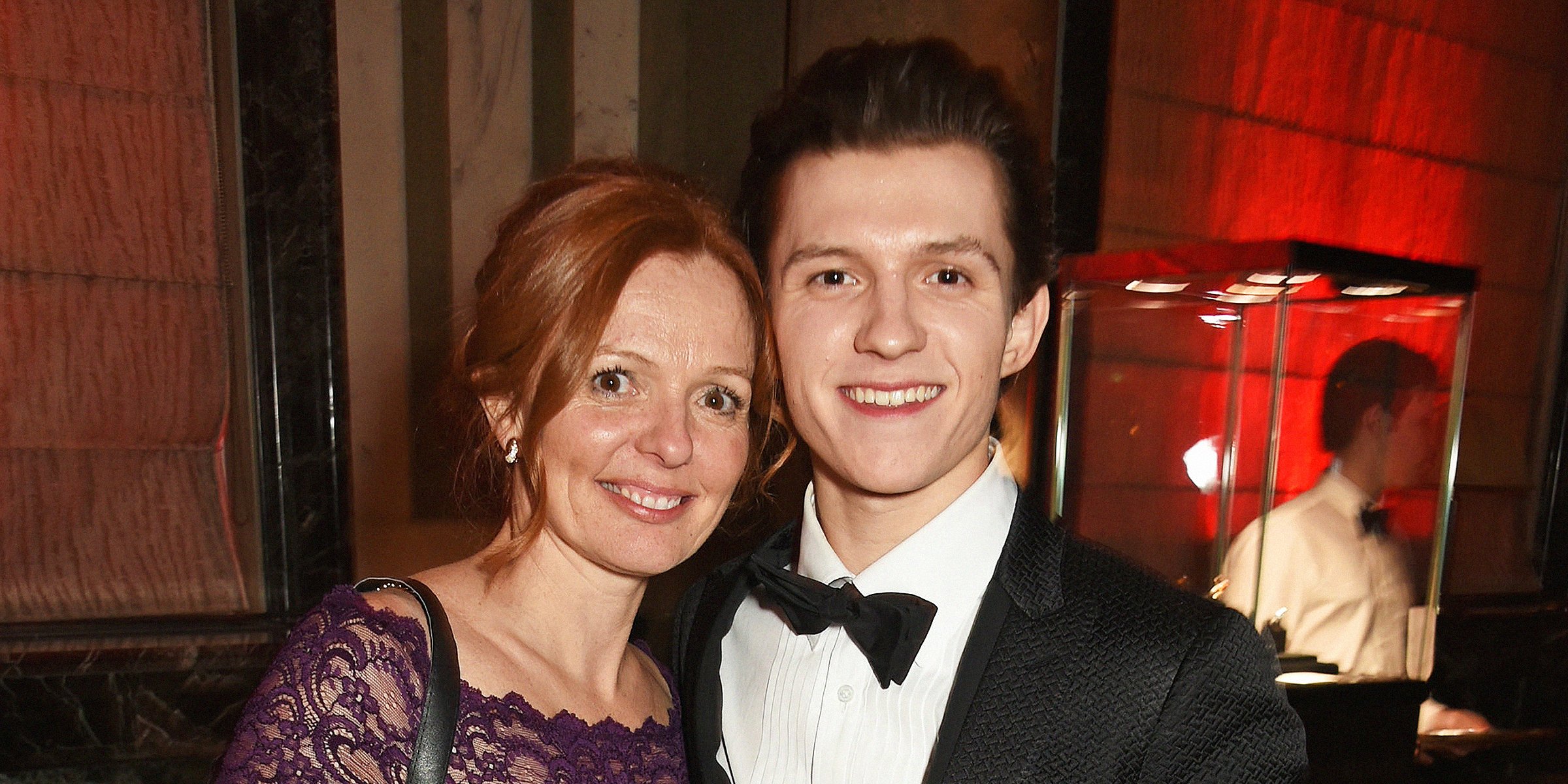 Getty Images
Nicola Elizabeth Frost, Tom Holland Mother, Once Called 'Spiderman' Producers

Tom Holland may be a star, but he has a close relationship with his mother, Nicola Elizabeth Frost. While he was on the set of "Spiderman," his mother called the producers after her son complained to her.
Tom Holland rose to fame when he starred as Peter Parker and Spiderman in Marvel's "Captain America Civil War." He has continuously reprised his role in "Spider-Man: Homecoming," "Avengers: Infinity War," "Avengers: Endgame," "Spider-Man: Far From Home," and "Spider-Man: No Way Home."
In February 2022, while he was on the show "LIVE with Kelly and Ryan" with Kelly Ripa and Ryan Seacrest, the actor revealed that his mother had called the producers when he was on set.
Tom told them how he had called his mother to complain about not being able to use the restroom while dressed in his spider-man suit during filming. The outfit did not have zippers, and he had to wear it for hours at a stretch, not wanting to take it off.
Two days after the daily phone call session with his mother, the producer asked him how his kidneys were doing. Tom said they were fine but wanted to know why the producer asked. The producer replied:
"Well, your mom called us…"
MEET NICOLA ELIZABETH FROST, TOM HOLLAND'S MOTHER
Nicola Elizabeth Frost, Tom's mother, is known as Nikki Holland. She is a professional photographer with a degree in design from Leeds University.
For over two decades, she had honed her skills as a lifestyle photographer, studio photographer, and wedding photographer. She believes in her ability to recognize the shot and opportunity and maximizes each image during post-production with her creativity.
Nikki also takes headshots for actors and has experience with family photography, social media photography, and photography for the corporate market.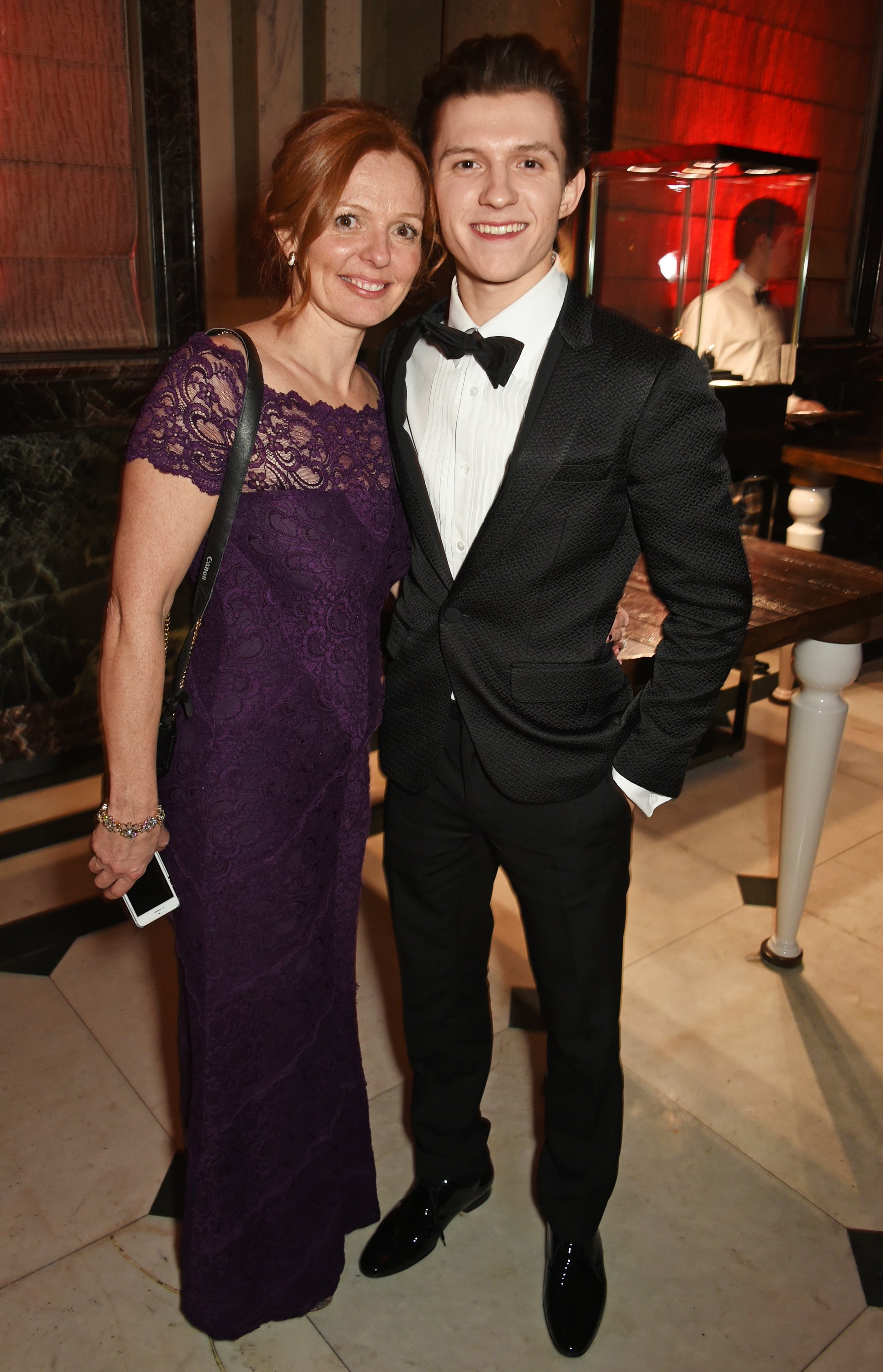 Tom Holland and Nicola Holland at the Weinstein Company on February 12, 2017 | Source: Getty Images
Besides posting images of her work on her website, one of the professional pictures she took of her son made it to the set of "How I Live Now," a 2013 movie starring Tom.
According to Dominic Holland, Nikki's husband, whom she met at Leeds University, the photo that made it to the movie was one of their favorites. Nikki had taken a picture of Tom with his first girlfriend when she was still an amateur.
He was four, and because the movie producers wanted pictures of the cast when they were younger, it made for the perfect addition to the film set.
When she is not busy as a photographer, she helps her husband out. In 2013, when Dominic released his book "Eclipsed," Nikki worked on the front cover.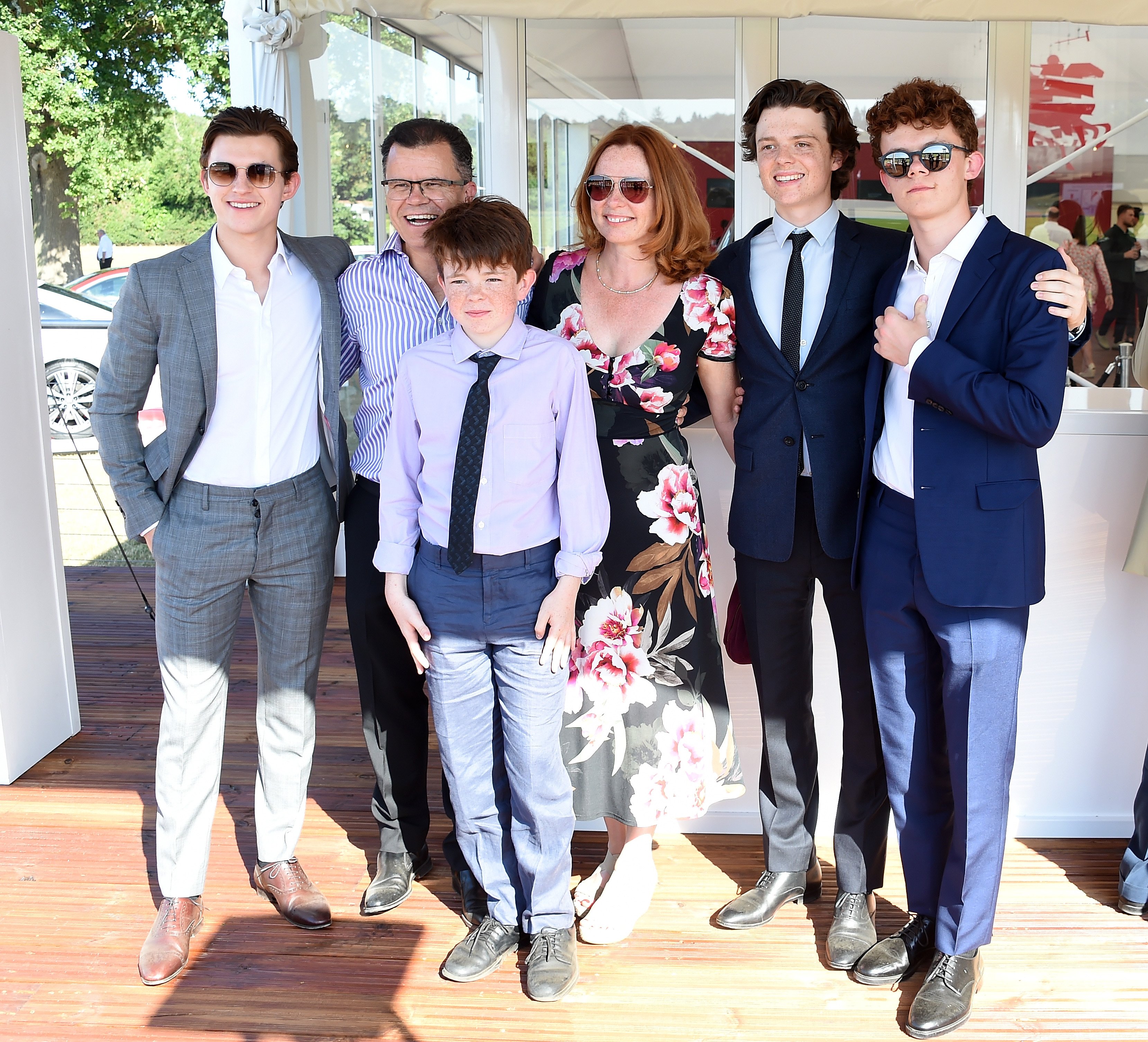 Tom Holland, Dominic Holland, Paddy Holland, Nicola Holland, Sam Holland, and Harry Holland at the Audi Polo Challenge on June 30, 2018 | Source: Getty Images
WHAT TO KNOW ABOUT NICOLA ELIZABETH FROST'S HUSBAND
Nikki's husband is not only an author but also a comedian. He started his career as a stand-up comedian in the early 1990s and did shows at The Comedy Café and Edinburgh Festival in 1991.
He won the Perrier Best Newcomer award at the Edinburgh Fringe two years later. That same year, the English stand-up comedian, actor, and activist, Eddie Izzard, managed him while he opened for her several times.
When Nikki's husband is not working as one of the funniest people in the room, he also indulges in variety shows. In 2000, he created the BBC radio show "The Small World of Dominic Holland."
In no time, he created the radio series "Holland's Shorts." As a comedian, he has written a comedic column for The Guardian and is the author of five novels and two non-fiction books.
His comic novels are "Only in America" and "The Ripple Effect." In 2013, he published a third novel, "A Man's Life," and "Eclipsed." In 2020, he published "The Fruit Bowl" and "Takes on Life Vol. 1."
EMMY ROSSUM WILL PLAY TOM HOLLAND'S MOM
In a yet-to-be-released anthology series, "The Crowded Room," Tom would star as Danny Sullivan while also being an executive producer for the show.
Starring beside him in the Apple TV+ show is Hollywood's actress, director, and singer Emmy Rossum. She plays the role of Candy Sullivan, Tom's mother.
It is worthy of note that Rossum is barely ten years older than Tom, and some believe she is too young to play the actor's mother. Some reports believe that Hollywood stereotypes women as soon as they hit 40.
The series is based on people who successfully live with mental illnesses after first struggling with them. The first season will be focused on Daniel Keyes's "The Minds of Billy Milligan."
Tom's character will be loosely based on Milligan. He was the first man to have been famously acquitted of a crime after he was diagnosed with multiple personality disorder, which is now called dissociative identity disorder.
There is no news about the magnitude of Rossum's role as she plays Tom's mother. However, there have been rumors that her role will be minor and occur in only flashbacks.
Please fill in your e-mail so we can share with you our top stories!