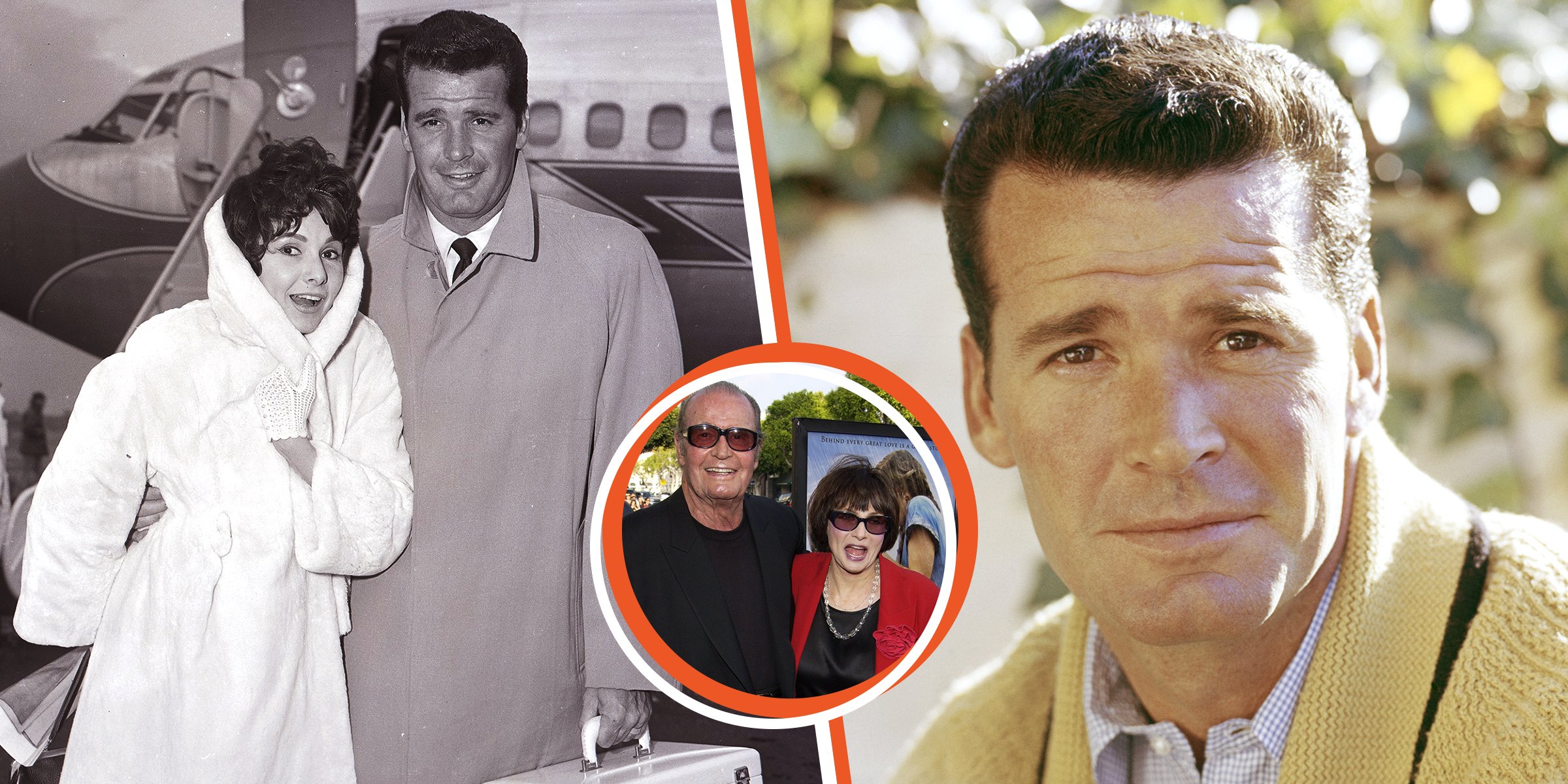 Getty Images
James Garner Feared Women after Stepmom Dressed Him like a Girl Though He Spent 58 Years with Love of His Life

Hollywood icon James Garner went through a traumatic childhood because of his first stepmother. That daunting experience later affected his love life, making it difficult to be with him.
Actor James Garner came from an impoverished background. His father, Weldon Bumgarner, ran a hardware store-cum-post-office.
Bumgarner and his wife, Mildred Scott Bumgarner, and kids, Charlie, Jack, and James, lived in the back of the store. Sadly, the family matriarch died when James was only four years old.
Actor James Garner posing for a black and white portrait in 1965 in Los Angeles, California | Source: Getty Images
Another unfortunate incident occurred when the family shop burned to the ground, and Weldon became a carpet layer. He was an alcoholic who struggled to keep the household running without a mother figure.
As a resort, the father of three split up his brood and sent them to live with various family members. When he remarried six years later to Wilma, Weldon reunited his kids.
The new blended family moved to a rented home that later became an unhappy home. Weldon continued to drink while he also managed to secure a part-time job as a fireman.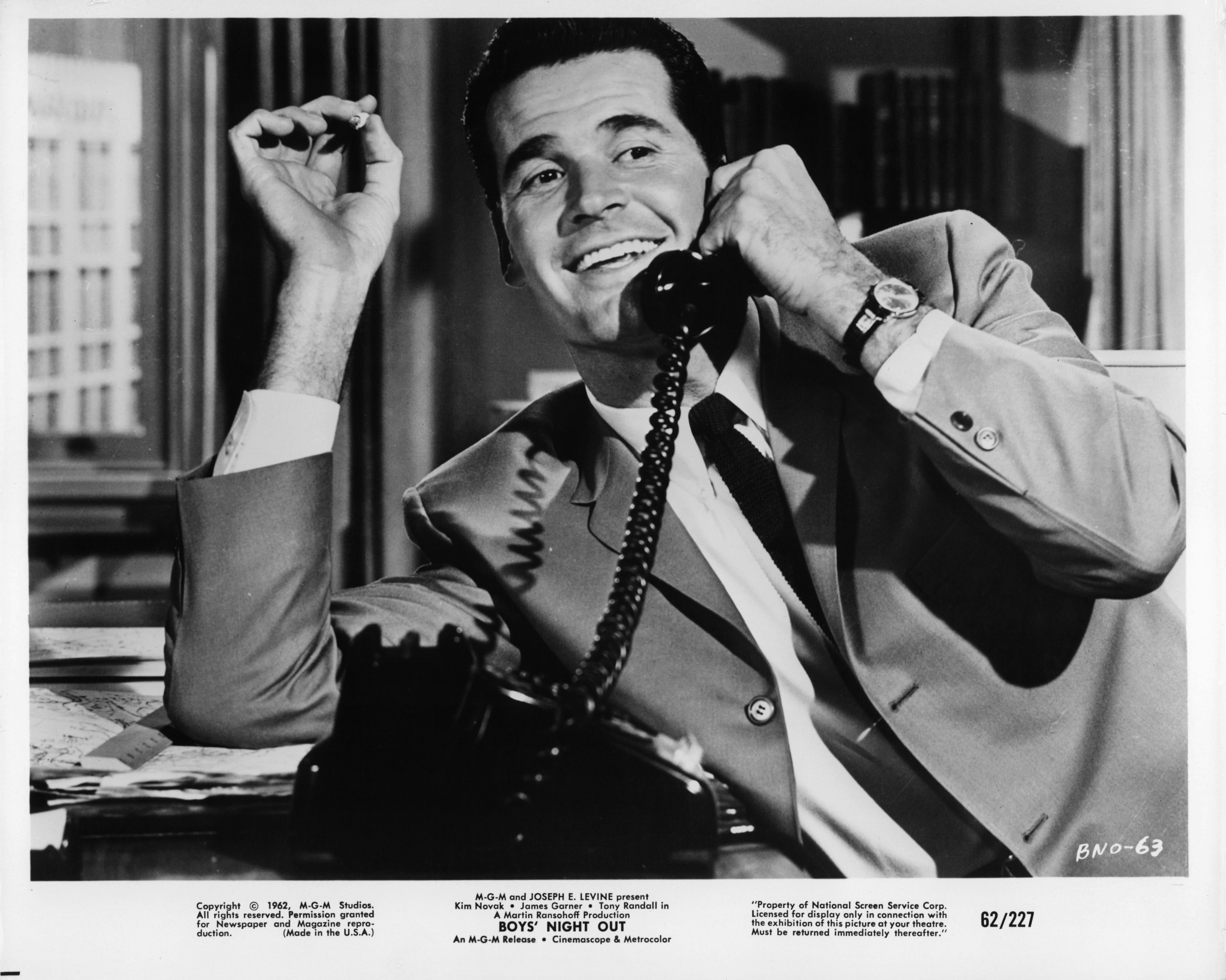 James Garner as Fred Williams in the 1962 movie "Boys' Night Out" | Source: Getty Images
In his memoir "The Garner Files," James revealed that because they lived in a small house, he and his brother Jack could hear their parents arguing. "They fought like two men," he penned. Moreover, the "Maverick" star said Wilma picked on him the most:
"I don't know why, but she picked on me especially. She gave me all the dirty chores, and when something needed to be blamed on someone, it was always me."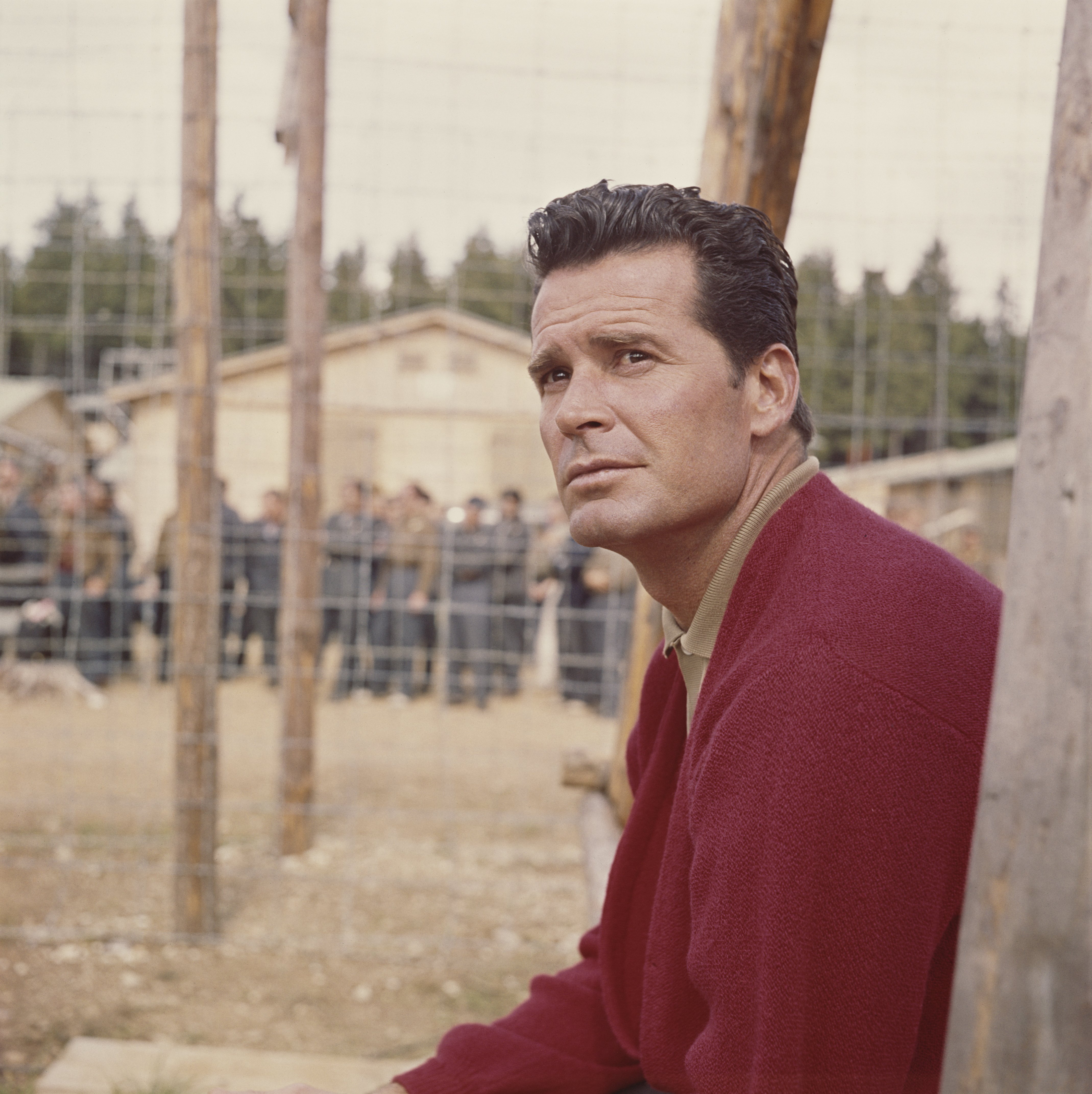 James Garner pictured on the set of the film "The Great Escape" in 1962 in Germany | Source: Getty Images
James shared that his stepmother, nicknamed Red because of her red-hair color, used to put him in a dress and made everyone call him "Louise." That became his punishment whenever he did anything wrong.
"Red liked to put me in a dress and make everyone call me 'Louise.' Whenever I did anything wrong, I'd have to go put that dress on. My brothers would tease me and call me Louise and a fight would break out," James revealed, adding he would go into hiding after.
"The Great Escape" star admitted that that unfortunate experience heavily affected him. He went into a shell of his own, and it took a long time before he finally came out of it. "I hated being ridiculed and never wanted to feel that way again," James noted.
THE NEW STEPMOM WAS LIKE A REAL MOM TO JAMES
Luckily for him, his father divorced Wilma and remarried another woman he adored dearly. Weldon was in his sixties when he wed a "sweet woman named Grace," said his son James.
He even called her "Mama Grace" because she was different from his previous stepmother. Grace changed James's life for the better:
"I loved her. She was the closest I ever came to having a real mother."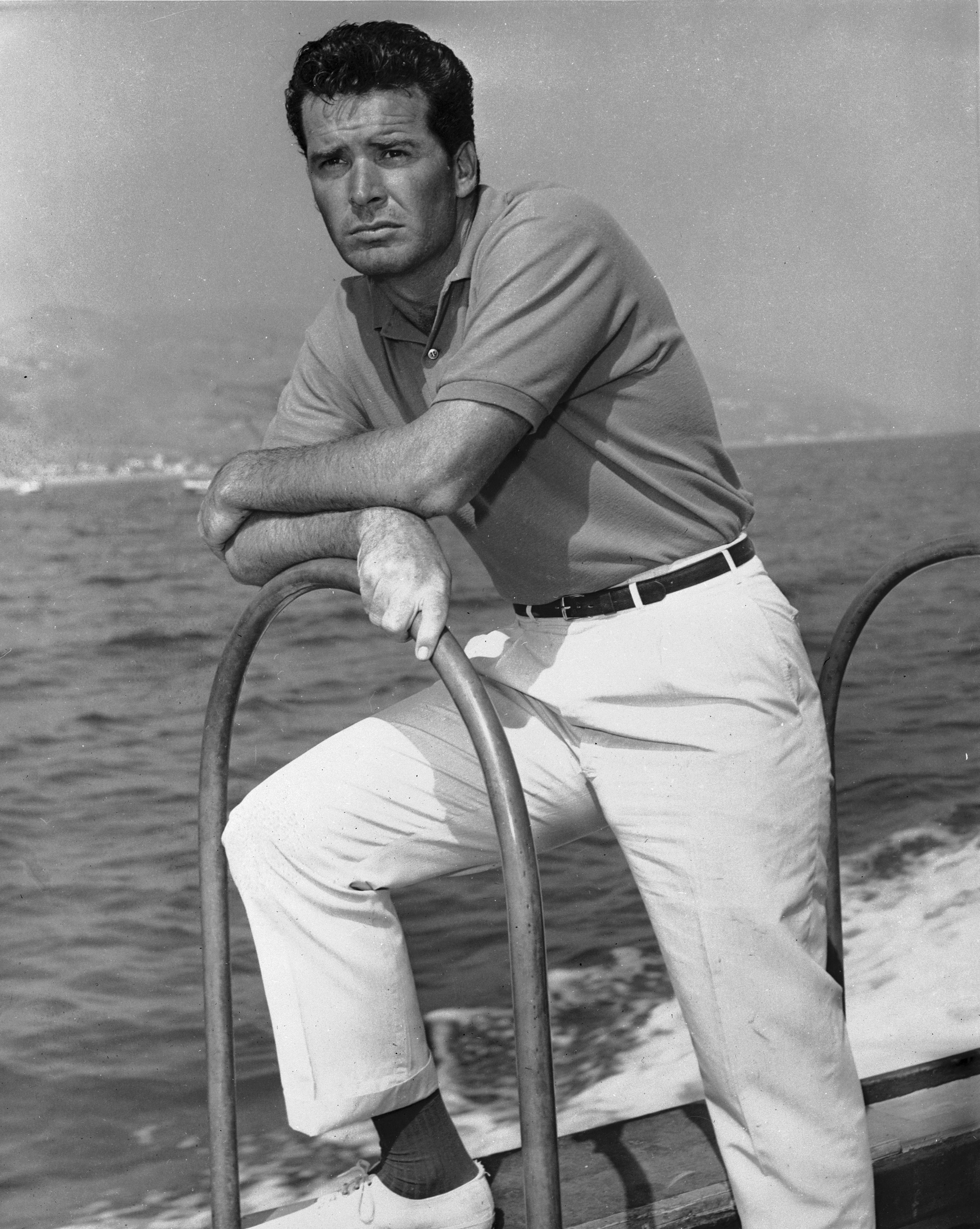 James Garner as Jim Rockford on the television series "The Rockford Files" | Source: Getty Images
On his eighteenth birthday, James called his father from Texas asking for $50. He told him he did not have it, and Grace overheard the conversation between the father and son duo.
She took over the call and told her stepson: "It'll be there in the morning." James divulged that she wired the money, and it allowed him to get back on his feet after being out of work:
"I stood by her for the rest of her life."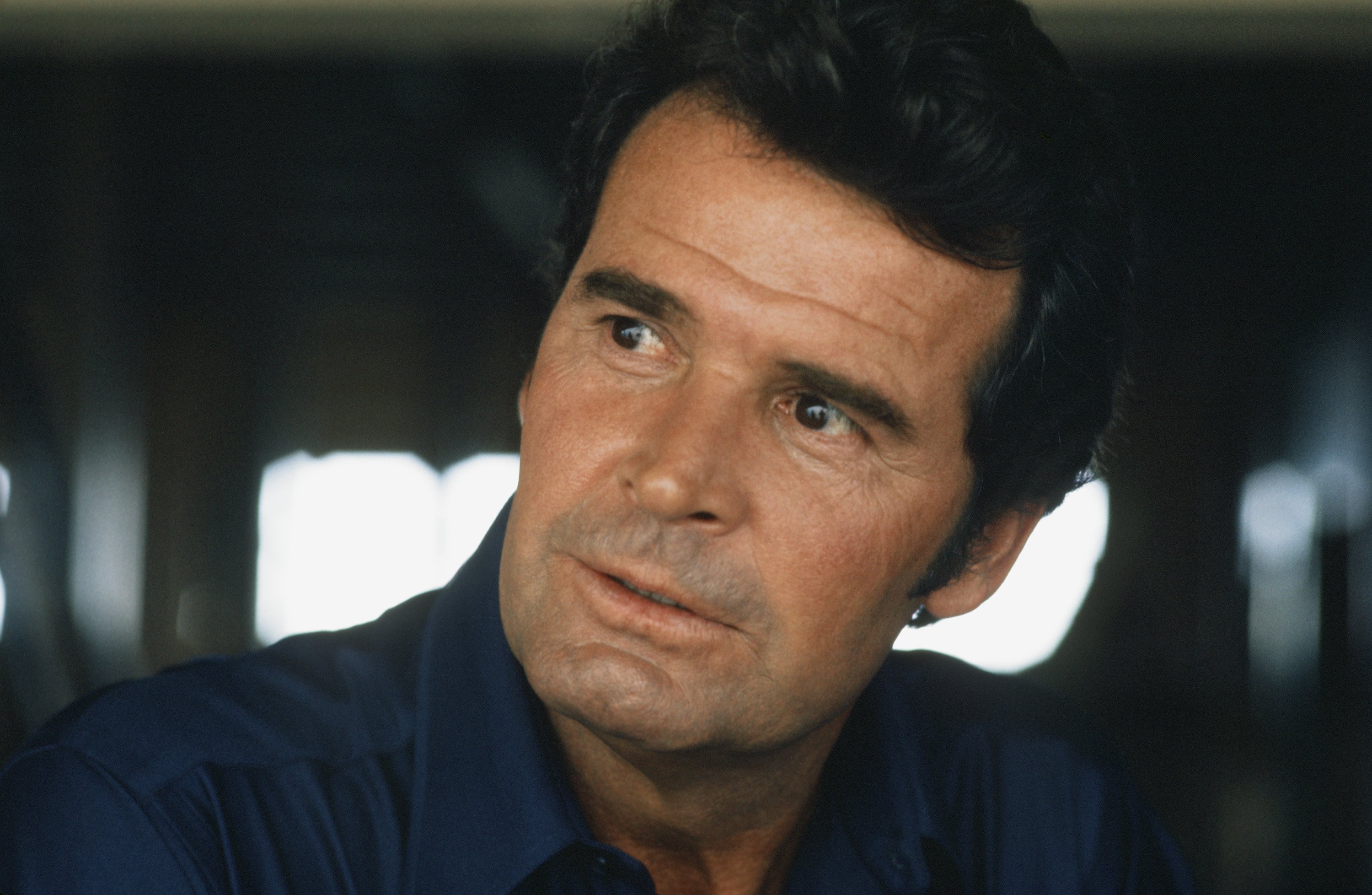 James Garner as Jim Rockford | Source: Getty Images
Following endless odd jobs, James's good looks landed him a role as a swimming trunks model, earning $25 an hour. But he could not stand the job and returned to Oklahoma.
He had never considered acting before he found himself in the profession by accident. While working as a petrol station attendant with a man called Paul Gregory, an aspiring theatrical agent, he observed that James' rugged looks could get him into Hollywood.
Several years later, James was driving through Los Angeles when she saw a sign that read: "Paul Gregory & Associates," and he decided to walk inside the building.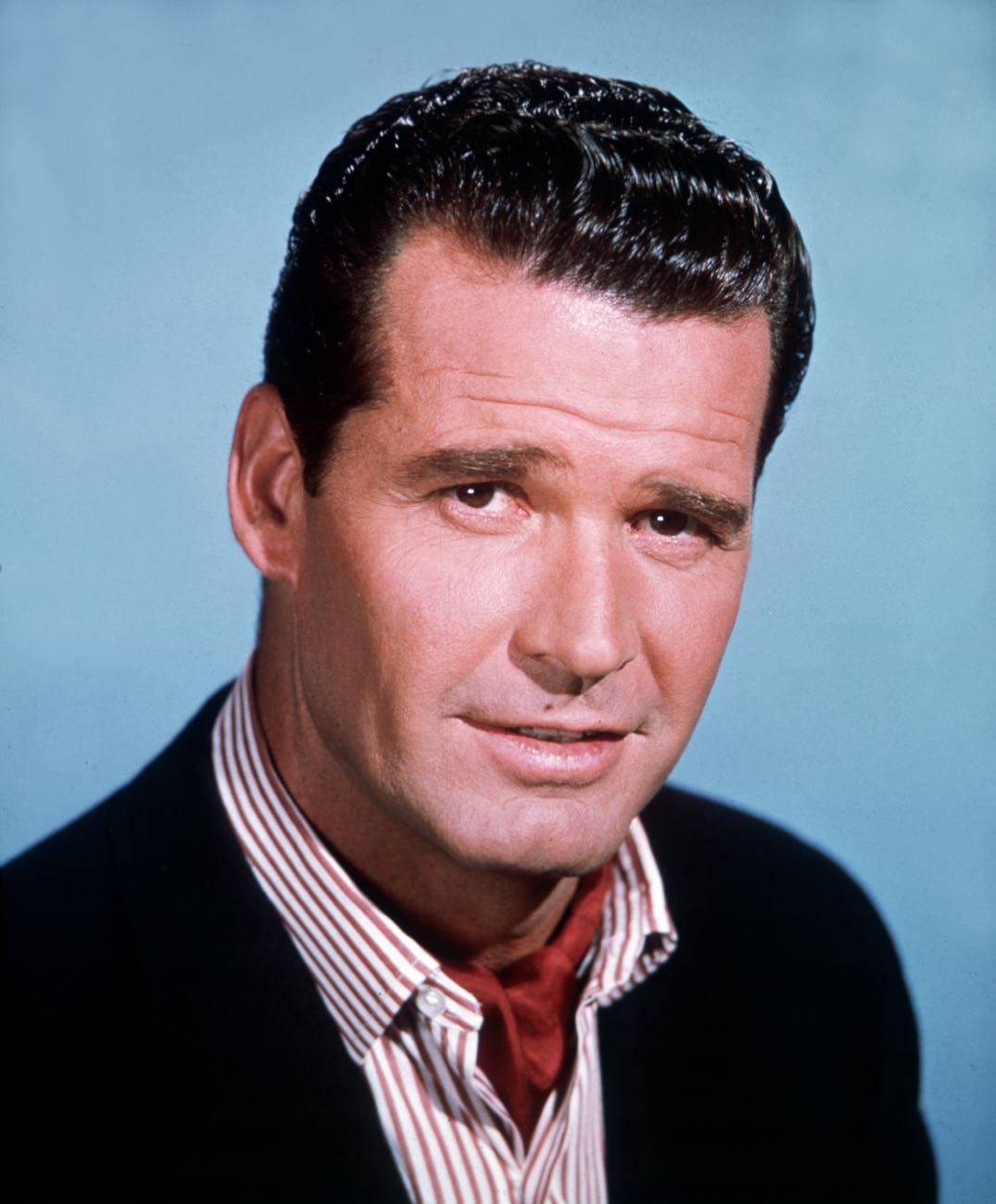 A headshot of TV legend James Garner wearing a black blazer with a white striped shirt on January 4, 1967 | Source: Getty Images
He discovered that his former colleague was now a theatrical producer. Gregory secured him a non-speaking part in a 1954 Broadway production, "The Caine Mutiny Court-Martial."
Looking back on the experience in an interview with the Daily Mail, James admitted that he had trouble "staying awake." "I had no lines, and I had trouble staying awake," he confessed.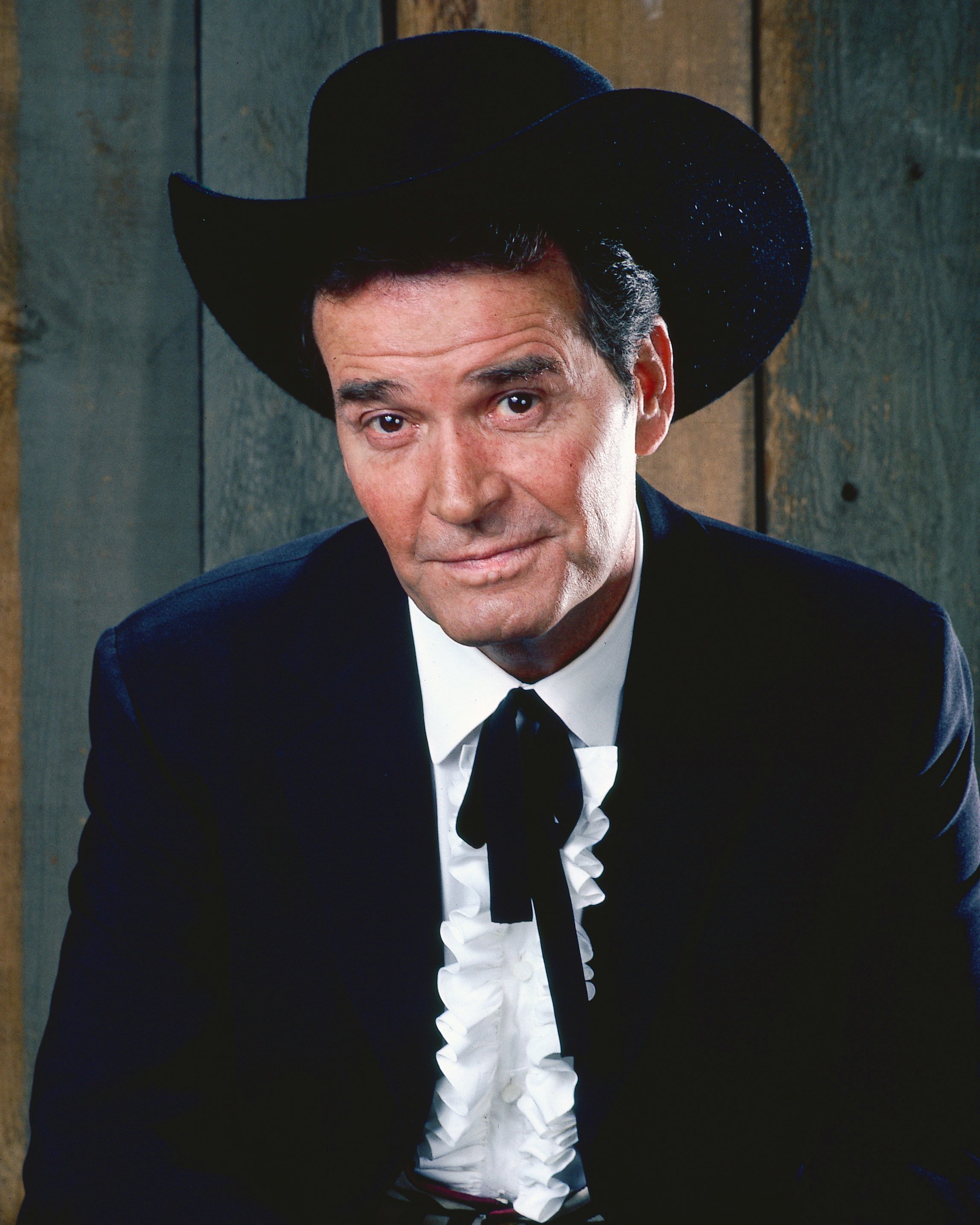 James Garner posing in a publicity portrait issued for the TV show, "Maverick," in 1970 | Source: Getty Images
Meanwhile, his childhood trauma still troubled him as an adult while living as a public figure. James told People once that he hired a "PR man to keep people away from me," adding especially women:
"I was a real wallflower as a kid, and women still scare me."
JAMES MARRIED THE ONE & DEVELOPED A CAREER FOR HIS FAMILY
Even so, that fear did not prevent him from getting married. James was only a beginner actor with a minimum salary when he met his one and only wife, Lois Clarke – a divorcee with a daughter named Kim. It was love at first sight for "The Notebook" star.
James penned in his book that he fell in love with Clarke when he first laid eyes on her for the first time on August 1, 1956, at an Adlai Stevenson-for-President rally:
"It was love at first sight. The 'thunderbolt.' She was as beautiful as she was as sweet. I was nuts about her from the moment we met. Still am."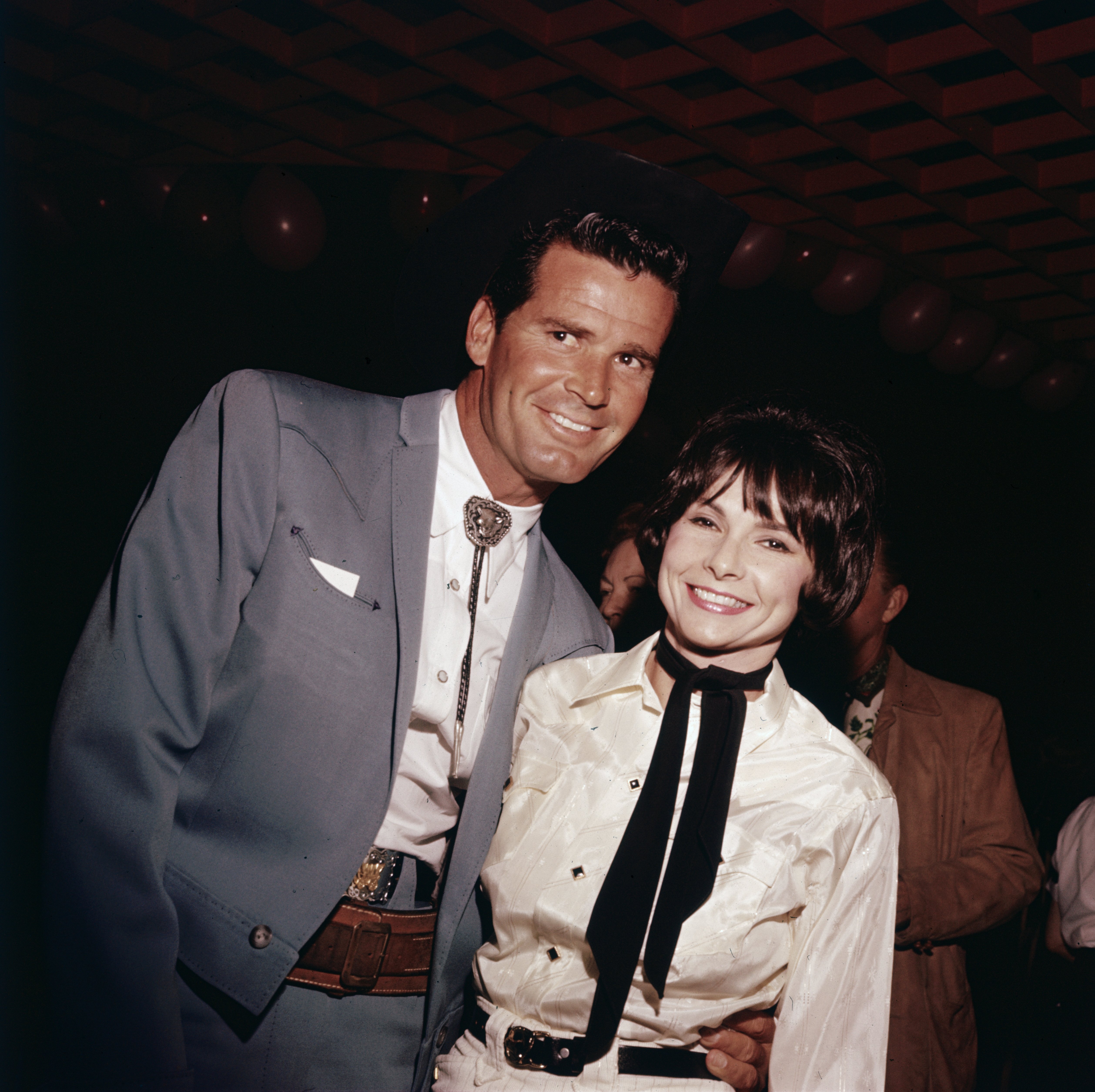 James Garner pictured posing with his wife, Lois Clarke during a party in the 1960s | Source: Getty Images
There was a barbecue event, and he ended up in the pool with kids, and that was when he had the opportunity to talk to Clarke. A few minutes into their conversation, she revealed that she had a daughter from her first marriage, "Kimberly, who had polio," James explained.
From there on, the pair saw each other daily until their wedding day 14 days later, on August 17, 1956. The lovebirds wed at the Beverly Hills courthouse.
However, James's family was not too happy about their romance, arguing that the two had little to nothing in common and had opposite personalities. Despite the objections, Clarke and James became husband and wife and went on a two-day and one-night honeymoon at the La Jollan, an old hotel in San Diego.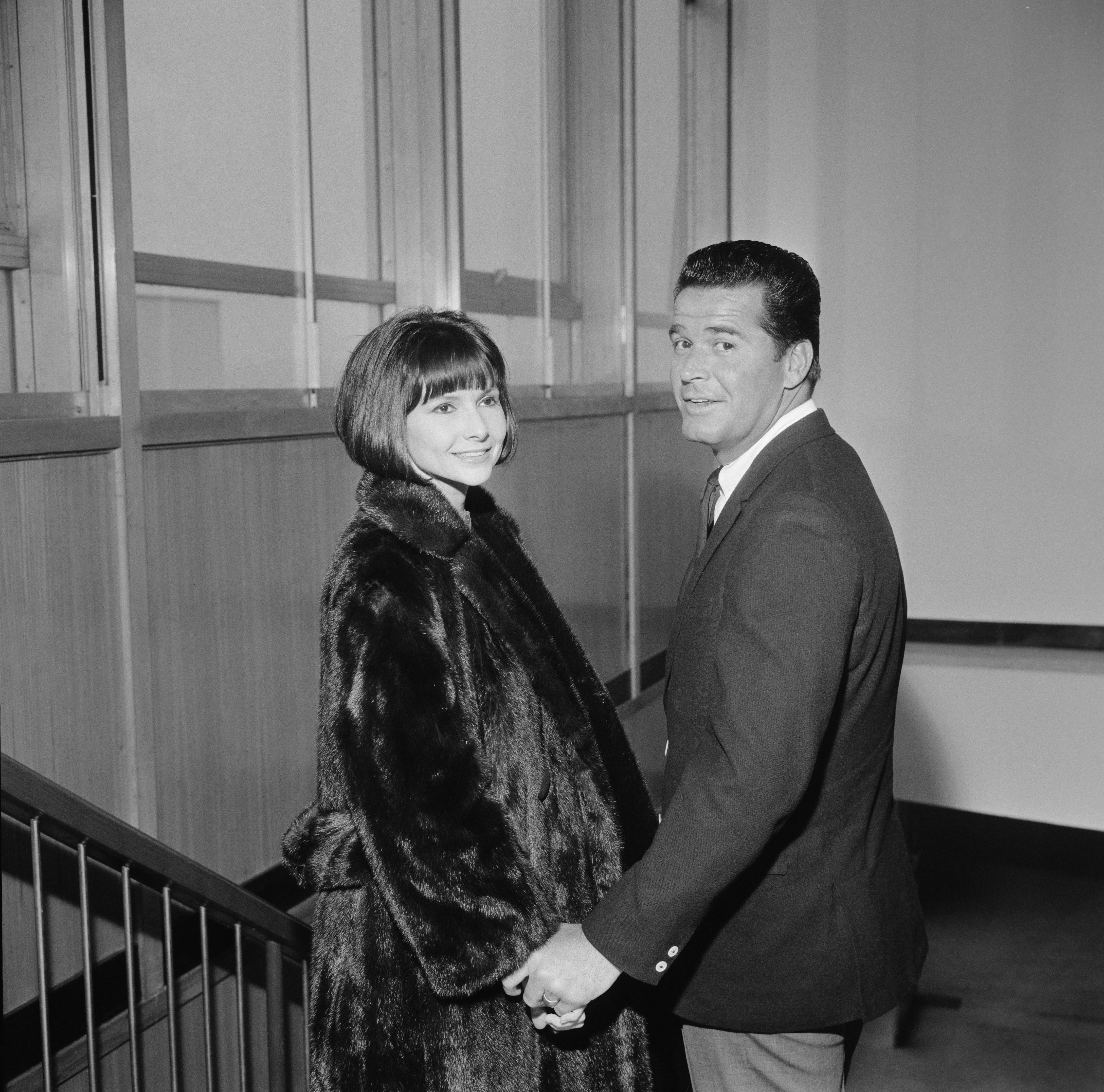 James Garner and Lois Clarke photographed holding hands on a staircase on March 1, 1964 in the United Kingdom | Source: Getty Images
James shared that it was all they could afford on his contract basis work. So, nothing extravagant came with the stay.
As newlyweds, they rented a small apartment on Dickens Street in Sherman Oaks that was close to work and was affordable for the couple because "money was tight."
Meanwhile, Clarke's daughter, whom James referred to as "my daughter," had been discharged from the hospital and was weak because of her condition. However, she later got readmitted when her esophagus got paralyzed, preventing her from being able to swallow.
James needed to find work urgently to pay for treatment, while Clarke found out she was also carrying the couple's first child together. Their daughter Gigi was born a year later, in January 1958.
Responsibilities began to pile up for James, who became the breadwinner of a family of four. The TV star admitted that when he first started acting, he had no idea what he was doing:
"I was just stumbling around, hoping to get lucky."
The father of two said settling down helped him take his acting career and life seriously. He realized that he had to be steady to support his family, and though he embraced the responsibility, James also felt its weight.
Thankfully, that added pressure pushed him to focus as an actor and encouraged him to build a career instead of going through the motions.
After featuring in commercials, he transitioned into TV shows and then to movies. James's big break came when he signed a seven-year deal with Warner Bros.
However, the most pivotal moment in his Hollywood career came when he starred as the lead actor in the Western TV series "Maverick," which aired from 1957 to 1962.
James became an overnight sensation playing Bret Maverick, the show's anti-hero. On the big screen, he was a leading man alongside Hollywood starlets such as Julie Andrews, Doris Day, and Audrey Hepburn, among others.
HIDDEN ROCKS OF JAMES & LOIS' 58-YEAR MARRIAGE
Meanwhile, things at home started to become problematic. Although James and his spouse Clarke seemed to be a perfect couple, they had their issues.
His brother Jack told People in April 1985: "It's not easy being married to Jim because of the way fans fall all over him." James laughed it off and insisted that he had never stepped out on his wife.
Deemed a sex symbol at the time, the "Grand Pix" star assured Clarke that although he had previously worked with attractive women, he made it his "business not to fall in love with them."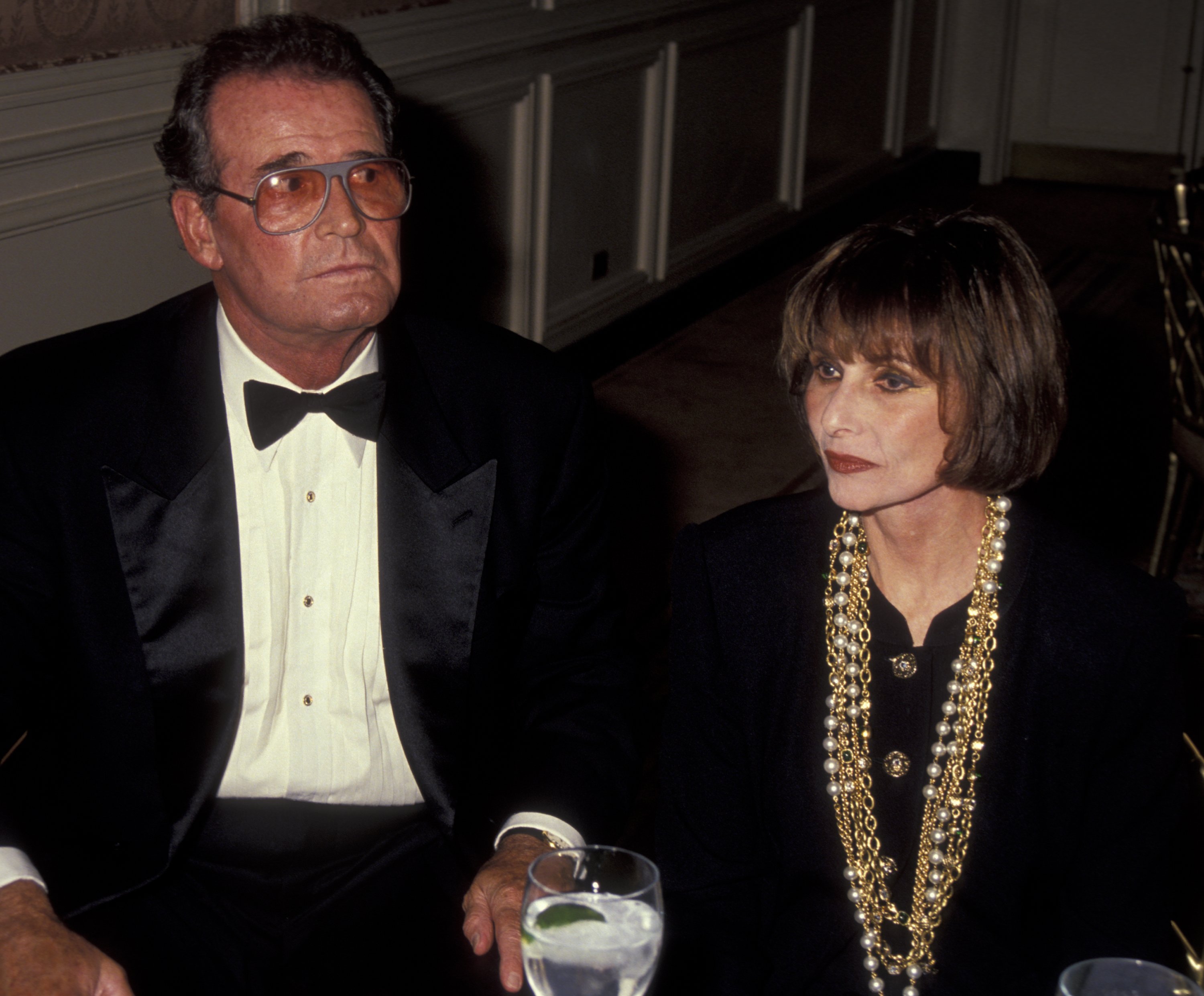 James Garner and Lois Garner attend Television Academy Hall Of Fame Gala at the Beverly Wilshire Hotel on September 23, 1991 in Beverly Hills, California | Source: Getty Images
The couple had already gone through two separations at the time, the first lasted for three months, and another in 1979 lasted for 18 months. During that period, James got linked to actress Lauren Bacall who co-starred alongside him in "Rockford," and two other films.
James denied the allegations and stated his marriage to Clarke was never in trouble. He revealed the main issue was the pressures from "Rockford," and that he needed to get in a good headspace:
"Lois and I were never in serious trouble. 99 percent of the problem was the pressure of 'Rockford.' It wasn't us; it was me needing to get away to get my head together."
James Garner and Lois Clarke during "The Notebook" New Line Cinema Los Angeles Premiere at Mann Village Theatre in Westwood, California | Source: Getty Images
Meanwhile, Clarke described her husband as a "complicated man" silently suffering from hidden hurt. She said because James endured an abusive upbringing, he became a lonesome individual "and deprived." Traumas from James's childhood followed him all his life.
However, his marriage to Clarke remained one of Hollywood's long-lasting unions until he sadly passed away 58 years later. James died from natural causes in July 2014 in Brentwood, LA. He was 86.
The Oklahoma native was survived by his wife and two daughters. Tragically, the love of his life also died seven years later.
The couple's youngest daughter Gigi announced the devastating news on Twitter in October 2021, writing: "Please excuse my absence, but my mother Lois Garner, born July 6, 1923, has passed," alongside a blurry throwback black and white photo of her parents. Clarke was 98.
Please fill in your e-mail so we can share with you our top stories!
The information in this article is not intended or implied to be a substitute for professional medical advice, diagnosis or treatment. All content, including text, and images contained on news.AmoMama.com, or available through news.AmoMama.com is for general information purposes only. news.AmoMama.com does not take responsibility for any action taken as a result of reading this article. Before undertaking any course of treatment please consult with your healthcare provider.