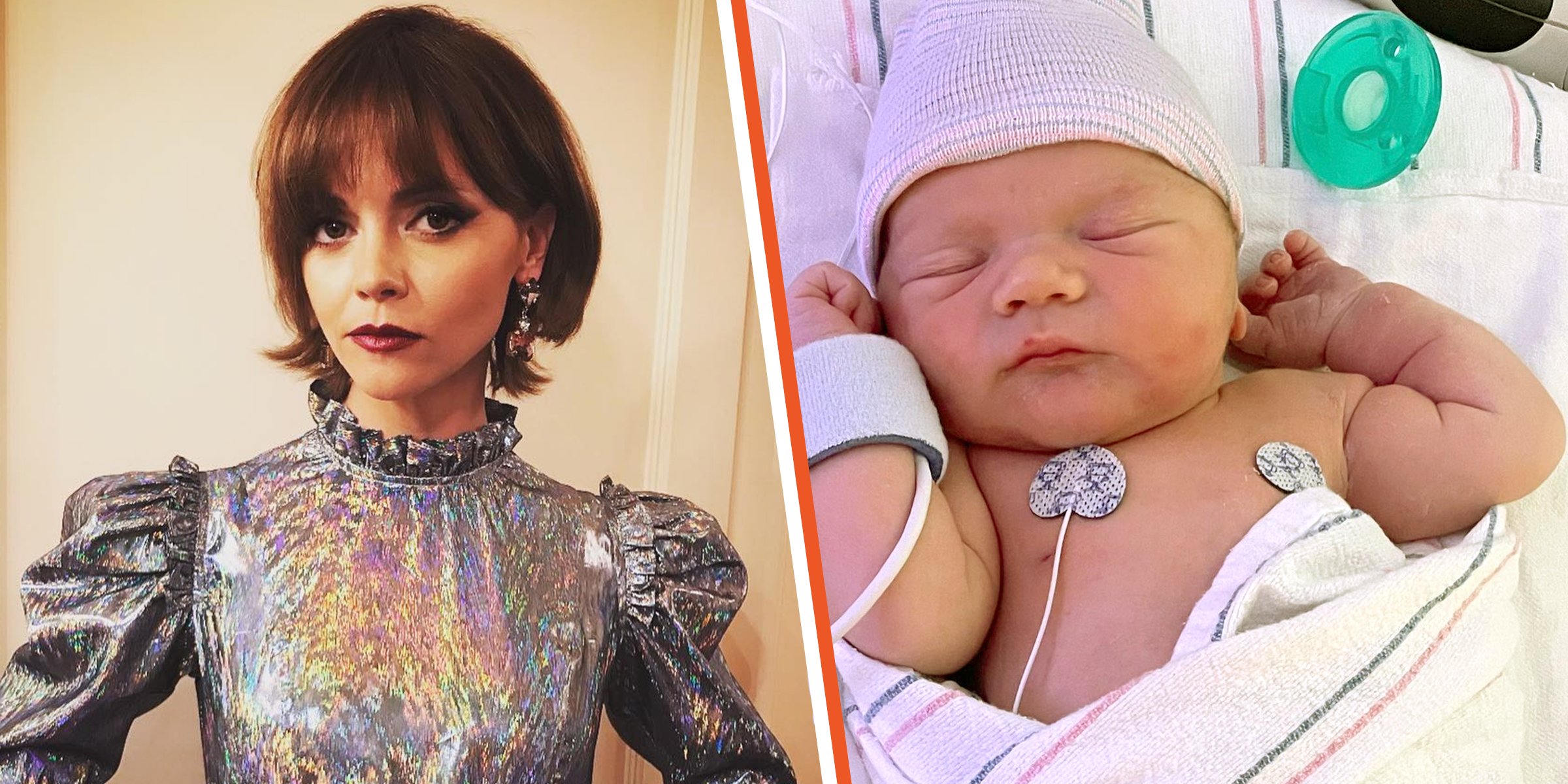 Instagram/markhamptonhair | Instagram/riccigrams
Cleopatra Ricci Hampton's Name Was Picked by Her Father - Story behind It and Other Facts about Christina Ricci's Daughter

Cleopatra Ricci Hampton is the daughter of well-known Hollywood actress Christina Ricci. The 8-month-old instantly became famous thanks to her proud parents constantly showing her off on their social media.
As young as she is, Christina Ricci's daughter, Cleopatra Ricci Hampton, is already famous as she has appeared in some of the most famous publications in the world.
The 42-year-old actress and her husband enjoy being parents to their bundle of joy. Let's take a look inside the life of Christina Ricci's daughter.
MAIN FACTS ABOUT CLEOPATRA
American actress Christina Ricci announced that she was expecting in August 2021. The 42-year-old decided to share the great news by posting an image of an ultrasound on her Instagram. She captioned the photo by saying, "Life keeps getting better."
The star wasn't the only one excited about the news of her pregnancy. Her then-boyfriend, Mark Hampton, also shared the information with his fans on Instagram by posting a series of sonograms and also captioned them with the words "Life Keeps getting better!!!"
"The Addams Family" star welcomed her baby girl Cleopatra Ricci Hampton on December 8, 2021. Her daughter's zodiac sign is Sagittarius, and Cleopatra's father couldn't wait to share the lovely news on Instagram.
Cleo's father, Mark Hampton, took to Instagram and posted a photo of his newborn. He shared an image of his baby girl sleeping on a hospital bed wearing a stripped beanie wrapped in a blanket. He captioned the picture by saying:
"My heart has exploded. @riccigrams and baby Cleo are doing fantastic, we're all resting after such an eventful morning.. welcome to the world baby Cleopatra Ricci Hampton."
The ecstatic dad also shared the news on his Instagram Stories, giving fans a peek at the mother and daughter's first moments together.
Cleo's parents are both linked to Hollywood. Her mom Christina Ricci is a famous actress mostly known for playing unusual characters. Cleo's father, Mark Hampton, is a celebrity hairstylist and makeup artist.
The "Monster" actress appeared on The Ellen Show in early 2022 and spoke about her baby. She described Cleo's sleeping patterns when asked by Ellen how much her daughter sleeps by revealing:
"Well, I mean she sleeps 4 hours and wakes up for 2 hours... It's pretty consistent."
CLEOPATRA GOT HER NAME ACCIDENTALLY
Christina also revealed in the show how her daughter got her name. She said when she and her husband were preparing to welcome their daughter, they talked about the name Cleo.
However, Cleo's father somehow thought the name was short, and the full name was Cleopatra, so he used it for his public announcement on social media. So when her mother found out, she thought: "And so I guess so I was like, 'Oh I guess, I guess her name is Cleopatra.'"
The baby names website Nameberry reports that the name Cleopatra is a name for girls and is of Greek origin. When it comes to the meaning of the name, the site says it means 'glory of the father.'
According to Nameberry, Cleopatra is "a royal name in ancient Egypt that's never quite made it to the modern world." The nickname Cleo is said to be more popular than the name Cleopatra.
CLEOPATRA IS A FREQUENT GUEST ON HER PARENTS' SOCIAL MEDIA
Cleopatra Ricci Hampton's parents can't help but show off their beautiful daughter. Images of the adorable baby girl are often seen on her mom and dad's social media.
In February 2022, Christina shared a cute picture of her daughter in a blue polka dot outfit and captioned it with her name and purple heart. Some fans quickly pointed out Cleo has her mom's eyes.
In another post just a month later, Cleo can be seen wearing an orange top, dark blue pants, and pink socks while lying on pillows with a doll on top of her.
Cleo seems to spend a lot of her time with her beloved mom, as even when her famous mother does her hair and makeup, the little one is also there.
Cleo's mom shared a black and white image on her Instagram of her getting her makeup done while holding Cleo on her lap. She wrote in the caption:
"What getting in hair and make up looks like these days."
Little Cleo looks a lot like the actress and has the star's big beautiful eyes. The mother and daughter celebrated Cleo turning four months in April in their swimming pool.
Christina posted a photo of her and her daughter in the pool on her Instagram Stories. Cleo looked adorable in a pink hat and red printed bottoms.
CLEO'S MOTHER MISSED HER EMMY NOMINATION
In July 2022, Christina missed the Emmy nomination announcement for outstanding supporting actress in a drama series for her role in "Yellowjackets."
The 42-year-old couldn't make it to the occasion because her daughter was teething all night. Speaking to ET Canada, Christina said:
"My baby was teething really badly all last night. So I didn't actually get to sleep really until 5 in the morning."
The "Wednesday" actress said she needed time to recover and rest after caring for Cleo the whole night, so she didn't attend the event.
CLEO HAS A BIG BROTHER
Cleopatra Ricci Hampton is not Christina's only child. The actress has an older son she welcomed with her first husband, film producer James Heerdegen. Christina and James named their firstborn Freddie.
The mother-of-two also revealed how her 7-year-old son Freddie feels about being a big brother on The Ellen Show. She expressed:
"He's great. He loves being a big brother so much. He kisses her all the time...he's being very good."
Christina Ricci also said even though Freddie "does not like the lack of sleep and chaos that is going on in the house," he has still been amazing and loves his little sister.
Please fill in your e-mail so we can share with you our top stories!