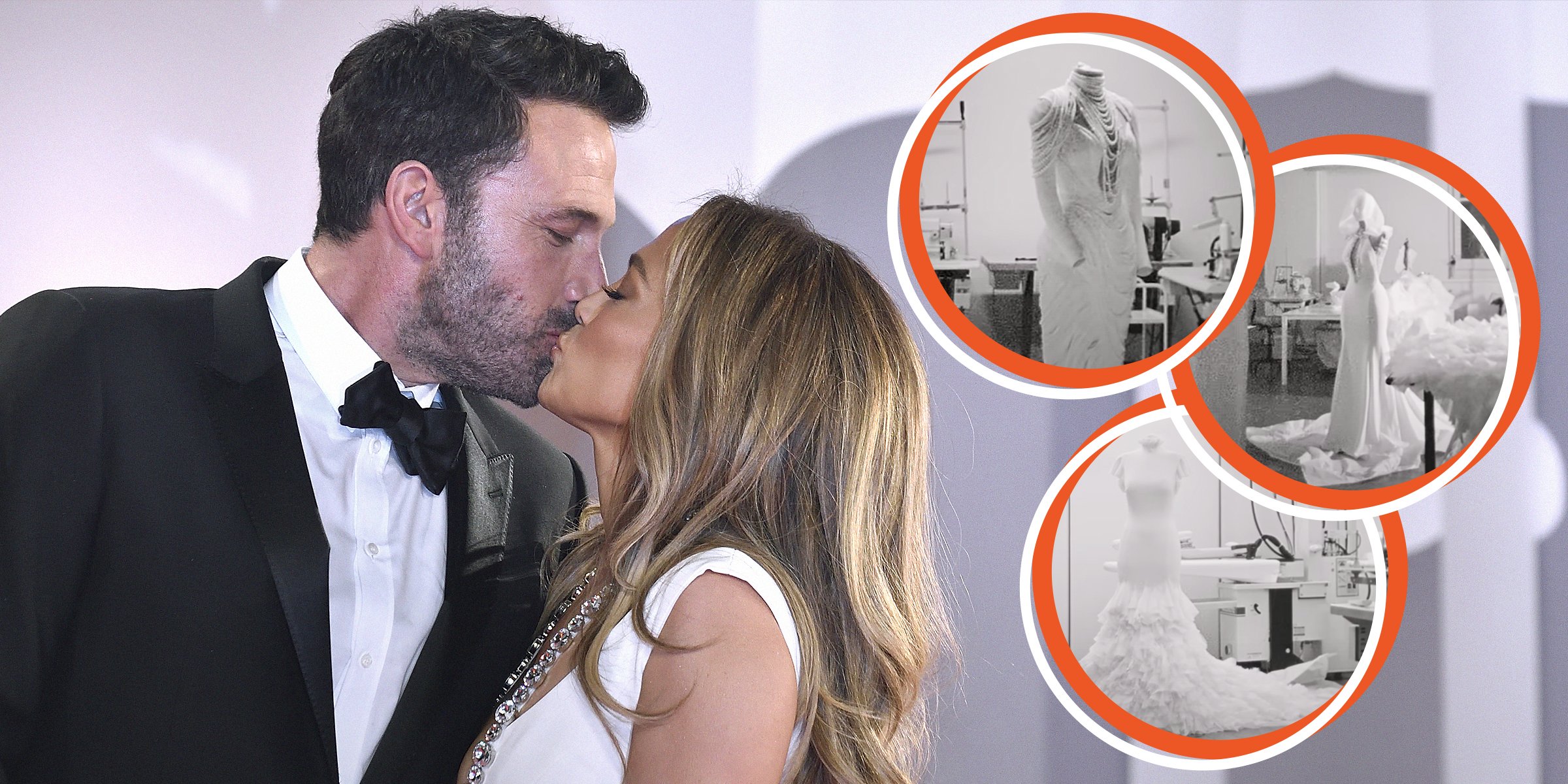 Getty Images youtube.com/Ralph Lauren
JLo Shows 3 Wedding Dresses Worn for Wedding — Follower Said 'She'll Be Married 10 More Times'

Sixteen years after their first relationship ended, Jennifer Lopez and Ben Affleck are married. The pair tied the knot twice, with the second marriage occurring in August 2022. Here is a look at the singer's three stunning dresses for the big occasion and what netizens had to say about it.
American Singer, Actress, and Dancer Jennifer Lopez has made the headlines countless times due to her numerous talents. However, the entertainment icon's personal life has brought her as much attention as her thriving career.
Recently, the singer's name has been on the lips of many following her marriage to American Actor and Filmmaker Ben Affleck.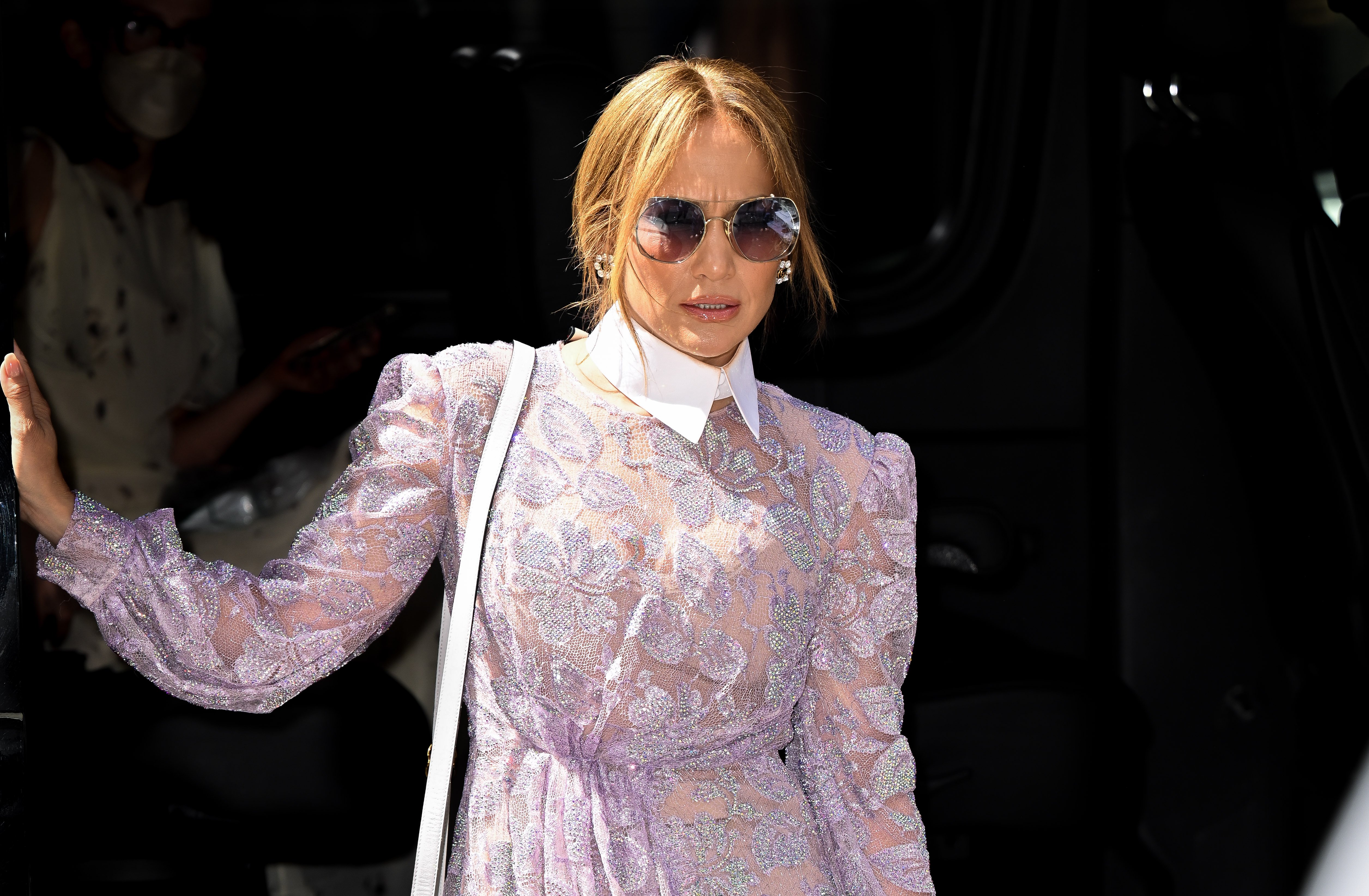 Jennifer Lopez is seen on the streets of SoHo on August 14, 2022, in New York City. | Source: Getty Images
The lovebirds walked down the aisle in July 2022 in an intimate wedding ceremony in Las Vegas. Then, on August 20, 2022, Affleck and Lopez tied the knot for the second time at the latter's estate in Riceboro, Georgia.
Although the elaborate ceremony was worth all its attention, netizens could not get over Lopez's outfits for the glamorous occasion.
The actress donned three stunning designs designed by the Ralph Lauren Team. Lopez walked down the aisle clad in a Ralph Lauren classic turtleneck column dress for the first look.
More than a thousand handkerchiefs were attached to the dress to make the tiered ruffles that formed into a voluminous, romantic skirt and spilled out into an undulating train.
The hand-applied ruffles were echoed at the sleeves and neckline, and a cathedral-length veil lent further drama to her bridal look.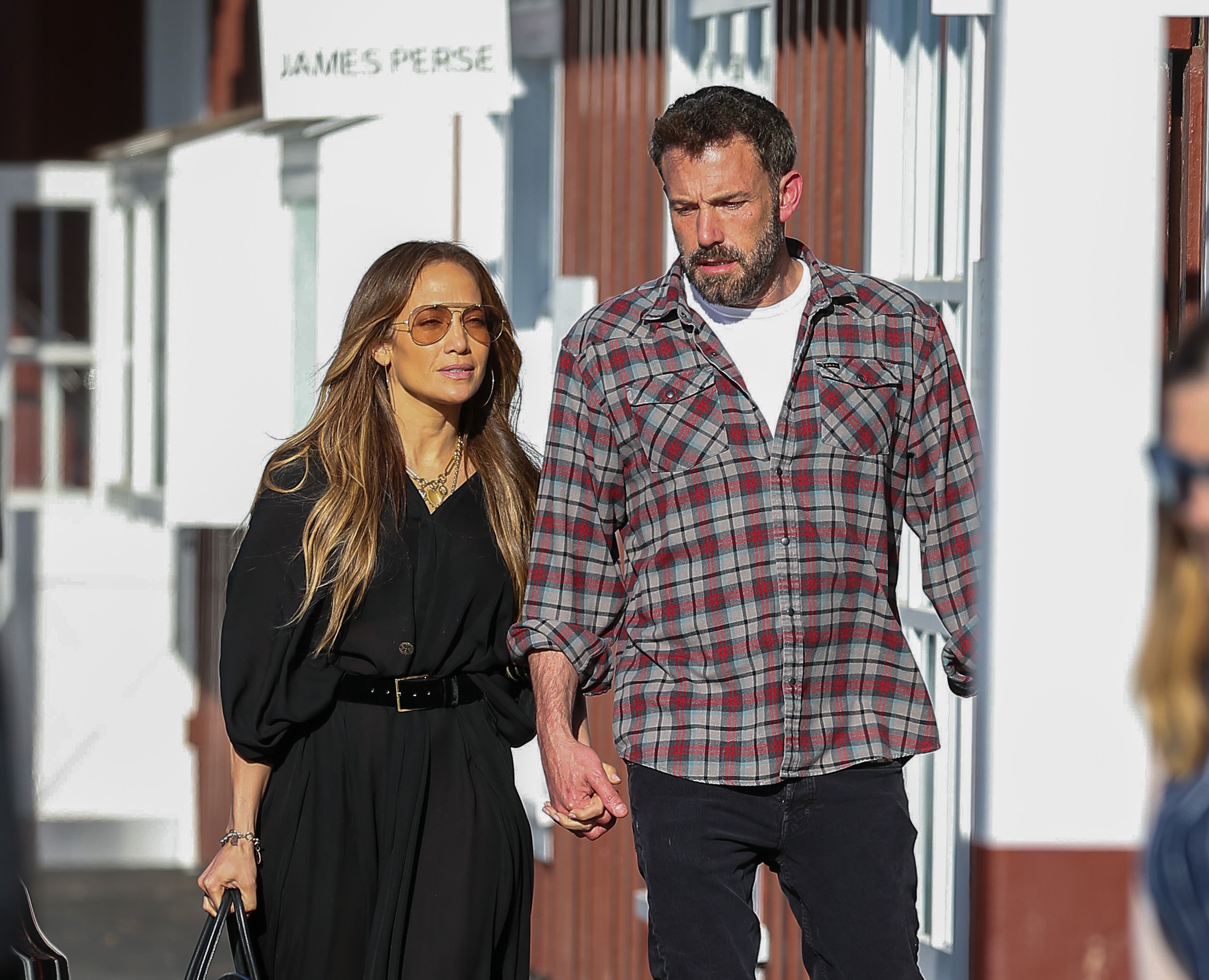 Jennifer Lopez and Ben Affleck are seen on April 23, 2022, in Los Angeles, California. | Source: Getty Images
Following the wedding ceremony, Lopez proceeded to the reception looking dazzling in a chandelier pearl gown. The dress featured pearl embellishments, Swarovski crystal detailing, and micro pleats of silk tulle.
The dress also featured a deep plunge neckline and an open-back design. Later, the actress changed into a third custom Ralph Lauren dress.
The outfit has a keyhole neckline designed with Swarovski crystals of different sizes, a sleek mermaid silhouette, and a removable hood. Overall, the three designs accentuated Lopez's banging physique, and she could not be prouder of her looks.
The "Marry Me" star thanked her designer for the gorgeous dresses in the "On The Jlo" newsletter. Here are more details about Jennifer Lopez's second wedding with Affleck, including social media users' thoughts.
WEDDING DECISIONS THAT USERS DIDN'T SUPPORT
Following her beautiful second wedding ceremony with Affleck, Lopez received many congratulatory messages from friends, fans, family, and celebrities. However, the Grammy-nominated singer also received several negative reactions from netizens.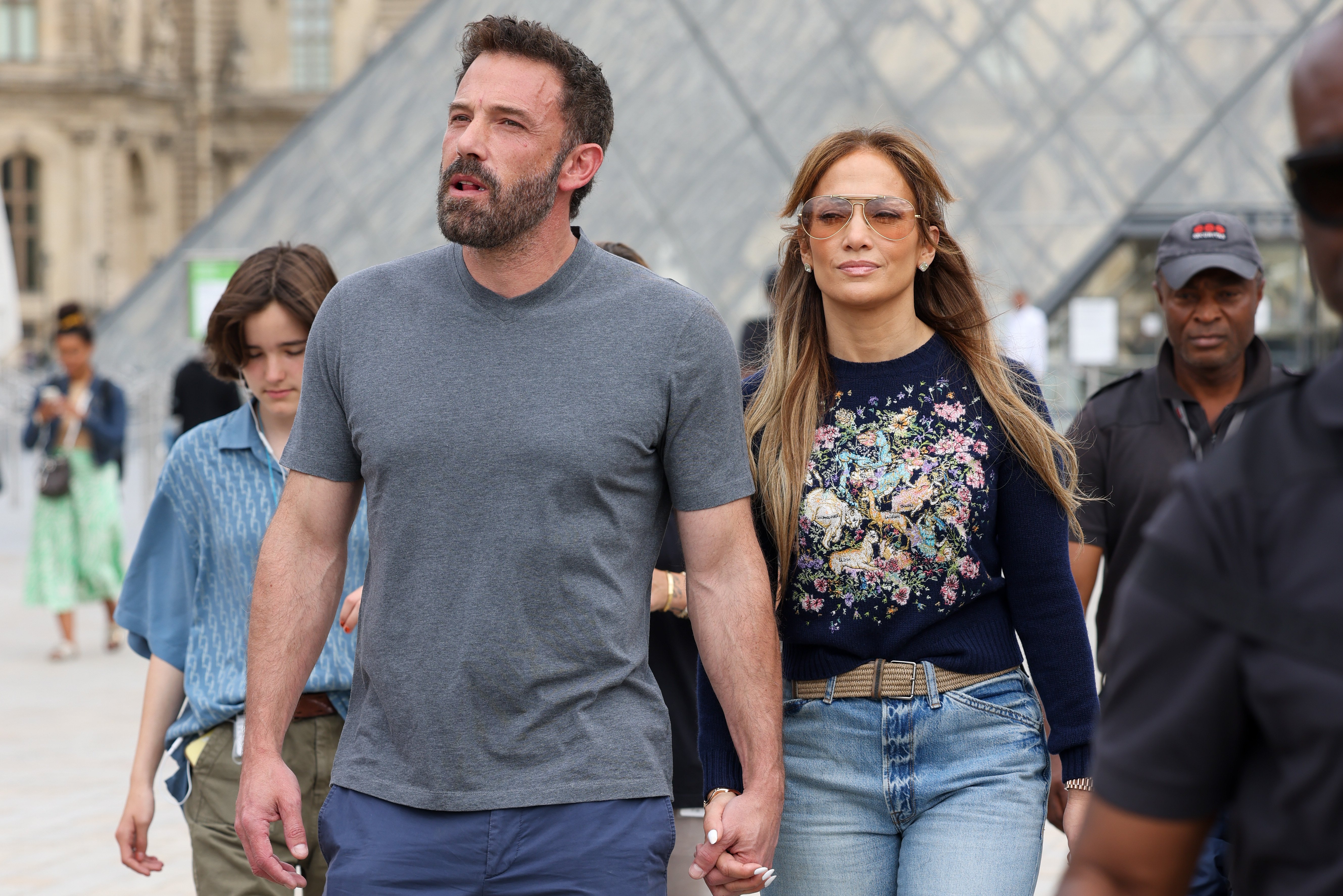 Jennifer Lopez and Ben Affleck are seen at the Louvre Museum on July 26, 2022, in Paris, France. | Source: Getty Images
Some users did not understand why Lopez donned many outfits on her big day, and others did believe the union would last. According to one respondent:
"We seen JLO as a bride too many fricken times. Over it…we'll see when the next divorce is."
A second user noted that they were giving Lopez and Affleck's marriage three years to crumble, while a third user wrote:
"Miss play dress up again…🙄 she'll be married 10 more times anyway… blah blah blah…."
Despite the negative comments, Lopez is focused on enjoying marital bliss with her husband on their honeymoon. However, there have been other issues that have caused the actress stress in the past few days.
Just over a week after her August 2022 wedding, Lopez took to Instagram to share her concern about a leaked private moment between her and Affleck.
Lopez's and Affleck's Italy honeymoon would mark their second honeymoon in less than two months.
According to a report, the icon was enraged after a video of her singing an unreleased song to her husband was taken and uploaded without her permission. In her words via (Fox News):
"Whoever did this took advantage of our private moment. I don't know where you all are getting it from because we had NDAs and asked everyone not to share anything from our wedding. That is our choice to share."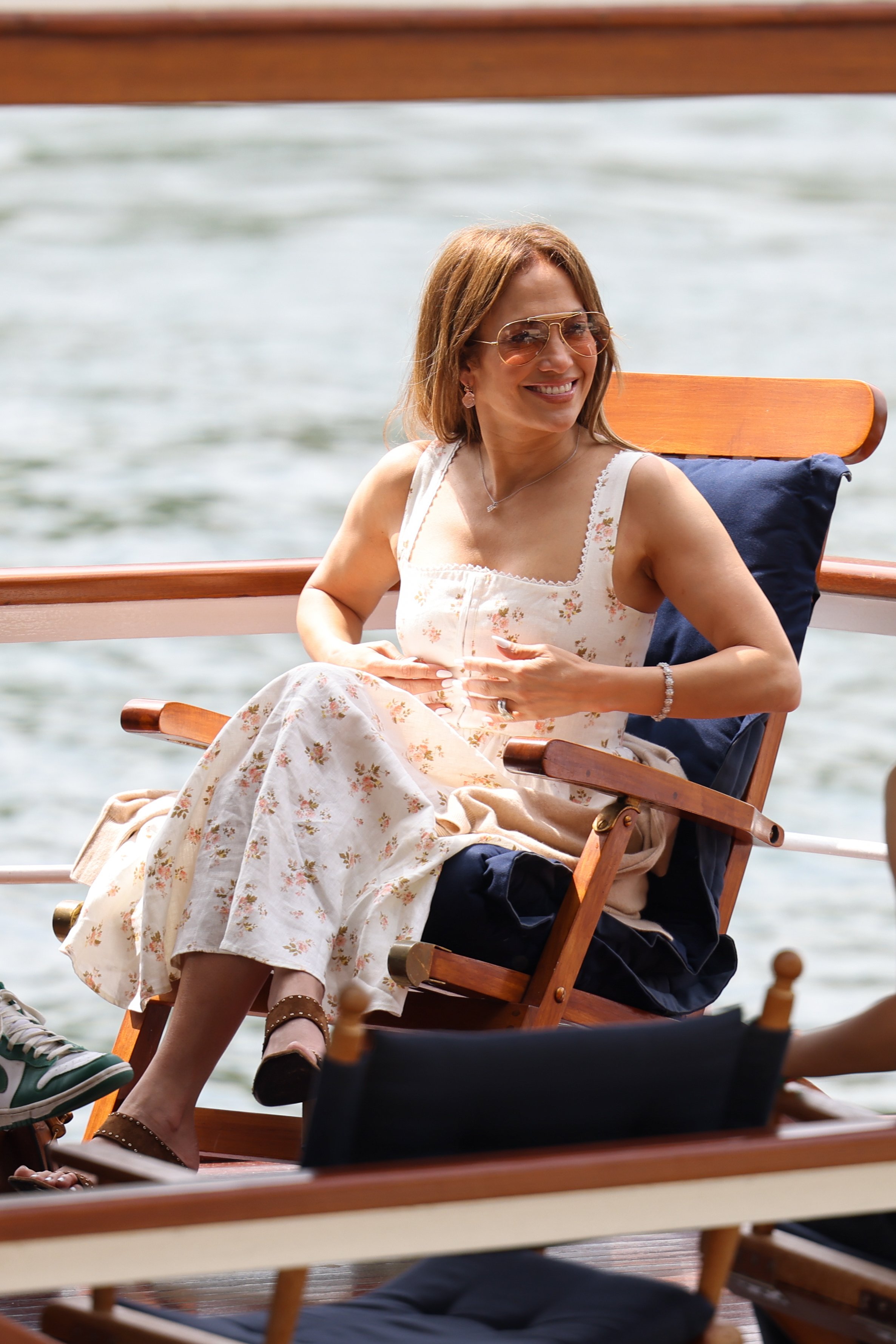 Jennifer Lopez and Ben Affleck (not pictured) take a cruise on the River Seine on July 23, 2022, in Paris, France. | Source: Getty Images
Unfortunately, Lopez and Affleck are yet to find the culprit, but the fan account responsible for sharing the video has since taken down the clip. Nevertheless, the singer still thinks the private moment was stolen without their consent and sold for money.
JLO AND BEN AFFLECK ARE HAPPY ON THEIR SECOND HONEYMOON
Irrespective of all the negatives that have happened since Lopez's and Affleck's Georgia wedding ceremony, the couple are happy and are enjoying a lovely honeymoon in Italy. Many snapshots capturing the couple in Italy have the duo looking head over heels in love.
On August 27, 2022, the lovebirds were spotted dining at Alfresco at a restaurant overlooking Lake Como. Affleck was pictured feeding his new bride to let her taste a dish.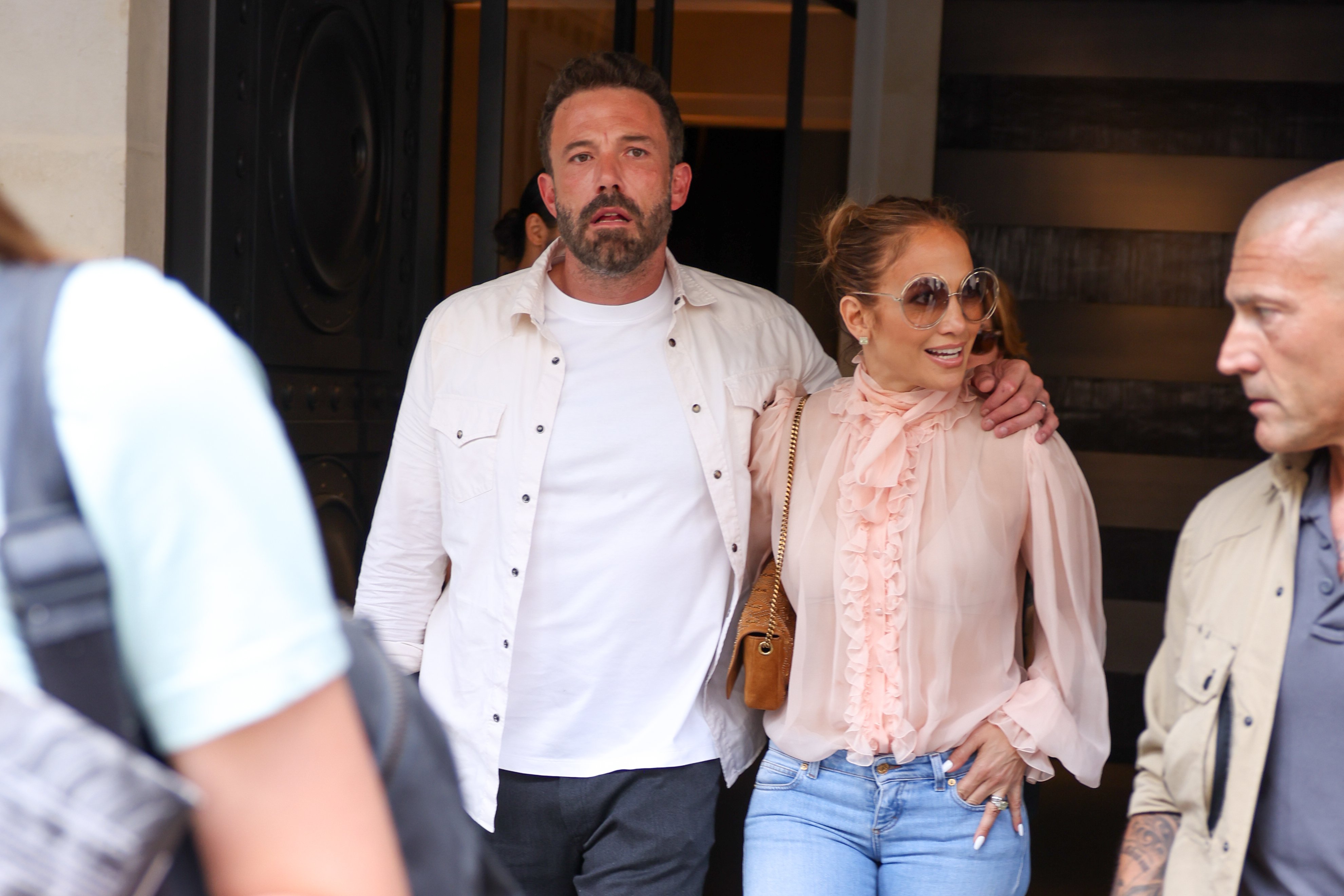 Jennifer Lopez and Ben Affleck are seen leaving the Costes Hotel on July 25, 2022, in Paris, France. | Source: Getty Images
Later, Lopez, who ordered pasta for her meal, was seen wiping her husband's face with a napkin. The newlyweds were also spotted sharing kisses during their lunch, while the singer rested her hand on Affleck's lap at one point.
After their lunch, the couple was later seen shopping in the Lake Como area. Lopez looked dashing in a cream-colored, long-sleeved, embroidered maxi dress with a criss-cross front, a matching hat, a purse, and tan wedge sandals.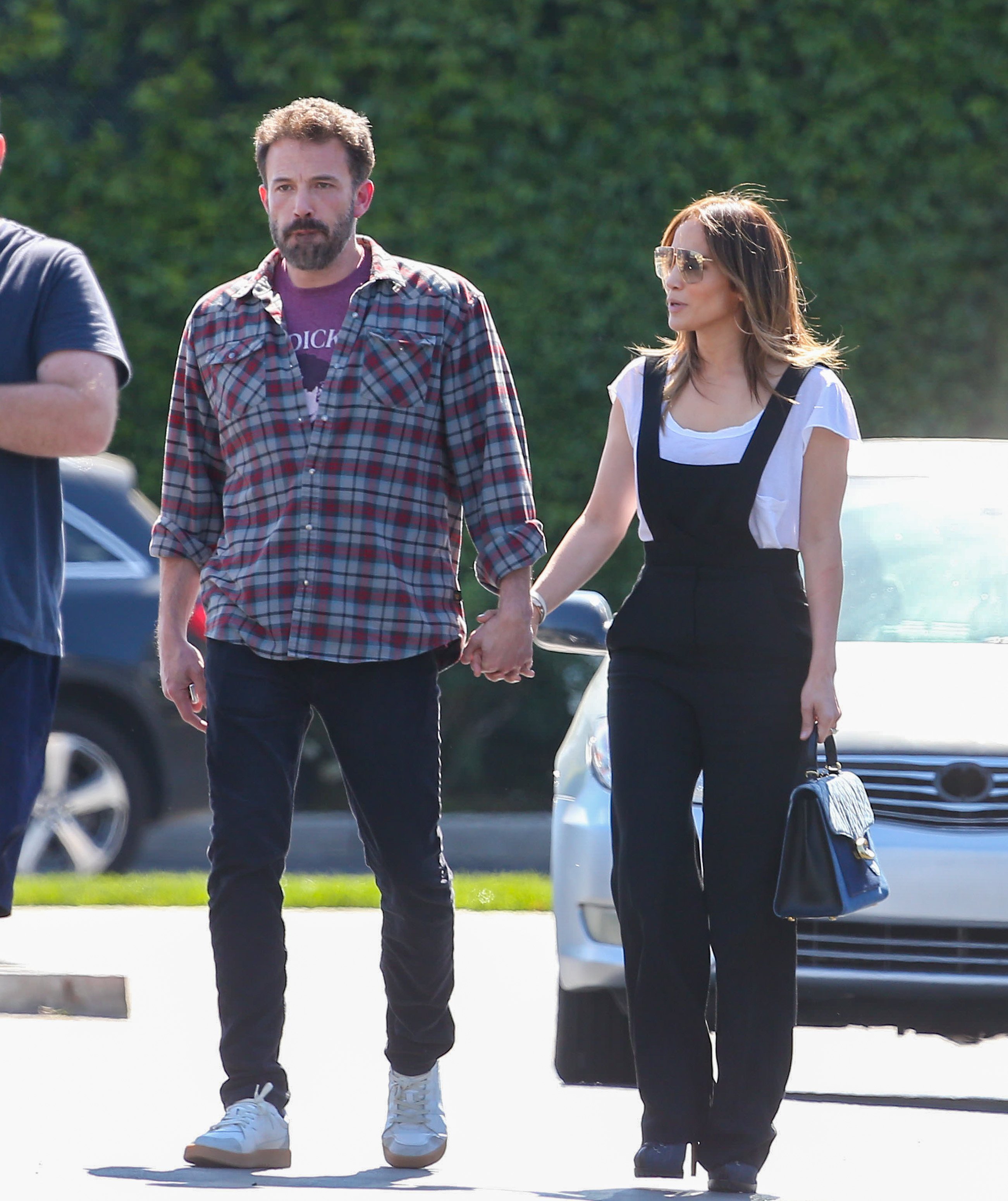 Ben Affleck and Jennifer Lopez are seen on April 13, 2022, in Los Angeles, California. | Source: Getty Images
On the other hand, Affleck looked dapper in a pale blue button-down shirt, light khakis, and white sneakers. Their PDA-filled outing and shopping trip marked the latest stops for the couple on their honeymoon.
Lopez's and Affleck's Italy honeymoon would mark their second honeymoon in less than two months. The couple's first honeymoon went down in France after their July 17 wedding.
The duo tagged their children in what was re-branded as a family vacation rather than a romantic getaway. Seeing how lovey-dovey the pair are, fans are optimistic that Affleck and Lopez's romance will not end like the last time.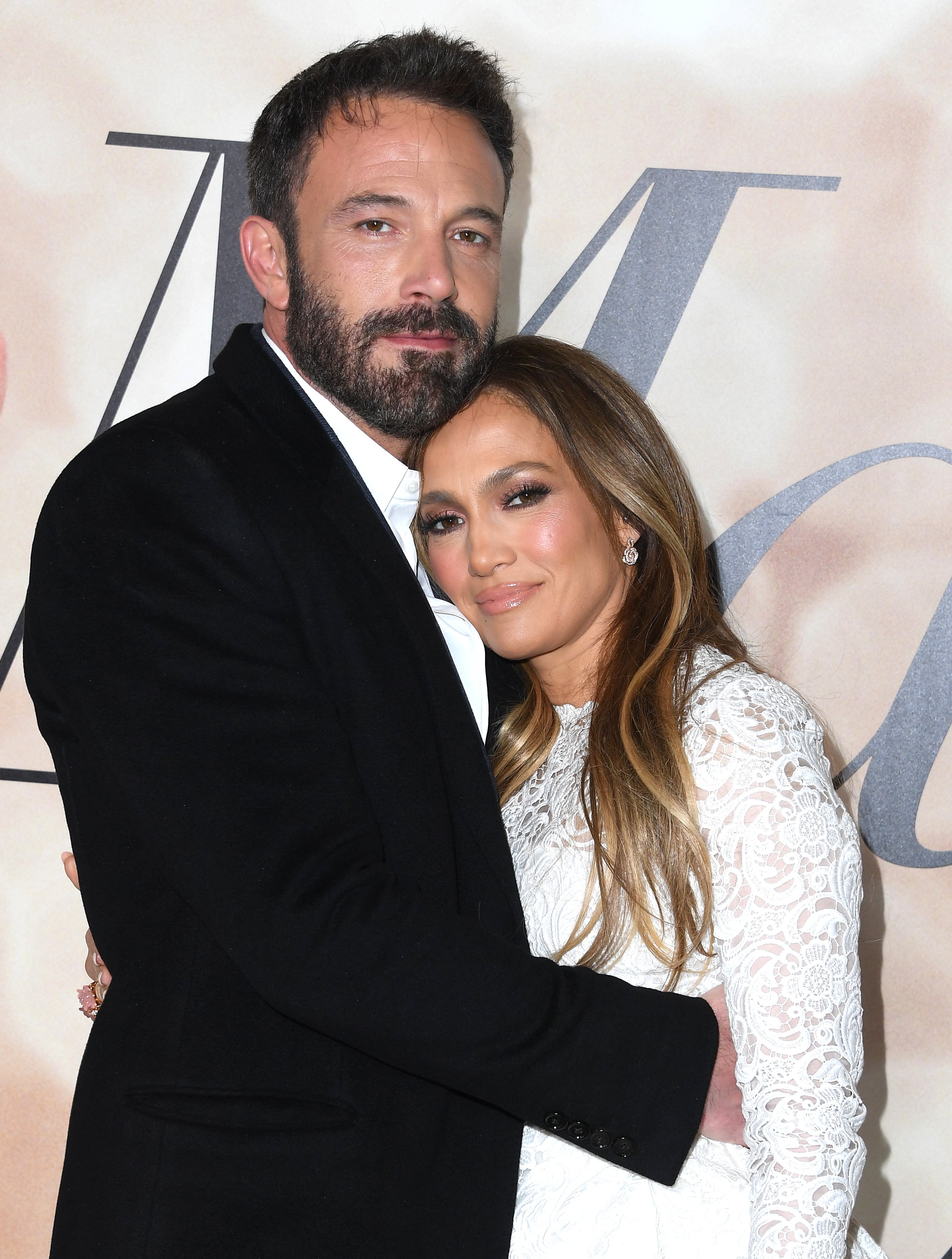 Ben Affleck and Jennifer Lopez arrive at the Los Angeles Special Screening Of "Marry Me" on February 08, 2022, in Los Angeles, California. | Source: Getty Images
The duo was previously in a relationship in 2002 and got engaged that same year. However, they postponed their wedding in September 2003 and eventually called it quit in January 2004.
Almost two decades later, Affleck and Lopez rekindled their love and tied the knot. Hopefully, their love stays intact for the rest of their lives as they surmount the challenges, including negativity from the public.
Please fill in your e-mail so we can share with you our top stories!