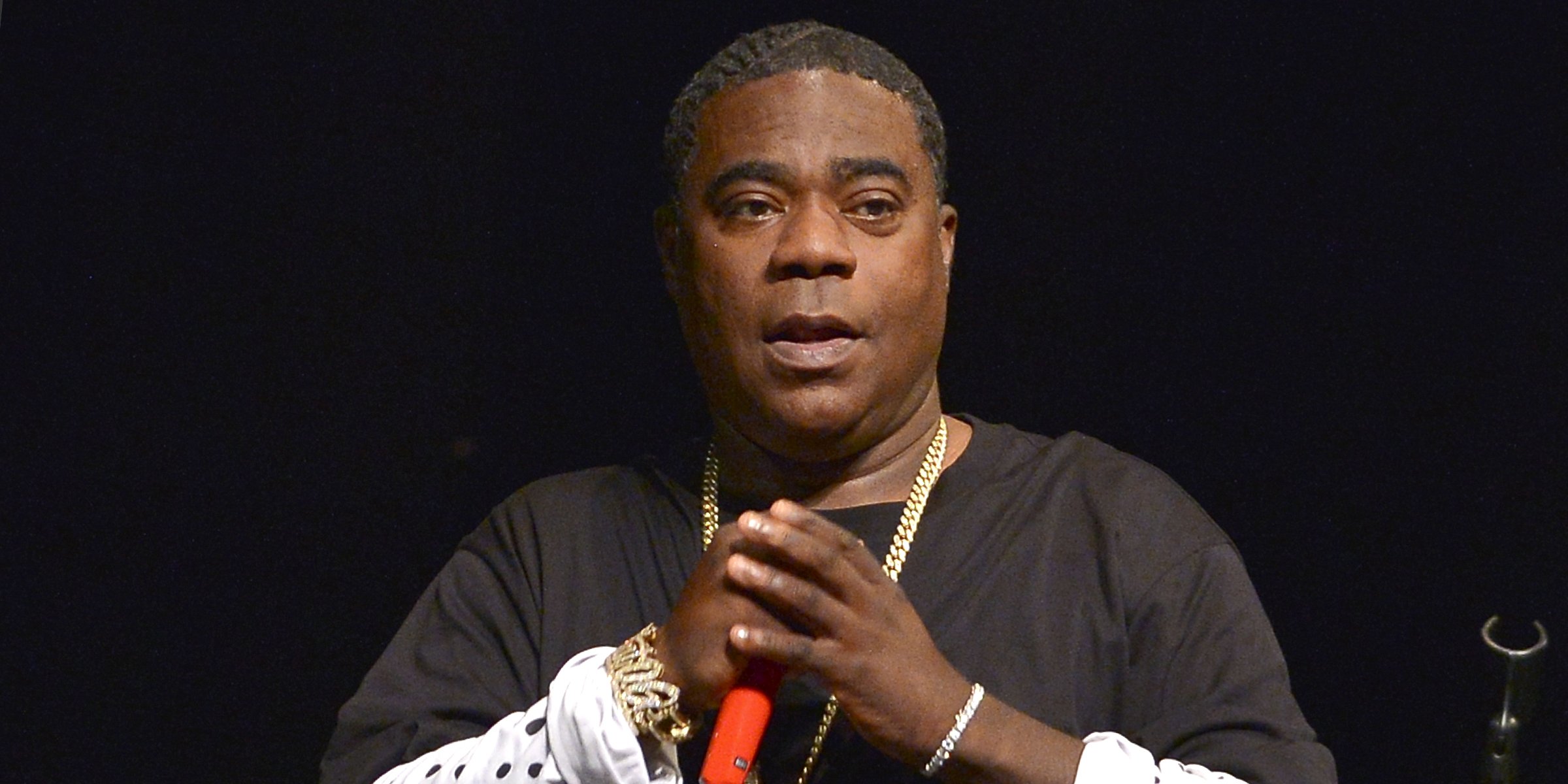 Getty Images
Tracy Morgan's Accident: A Look Back at the Crash That Almost Took the Comedian's Life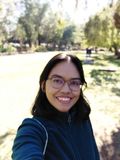 Tracy Morgan's car accident was one of the comedian's eye-opening experiences he would never forget. Here's a look at Tracy Morgan's accident, which he miraculously survived despite the tragic death of a close friend.
Tracy Morgan gained prominence as one of Hollywood's most talented comedians and actors. For years, he has made viewers laugh with his funny antics on several television shows, including "30 Rock," "Martin," and "Saturday Night Live."
A troubled upbringing due to a broken home marred Morgan's younger days in his hometown in The Bronx, New York. However, the car crash that nearly cost him his life, dreams, and aspirations was the most frightening ordeal of his life.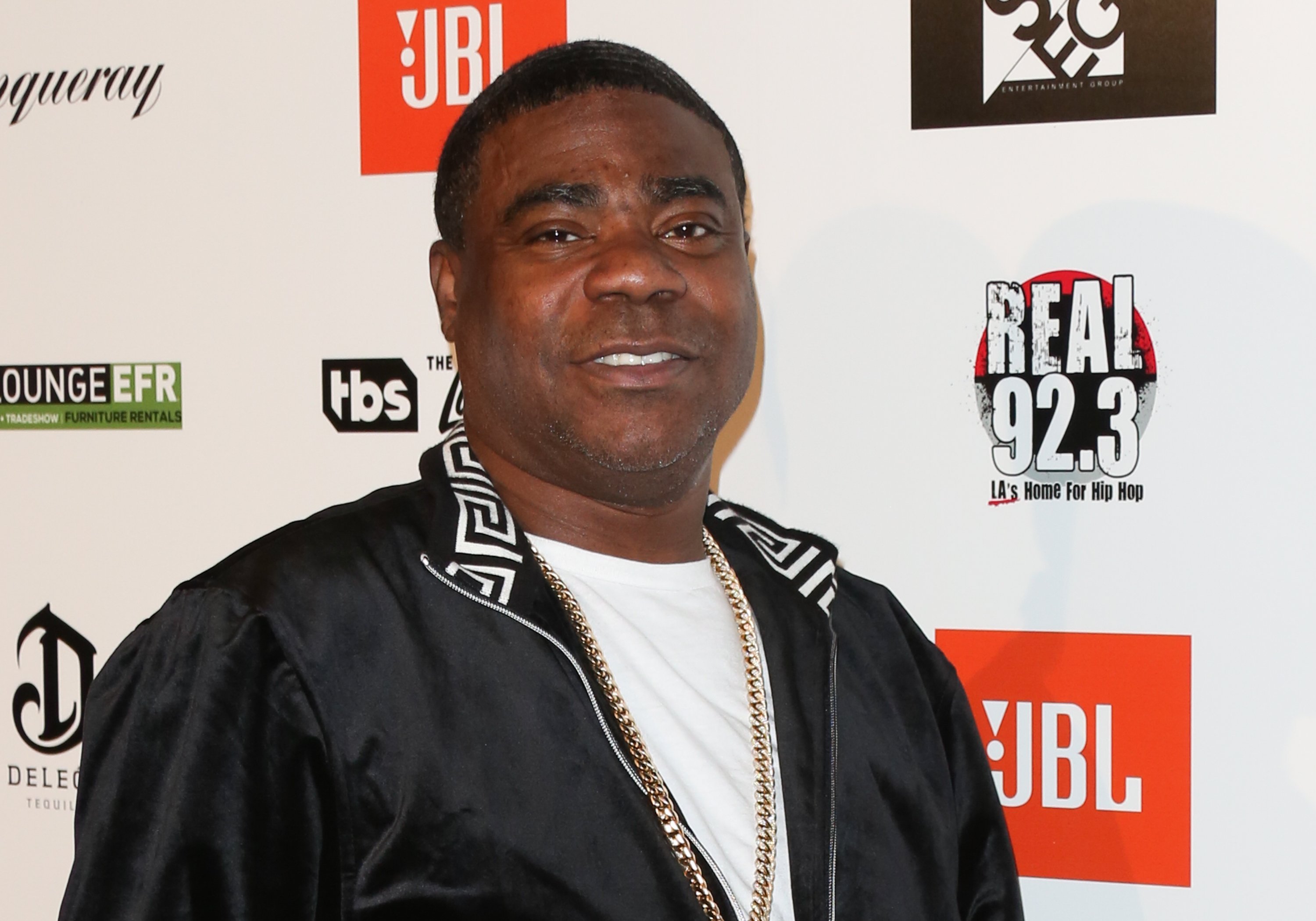 Tracy Morgan attends Kenny "The Jet" Smith's annual All-Star bash presented By JBL on February 16, 2018, in Hollywood, California. | Source: Getty Images
Tracy Morgan Almost Lost His Life in a Car Crash
In June 2014, a massive Walmart truck reportedly collided with the limousine Morgan, his friend, and fellow comedian James McNair and other colleagues were riding in after performing in Delaware on the New Jersey Turnpike.
According to BBC, on November 2016, Kevin Roper, the Walmart truck driver involved in the incident, pleaded guilty. He reportedly entered a plea in a New Jersey court to second-degree vehicular homicide and four counts of third-degree aggravated assault.
Roper's lawyer David Glassman said the former required 300 hours of community service. He also mentioned that providing the service was a way for him to "move forward" from the incident. He stated that his client accepted full responsibility for it.
It seemed that Roper had been reportedly driving carelessly. According to the National Transportation Safety Board investigation, Roper had not slept in 28 hours and was driving 65 miles per hour in a 45-mile-per-hour zone before the wreck.
The truck driver did not slow down despite warning signs of roadwork on the turnpike. According to the safety board, Morgan and his friends should have worn safety belts, and their limousine should have had adjustable headrests.
The board believed that by implementing safety measures, injuries would be reduced. After the collision, Morgan was in a coma for two weeks at the hospital, and his other fellow comedians he rode in the limousine all suffered injuries.
Comedians Harris Stanton, Ardie Fuqua, and their two other companions were among the passengers reportedly injured. McNair, unfortunately, died as a result of the devastating incident.
Meanwhile, Roper's employer, the Walmart supermarket chain, had already settled with Morgan and McNair's surviving children following the car accident.
The Accident Was Fatal for Tracy Morgan's Mentor and Friend
McNair was 62 when he passed away. Within the comedy world, McNair went by the moniker Uncle Jimmy Mack, and Morgan considered him a close friend. The late comedian was a native of Peekskill, New York.
McNair's friendship with Morgan, born and raised in The Bronx, New York, dated back to when the latter was starting as a stand-up comedian. They met at Harlem's Uptown Comedy Club and became instant best buddies.
According to McNair's sister Valerie Daniel, the late McNair had nothing but admiration for Morgan. On the other hand, Sabina, Morgan's ex-wife and former high school sweetheart noted Mcnair's closeness to her ex-husband. Sabina said:
"He was one of the first comedians that took Tracy under his wing. They were very close."
Before McNair's death, Morgan was never seen without him at any of his performances across the country. A devastating vehicle crash, however, would be the last time he saw his close friend alive.
Many comedians expressed their condolences for McNair's passing. Royale Watkins, who once performed with Morgan and McNair in New York comedy clubs, described his late friend as having a vibrant and big personality.
McNair left behind two children and six siblings. In addition to stand-up comedy, McNair hosted his own show, "The Original Uncle Jimmy Mack's Amateur Hour." He was also a church volunteer.
While most comedians expressed their sorrow over McNair's death, McNair's family has shown no sentimentality. McNair's family had not heard from him since the fatal car crash, leaving them disappointed.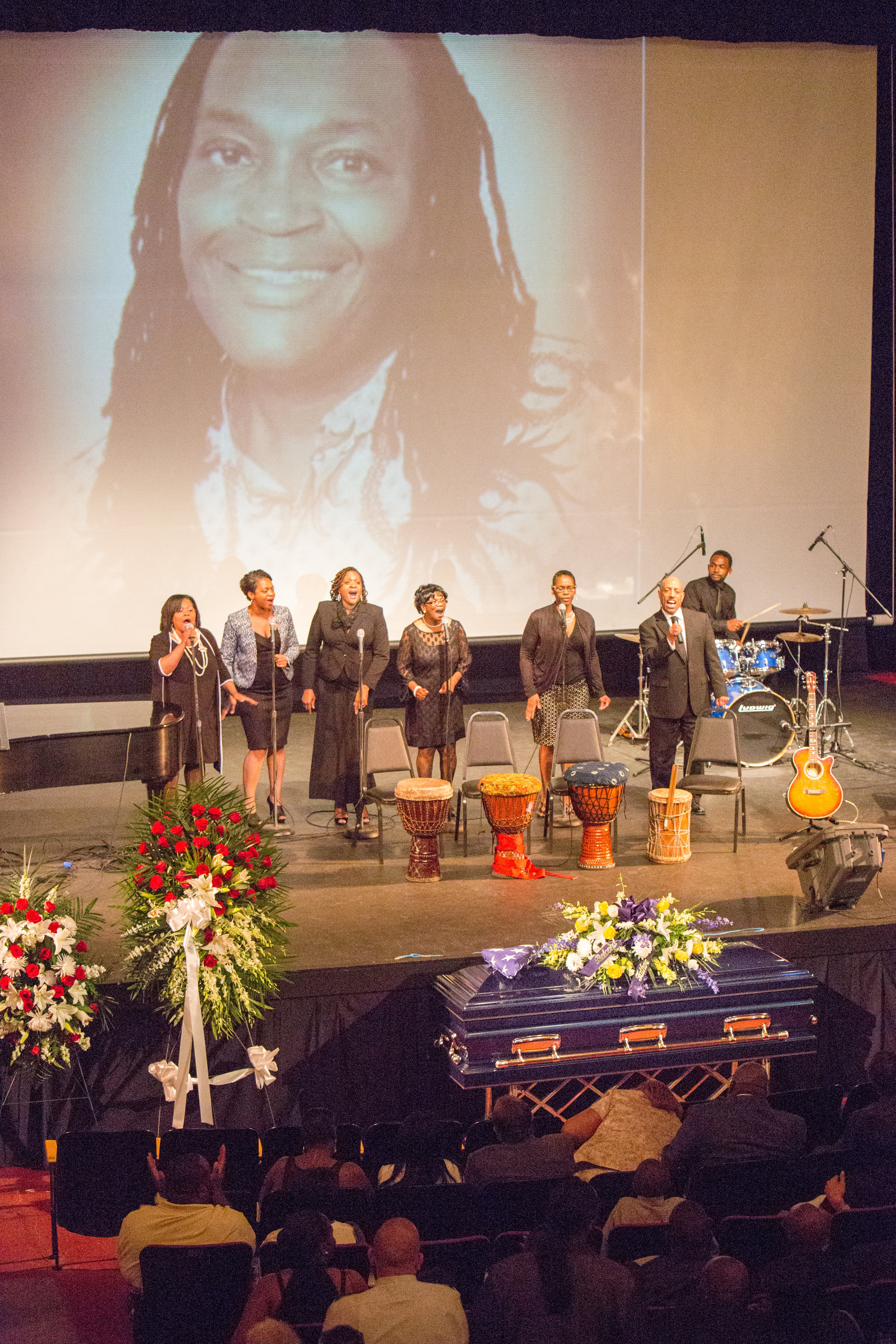 A choir performs on stage for James McNair's funeral service on June 12, 2014, in Peekskill, New York. | Source: Getty Images
McNair's other sister, Pamela, stated that Morgan should have acknowledged her late sibling's life because he was his mentor. Jamel, McNair's son, previously criticized Morgan on his Facebook post, which appears to have been deleted.
Several years after the car accident, Morgan took to Twitter to share a lengthy message explaining his feelings about being a survivor and being given another chance at life.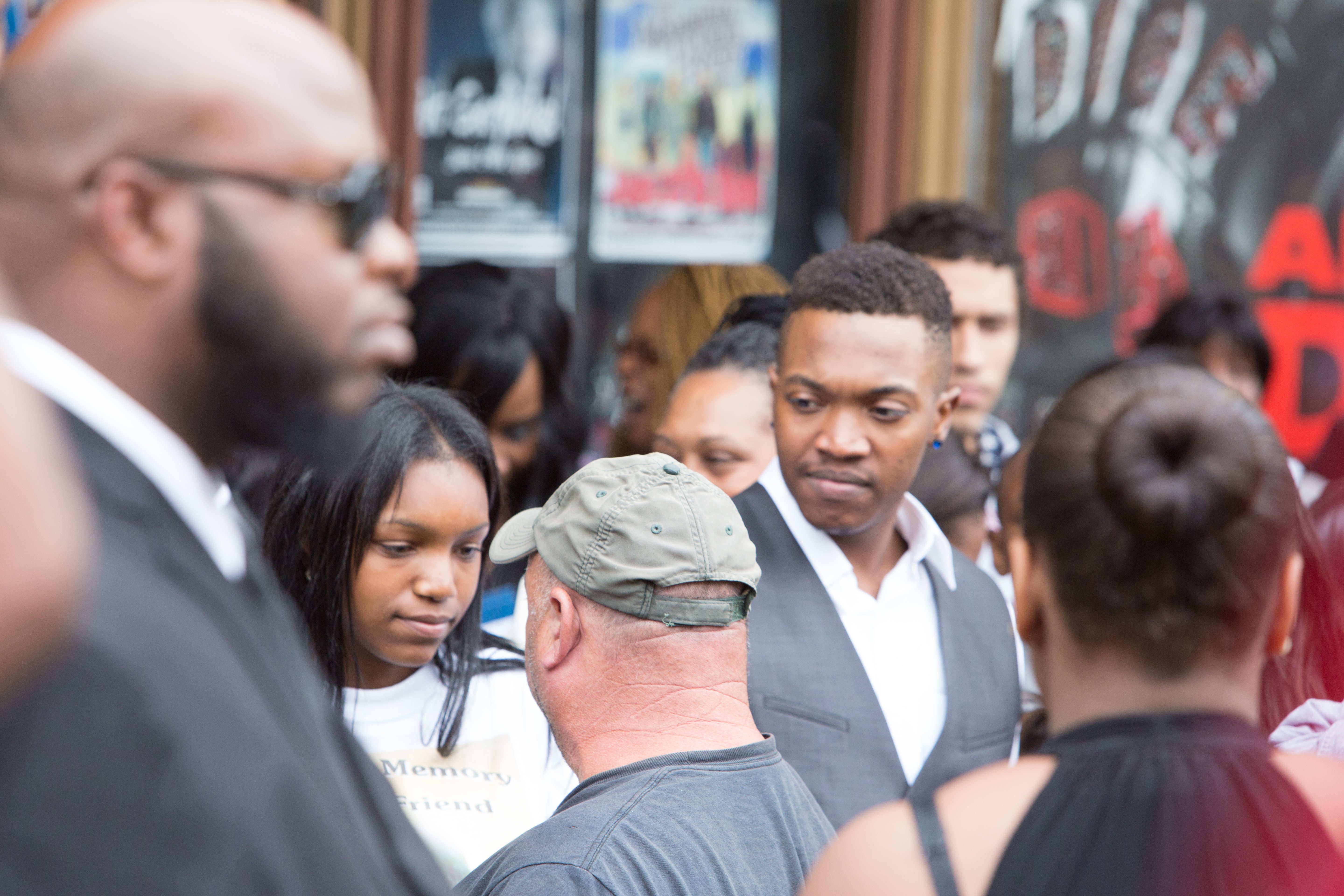 Jamel McNair and his sister, Denita, at the funeral service for their father James McNair on June 12, 2014, in Peekskill, New York. | Source: Getty Images
Tracy Morgan's Recovery Took Many Months
Morgan's condition was critical following the horrific car accident, leaving his ex-wife Sabina and their family distressed and traumatized. She said he was taken to the intensive care unit at Robert Wood Johnson University Hospital. He also suffered leg injuries.
Morgan's lawyer, Benedict Minelli, stated that the comedy actor suffered a broken nose and ribs in addition to his leg injuries. The doctors told Sabina that Morgan had a good chance of recovering completely.
Minelli also said his client was "fighting to get better." Fortunately, Morgan recovered from the accident but was wheelchair-bound for five months.
However, the accident appears to have affected Morgan's well-being. He was diagnosed with traumatic brain injury (TBI), which is damage to the brain caused by a violent hit, blow, or jolt to the head that affects the inner portions of the brain.
Morgan admitted to suffering from bouts of depression due to his diagnosis. In November 2021, he revealed to show host Hoda Kotb on "Today" that he considered ending his life while recovering painfully at the hospital. He also said:
"I got to the bed that I recovered in and I just dropped to my knees and started crying because everything came before my face: Jimmy Mack [McNair], the truck, my friends that were in the car with me… all of that stuff came right before me."
Although Morgan said he had little recollection of the accident, he did remember his time at the JFK Johnson Rehabilitation Institute, where he had to relearn to walk and speak again with the help of a physical therapist.
Relearning to walk and speech therapy were both parts of Morgan's recovery. Although his health has improved significantly, he is still heartbroken by McNair's death and mourns his loss.
Tracy Morgan's Daughter Inspired Him to "Fight" after the Crash
The fatal car crash left Morgan with a painful loss, inspiring him to do better in life. He reflected on surviving the incident and expressed gratitude to his daughter, Maven, for helping him overcome his journey to recovery.
Emotional, Morgan explained that Maven was only ten months old at the time of the car accident. He stated that he had to fight for his life because he needed to be there for his young daughter and wanted to see her grow up.
The proud father stated that he grew closer to his daughter. He was especially enamored with the fact that Maven strongly resembled him. The little girl appeared on her father's TBS sitcom, "The Last O.G."
Born in 2013, Maven is the only daughter of Morgan and Megan Wollover. Besides his daughter, he has three adult sons from his previous marriage to Sabina, Tracy Jr., Malcolm, and Gitrid.
Morgan was extremely thankful to his adorable daughter and his other family members for their unwavering support during a difficult period of his life.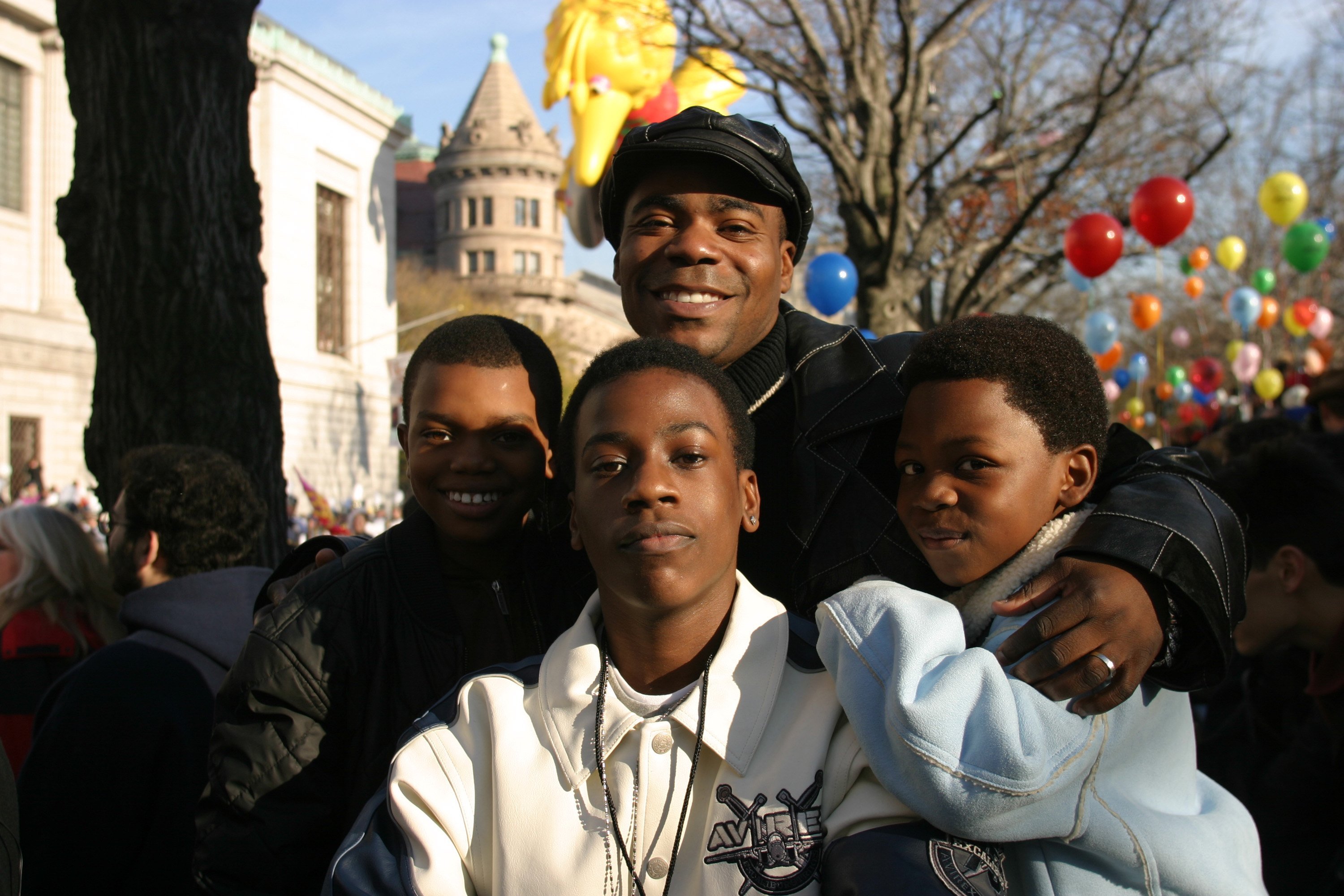 Tracy Morgan and his sons Malcolm, Tracy Jr., and Gitrid attend the 2003 Macy's Thanksgiving Day Parade on November 27, 2003. | Source: Getty Images
Several years after the car accident, Morgan took to Twitter to share a lengthy message explaining his feelings about being a survivor and being given another chance at life.
He mentioned his friends Fuqua, Stanton, and two other companions who survived the car crash. He also took advantage of the opportunity to reflect on McNair and express how much he missed him.
Morgan also expressed gratitude to his close friends, colleagues, and representatives for helping him resume his career as an entertainer. He also shared on Twitter about spreading kindness.
The emotional comedian tweeted that his family helped him get back on his feet. "I live every day trying to do right by them and make the most of this second chance," he added.
If you or someone you know is considering suicide, please contact the National Suicide Prevention Lifeline at 1-800-273-TALK (8255), text "help" to the Crisis Text Line at 741-741, or go to suicidepreventionlifeline.org.
Please fill in your e-mail so we can share with you our top stories!
The information in this article is not intended or implied to be a substitute for professional medical advice, diagnosis or treatment. All content, including text, and images contained on news.AmoMama.com, or available through news.AmoMama.com is for general information purposes only. news.AmoMama.com does not take responsibility for any action taken as a result of reading this article. Before undertaking any course of treatment please consult with your healthcare provider.