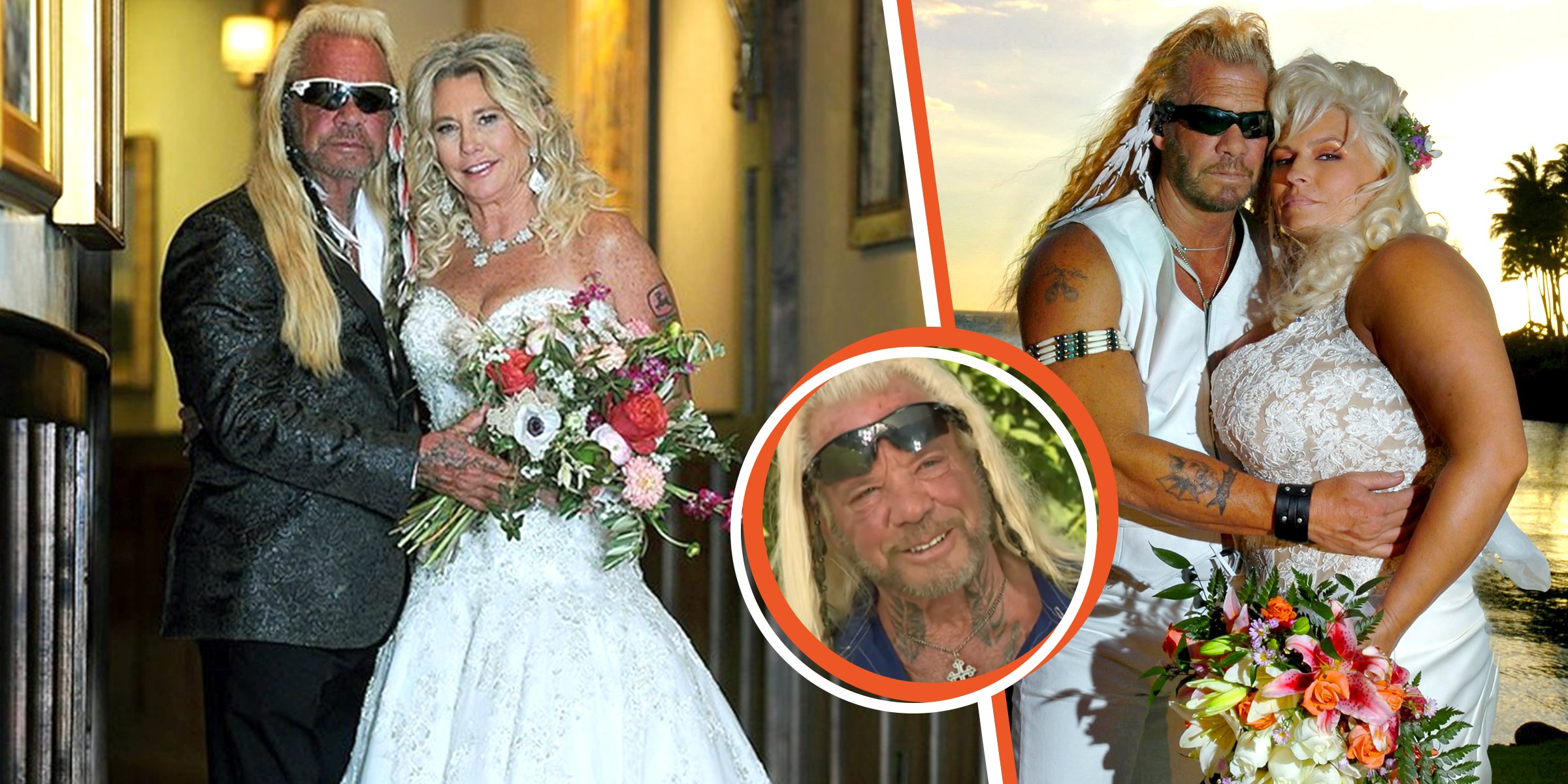 Instagram.com/duanedogchapman - Getty Images - YouTube.com/Entertainment Tonight
Widower Duane Chapman Found Love Again at 67 with Woman who Vowed to Honor His Ex & Not to Take Her Place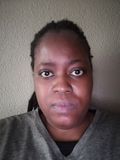 Duane "Dog" Chapman was once in a stormy but strong marriage with his late wife, Beth Chapman. He loved her so much that he adopted her child, but years later, she was diagnosed with cancer and died after being married to him for 13 years. The pain of her loss made Duane scream and cry until he found love again with a widow, but he never stopped grieving Beth.
On September 2, 2022, Duane "Dog" Chapman will celebrate his first wedding anniversary with his wife, Francie Frane. However, the television personality was still in love with his late wife, Beth Chapman.
He and Beth started dating on and off after meeting in 1986, and things weren't perfect in their relationship. In 1991, the reality television star married Keith Barmore, Duane's childhood best friend, and they had a daughter, Cecily.
Beth Smith and Duane "Dog" Chapman at the Professional Bail Agents 25th Anniversary Convention on February 20, 2006 | Source: Getty Images
In his book, "You Can Run but You Can't Hide," Duane revealed that he was devastated about Beth's marriage and got "physically" ill. He felt Barmore was superior in his statue but "emotionally volatile."
However, he and Beth continued seeing each other even when they were married to other people. The pair pushed their relationship after divorcing their respective spouses and became serious in 1995.
In 2006, the duo tied the knot, and Duane adopted his wife's daughter, adding her to his eight children from previous relationships. Before their Hawaii wedding, the couple was struck by tragedy when Duane's eldest daughter, Barbara Katie, died the day before their special day.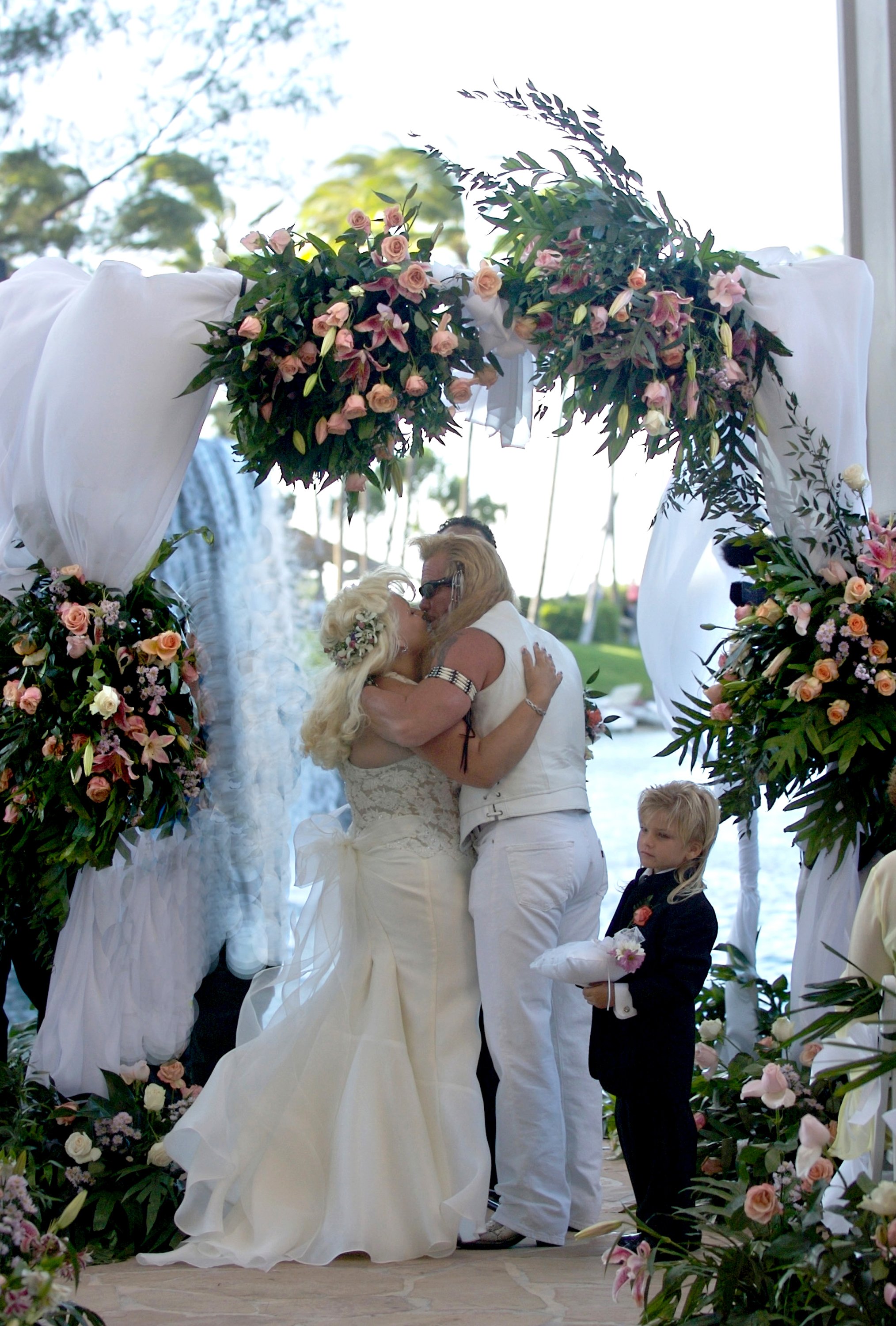 Beth Chapman and Duane "Dog" Chapman at the Hilton Waikoloa Village in Waikoloa, Hawaii, on May 20, 2006 | Source: Getty Images
The star's daughter, with his third wife, Lyssa, passed away in a car accident in Alaska at age 23. Beth and her fiancé spoke with a minister and decided to marry anyway, and guests learned about their loss during their reception.
Despite the hard times, the pair found fame with their reality series "Dog the Bounty Hunter." In 2012, the show got canceled after running for eight seasons, and a spinoff was created called "Dog and Beth: On the Hunt."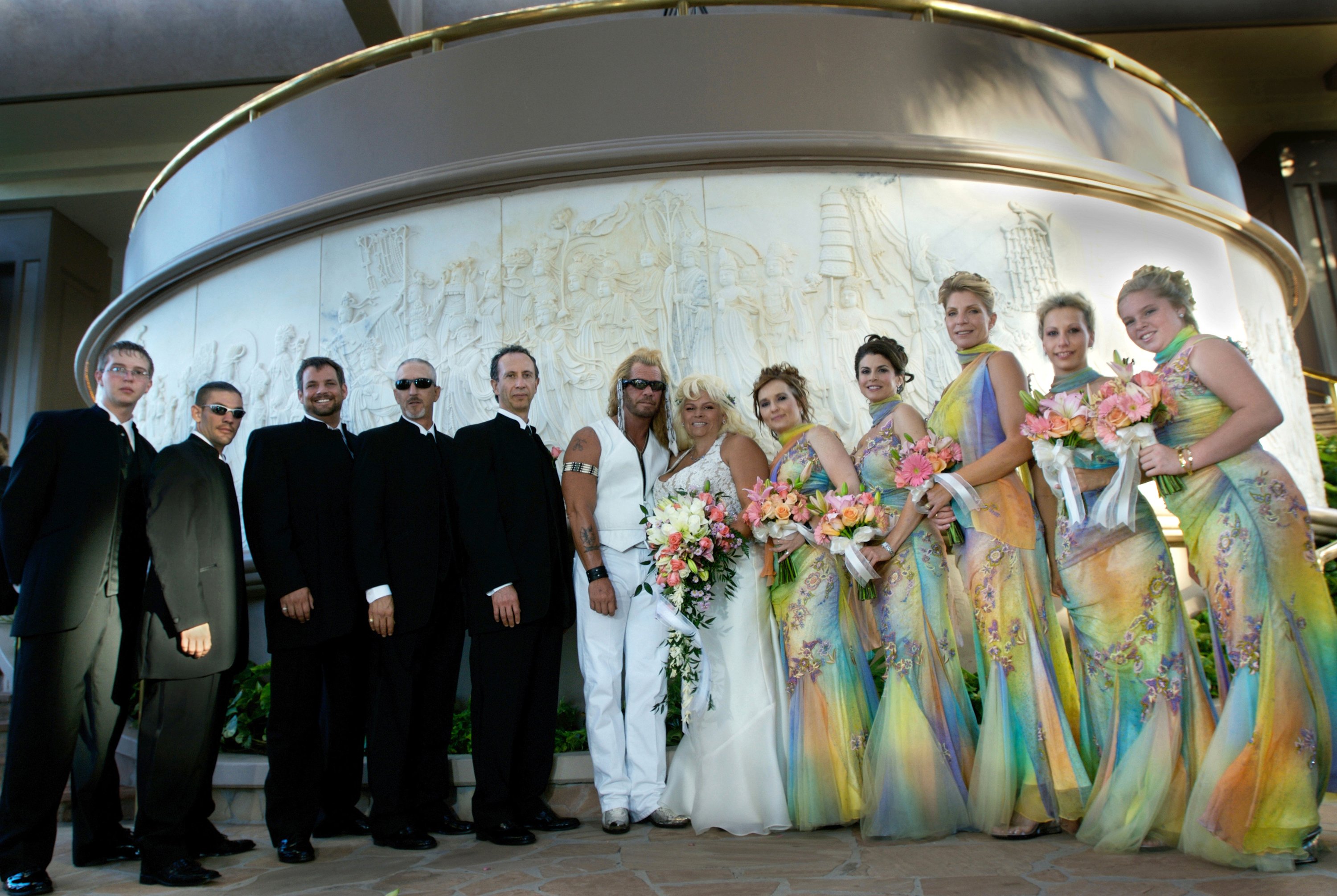 Timothy Jr., Leland, Duane Lee, and Tim Chapman, Boris Krutonog, Duane "Dog" and Beth Chapman, Moon Angell, Maureen Krutonog, Carrie Chirstman, Lyssa and Cecily Chapman at the Hilton Waikoloa Village in Waikoloa, Hawaii, on May 20, 2006 | Source: Getty Images
The CMT series concluded in 2015. Throughout their appearances, Duane would talk about his relationship and how he loved Beth. During a "Dog the Bounty Hunter" episode, a man accused of abusing his partner received this advice from him:
"You cannot win the heart of a girl by being mean to her."
He said abusing a woman wasn't the way to win her heart and suggested getting flowers being nice, kind, loving, and chivalrous by placing your coat down when it rains. Duane asked the apprehended man if he thought Romeo beat Juliet all the time so he could love her.
Luckily for the star and his wife, their love was more substantial than the challenges they faced, but the biggest obstacle in their lives led to Beth's death. Although Duane found love with a new woman, his feelings for his late wife never disappeared because they survived hard times together.
Beth's Cancer Diagnosis
In September 2017, Beth was diagnosed with stage II throat cancer. A letter she wrote announcing the news to her friends said she and her husband had decided to stay positive and refused to let the disease beat her.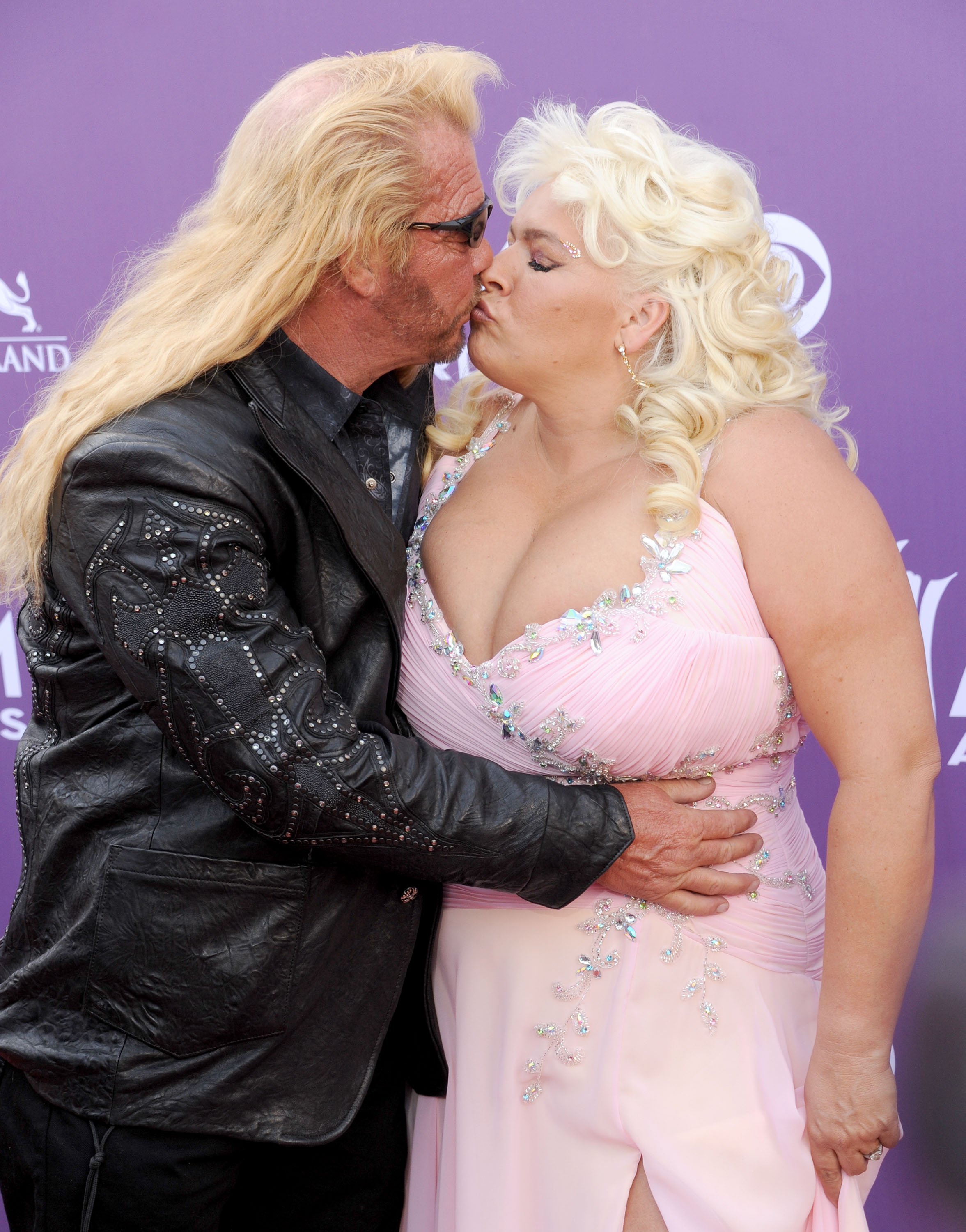 Duane Lee "Dog" and Beth Chapman at the 48th Annual Academy of Country Music Awards on April 7, 2013, in Las Vegas, Nevada | Source: Getty Images
The following month, Duane told Us Weekly that his wife had woken up one night after discovering her diagnosis and told her husband she would die, but he tried to convince her otherwise.
She insisted and questioned how Duane would make it on his own. The reality star noted how he'd been with Beth since she was 19 and that he saw them together in each photo, and the moments could be all he had left with.
The day Beth underwent surgery was the "worst day" Duane had ever experienced. The emergency surgery was in November 2018, and it was revealed that the cancer had returned, with the reality star sharing that his wife was breathing, could talk, and remained strong.
However, by June 2019, Duane posted on Twitter asking fans to pray for his wife. Sadly, three days after his post went up, the television personality heartbreakingly revealed that Beth had passed away on June 26, 2019, in Hawaii.
In September of that same year, Duane confessed to Entertainment Tonight (ET) that he struggled with being alone because that's when the loss hit him. He was getting support from his children and his bounty-hunting team.
The reality star admitted that grief was an emotional roller coaster ride. He shared that he didn't intend to marry again but was open to dating and revealed that he and Beth had spoken about him moving on, and she'd insisted that he shouldn't marry someone else, with Duane stating:
"There will never be another Mrs. Dog."
The celebrity even looked to God for answers as he was so lonely. However, the answer he was looking for came from a new woman who entered his life and helped fill the void Beth had left.
Falling in Love and Marrying Again
By 2020, Duane had found love with Francie Frane. She hadn't known who he was until two days after Beth's death; a friend mentioned that the star had lost his wife and suggested they meet.
Frane thought her friend was crazy, but six months later, Duane called her late husband, Bob, not knowing he had died. The former rancher heard the voicemail and called back, not knowing she was talking to Beth's widower until he mentioned who he was.
The duo realized they were both in mourning over their spouses, and Duane eventually asked her on a date. She agreed as long as he went to church and initially brushed him off until they attended service together and held hands.
The reality star believed their meeting and him falling in love again at 67 was God's plan. Duane confessed to Daily Mail that they connected over their shared grief when he asked for advice on moving on because Frane had more experience, having lost Bob six months before.
In May 2020, Duane surprised everyone when he proposed to Frane. However, before becoming his wife, she gave him her restrictions; the star was to attend church, eat healthier, stop smoking and swearing, and get a more beneficial heart rate.
The couple married on September 2, 2021, with Duane becoming emotional during the ceremony as he said, "This was a match made in heaven." Ahead of the wedding Frane said they would honor their late spouses on the special day.
The television personality [Duane "Dog" Chapman] confessed that he still felt his late wife [Beth Chapman] "all the time."
While being interviewed by ET, Duane confessed that he still loved Beth, and every year on the month of her death, he paid tribute to her, as did Frane with her late husband. However, the reality star emphasized:
"She's [Francie Frane] not another Beth. She ain't gonna take Beth's place."
The bounty hunter felt the same sentiment, and showing how in agreement they were, Frane chimed in, "I don't want to do that." Duane broke his vow to Beth and married his new wife because he read that the Bible said God didn't want a man to be alone.
How Duane Continued to Honor Beth While Francie Made Him Happy
In August 2020, Duane shared a lovely Instagram image of Frane posing for the camera. He revealed that he was still mourning his late wife, sharing how he would "scream and cry" asking Beth where she was and why she left him, adding:
"Then I look up & see you Francie & the pain turns to a smile I LOVE YOU WOMAN !!"
Frane was welcomed with open arms into Duane's family, and they blended together, as seen on an October 2020 Instagram post by the celebrity. The newest addition to the Chapman family became a loving stepmother and grandmother, as Duane's June 2020 post showed.
On June 20, 2022, the bounty hunter celebrated his wife's birthday calling her his best friend, his woman, and his wife, before declaring his love. Six days later, on Beth's death anniversary, Duane shared an image of her and noted how she was partying with angels.
The television personality confessed that he still felt his late wife "all the time." He concluded his touching message by writing, "Thanks for watching over us. We love you."
Please fill in your e-mail so we can share with you our top stories!