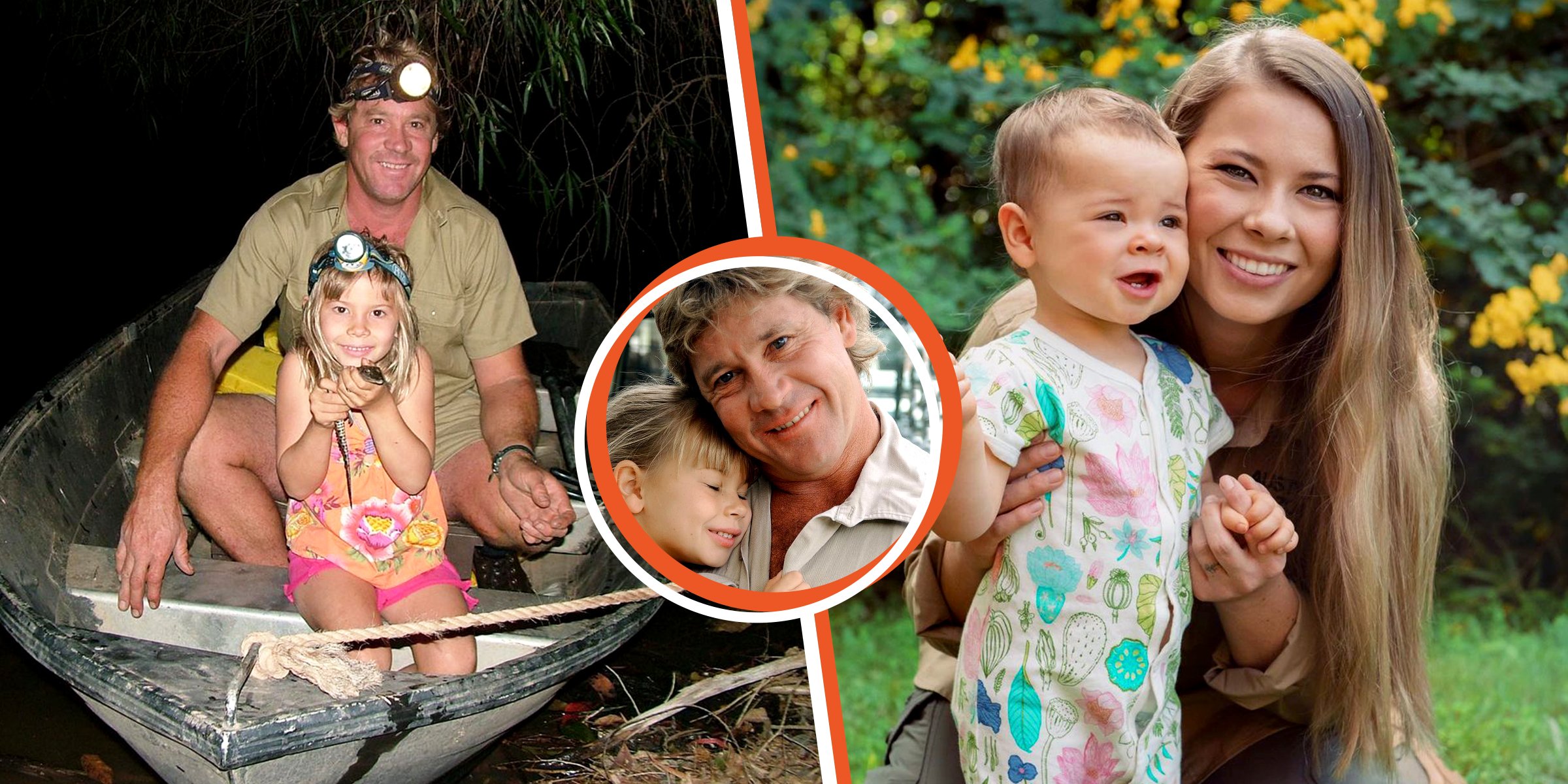 Getty Images | Instagram/bindisueirwin
Steve Irwin's Child Calls Him Baby's Guardian Angel amid 'Devastating' Parenting without 'Grandpa Crocodile'

It has been nearly two decades since the death of "The Crocodile Hunter"; however, the Irwin family continues to remember their father, Steve. Recently, they shared a soul-stirring tribute for his 16th death anniversary. His daughter, Bindi, who is finding parenting tasking, calls him her baby's guardian angel.
Sixteen years ago, Steve Irwin's death shocked the world. Although he has been away for that long, his family still thinks about him by sharing and holding onto memories dear to their hearts.
On September 4, while celebrating Father's Day in Australia, his son, Robert, uploaded a throwback image of father and son via Instagram.
In the picture, Steve was dressed in his signature green collared shirt while carrying baby Robert who wore an olive green top and camouflaged bottom. The toddler appeared fascinated by a mini-sized bouquet bearing colorful flowers.
In the accompanying caption, Robert reached out to fans who also miss their fathers while celebrating the national holiday. He added:
"I cherish all the good times with my dad and feel grateful to be able to keep his memory and legacy alive."
Steve's daughter, Bindi, who was older than Robert before his demise, and had spent more time with their father, also shared a heart-melting photo. Bindi posted a father-daughter image.
In the update, the duo were seated in a boat and had headlights on as it was nighttime; their boat was close to the shores, and behind them was a host of green leaves and branches.
Steve was in his signature uniform, while his mini-me was clad in girly pink shorts and an armless top. Despite being surrounded by the dark, they looked like they were enjoying a fun time as they flashed their teeth while posing for the camera.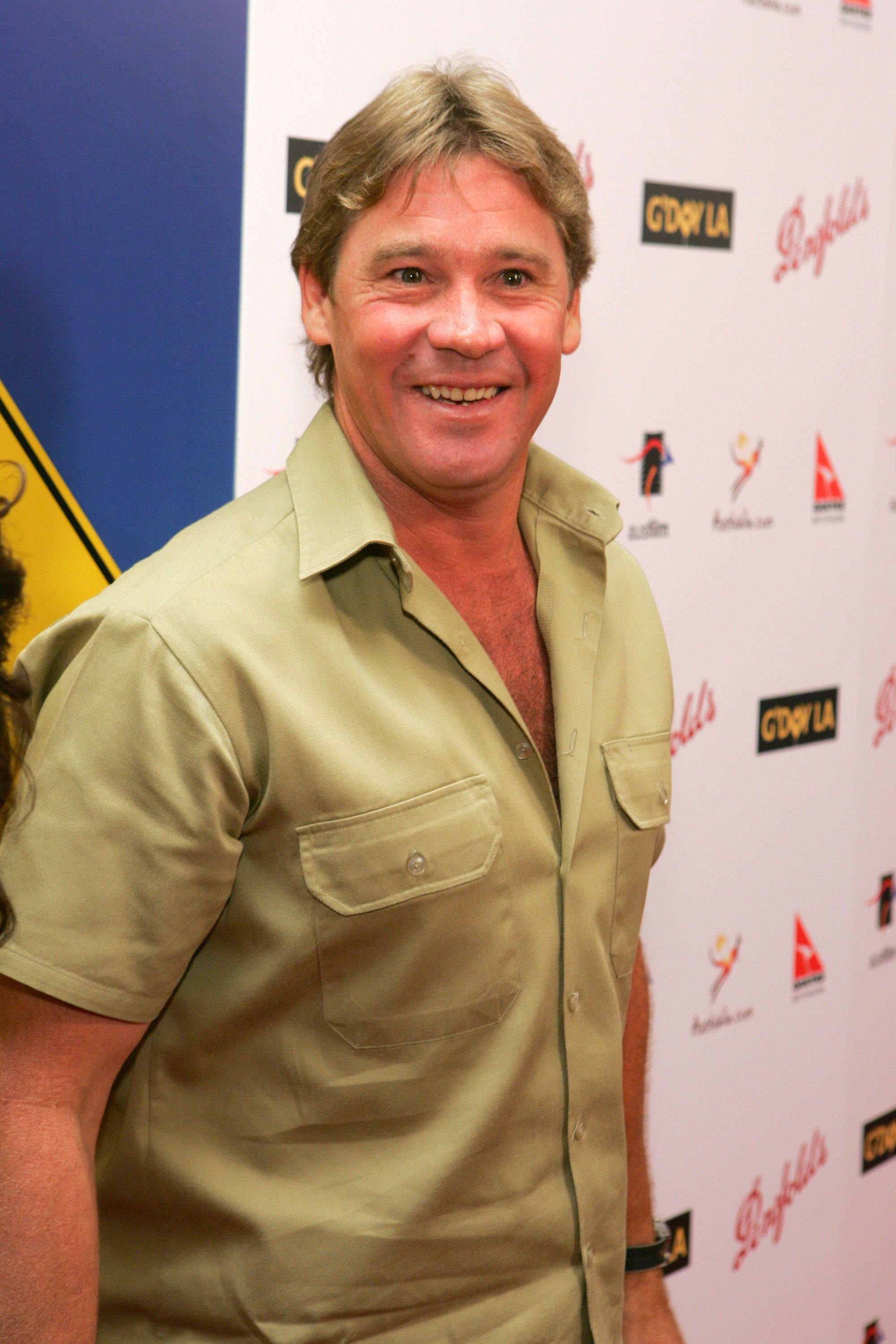 Steve Irwin at G'Day LA: Australia Week 2006. | Source: Getty Images
Bindi, who is already a wife and mother, added a touching caption to her photo. She admitted that the crocodile hunter was an amazing dad and would have been a great-grandparent. According to her:
"Grandpa Crocodile, I know you would've been the most incredible grandfather because you were such an extraordinary dad. Thank you for being an amazing guardian angel for Grace."
Exactly a year ago, Bindi honored her dad with a sweet post. This time, it was a two-slide update; the first showed her mini-me dressed in an adorable Australian Zoo uniform with her name embroidered.
Baby Grace also had a pink tutu that complemented her inner clothing, a white and pink overall. In addition, she had a cute toothless smile while posing on beach-like sand at the Steve Irwin Wildlife Reserve.
Photo number two focused on Steve and his daughter on the beach sand. The duo looked like they had been picking snails and seashells. Following the images closely was a semi-long write-up establishing that Bindi had been sharing her father's memories with Grace.
The mother-of-one dubbed her dad "grandpa crocodile," adding that her daughter "lights up when she sees him on screen."
However, Bindi leaned on the hope that Steve was her baby's guardian angel who would always be around to watch over her "Grace Warrior."
Despite the hopes and wishes and her pride in motherhood, Bindi still feels her father's absence, especially now that she has a daughter to raise.
Bindi Wants Grace to Know Steve
Although it felt devastating to accept that Grace would never meet and know Steve in person, Bindi is conscious of keeping his memories alive in the family as she tries to introduce the crocodile hunter to her daughter.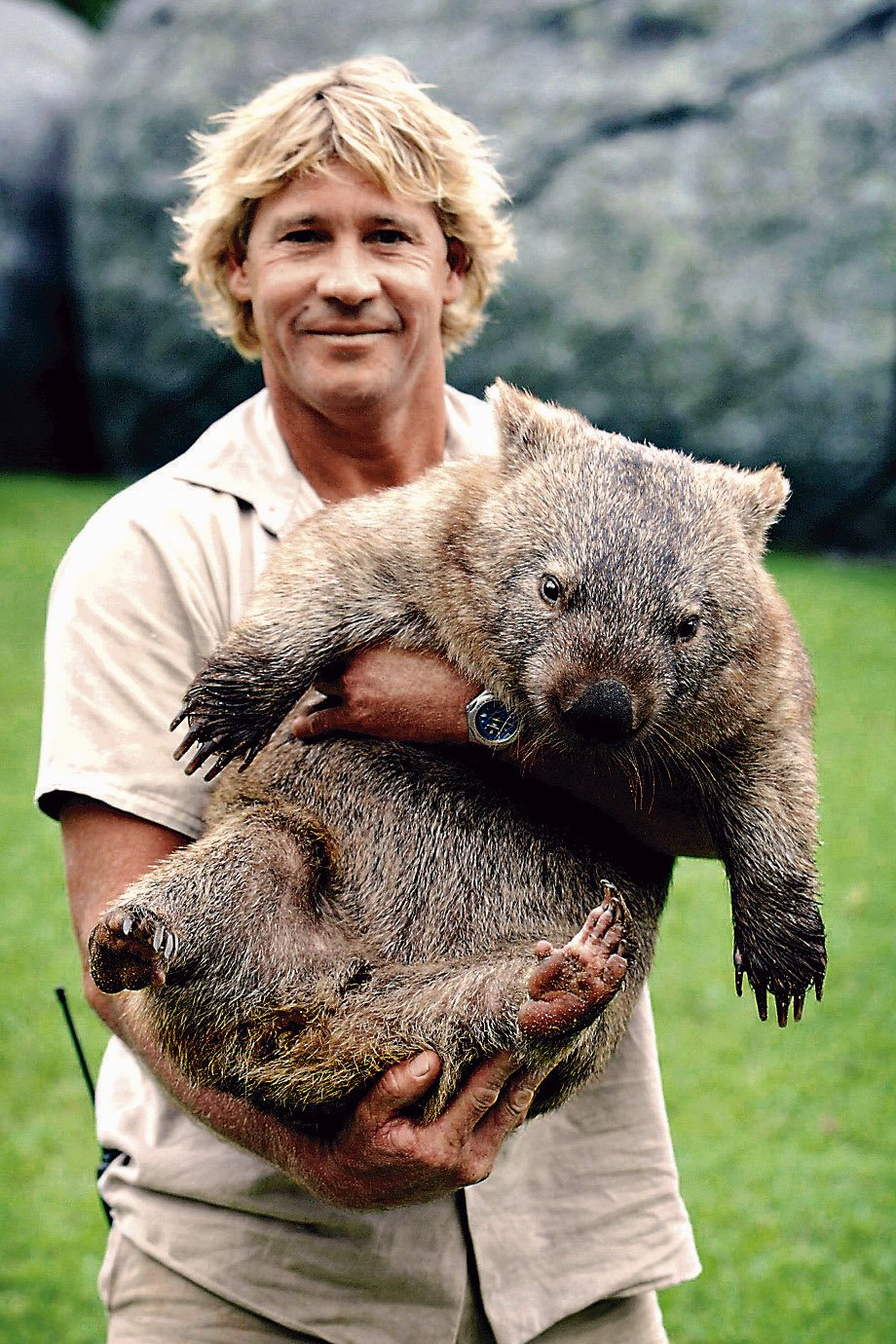 Steve Irwin with a wombat at his Sunshine Coast animal sanctuary, Australia Zoo, Queensland, 28 March 2003.. | Source: Getty Images
Last year, in an episode of the family's show "Crikey! It's a Baby" on Discovery Channel, Bindi mentioned that "it's hard knowing that she'll never actually get to meet (my dad), and it's devastating because I'll never get to watch that connection."
Fans would recall that after her child's birth, the new mom talked about Grace's middle name, "Warrior Irwin."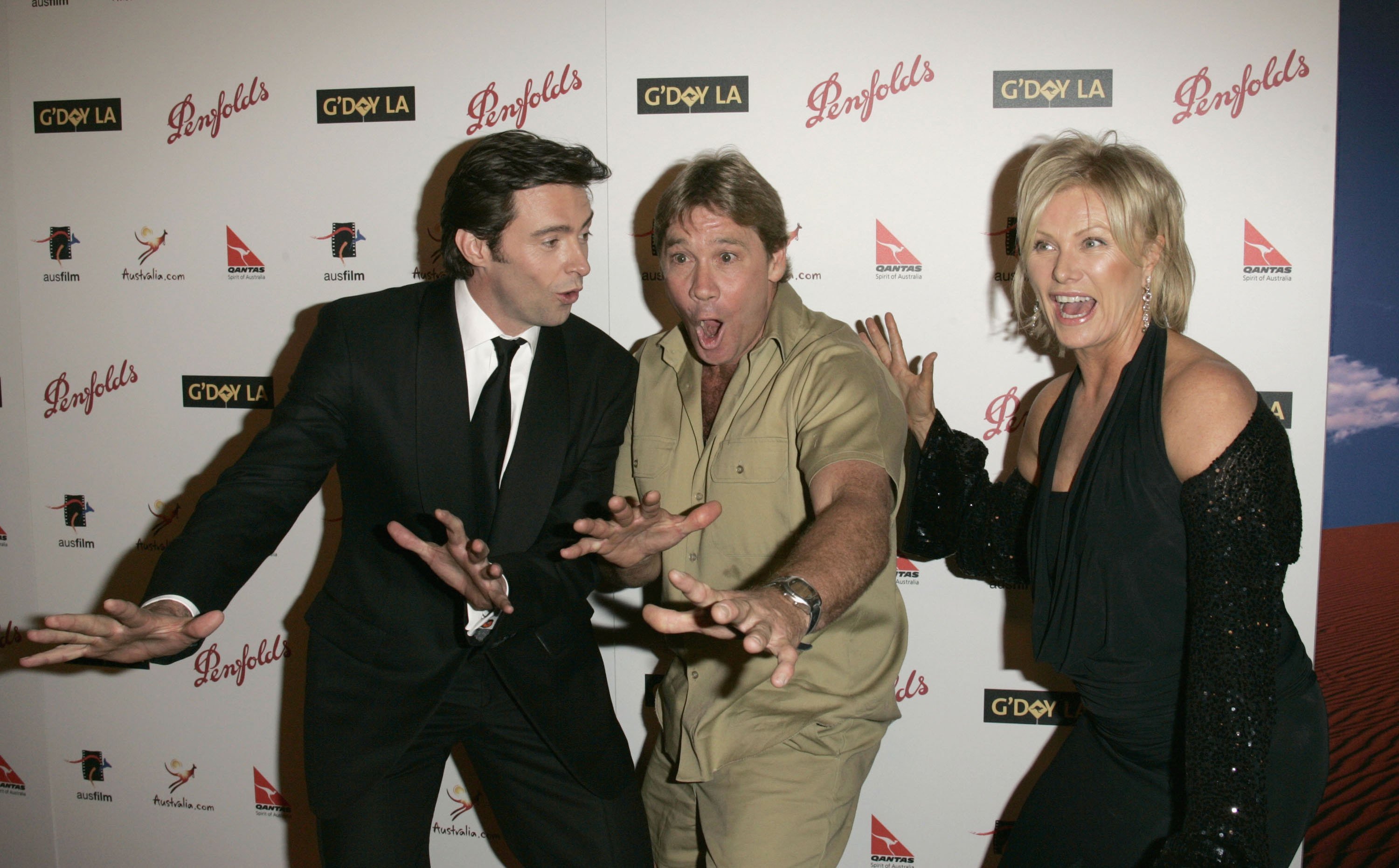 Actor Hugh Jackman, crocodile hunter Steve Irwin and actress Deborra-Lee Furness at the Penfolds Icon Gala on January 14, 2006 in Los Angeles, California. | Source: Getty Images
However, she reassuringly added that she could not wait to share clips, videos, and everything about her dad, which would inspire her daughter. To her, the memories remain with them. In her words:
"It's going to be special for her to know him through us. To tell her about what an amazing man he was."
Truly, Bindi is keeping to her words. During an interview with People in May, she confirmed that they had kept Steve's memories alive for Grace by showing her documentaries, which have been fun and captivating for the little one.
Honoring Dad's Legacy through Daughter
Before becoming a mother, Bindi always upheld her dad's legacy; after she entered into motherhood, it only improved.
The young mom is overwhelmed by her dad's legacy and principles and would stop at nothing to pass it on to her child.
Interestingly, Bindi has chosen to continue the legacy through her daughter and even named her after the family's patriarch. Fans would recall that after her child's birth, the new mom talked about Grace's middle name, "Warrior Irwin."
She explained that naming her after the legendary crocodile hunter was a tribute to her dad, who also represented the "most incredible Wildlife Warrior."
Bindi seems to love honoring her loved ones, dead or alive. She claimed Grace is named after her husband, Chandler's relatives, and her great-grandmother. Powell, the baby's last name is also Chandler's.
Besides having a similar name to grandpa crocodile, Grace has inherited some of his mannerisms and traits. Steve's eldest child maintained that her mini-me has already begun exhibiting his personality. She said:
"I see parts of [Dad] in Grace. His determination and his inability to sit still. I think that's special. I'm excited to see how her personality will develop as she grows up."
Bindi revealed how smitten Steve would have been if he had been around. The "Crikey! It's a Baby" star explained that Grace would rarely be around her parents as grandpa crocodile would always take her away.
Having such a loving family is the most special gift any man can dream of, and the crocodile hunter is a lucky man.
Even though Steve was not around for long, before his demise, he spent time with his young kids, inspiring them to replicate the same with their families while keeping his legacy alive.
Please fill in your e-mail so we can share with you our top stories!