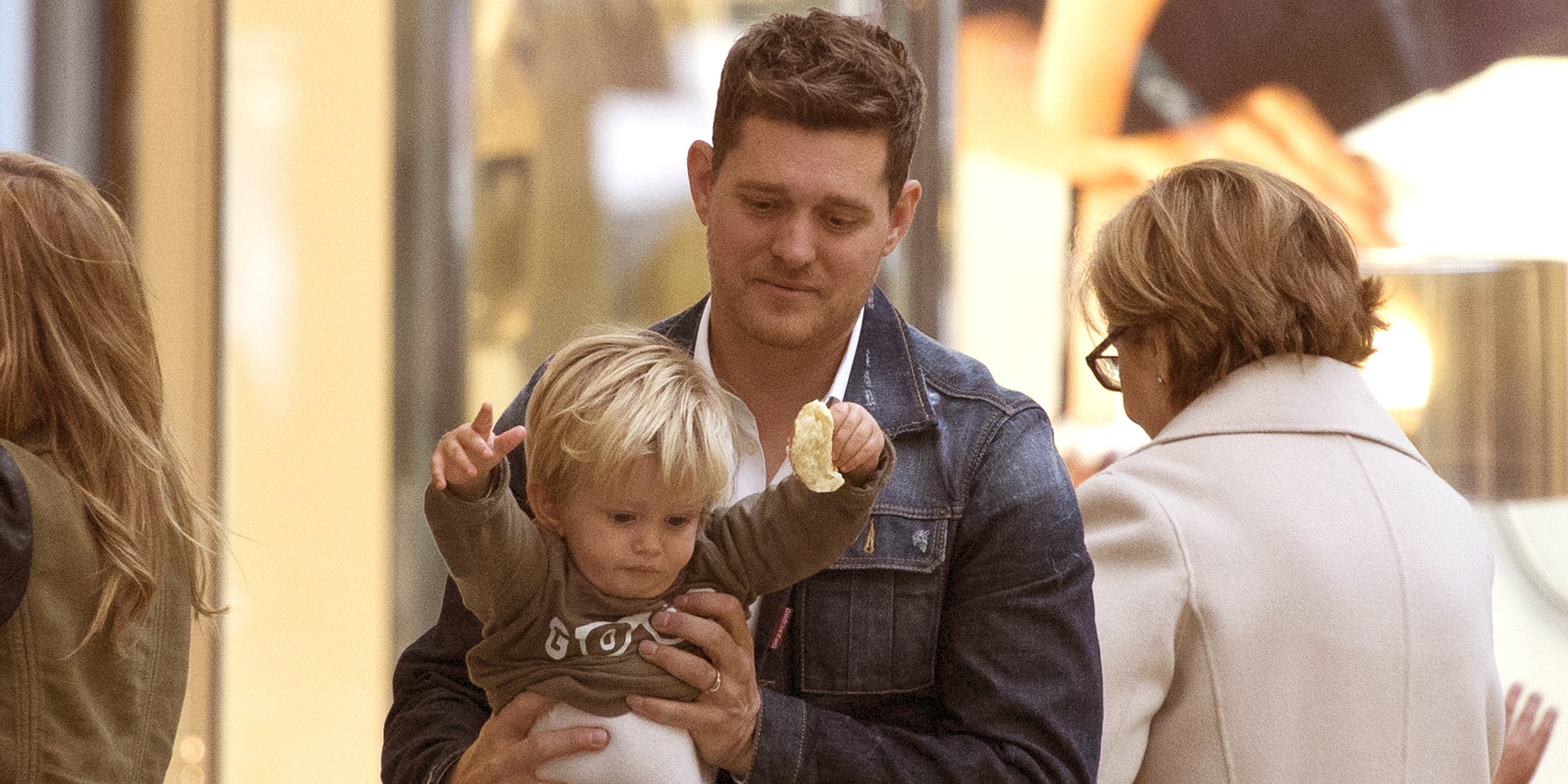 Michael Buble and Noah Buble | Source: Getty Images
Noah Bublé Is a Cancer Survivor - Meet Michael Buble's Eldest Son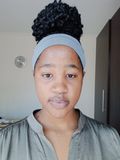 Noah Bublé is an interesting young fellow, born to the famous singer and Argentinian actress Michael Bublé and Luisana Lopilato. When they received his cancer diagnosis at three years old, it took his family on a wild emotional rollercoaster.
Fortunately, he survived, and his personality has been flourishing. On Noah's 8th birthday last year, Bublé posted a snap of himself and his son when he was still an infant. The photo displays the pair sharing a bath, and in his caption, Bublé calls Noah his hero and the bravest person he'd ever met.
Bublé continued gushing about his son, expressing how he would never find the words that would truly reflect the depth of the love and pride he and his wife have for Noah. The singer added that Noah's existence blessed his family's everyday lives and wished his son more blessings on his special day.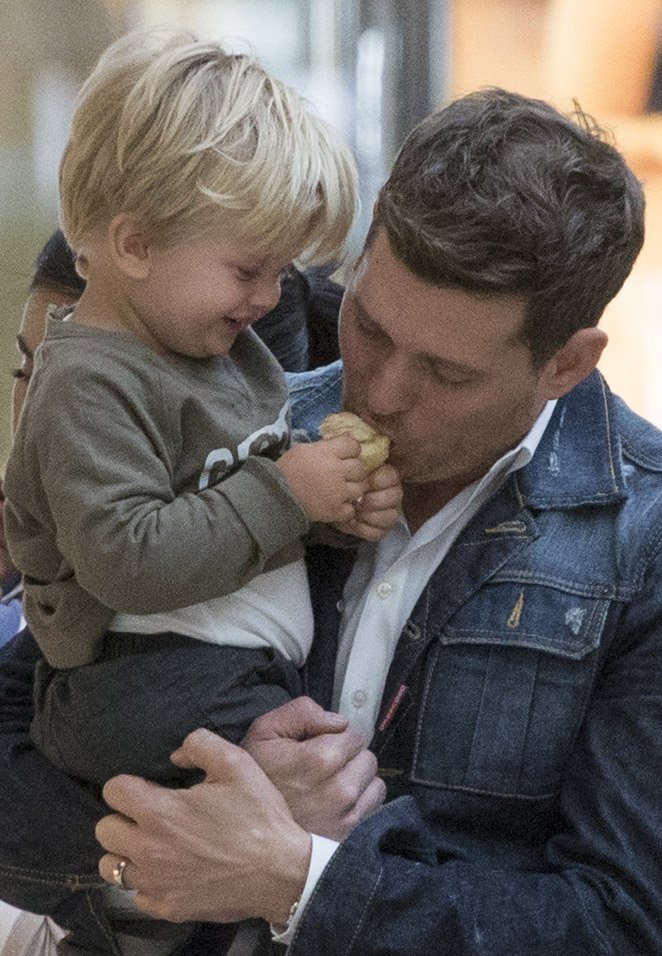 Michael Buble and his son Noah are seen on April 28, 2015, in Madrid, Spain | Source: Getty Images
When Was Noah Born?
Noah Bublé's parents were over the moon about the prospect of being first-time parents when they learned that his mom, Luisana Lopilato, was carrying him. His dad, Michael, was so ecstatic that he shared the news immediately with actress Reese Witherspoon. He added that it was the most incredible day of his life.
In March 2013, they learned that they were expecting a boy. The father-of-four was thrilled and announced his first child's gender on Instagram. That year in Vancouver, on August 27, in the wee hours of the morning, Noah arrived in the world and drew his first breath.
He was delivered via an emergency c-section, and his parents took to their socials once more to announce his birth. Before Noah was born, Bublé expressed how vital it was that his presence was constant in his son's life. The singer never wanted to think that he could've been there more for his son.
Bublé is an award-winning and multi-platinum musician and songwriter known for his hit single "Home." He has also written songs for films, and Lopilato is an actress and composer known for her roles in the 2005 series "Casados con Hijos," 2002's "Rebel's Way," and 2016's "Nafta Super." The couple married in 2011.
Noah Was Diagnosed with Cancer
In 2016, Fox News reported that Noah Bublé had received a cancer diagnosis. His parents announced on Facebook, revealing that he would be receiving his treatment within the U.S. Bublé and Lopilato lamented about the diagnosis in their statement, saying they were devastated.
The couple added how significant family is to them and how vocal they are about their love for their children. Hence, they disclosed that they would put their careers on hold to help and be there for Noah as he recovered. Bublé and Lopilato also remarked on Noah's lengthy recovery period, saying:
"We have a long journey in front of us and hope that with the support of family, friends and fans around the world, we will win this battle, God willing".
Thankfully, Noah is no longer a cancer patient, as according to Today, he has gone into remission. However, that wasn't Noah's first brush with health issues. In June 2015, he suffered burns from hot water and was immediately rushed to the hospital. At the time, he was a 22-month-old visiting in Argentina.
In April 2020, Noah watched his parents during an Instagram live session, who revealed that they shared their bed with their children on weekends. When they saw him, Lopilato invited her firstborn to sit on her lap and, together with her husband, encouraged Noah to greet their audience.
Noah asked his dad to play something on his toy guitar, and Bublé obliged, covering the song by Camillo Cabello and Shawn Mendes, "Senorita." When asked what his favorite thing was about Fridays, Noah initially answered saying that it was candy, but after his parents nudged him toward a different answer, he exclaimed:
"Because I get to sleep in your bed!"
As the live continued, Noah alternated between being on and off-camera. Bublé called his son a hero and his family's biggest inspiration when he shared what Noah imagined himself doing once he's grown up. Noah didn't see a future for himself in the art industry like his parents. Instead, he wanted to swim with sharks.
Bublé once opened up about how difficult the first few days of Noah's diagnosis were. He revealed how much he and his wife struggled to survive on some days and wished that it was he who battled the disease, not his son. However, he did learn a few things from experience, including new perspectives. He shared that:
" One of those points of perspective is that it really allows you to appreciate the good things."
Noah Already Shows His Talents
Although Noah sees himself interacting with aquatic life in the future, he does have some artistic inclinations. His dad shared a heartfelt Instagram reel where his son sang one of his songs, "I'll Never Not Love You," leaving Bublé feeling "choked up."
Bublé had just returned from touring when he discovered the surprise Noah had waiting for him. The proud father gushed about how hard his eldest son had worked on the song and said Noah had more talent in his fingers than his whole body and even sang along with him.
How Did Noah Take the News about Becoming an Older Brother?
Michael Bublé and Luisana Lopilato recently welcomed their fourth baby, Cielo Yoli Rose Bublé, this August. Unlike his younger brother, Elias, Noah wasn't ecstatic when he discovered he would be a big brother for the third time. His dad shared how he worried about the "logistics" of his mom giving birth once more.
Bublé explained that Noah wasn't particularly fond of being away from his parents or home, even for a few days. Moreover, Noah didn't like that they'd be staying in a hospital for some time, and he understood that that's what they'd have to endure once his baby sister arrived.
Please fill in your e-mail so we can share with you our top stories!