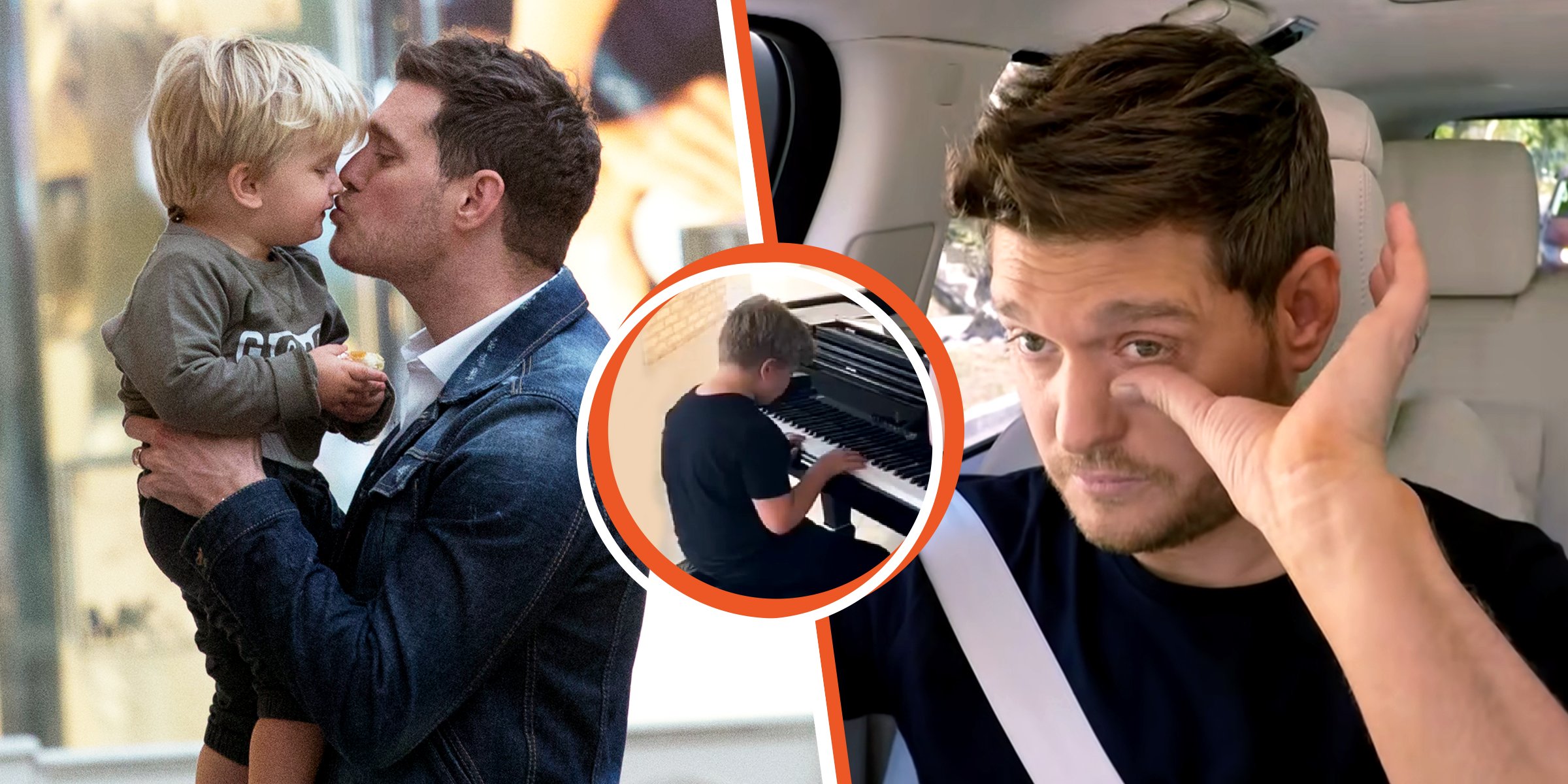 Instagram.com/michaelbuble - Getty Images - Youtube.com/TheLateLateShowwithJamesCorden
Michael Bublé Was Almost Left in Tears after Young Son Who Beat Cancer Played His Song on the Piano

Since Michael Bublé's son Noah was diagnosed with cancer, the musician has struggled to make peace with their situation. Bublé revealed that he and his wife "did not want to wake up," at times.
Canadian singer, Michael Bublé, first laid eyes on his future wife, actress Luisana Lopilato in a parking lot in Buenos Aires in 2009. He had performed at an arena and was in the basement when the Argentine beauty walked by.
During an appearance on "Access" in 2019, Bublé recalled the first time he saw Lopilato. He revealed that he was with his grandfather at the time, and suddenly, he felt something in him.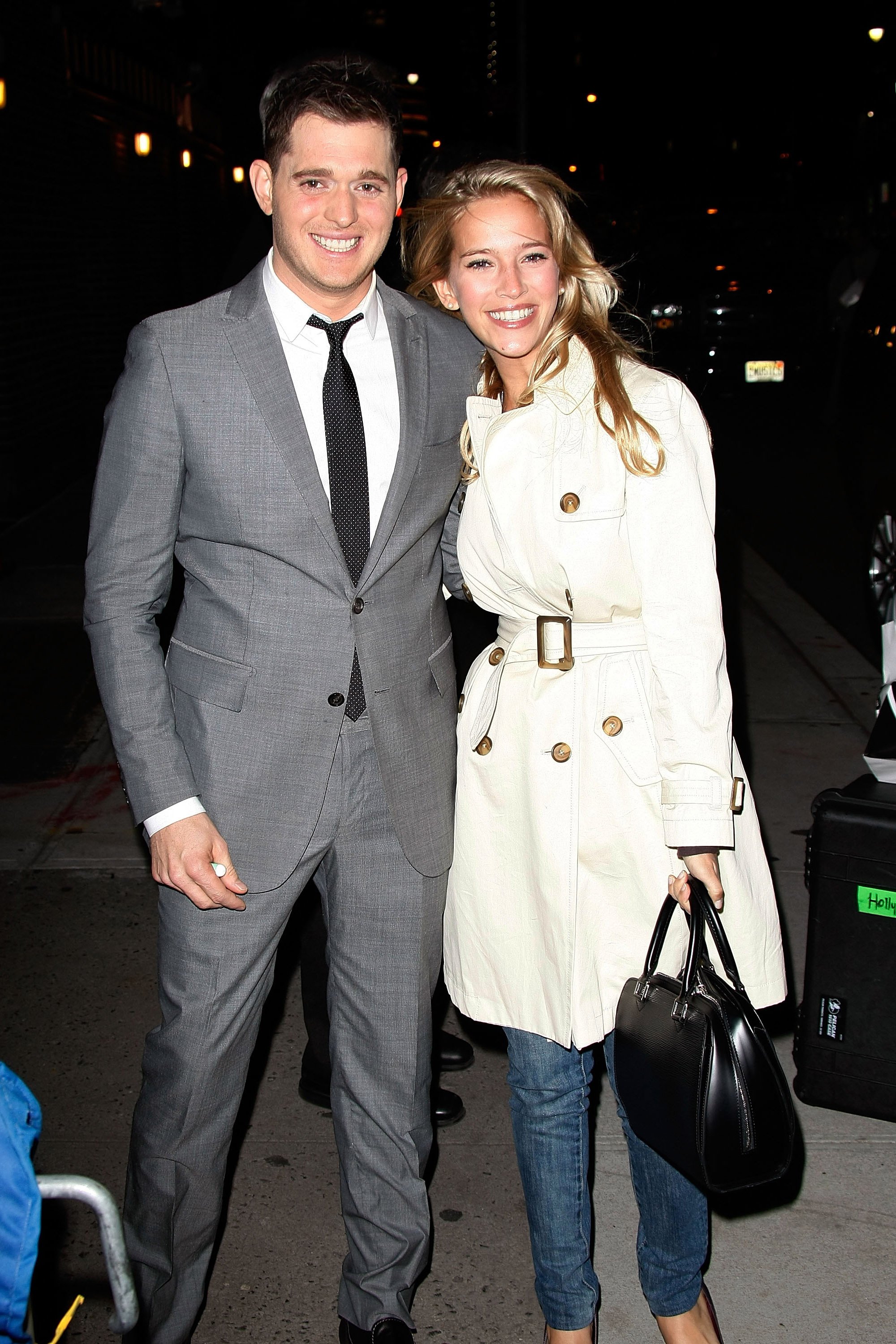 Singer Michael Buble and his girlfriend actress Luisana Lopilato visit "Late Show With David Letterman" at the Ed Sullivan Theater on November 3, 2009 in New York City. | Source: Getty Images
"I looked at my grandpa and said, 'Grandpa, this is the most beautiful woman I've ever seen.'" However, the pair did not start a conversation immediately as the "Sway" singer returned to his hotel.
After he got there and had a few drinks, a friend asked if he would be willing to mingle with some famous actors in the building. Once again, he met Lopilato, who had walked in with a male pal, mistaken for her husband by Bublé.
He recalled that he did not immediately attempt to court her as she barely spoke English. Nevertheless, Bublé continued drinking throughout the evening and only talked to Lopilato's friend, saying, "Oh my God, you guys are such a good-looking couple."
To his shock, the said pal told him that he and Lopilato were not romantically involved, revealing that she liked Bublé. Funny enough, the entire time he spent talking to her actor friend, she believed he was gay because he was more interested in her partner for the night.
Bublé started talking to Lopilato, who also had her sister with her, and luckily for him, she could speak more English and interpreted what he said to her. He told Lopilato that she was beautiful and would love to get to know her better.
Meanwhile, Lopilato told the Daily Mail in August 2012 that she wanted to go to her future husband's concert because she likes his music, "but I didn't know what he looked like."
He made his intentions very clear once he started to talk to her. The model revealed that the pop star told her that he would make her his wife one day:
"As I left the party, he said to me, 'You are my wife. You don't know it yet.' And I said, 'Of course you want me to be your wife; every man wants to marry me, so we will have to see!'"
Three months after they crossed paths, Bublé emailed Lopilato telling her that he would come to Argentina for three days to get to know her properly and get introduced to her family.
That plan fell swiftly into motion when the pair spent their first evening of his three-day stay, their first official date, having dinner with her entire family at her home.
Lopilato is the youngest of three kids. She has an older sister named Danielle and an older brother, Dario, born to parents Beatriz and Eduardo.
She shared that although the language was a barrier to her and Bublé, who had brought along a male assistant who spoke fluent Spanish, all her family members liked Bublé.
A month later, he invited her and her siblings to the US to meet his family. The same way her family openly welcomed him, his family did the same with her.
As they fell in love, Bublé decided to take their relationship to the next level. He proposed in front of Lopilato's family when they were having dinner one evening. She thought he was joking when he told her he wanted to marry her in Spanish.
Still, he showed determination when she sincerely believed that he was joking. However, that moment quickly turned emotional as when Lopilato looked up, her father, mother, and even sister were crying.
That was when she realized Bublé was serious about asking for her hand in marriage. Lopilato noted that there was one specific reason that made her believe that Bublé was being genuine:
"I thought, 'This is real because my father never cries.' So, I started to cry too. I loved that he proposed that way – I am a family girl, and it was perfect that he said it in front of them."
The couple tied the knot in 2011 in Buenos Aires, and six weeks later, they had another wedding near Bublé's family in Vancouver.
On August 27, 2013, the duo welcomed their first child, a son named Noah. The proud dad wrote on Instagram at the time: "Overjoyed and filled with gratitude at the arrival of our son Noah Bublé."
Lopilato gave birth to the couple's son in Vancouver, Canada, and in the days leading to giving birth, she experienced "seven hours of labor" during a false alarm.
In a candid interview with the "TODAY" show, Bublé expressed that having his then-10-month-old baby in his life had shaped his life:
"There's a different height to it. And I get it now. I love that little guy."
In December 2020, Bublé and his wife announced they were expecting their second child. The doting father revealed to People in June that that year, he and Lopilato would like to grow their family with three to five new additions.
"Me and my wife would really love to have three, four, five kids if we're blessed to do that. And if we can't do it naturally, then we'll do it another way – we'll adopt," he said.
On January 22, 2016, the couple welcomed their second child together, a baby boy named Elias. Bublé announced the thrilling news on social media alongside a photo of him, Lopilato, and their newborn son.
NOAH'S CANCER DIAGNOSIS
Two years later, the family of four learned devastating news, Noah had been diagnosed with liver cancer. His father was promoting his ninth 2018 album, Nobody But Me, when he discovered his firstborn had cancer.
In October 2016, minutes before Bublé was set to perform in London at "The One Show," he received a text from Lopilato along with a photo of their child's surgical scan, revealing the news.
"I just died," said Bublé, who performed either way after learning the news. He did not even know how he could go through with the performance with a heavy heart, "I don't know how I even sang, man, I just did it on autopilot," the Grammy Award winner added.
Bublé and Lopilato confirmed Noah's diagnosis on a Facebook post in November 2016, writing that they had both halted their careers:
"We are devastated about the recent cancer diagnosis of our oldest son Noah who is currently undergoing treatment in the US. Luisana and I have put our careers on hold in order to devote all our time and attention to helping Noah get well."
In October 2018, Bublé openly talked about the toll the diagnosis had had on his family, saying there were times he and his spouse "wished we didn't wake up."
The father of three shared that hearing that his son had cancer was "the worst possible thing that you could hear as a parent, and as maybe a human being," he told "Today," an Australian morning news program.
Instead, he wished that he was the one diagnosed with the disease, saying, "many times I wish that it had been," said Bublé. However, the immense support from loved ones, including strangers, went a long way in comforting the couple.
In 2021, Bublé reflected on his son's battle with cancer and shared how the ordeal has changed him as a father. He said he lives a "deeper life now."
Bublé stressed that he does not "wish that kind of pain upon any human being, but I do feel that when you've truly suffered when you've truly felt fear and loss, it allows you to live a deeper life." He added that once one has experienced such, they would be able to "truly feel joy, gratitude, and happiness."
Since 2017, little Noah's cancer has gone into remission. After beating the disease, Noah appeared on his parents' Instagram Live stream, where he could be seen sitting on his mother's lap.
When he turned eight years old in August 2021, his father paid him a sweet birthday tribute on Instagram alongside an image of the father and son.
Bublé deemed his child a "hero," adding that he had never met anyone as "brave," polite, or as "good-hearted" as Noah.
The global star stated words could not express how proud he was of him or how his and his mother's love for him goes beyond what anyone could imagine. "You've blessed our lives in every way. We hope God blesses you on your special day. Happy Birthday, Noah B," he penned.
Even after Noah's recovery, his dad still had difficulty processing the circumstances emotionally. In a carpool karaoke segment for "The Late Late Show with James Corden" in October 2018, Bublé held back tears when asked about how he handled his child's situation, saying:
"It's so hard to have to acknowledge it because it's so painful to talk about. We got the diagnosis, and my whole life ended."
However, he and Lopilato found happiness again after welcoming their third child and only daughter, Vida, in July 2018. The mom of three expressed that she was grateful to God for the gift he blessed them with and the joy, adding their first daughter gives them "hope."
BUBLE & LOPILATO ARE EXPECTING THEIR FOURTH CHILD
The couple is awaiting the arrival of their fourth baby, which according to Bublé, might be their last. He revealed that he and the former singer try their best to enjoy the pregnancy:
"I want it to be special for [Lusiana], and I know it goes fast. Since it's probably the last one, I want to make sure that we're enjoying every second of it."
The pair announced they were expecting another child via the "Home" singer's music video for "I'll Never Not Love You," which premiered in February 2022.
After returning from tour, Bublé posted a clip of Noah playing the piano, who practiced while he was gone. The doting dad showed his awe of his son, who continued to play the musical instrument effortlessly.
Bublé revealed that Noah surprised him by playing the piano after being away for work. He expressed being in awe after listening to him master it, including the song. "So, proud of my guy," he wrote.
Please fill in your e-mail so we can share with you our top stories!
The information in this article is not intended or implied to be a substitute for professional medical advice, diagnosis or treatment. All content, including text, and images contained on news.AmoMama.com, or available through news.AmoMama.com is for general information purposes only. news.AmoMama.com does not take responsibility for any action taken as a result of reading this article. Before undertaking any course of treatment please consult with your healthcare provider.