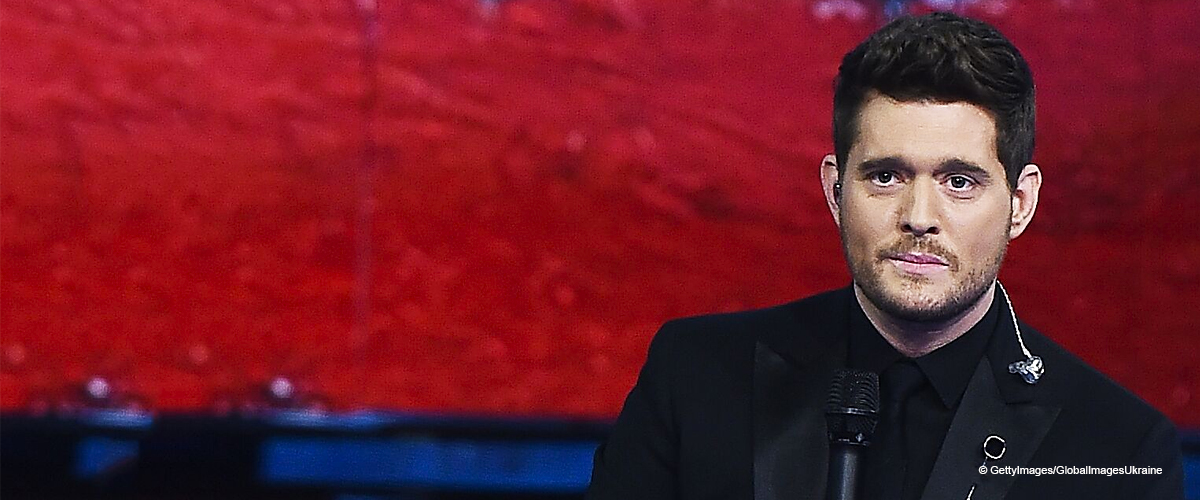 Michael Bublé Opens up about How His Life Changed after His Young Son's Terrible Diagnosis

Michael Buble shares how his then three-year-old son's liver cancer diagnosis changed his perspective in life. He also talked about his world tour that was sold out within thirty minutes.
It has been a while since Michael Buble stepped back into the music scene, but it seems like everything is still going right for his career, despite his absence. The singer had a lot of realizations while he stepped out of the music industry to be with his then three-year-old son, Noah, who was diagnosed with cancer.
In his seventh NBC special, the Canadian singer shared how much his family means to him, and how they gave him strength daily.
"My concept,"
he began,
"if you want to get deeper into this, is that I needed people to understand that my family and the love they gave me, that they gave me the armour that I wear. Through my whole life and my career no matter how fancy or big the success was...no matter how nice the suits got or the watch got, underneath it all was the armour that my family had placed on me."
Buble's career was on an all-time high when a tragedy struck his family. In 2016, his son, Noah, was diagnosed with liver cancer. The unfortunate happening made him decide to cancel his world tour and leave the music scene to focus on his family.
It was a devastating time for the Buble's, but little did they know that they were not alone in the battle. Many people stood with them and prayed for his son's recovery.
"Do you know how many people walked up to me on the street yesterday? I went to Disneyland yesterday with my kids, and how many people walked up to me and put their hand on (me) and said, 'We prayed for you?'"
He added,
"It was sad because you have to relive a lot of stuff, but at the same time, it gave me faith in humanity and the goodness of people."
Noah's current condition is much better -- manageable and stable, allowing Buble to feel more at ease. He shared how that life-changing event changed his perspective as a father and as a husband.
"I don't even think about my career," he says, and that now, spending time with his family comes first, with everything else ranking "zero on the scale of [expletive] to care about."
"It's going to sound sloppy, but I remember sitting there and thinking, 'Why the [expletive] am I worried about all this [expletive]? That's what I was worried about? What people thought of me, or the numbers of something? That's [expletive]. That doesn't matter,"
Says the music sensation.
"It allows you to enjoy the little things in life and not be so [expletive] busy worrying how many likes you got, or how much money you made, stuff that makes you go, 'Oh God, what was I thinking about?'"
Buble has since changed how he manages his time with his career and his family, calling it "financially irresponsible," but also the best choice for a busy artist like him. He continued to share that every time he spends three weeks on tour or away, he spends the next two in Canada, with his wife and kids, Noah, Elias, and their newborn, Vida. He said,
"It's literally the most financially irresponsible way to tour because it's much better to go off for longer periods of time and keep everybody out there and keep the gear and the crew."
But also reasoned out,
"But that doesn't matter to me. This is the best of both worlds. I can't go out there and be happy if I'm not with the family. And what's really nice is they're coming with me on this tour."
As he was gone from the scene, Buble wasn't sure how it would impact his career. He shared,
"When I was gone, I never knew if I would come back."
He continued,
"And I remember that my promoter had told me, he said, 'Michael, if you do decide to come back, you have to prepare yourself. One of two things is going to happen. Either absence makes the heart grow fonder, or it's out of sight, out of mind.' He'd worked with many of the greatest artists in the world, and when they had gone away for whatever reason, sometimes, they didn't ever get to come back."
Recently, Buble stepped back into the music scene, taking the risk, and hoping for the best. He didn't expect much, but the world was on his side in his new journey.
Buble got the best news when famous singer, Ed Sheeran, personally congratulated him on his sold-out world tour.
"When my manager called… he said, 'Can I tell you you something?' And he said that in half an hour, the whole world (tour) sold out. And I cried so hard my wife came home and she thought someone died."
Buble couldn't be any more grateful for the continuous blessing he has received. Despite the illness of his son, he realized that there are still so many things to be thankful for.
"I spent so many days with so many beautiful families who had to live the same sort of situation, and they weren't able to leave work. They could not afford to just pack up everything and hunker down. They were fighting for time off,"
he said.
"It's obvious that the reason that I and my wife could go and do what we had to do was because all of these beautiful strangers in the dark invested in us and gave me the opportunity to be there. That is overwhelming for me and it's something that I will be thankful for and grateful for the rest of my life."
Buble is most known for his music, especially around the Christmas season. However, this was not always his career path growing up. He actually wanted to be a hockey player for he loved the sport growing up. Additionally, no one in his family was in the industry, but as life took its course, he ended up with a job he absolutely loves, which was also able to support his son's disease.
Cancer is definitely something that takes you by surprises and chooses no gender, no race, and no age. Even kids are not safe from it, hence, it's always best to live your life the way you want to and be happy. In the case of 4-year-old Abby who was diagnosed with cancer, her family and the hospital staff did everything they could to make the little girl smile. In fact, as per her request, she "married" her nurse within 24 hours.
Please fill in your e-mail so we can share with you our top stories!