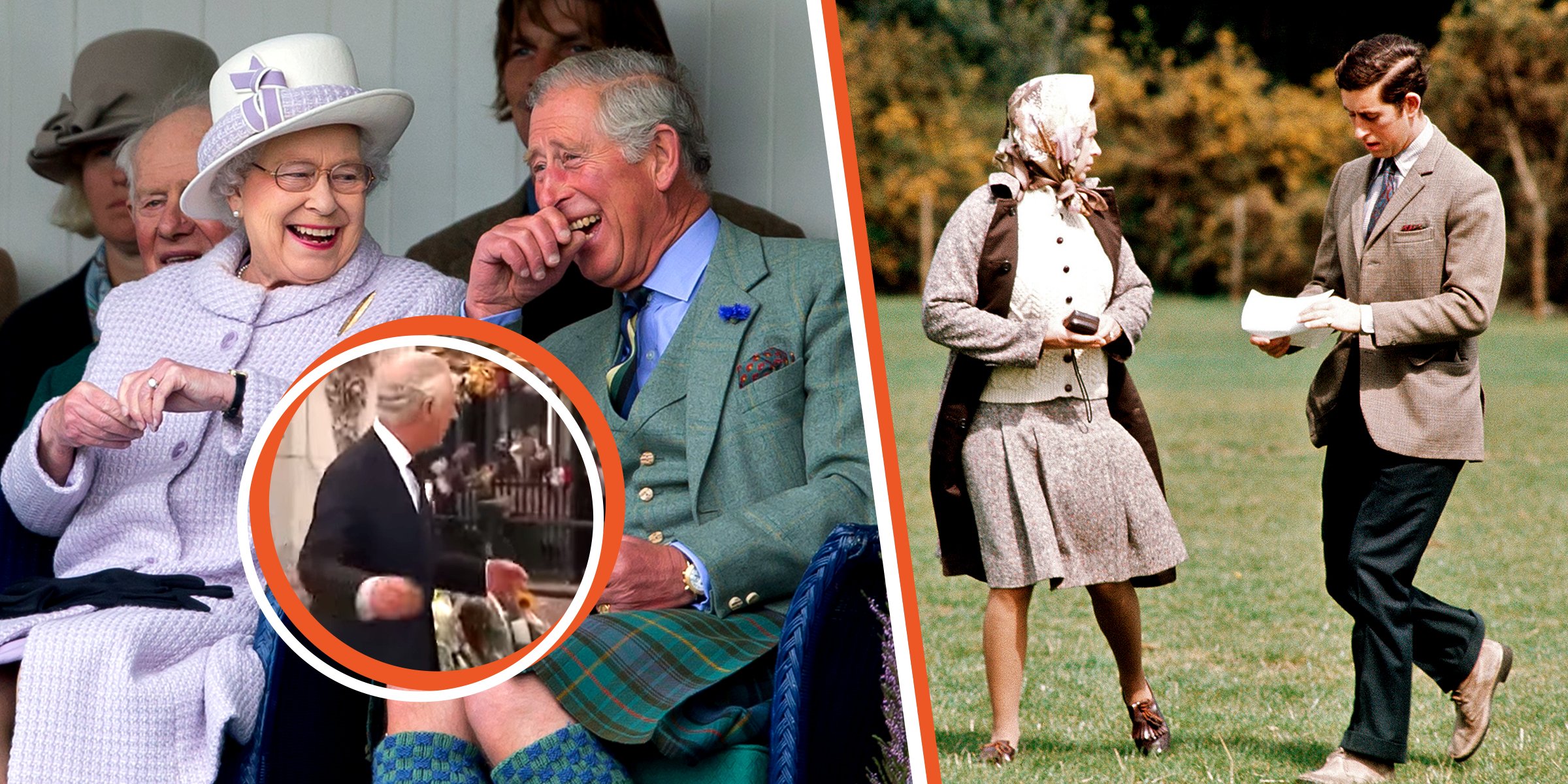 The Queen and Prince (now King) Charles | Source: Getty Images | YouTube/The Star
King Seemed Confused at 1st Appearance as Monarch though 'Darling Mama' Had Prepared Him since Childhood

King Charles III recently ascended the throne, a position he has prepared for more than five decades. Of those that have held the position, King Charles is the only one with proper education. Only hours after the Queen's death, King Charles, made his first appearance at Buckingham Palace, in a moment filled with tears and confusion.
King Charles III was only three years old when he became heir apparent after his mother became Queen of the United Kingdom and the other Commonwealth realms in February 1952. Her ascension came after her father, King George VI's sudden death.
Devoted as she was to her duties as the reigning monarch, the Queen also loved spending time with her children, including Anne, who at the time of the Queen's ascension was 18 months old.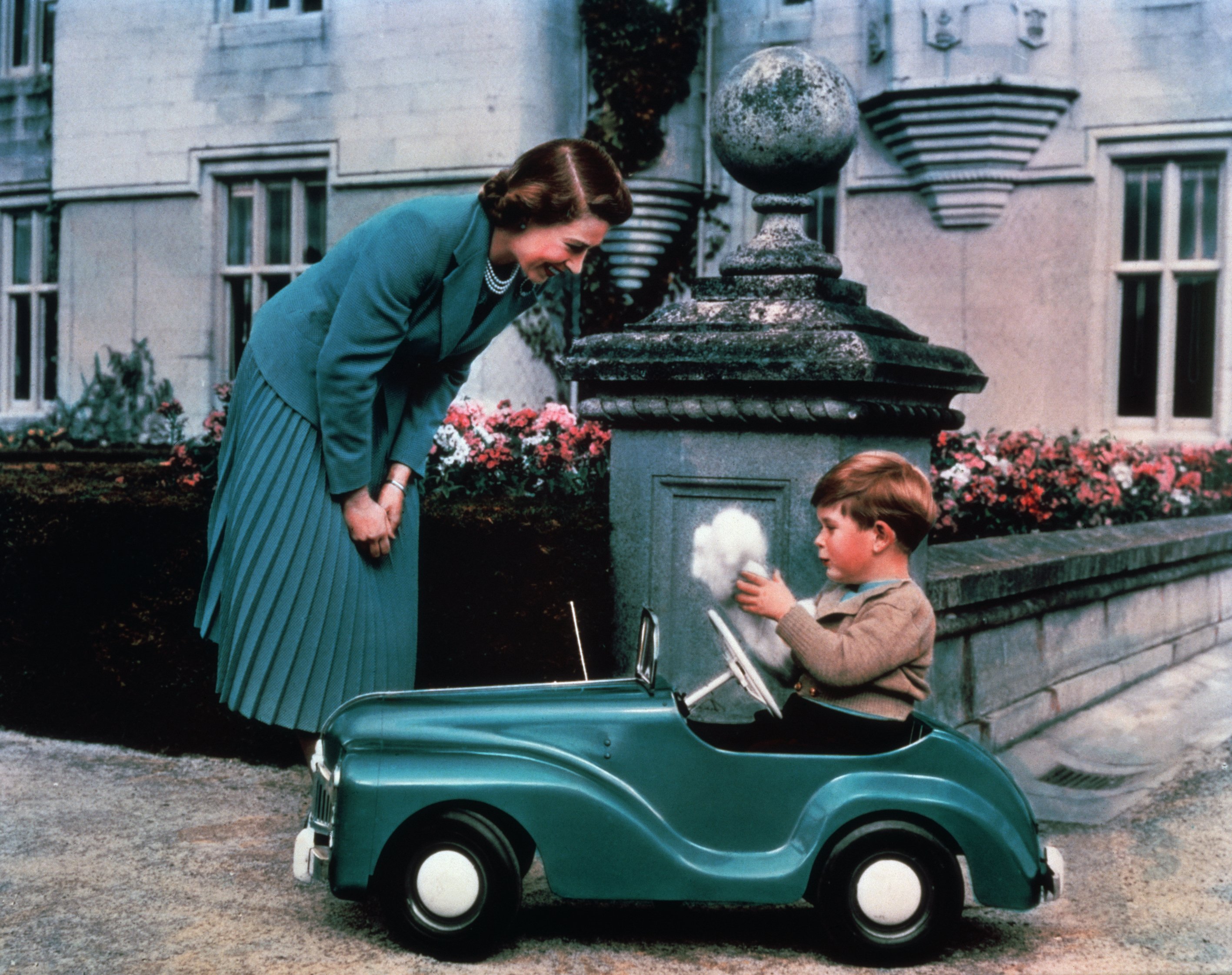 Queen Elizabeth watches her son Prince Charles driving in a toy car on the grounds of Balmoral Castle, circa 1952 | Source: Getty Images
According to Sally Bedell Smith, the Queen's biographer, then Prince Charles and Princess Anne would have a little playtime with their parents after breakfast, then again in the evenings, when the Queen made time by moving her 5:30 p.m meetings with the Prime Minister to 6:30 p.m.
More than creating time for her children, she also ensured that then-prince Charles got a good education. Charles attended Cheam and Gordonstoun schools, both of which his father attended as a child.
He later spent a year at the Timbertop campus of Geelong Grammar School in Victoria, Australia, before joining Cambridge University's Trinity College to study history, becoming the first British royal to earn a university degree.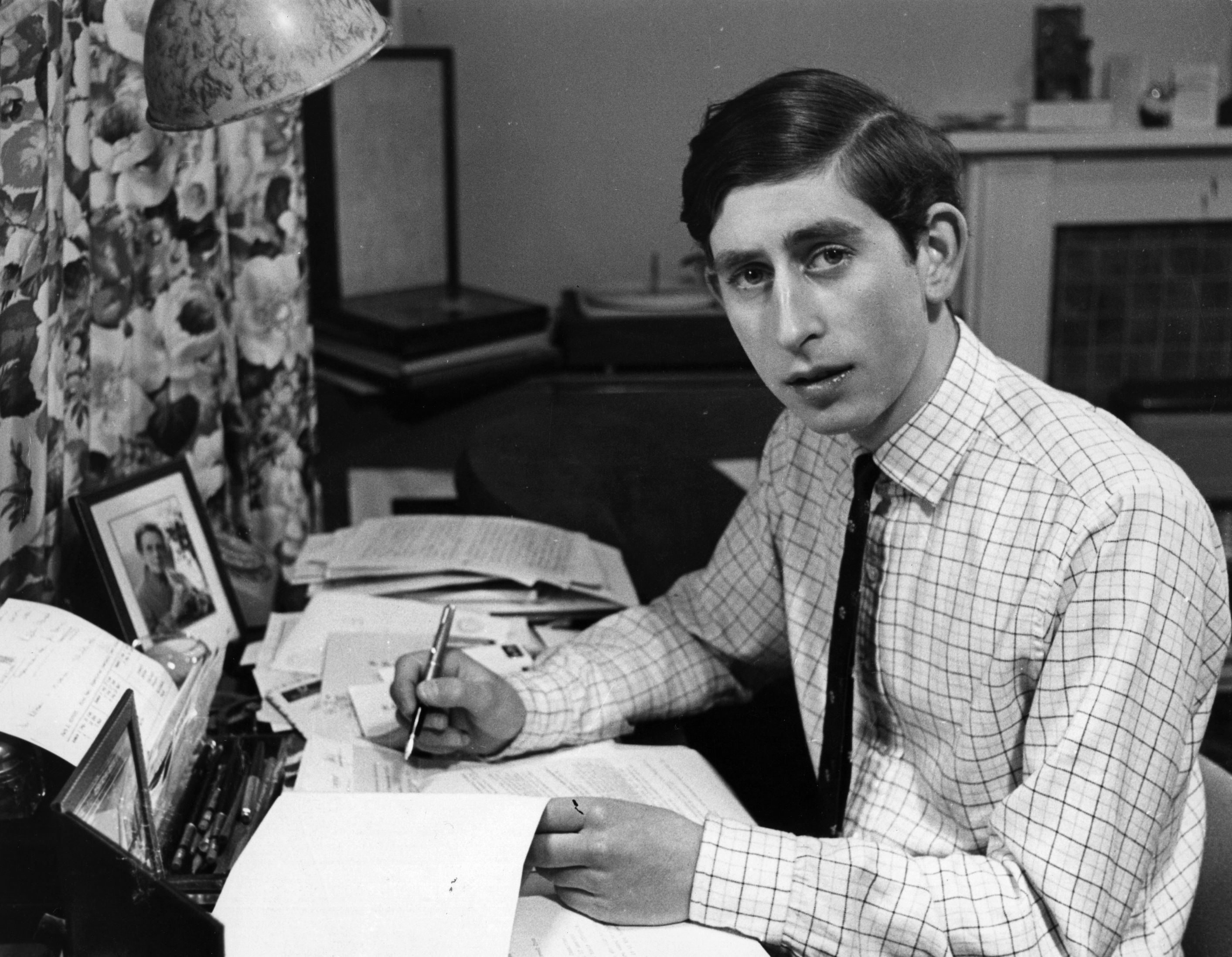 Prince Charles, the Prince of Wales, seen here in his room at Trinity College when he was an undergraduate in 1969 | Source: Getty Images
After graduating college with a Bachelor of Arts degree, he spent the next seven years training as a Royal Air Force pilot before joining the Royal Navy. He ended his military career as commander of the HMS Bronington, a minesweeper, in 1976.
King Charles Had Prepped for His Role for Decades
Just as the Queen was the longest-reigning monarch in British history, King Charles became the longest-serving heir. And in the time he spent waiting for his ascension, his mother helped prep him for his role as future King.
At 21, King Charles began helping his mother perform royal public duties after being invested as Prince of Wales at Caernarfon Castle in 1969.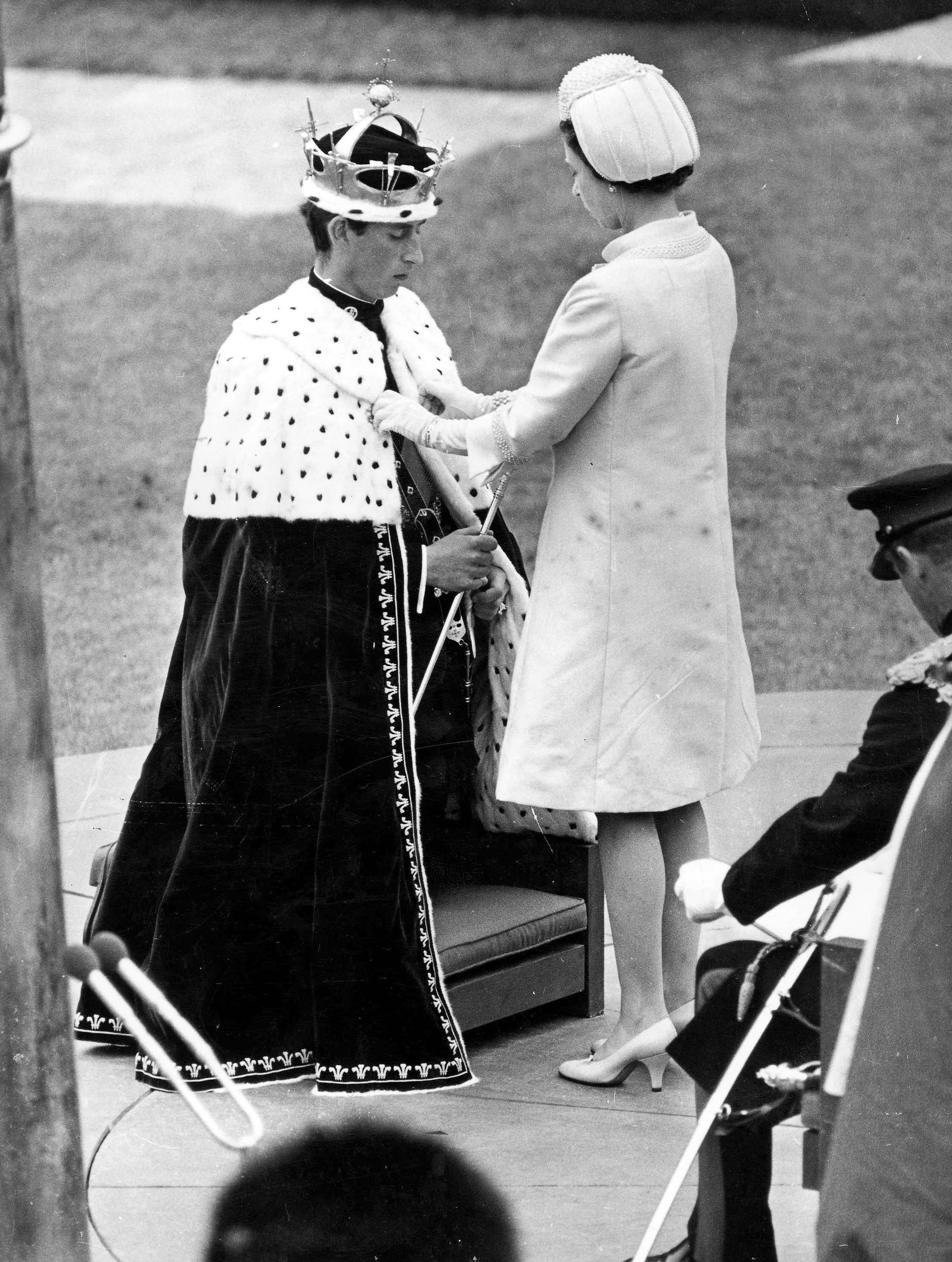 Queen Elizabeth II fastened the ermine mantle around the shoulders of Prince Charles at Caerarvon Castle, during the investiture of Prince Charles as Prince of Wales,in July 1969 | Source: Getty Images
His delegated duties included opening hospitals, touring the Commonwealth, and making speeches about the state of the planet. Even as a student at Cambridge, it was his duty to act as a representative for the Queen.
Over the years, he founded formidable charities that have helped thousands of disadvantaged people and also championed causes such as environmental protection and sustainable urban planning.
He founded the youth charity, the Prince's Trust, in 1976, sponsors the Prince's Charities and is a patron, president, or a member of over 400 other charities and organizations.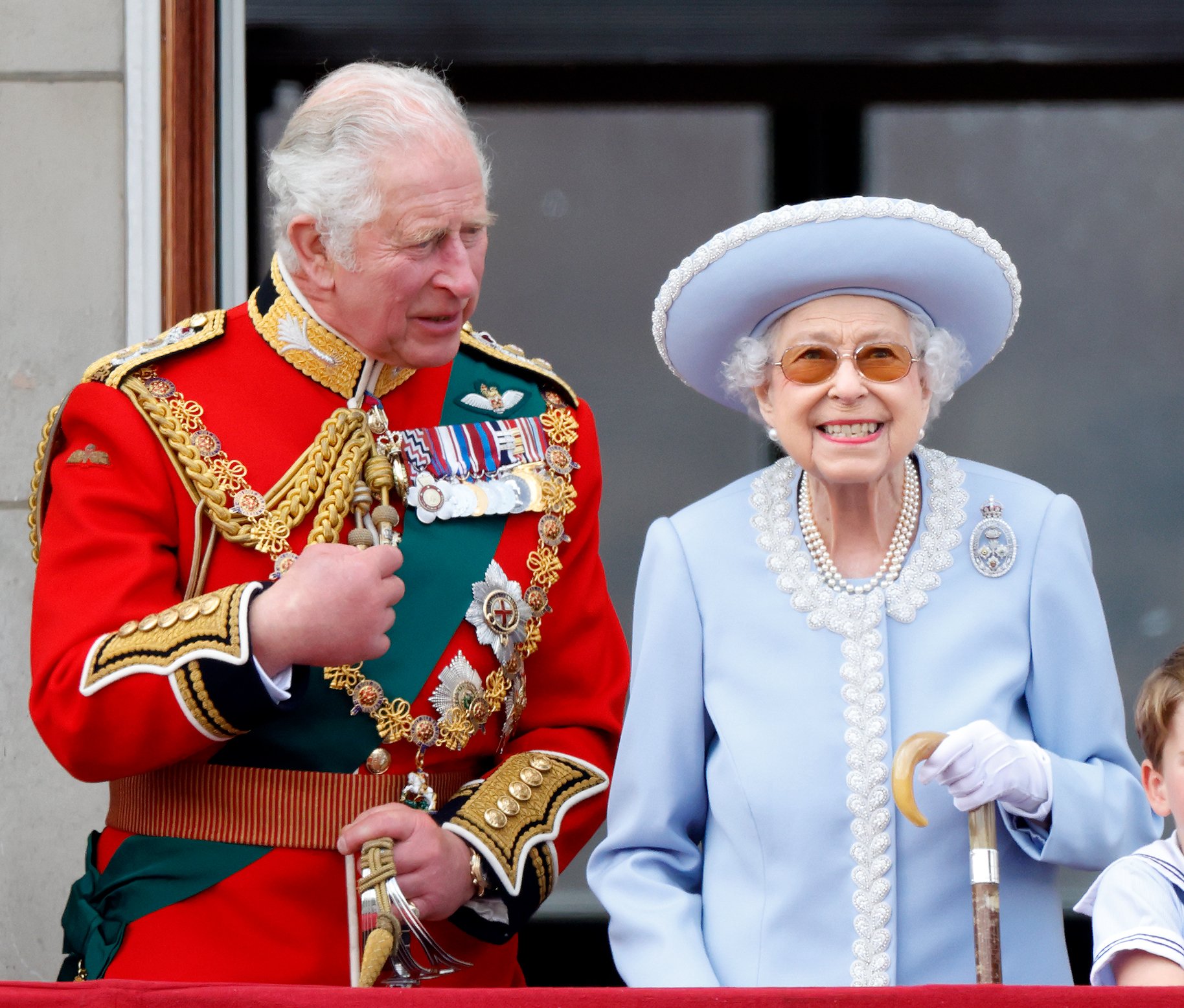 Prince (now King) Charles, and Queen Elizabeth II watch a flypast from the balcony of Buckingham Palace during Trooping the Colour on June 2, 2022 in London, England. | Source: Getty Images
In recent years, he had taken on several of the Queen's duties, such as taking foreign trips to investitures. On Remembrance Day, he placed a wreath at the monument to Britain's fallen soldiers on behalf of the Queen and even escorted her into the Palace of Westminster during the state opening of Parliament.
And even as the then-prince undertook the duties, the Queen continued to trust and increasingly turn to him to represent her at home and overseas.
The Queen's Death and King Charles' Emotional Tribute
Sadly, after reigning over Britain for seven decades, the Queen passed away on Thursday, September 8. Her demise meant that Charles, who had been waiting all his life to become King, would now wear the crown. At 73, he became the oldest person to assume the British throne.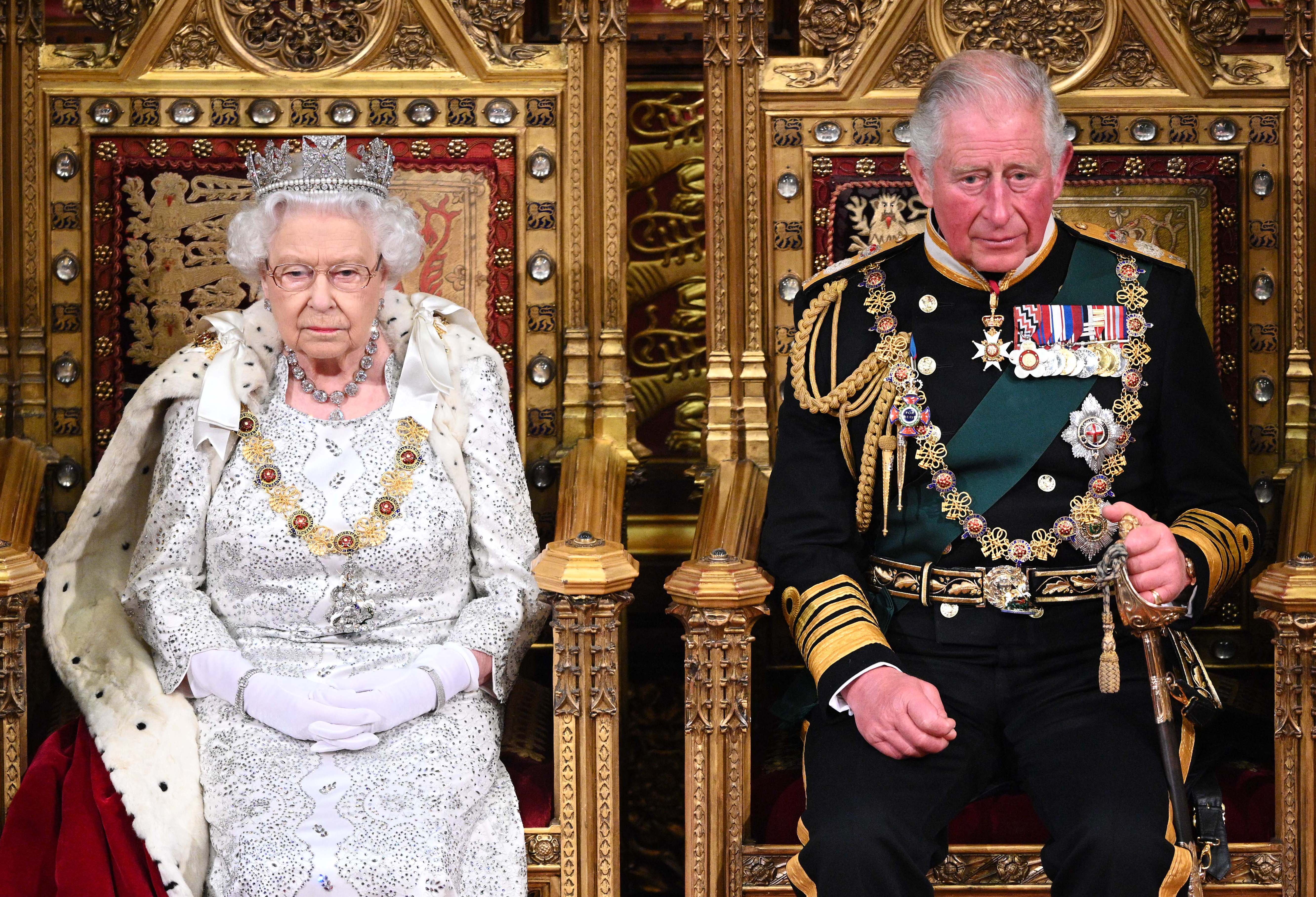 Queen Elizabeth II and Prince (now King) Charles, during the State Opening of Parliament at the Palace of Westminster on October 14, |Source: Getty Images
Following the Queen's death on Thursday afternoon, King Charles made his first statement as King, during which he announced how his "much-loved" mother's death was a great moment of sadness for him and all other royal family members.
On Friday, September 9, the King made his first speech, an emotional tribute to his mother, where he praised her for being an inspiration and example to him and his family.
He paid an emotional tribute to her and honored her life of service, then thanked her for her love and devotion to the family and the nations she served ever so diligently:
"I know that her death brings great sadness to so many of you, and I share that sense of loss, beyond measure, with you all."
First Entrance to Buckingham Palace as the King
On September 9, King Charles, in the company of his wife, Queen Consort Camilla, arrived at Buckingham Palace for the first time in his monarchy. And even though he tried to remain stoic and steadfast in his mourning, he was photographed getting emotional during his first entrance as King.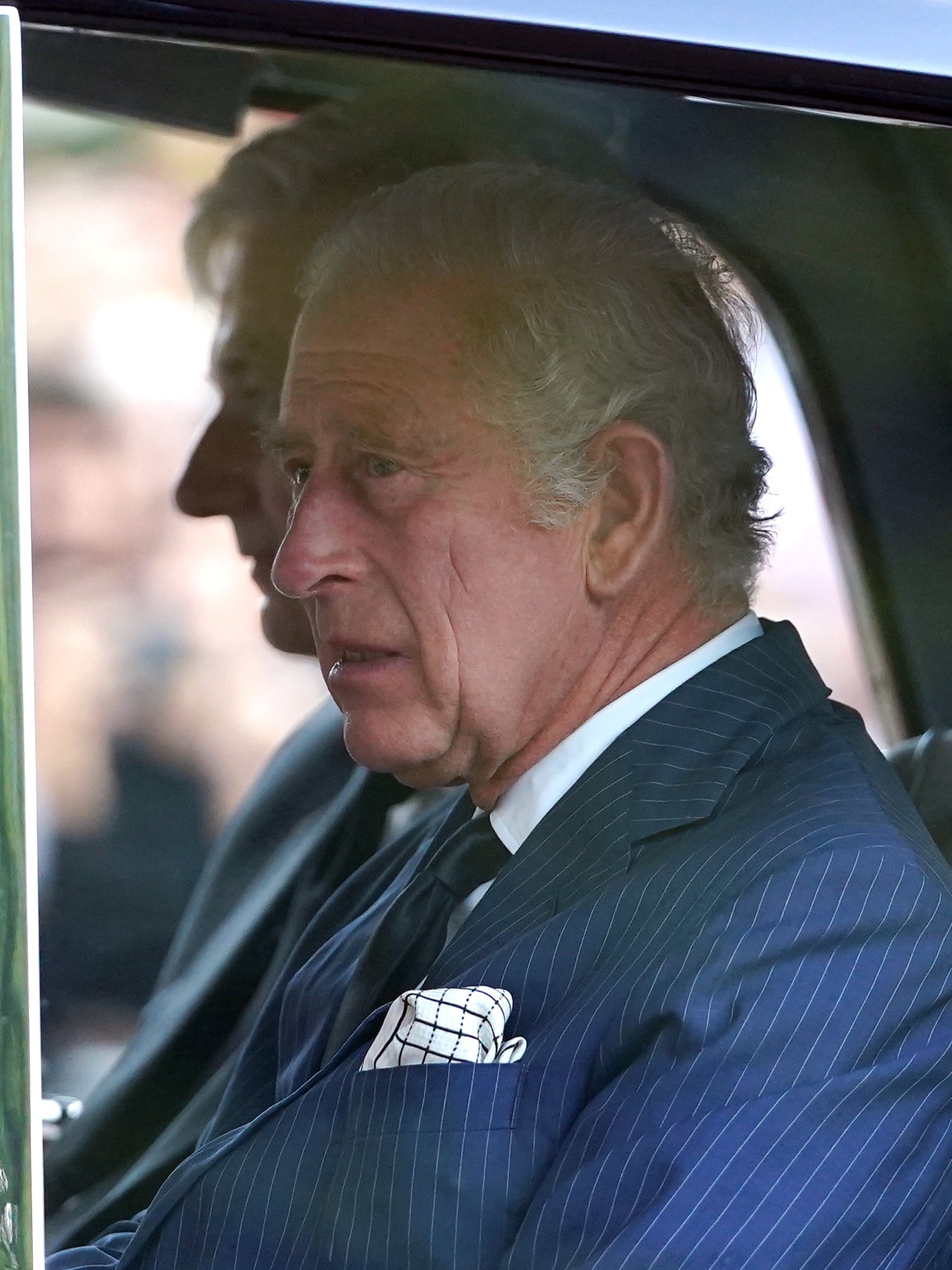 King Charles III returning to Clarence House, London, on September 10, 2022 following the death of Queen Elizabeth II | Source:Getty Images
In another rare emotional moment that morning, the King was seen wiping away a tear from his eye after greeting mourners and observing tributes to Her Majesty left outside the palace.
When it was time to enter the palace gates, the grief-stricken King had a moment of confusion where he seemed uncertain as to which gate to use to enter his new official home.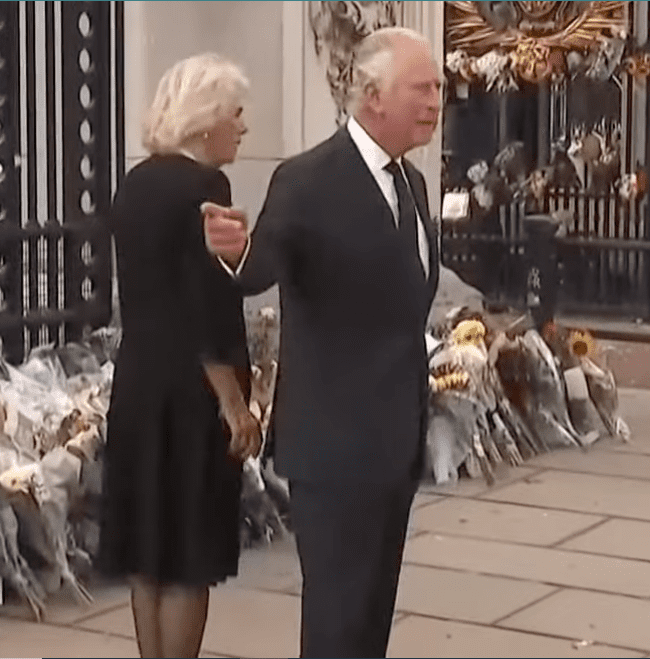 King Charles III and his wife, Queen Consort Camila at the Buckingham Palace gates | Source: YouTube/The Sun
As he and the Queen Consort approached one gate, they paused, turned around, and pointed to another gate behind them before they started walking back as he waved to the gathered crowds of mourners. BBC newscaster Nicholas Witchell reported at the time, as Express writes:
"He doesn't quite know which entrance to go in through. He'll get used to that. Wrong door."
When they finally went through the correct entrance, Witchell noted that the confusion might have cropped from the fact that royal members never entered the palace on foot and were always driven in by a motorcade or on horseback.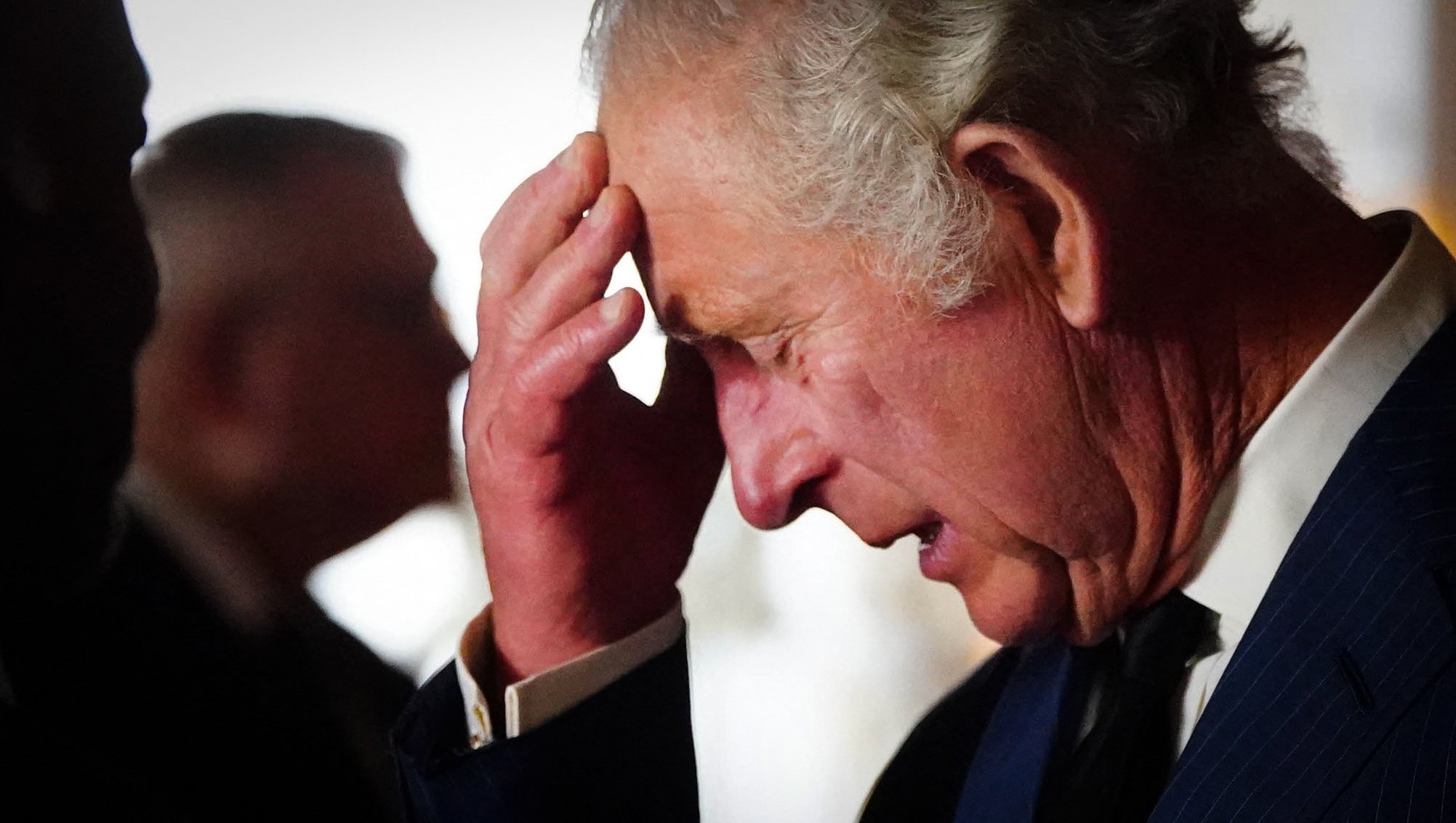 Britain's King Charles III (R) reacts during a reception with Realm High Commissioners and their spouses in the Bow Room at Buckingham Palace, London, on September 11, 2022 | Source: Getty Images
Twitter users watching the live broadcast noted the slight confusion with some defending the King. One Twitter user @KT HealthIT said King Charles was in a "foggy haze of losing a parent" and asked people to give him a break.
Numerous others seconded the sentiments, with most of them noting that no matter one's age, rank, or disposition, losing one's mother is one of the hardest and most heartbreaking moments one can endure.
Please fill in your e-mail so we can share with you our top stories!