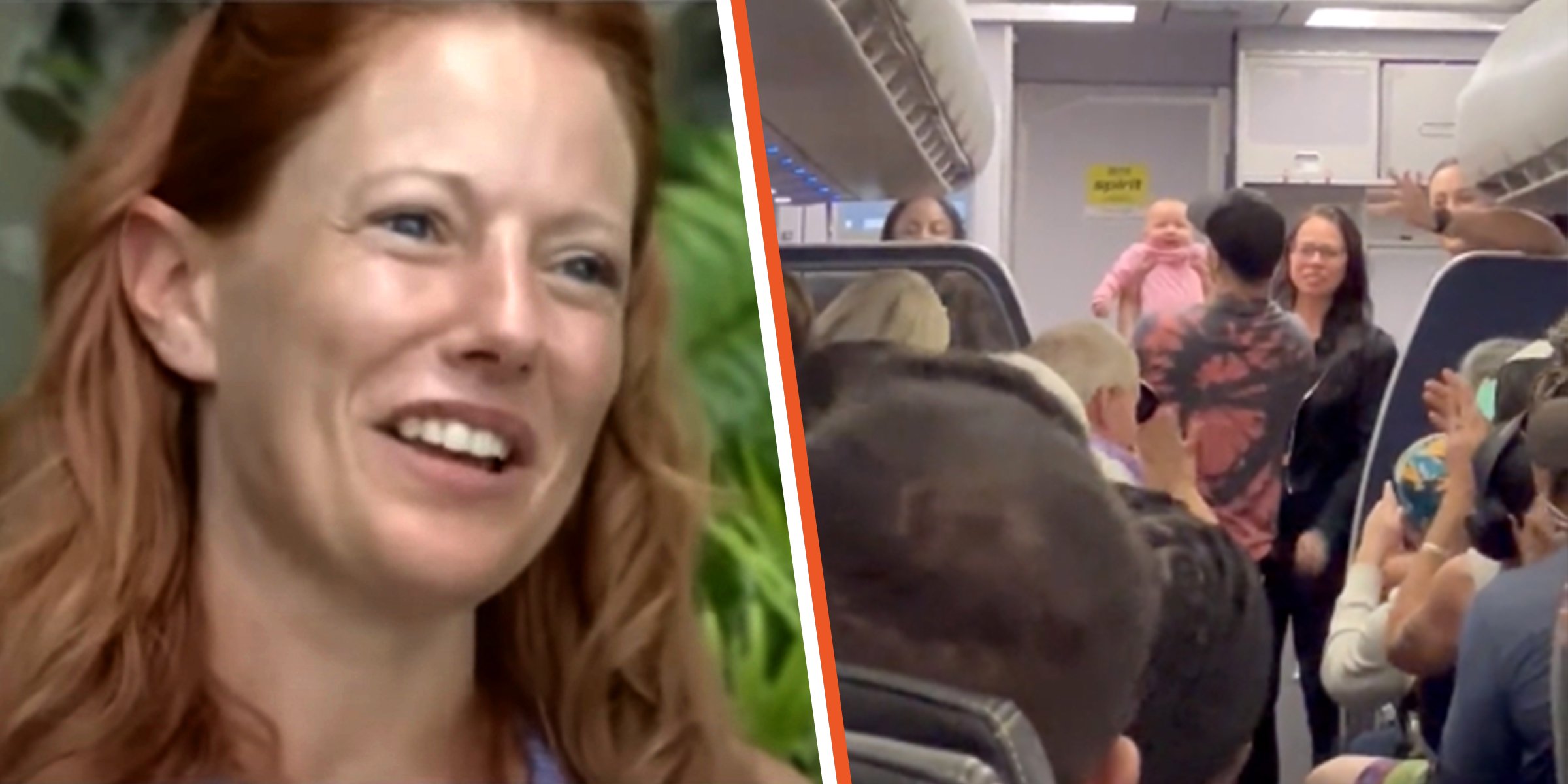 Tamara Panzino | Baby Anjelé and Her Parents | Source: twitter.com/iancassette_wx | youtube.com/WESH 2 News
Nurse Saves Breathless Child during Flight to Florida – The Passengers Start Cheering

A retired nurse was aboard an airplane and already in vacation mode when she heard an unexpected message over the loudspeaker. The woman couldn't ignore it and rushed to offer her professional expertise.
Sometimes being in the right place at the right time can have miraculous consequences. This was the case for a family onboard a Spirit flight from Pittsburgh to Florida.
The unthinkable happened mid-flight, and a father was panicked as he worried about the safety of his baby girl. Passengers were also concerned, and it was a worrying moment for everyone until a caring stranger stepped in to assist.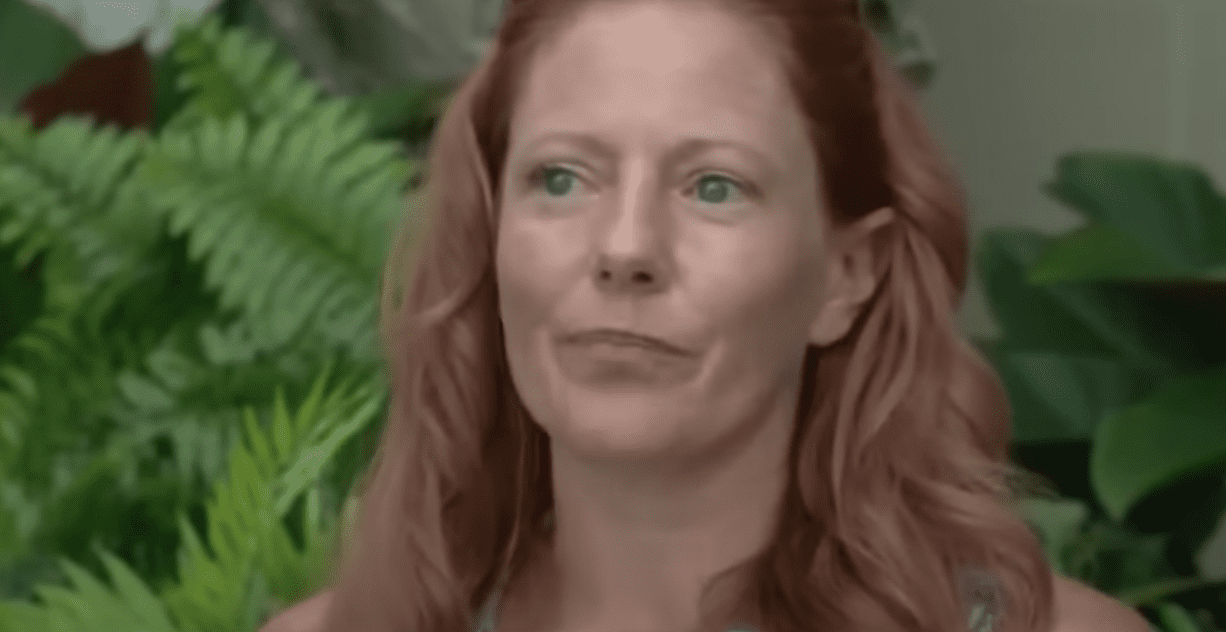 Retired nurse Tamara Panzino. | Source: youtube.com/WESH 2 News
The Distressing Announcement
Tamara Panzino and her husband couldn't wait for their Caribbean cruise out of Port Canaveral in September 2022. The couple sat back in their seats, and Panzino put her headphones on so she could read a book for the duration of their flight.
She recalled faintly hearing an announcement via the PA system. The flight attendants asked if a doctor was on board, and Panzino couldn't ignore it.
Panzino's heart was racing as she waited for signs of life—every passing second was stressful.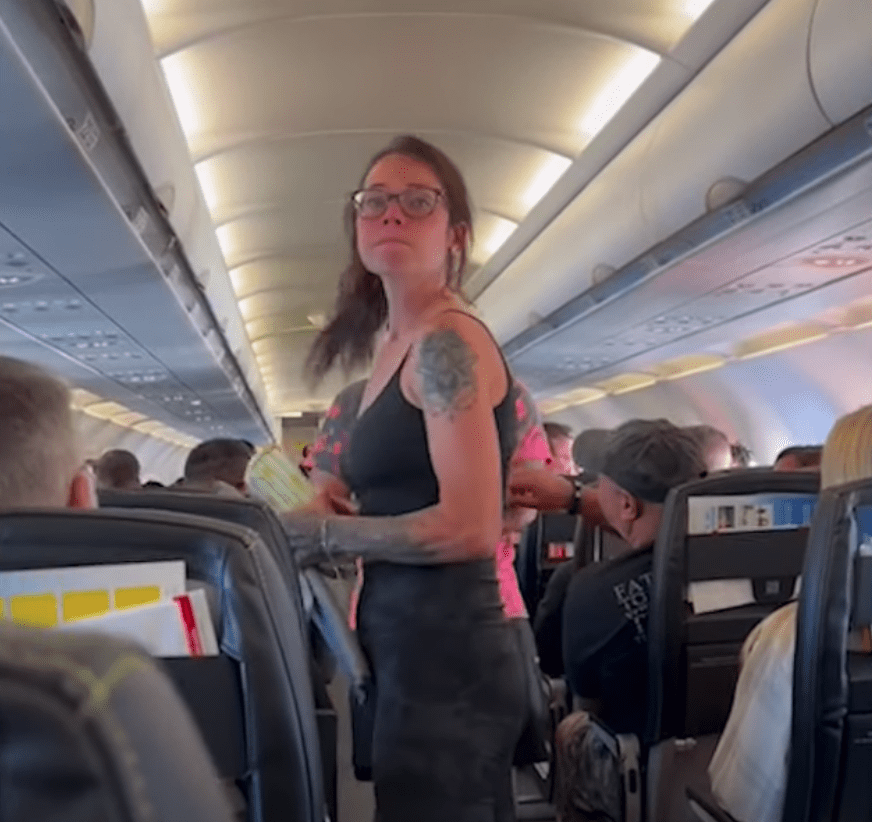 Baby Anjelé's loved ones. | Source: youtube.com/FOX 35 Orlando
Lots of Nervous Energy
Panzino had worked as a nurse for more than 20 years and knew she possessed potentially life-saving knowledge and skills—she didn't hesitate to offer her assistance even though she "didn't know what [she] was dealing with."
According to WOFL meteorologist Ian Cassette who was also onboard the Spirit Airlines flight, the aircraft had been in the air for nearly 30 minutes when three-month-old Anjelé faced a medical emergency.
Her panicked father informed airline personnel that his little girl was unresponsive. Cassette wrote:
"I've never felt that much nervous energy before."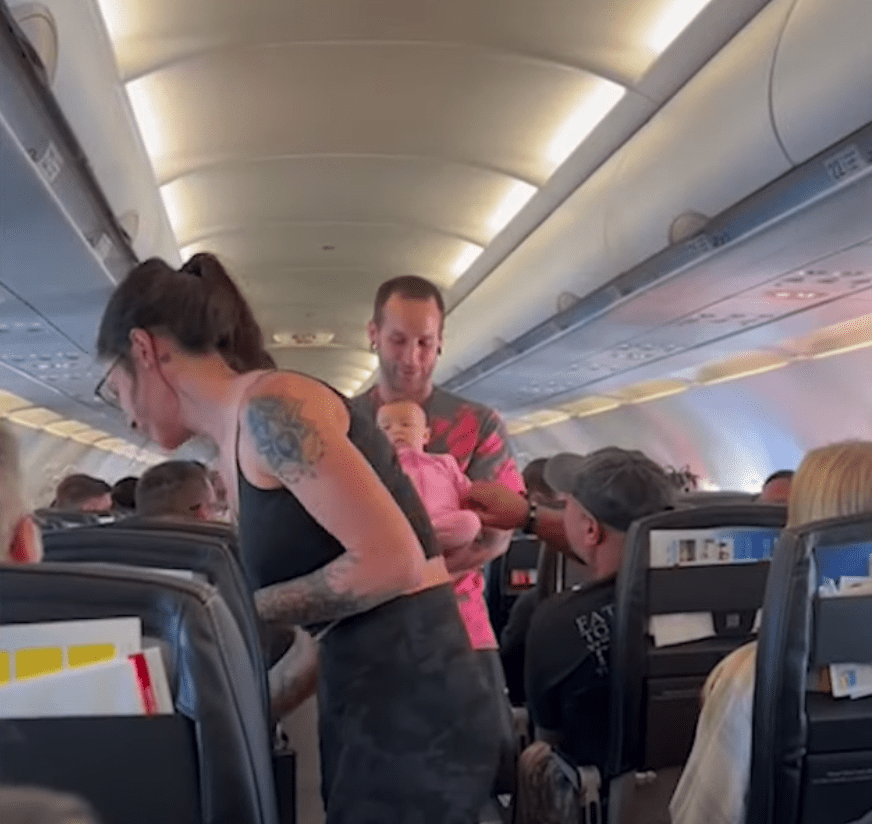 Baby Anjelé with her loved ones. | Source: youtube.com/FOX 35 Orlando
Her Heart Dropped
Retired nurse Panzino saw the infant and shared that the baby was in distress and not breathing. She immediately started performing an aggressive sternal rub, repeating the chest maneuver while everyone hoped for the best.
Panzino's heart was racing as she waited for signs of life—every passing second was stressful. The nurse tried to make the baby cry by pinching it, and she kept shaking Anjelé's chest to encourage breathing. Panzino added:
"My heart just dropped."
The Moment of Relief
Finally, after what felt like a lifetime, there was a glimmer of hope. Panzino shared:
"The color came back. I heard breathing sounds. I heard [a] heartbeat. Oh, my gosh, total relief."
Cassette posted a brief clip online documenting their realization that the baby would be okay. He captioned it: "On my flight ... a baby stopped breathing three rows ahead of me. Thankfully a nurse was able to get the baby to breathe again."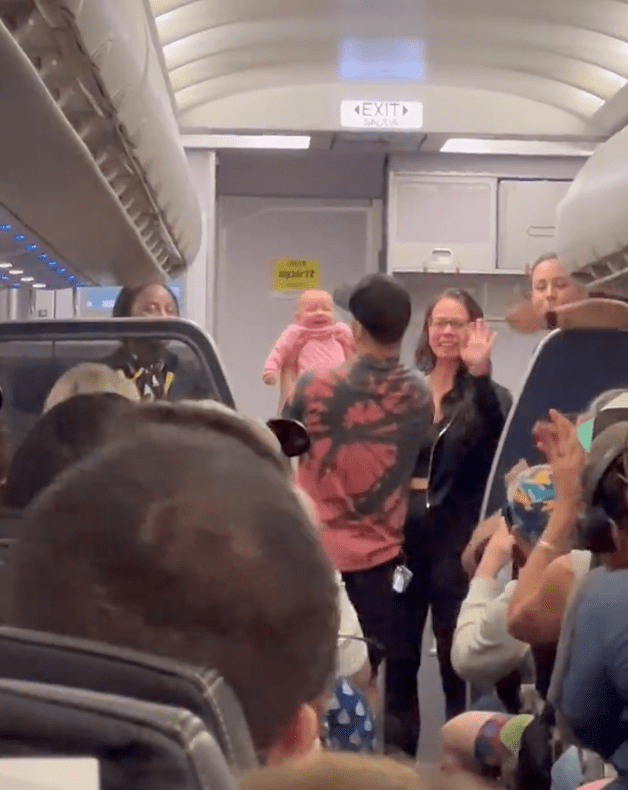 Baby Anjelé and her parents. | Source: twitter.com/@iancassette_wx
The Baby's Parents Were Grateful
Cassette commended the fast-acting flight attendants and revealed that baby Anjelé's parents were immensely grateful. They noted that the baby's emergency was a first for them and said they were relieved to have been around such positive energy during the traumatic ordeal.
The clip displayed passengers cheering and clapping as the baby displayed a joyful and heartwarming smile. When a media representative spoke with retired nurse Panzino, she shared her absolute relief and happiness with the outcome of the ordeal.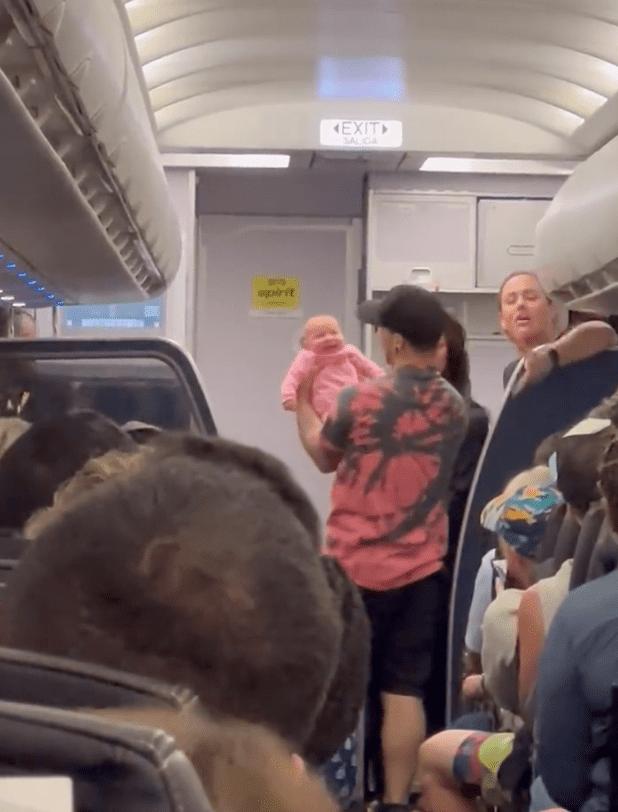 Baby Anjelé and her dad. | Source: twitter.com/@iancassette_wx
The Nurse Doesn't Call Herself a Hero
The selfless former nurse didn't see herself as a hero. Instead, Panzino said it was simply an incredible display of community involvement and everyone stepping in to help for the greater good. She expressed:
"I'm glad I was there ... When you have to step forward and do what's right, you do it. It was just a happy story."
The Online Reaction
The encounter touched netizens, and many called the retired nurse a hero. Others thanked her for never hesitating to help a total stranger:
"Having taken infant CPR, I'd think, 'hey, I could help,' but it's one thing to know and a whole other to get up and actually GO HELP. I'd have panicked and stayed seated. I'd be paralyzed by fear of performing. She's a hero."

- (@WilliamsBeeNBee) September 11, 2022
"Great story! Kudos to that nurse, and here's to a long, healthy life for that little beauty."

- (@wdissents) September 10, 2022
"Oh my goodness, that baby's smile just makes you melt! Glad this had a happy ending!"

- (@LeannaScachetti) September 9, 2022
"Great job! I know the parents are so grateful! I'm grateful, and I do not know either of you. Just thank God you were there."

- (@wmjphns) September 12, 2022
Thankfully the baby's story didn't have a tragic ending, and the retired nurse was at the right place at the right time. We wish the little one and her family many happy and healthy years together.
Click here for a story about another heroic citizen. An Illinois police officer noticed a crying woman and quickly realized it was an emergency. She stepped in to assist the terrified mom and her breathless baby. The entire encounter was captured on camera!
Please fill in your e-mail so we can share with you our top stories!
The information in this article is not intended or implied to be a substitute for professional medical advice, diagnosis or treatment. All content, including text, and images contained on news.AmoMama.com, or available through news.AmoMama.com is for general information purposes only. news.AmoMama.com does not take responsibility for any action taken as a result of reading this article. Before undertaking any course of treatment please consult with your healthcare provider.