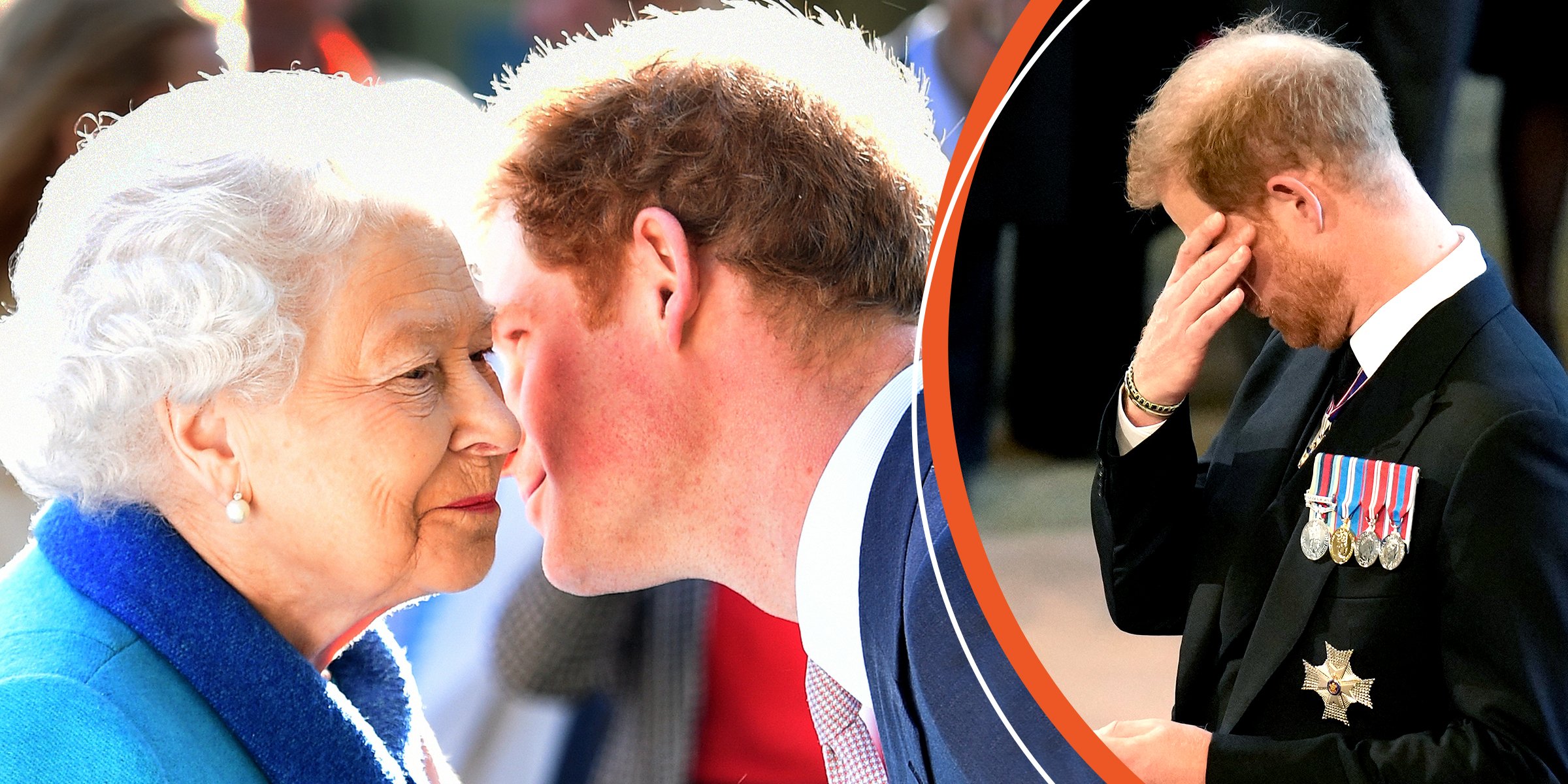 The Queen with Prince Harry | Prince Harry | Source: Getty Images
Harry Seemingly Fights Back Tears Saying Goodbye to Grandma under Same Roof He Paid Last Farewell to Mom

Harry couldn't hold back tears as he paid tribute to his grandmother.

The Queen's service might bring Harry and William back to the day of Diana's farewell as they mourn their grandmom under the same roof as their mother Diana 25 years ago.

The Queen's ceremonious procession is a replica of the heartwrenching walk at Diana's funeral 25 years ago.

Meghan teared up leaving service of the reception of Queen Elizabeth II's coffin.
Prince Harry and Prince William have been feuding for years, but the death of their beloved grandmother, The Queen, has brought them closer as they grieve her loss.
Their wives, Meghan Markle, and Kate Middleton, who have also reportedly not been seeing eye to eye, were there to support the brothers as the two couples stood together inside Westminster Hall in a rare show of togetherness.
As is expected, the princes looked somber as they stood facing the coffin. Harry seemingly could not fight off tears while reading the order of the service for the short ceremony at Westminster Hall.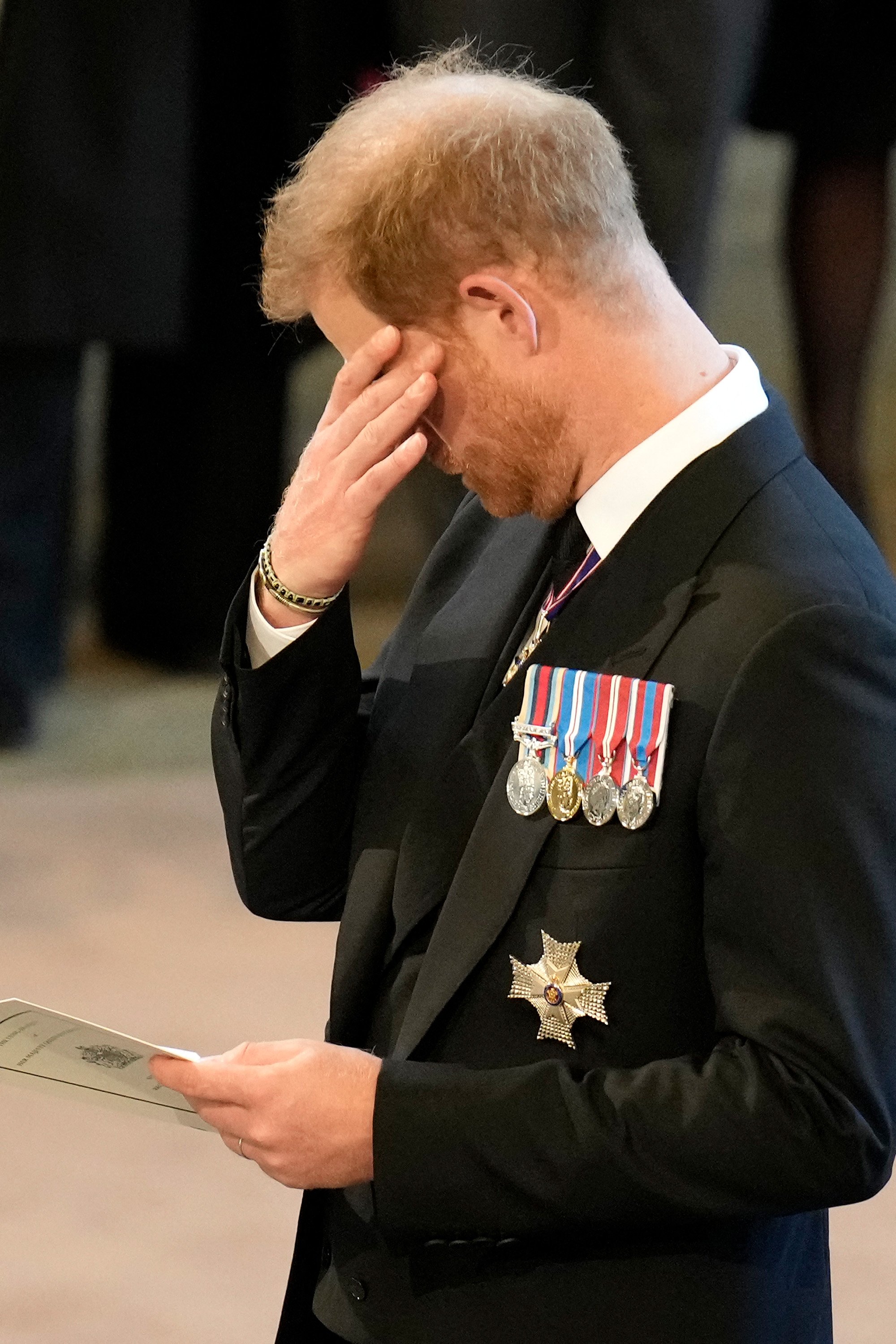 Britain's Prince Harry, Duke of Sussex attends a service for the reception of Queen Elizabeth II's coffin inside Westminster Hall in London on September 14, 2022. | Source: Getty Images
Present at the ceremony were King Charles III, Queen Consort Camila, Prince Edward, Earl of Wessex, his wife Sophie, and Anne, Princess Royal.
Also present were Prince Andrew, the Duke of York, Zara and Mike Tindal, Princess Beatrice and her husband Edoardo Mapelli Mozzi, and Princess Eugenie and her husband, Jack Brooksbank. Andrew's ex-wife, Sarah Ferguson, was not invited to be part of the occasion.
The senior working royals, King Charles III, Prince Edward, Princess Anne, and Prince William, all wore military garb to the occasion, as they will for all the events leading up to the funeral. Harry and Andrew will not, as they are no longer working royals.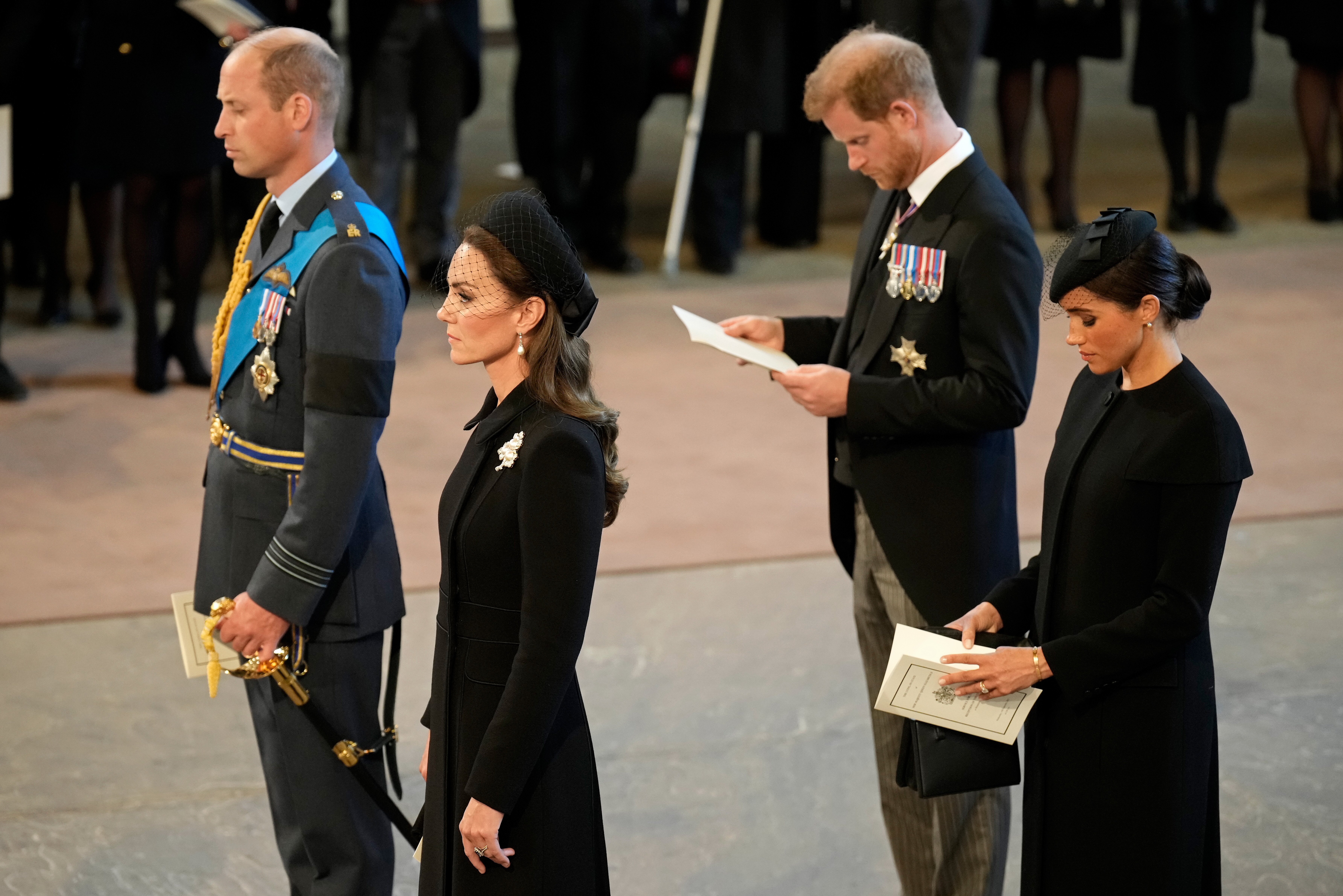 Prince William, Kate Middleton, Prince Harry, and Meghan, pay their respects inside the Palace of Westminster on September 14, 2022 in London, England | Source: Getty Images
Thousands of mourners lined up on the route's outskirts as the Queen's coffin passed, carried on a horse-drawn gun carriage of the King's Troop Royal Horse Artillery.
The casket, flanked by a tall yellow flickering candle at each end of the broad scarlet platform was draped with a banner of arms, The Royal Standard, and Imperial State Crown, one of the Crown Jewels of the United Kingdom symbolizing the sovereignty of the monarch.
On top was a wreath of a variety of flowers, including white dahlias, spray white roses, and foliage consisting of rosemary, lavender, pittosporum, and pine from the Balmoral gardens.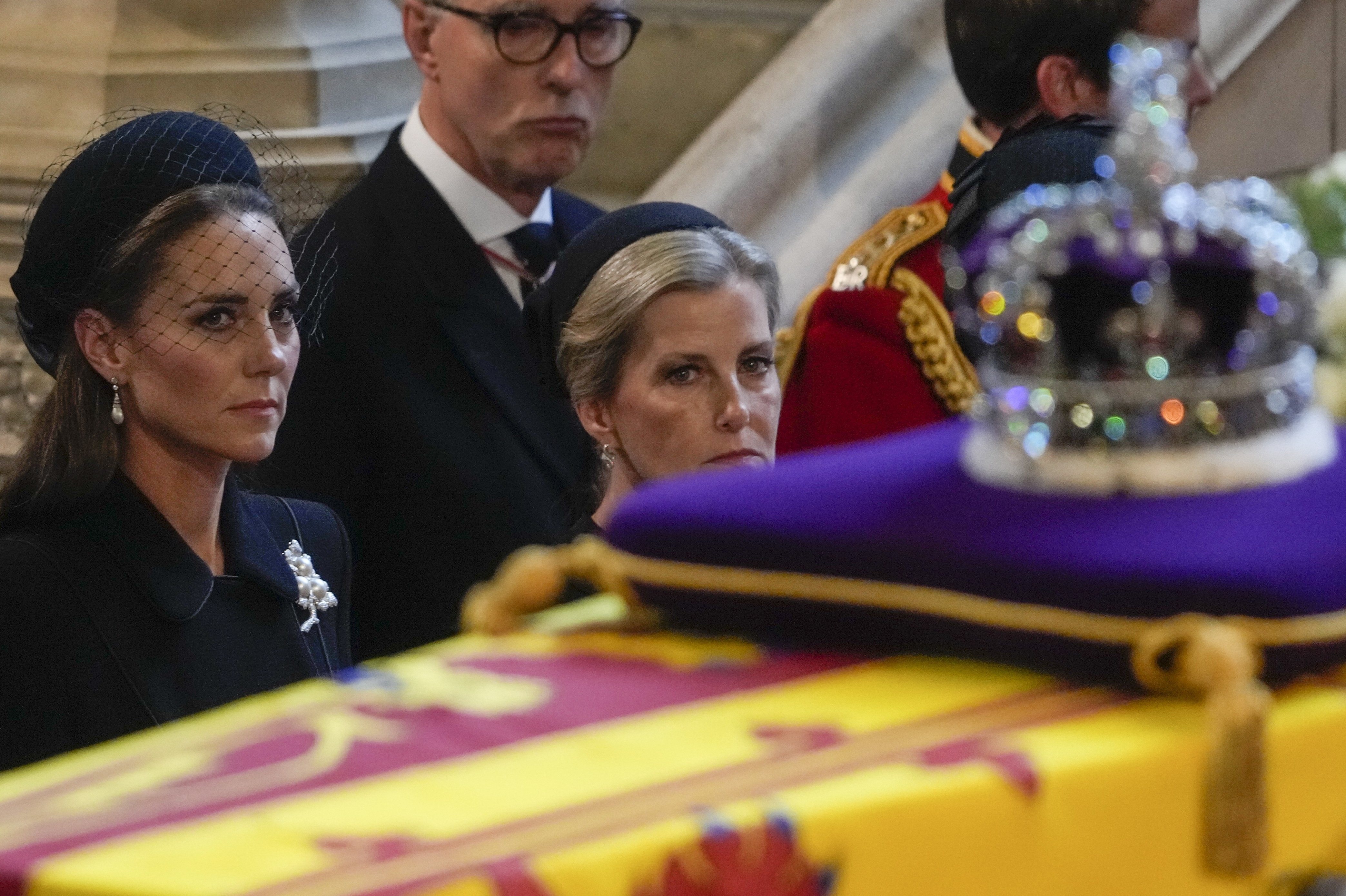 Catherine, Princess of Wales, and Sophie, Countess of Wessex watch the coffin of Queen Elizabeth II arriving at Westminster Hall on September 14, 2022, in London | Source: Getty Images
Grief-stricken, Meghan also teared up as she and Harry returned to Buckingham Palace after attending the reception of the Queen's coffin at Westminster, where she will lie in state until the early morning of her funeral.
The procession was of historical significance as Harry and William set aside their differences and marched alongside their father, supporting him.
Prince Harry, Duke of Sussex and Meghan, Duchess of Sussex return by car to Buckingham Palace after attending a service for the reception of Queen Elizabeth II's coffin on September 14, 2022 in London, England | Source: Getty Images
However, for the brothers, the event was also a replay of painful memories from when they were 12 and 15, as they walked behind their mother, Princess Diana's coffin in 1997.
Saying goodbye to their beloved grandmother has been a wound opener for the brothers and a reminder of the grueling pain they endured during the procession of their mother's funeral 25 years ago.
The Queen's Procession Echoes Diana's from 25 Years Ago
As the brothers followed the Queen's procession through the streets of London, the situation seemed eerily similar to September 7, 1996, when the two, only teenagers at the time, walked the same route from Kensington Palace to Westminster Abbey for a similar occasion.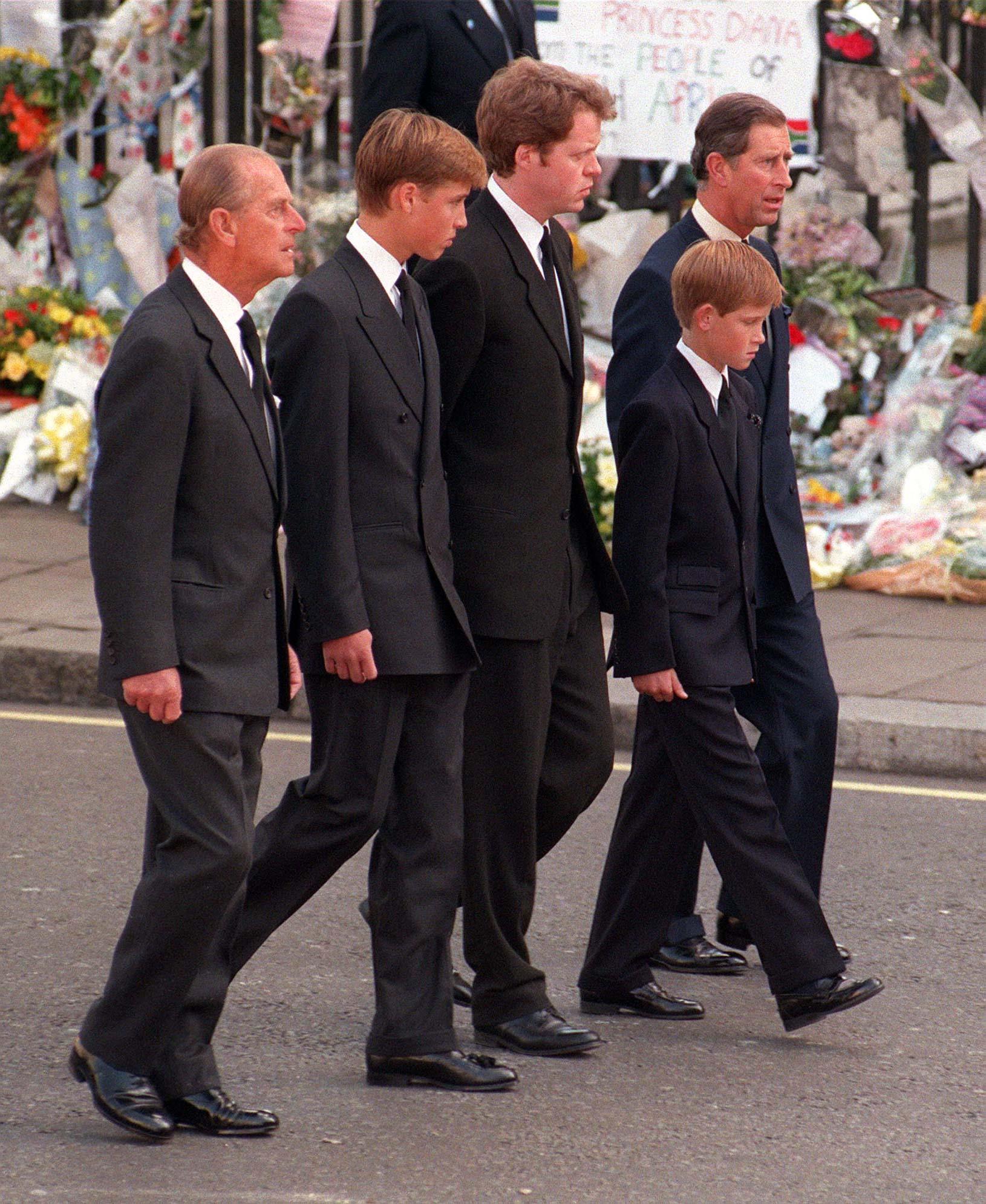 The Duke of Edinburgh, Prince William, Earl Spencer, Prince Harry and the Prince of Wales following the coffin of Diana, Princess of Wales, to Westminster Abbey for her funeral service [L-R] in September 1997 | Source: Getty Images
Losing a mother at such a tender age was heartbreaking for the brothers, but following in the procession made things a little worse. William, opening up about it in the 2017 BBC documentary, "Diana," said, as People reports:
"It was one of the hardest things I've ever done, that walk. It felt like she was almost walking along beside us to get us through it."
A member of the British public, Jo Cadzow, who is also mourning her Queen, says that when she saw the procession, she immediately thought about William and Harry and how hard it must be for them. That said, she respected them more for walking the same path again.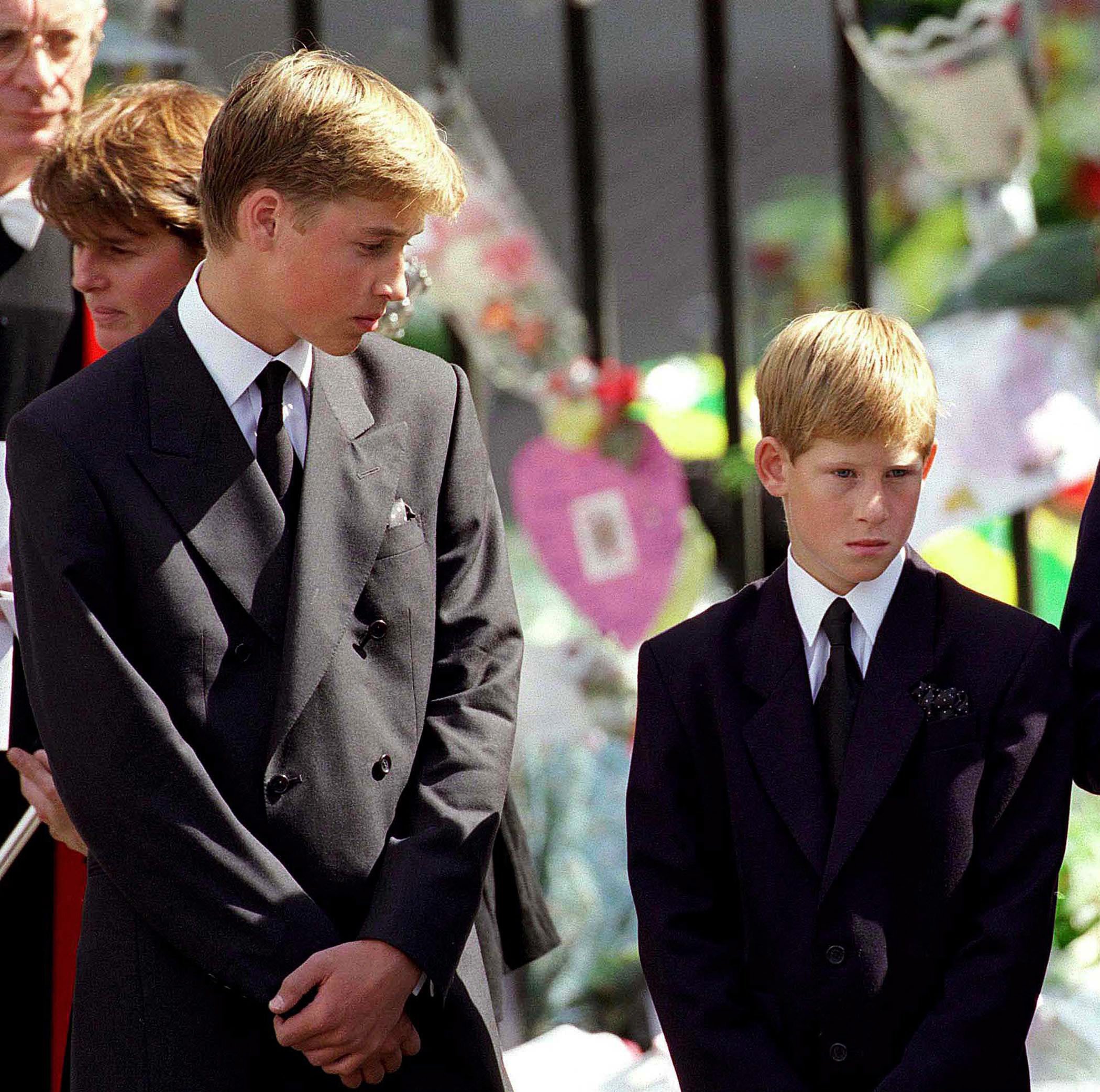 Prince William and Prince Harry stand outside Westminster Abbey at the funeral of Diana, Princess of Wales on September 6, 1997 in London, England. | Source: Getty Images
While the broadcast news today tells how silence graced the London streets as Diana's coffin procession passed, all Harry remembers is deafening screams from the crowds. Every 50 yards, he would hear people screaming, obviously unable to contain their emotions.
As was the case with their grandmother's procession on Wednesday, September 14, Harry recalls bells tolling continuously as his mother's procession moved toward Westminster all those years back.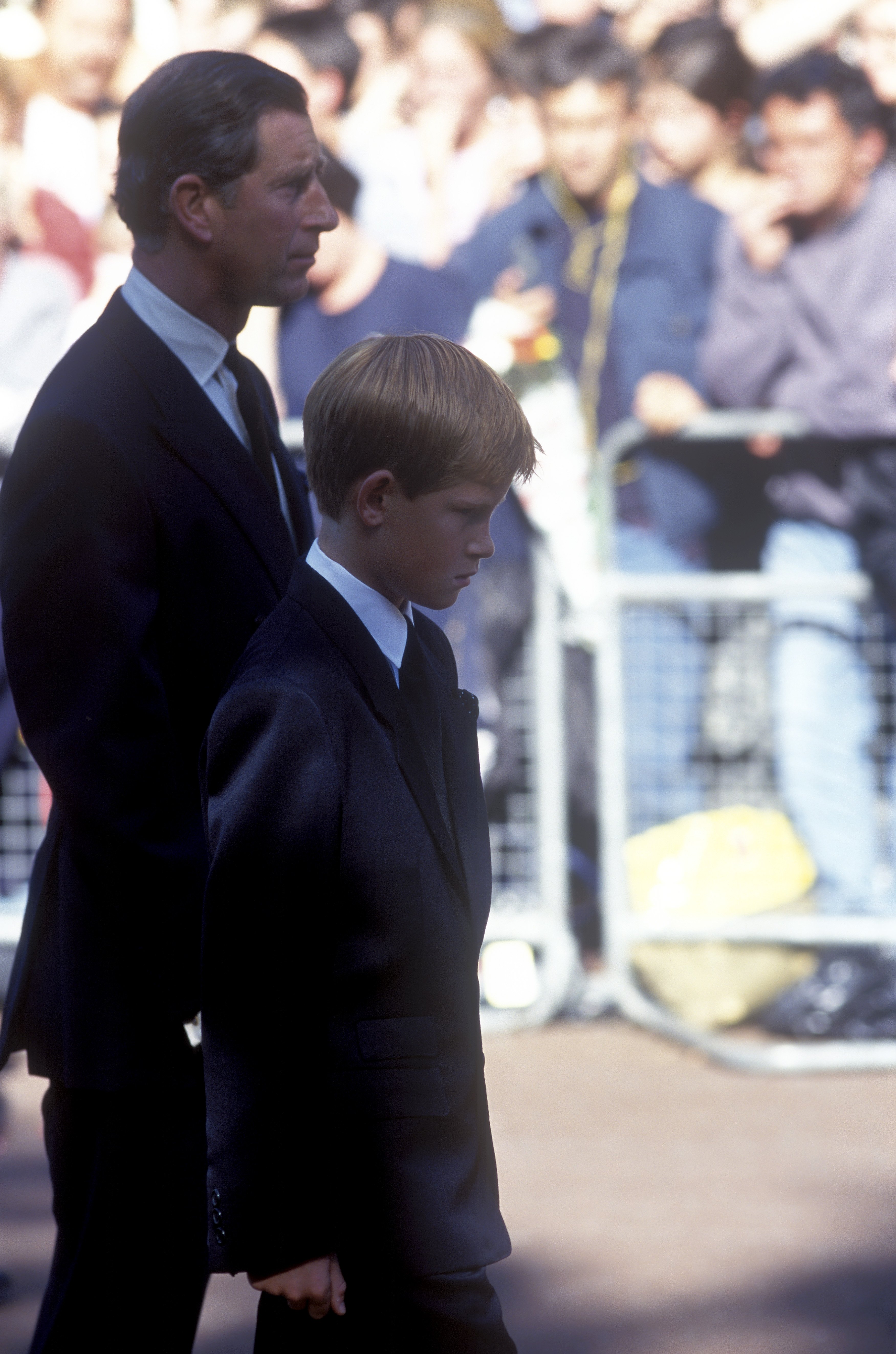 The public funeral of Diana, Princess of Wales, in London, UK, on September 6, 1997 with Prince Charles, Prince of Wales, and Prince Harry.| Source: Getty Images
Diana's brother, Earl Spencer, thought it was cruel to make the young boys walk behind their mother's coffin, and referred to it as the most horrifying half hour of his life. He said:
"It was just ghastly. It was the worst part of the day by a considerable margin, walking behind, well, my sister's body, with two boys who were obviously massively grieving their mother."
He recalls that those in the procession were required to look straight ahead, but the moments were filled with too much emotion; he still has nightmares about it.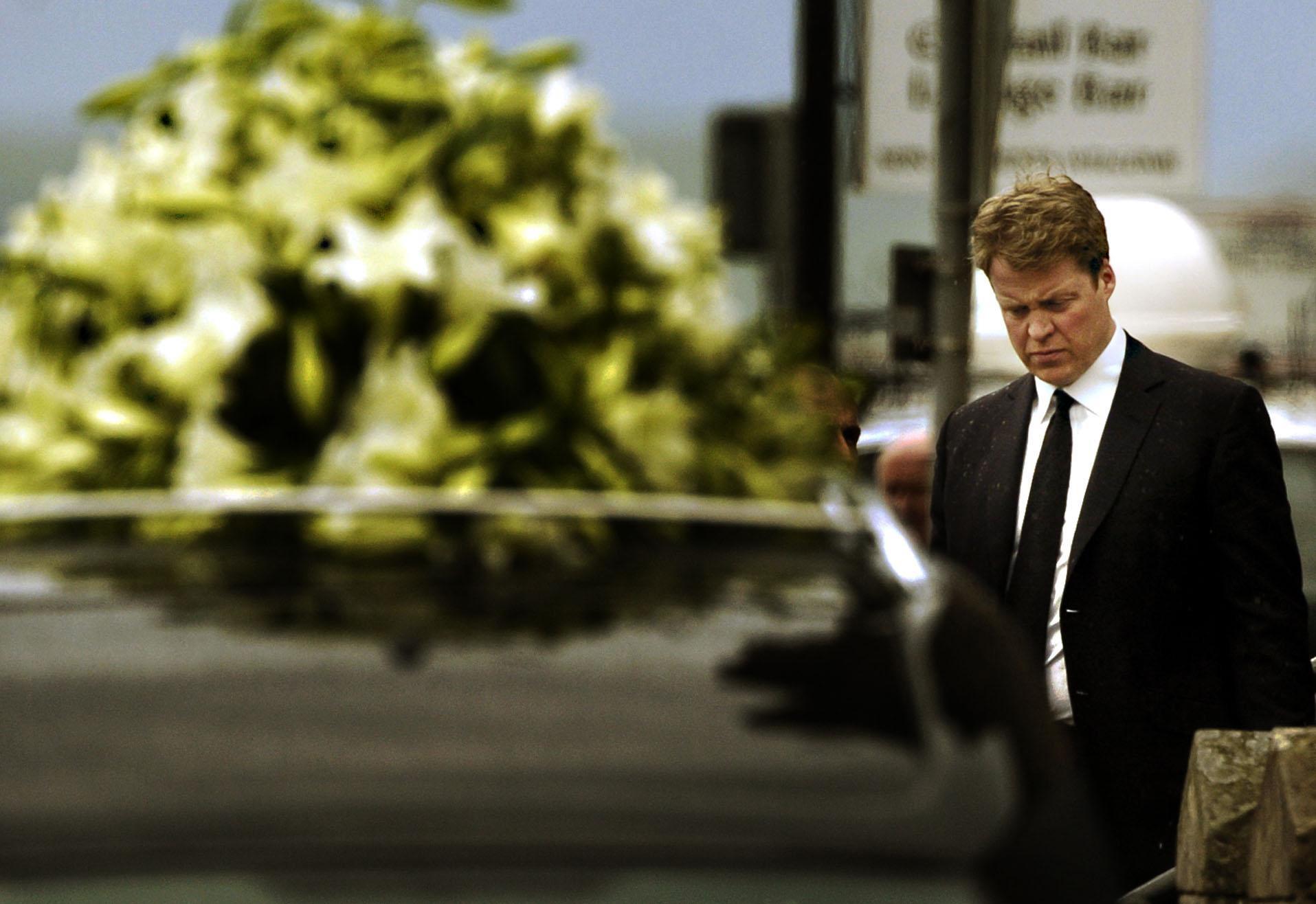 Earl Spencer at his sister, Princess Diana's funeral on September 6, 1997 | Source: Getty Images
William says it was the family's collective decision for the two to walk in their mother's funeral procession, adding that they are only fulfilling their duty as a family.
Friends of the royals, however, say that it was William and Harry's grandfather, the late Prince Philip, who encouraged them to join in by asking:
"If I do it, will you?"
Harry agreed with William's sentiments, saying it was "a group decision" and before he knew it, he was in a suit, white shirt, and tie. He, however, said he had no opinion on whether it was right or wrong but was glad to have been part of it.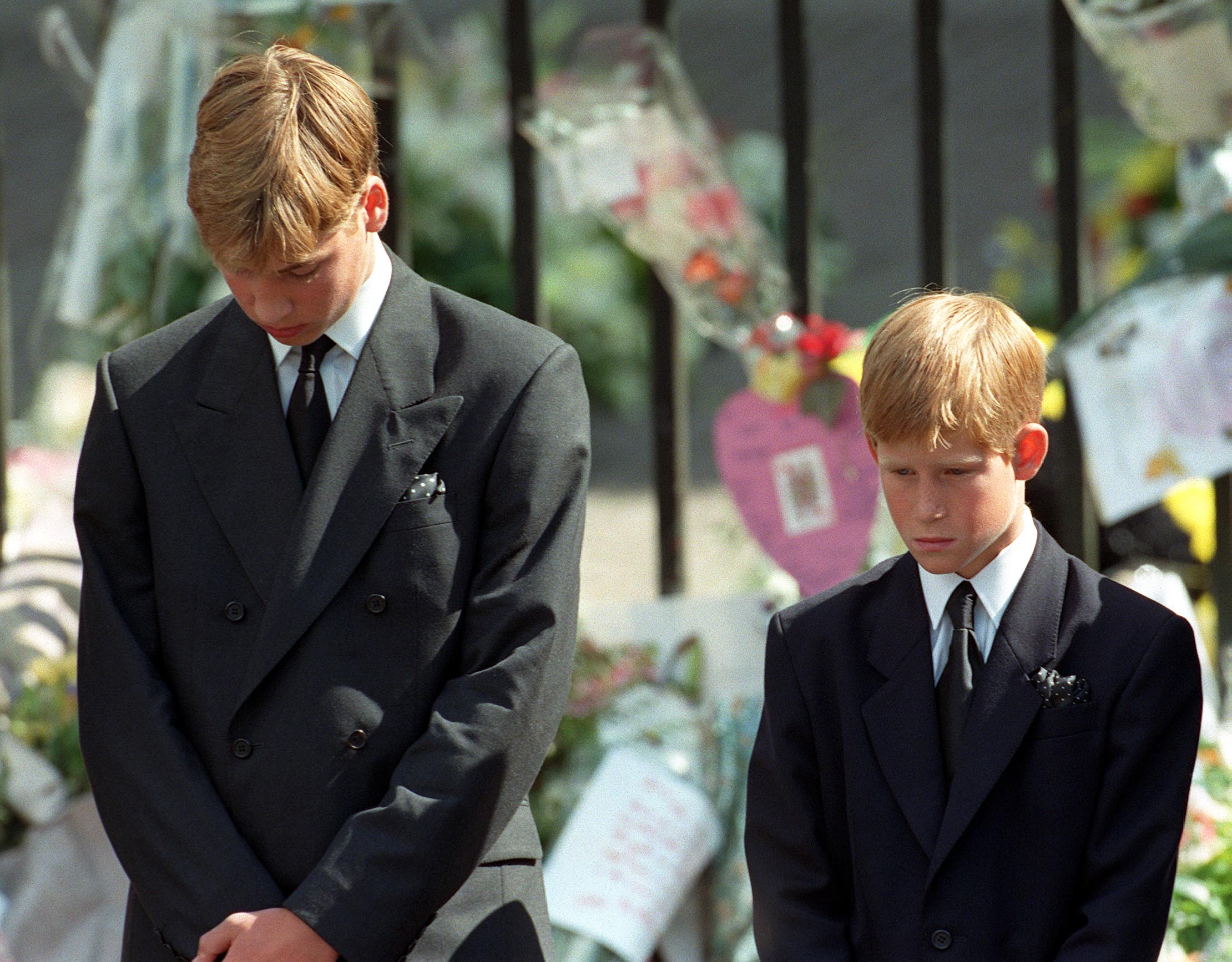 Prince William (left) and Prince Harry, the sons of Diana, Princess of Wales, bow their heads as their mother's coffin is taken out of Westminster Abbey following her funeral service. | Source: Getty Images
William also said that, at the time, he could not understand why everyone cried as much as they did and became so emotional about Diana's death while they did not know her in person.
But looking back and knowing the kind of person his mother was, he said he understood why everyone seemed so grief-stricken. He was aware of what Diana offered to the world, and why everyone was so fond of her.
Please fill in your e-mail so we can share with you our top stories!