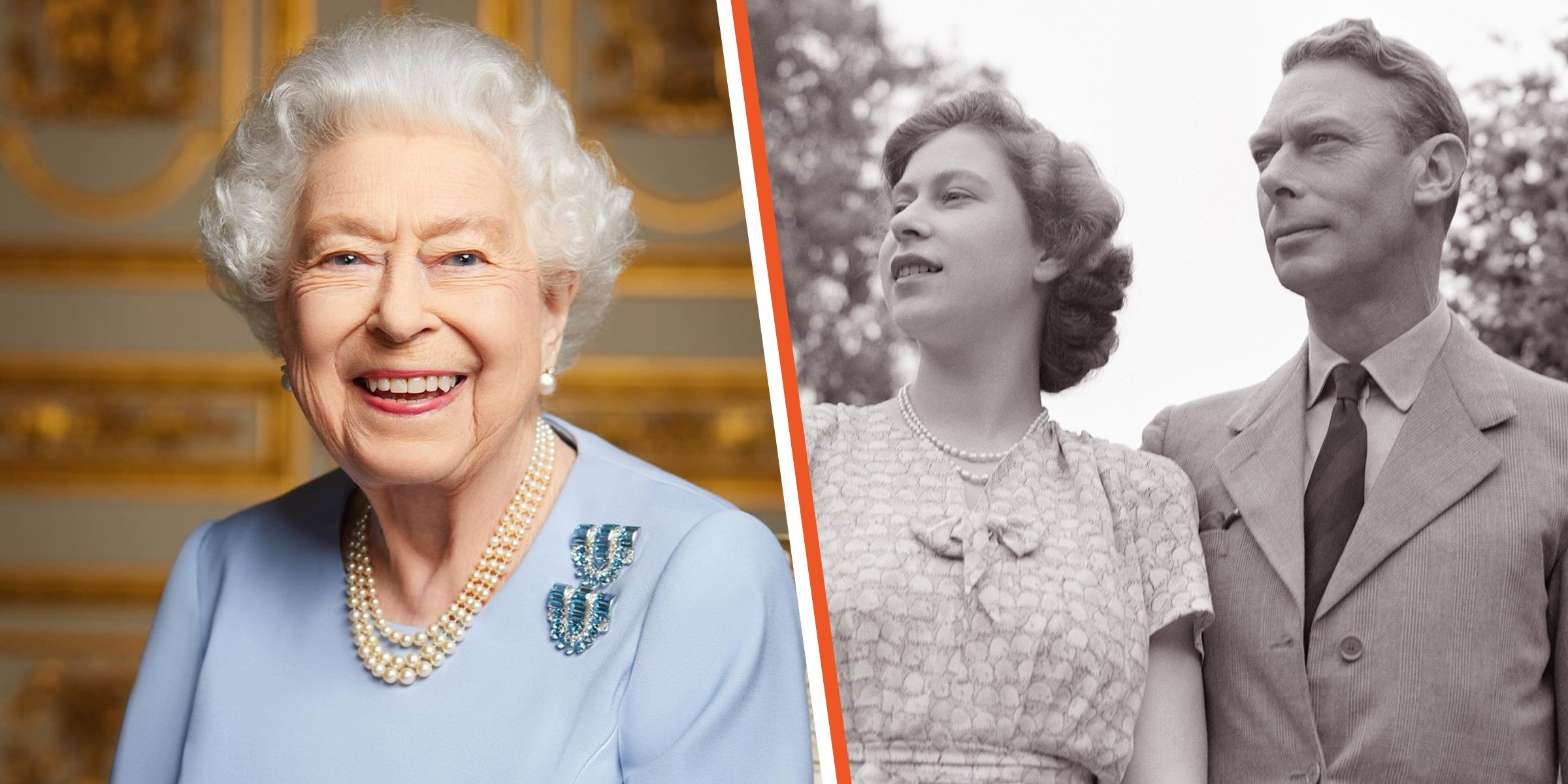 Queen Elizabeth ll | Queen Elizabeth ll and King George VI | Source: Getty Images
Queen Elizabeth Flashes 'Unforgettable' Smile in Last Portrait Wearing Her 'Papa's' Gift & Made Fans Emotional

The Queen's health deteriorated rapidly toward her last days, but she kept a high spirit.

Queen Elizabeth II was still seen flashing her unforgettable smile in her final official portrait, two days before her death.

The portrait was released on the eve of her funeral.

The Queen's smile was not the only noticeable thing; she honored her late father, King George VI, by incorporating his gift in her ensemble, which caused fans to be emotional.
Queen Elizabeth II was a remarkable monarch with a long-lasting legacy who would be remembered for years by her family, staff, UK citizens, world leaders, and millions of others.
Despite her failing health in her final days, the Queen, who died a peaceful death, could still share her infectious smile with the world.
A few hours before her final burial on Monday, the official Twitter handle of "The Royal Family" released a never-before-seen image of Her Majesty.
In the photograph, the Queen sat on a chair as she posed with her chin up while parting her lips in a wide, unforgettable smile. According to the caption:
"Ahead of Her Majesty The Queen's State Funeral, a new photograph has been released. The photo was taken to mark Her Majesty's Platinum Jubilee - the first British Monarch to reach this milestone."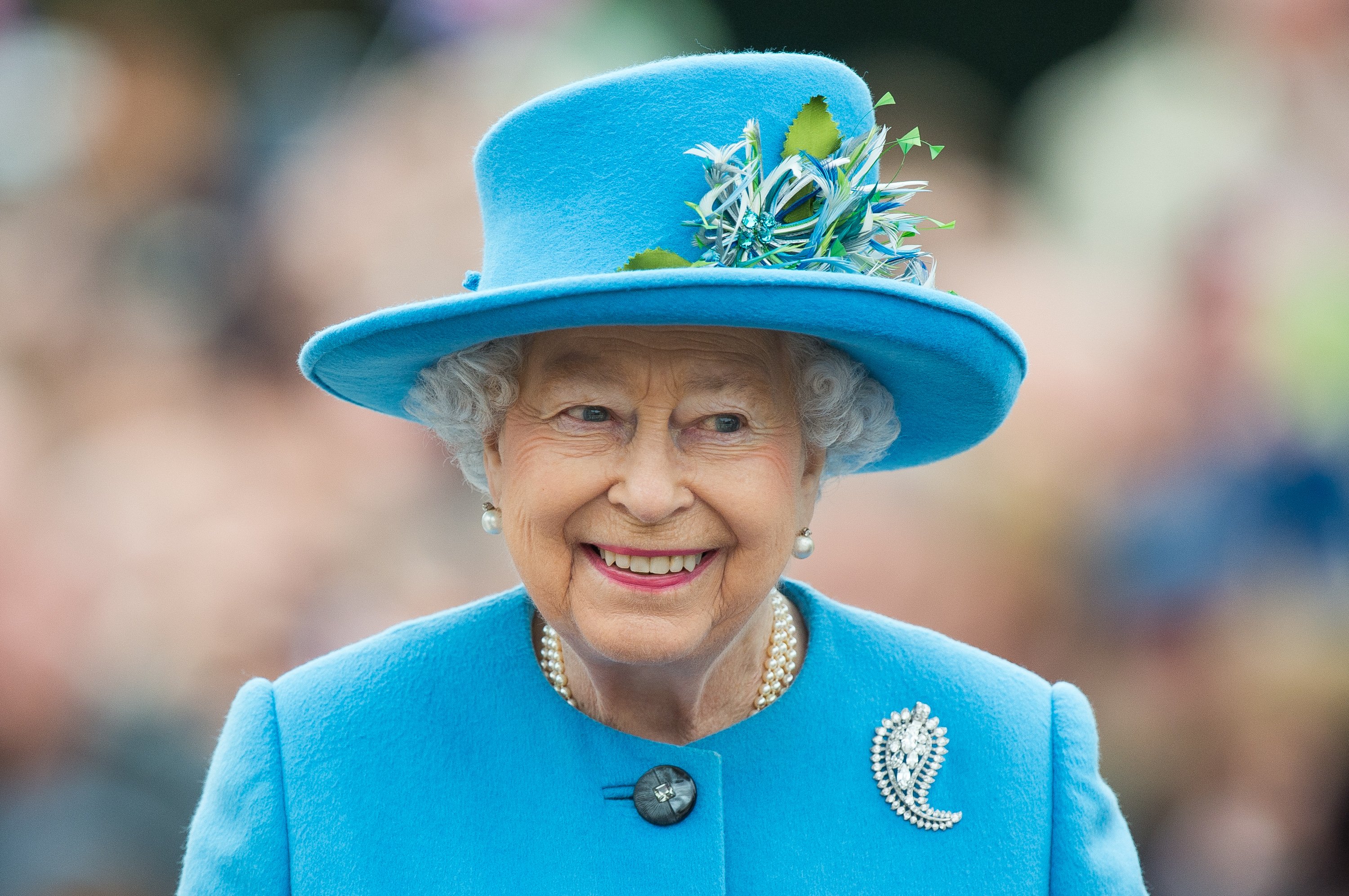 Queen Elizabeth II toured Queen Mother Square on October 27, 2016, in Poundbury, Dorset. | Source: Getty Images
Royal fans were captured by the Queen's appearance in the photo. While some commented on her smile and how much of an impactful life she lived, others found it difficult to accept that the Queen is no more.
Even though she was 96, some fans wished she had lived longer. However, they also pledged to continue to remember her legacy. One person wrote:
"That beautiful, unforgettable smile 😭😭 the amazing Queen Elizabeth II was such a remarkable woman, and she did her job beautifully every day! May Her late [Majesty] rest in peace."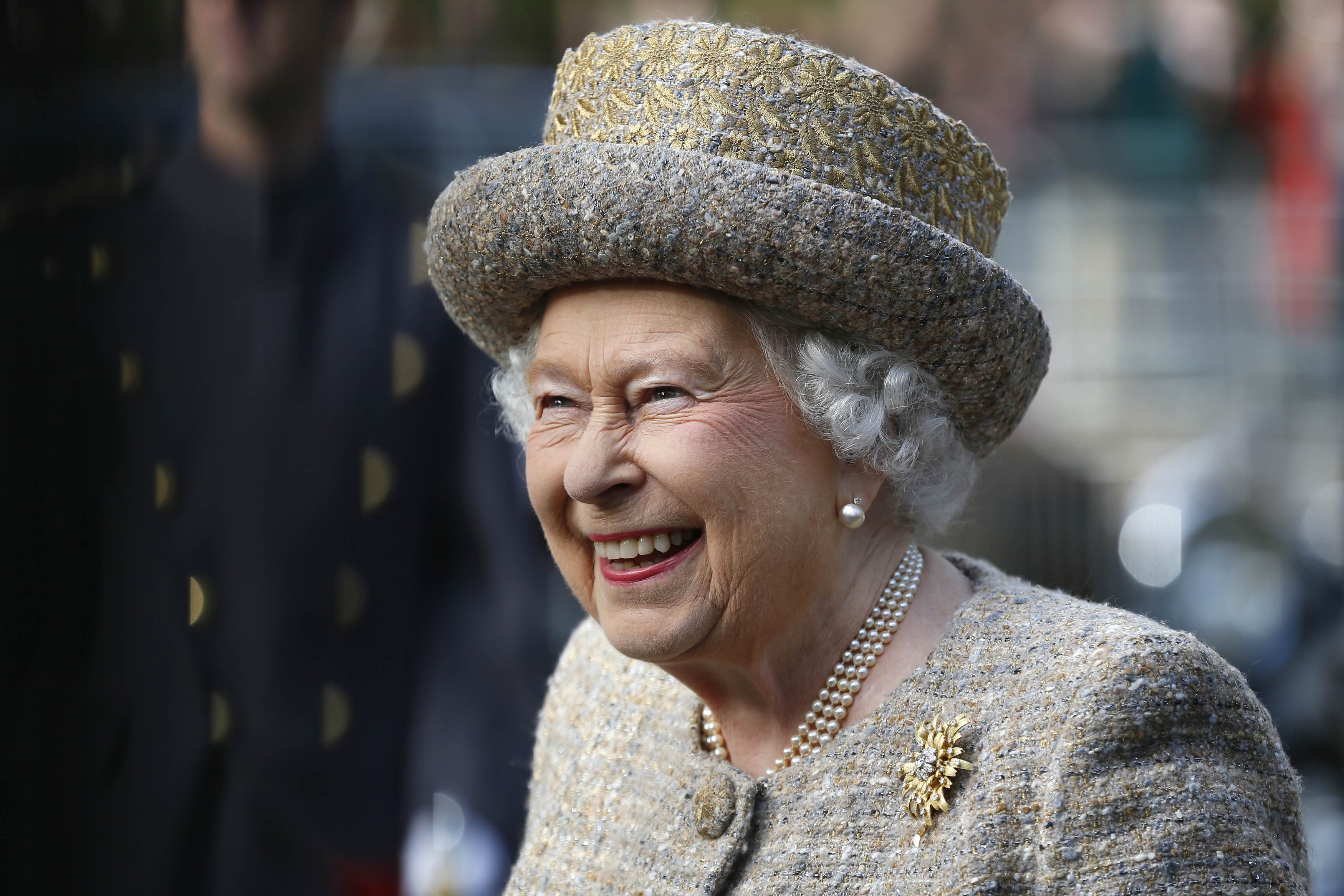 Queen Elizabeth II smiles before the Flanders' Fields Memorial Garden opening at Wellington Barracks on November 6, 2014, in London, England. | Source: Getty Images
A second fan chimed, "I still cannot believe you are gone, but you will never be forgotten, thank you for everything, ma'am. #ElizabethTheGreat."
Another fan shared a GIF of the Queen during a speech. She wore a white, stone-embedded dress, while a glittery crown rested perfectly on her white hair, giving her an ethereal appearance. The same person wrote alongside the image:
"I wish she had lived well beyond the PLATINUM Jubilee and reached many more happy milestones like that, but sadly it was "too soon" in the case of such an extraordinarily gifted and loving talented sovereign like her Majesty Queen Elizabeth II."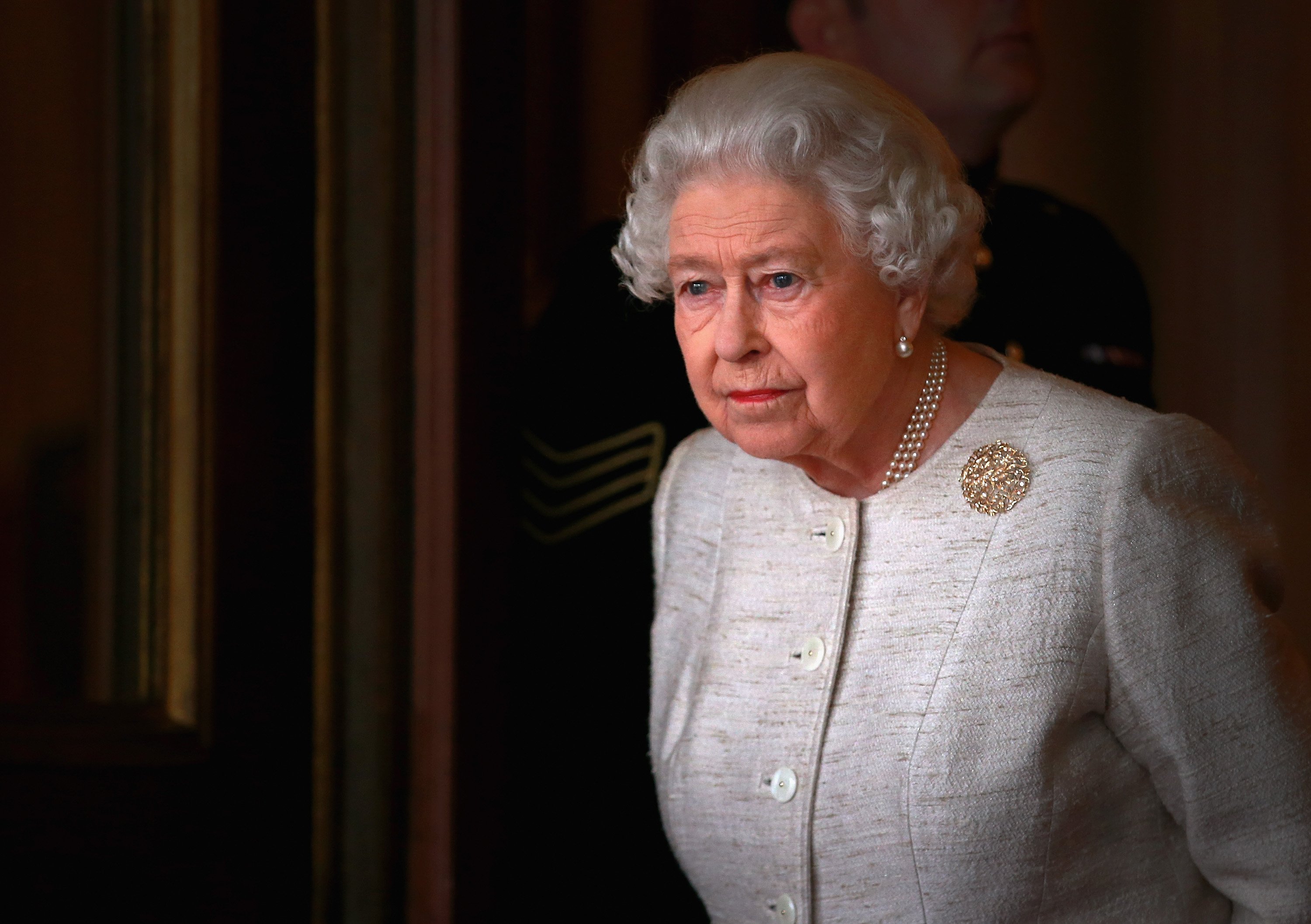 Queen Elizabeth II prepares to greet Kazakhstan President Nursultan Nazarbayev at Buckingham Palace on November 4, 2015 in London, England | Source: Getty Images
Another commenter reacted with two snaps of the Queen in a chequered skirt, collared shirt, and grey jacket. This was a recent image of the Monarch before her death.
Here, she looked frail and relied on a walking stick for balance. Yet, the fan could not help but spot her signature smile. An accompanying caption read:
"It's still unimaginable to me that she was gone only two days after she flashed this brilliant smile in a cameo for a photographer. It doesn't seem possible. I think that's what upset me the most."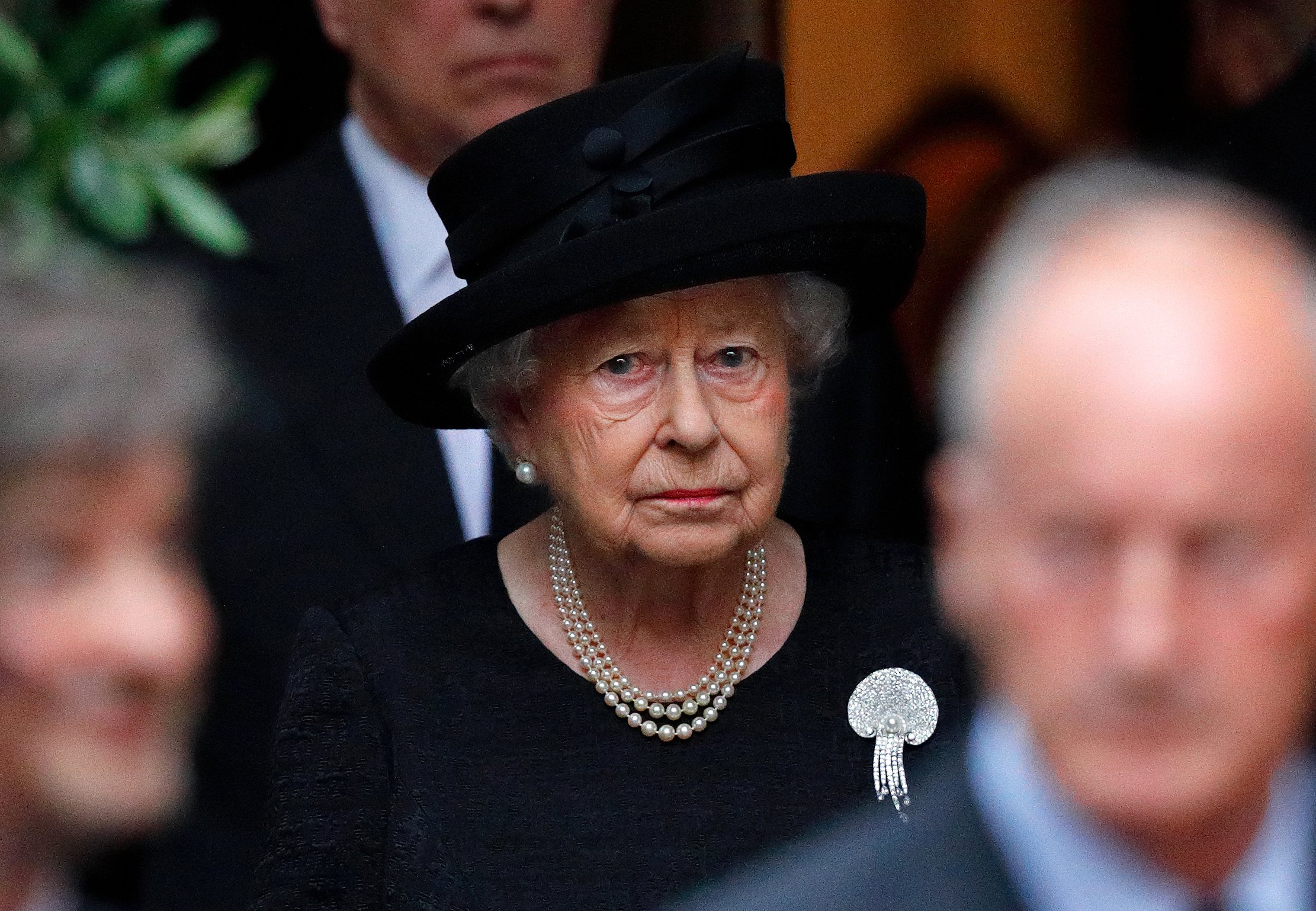 Queen Elizabeth II at the funeral of Patricia Knatchbull, Countess Mountbatten of Burma at St Paul's Church, Knightsbridge on June 27, 2017 in London, England | Source: Getty Images
Despite her age and state before her demise, the Queen was still devoted to her family and remembered her roots. Similarly, Queen Elizabeth II paid tribute to her late father via the final portrait.
The Queen's Tribute to Her Dad, Whom She Was Close To
The Queen's striking smile was not the only note-worthy feature in her final portrait. For that image, she opted for a sea blue dress, a three-layered pearl necklace with a yellowish-gold undertone, and matching earrings.
When the Queen ascended the throne, she pledged her service to the crown and the people. Truly, she kept to her word.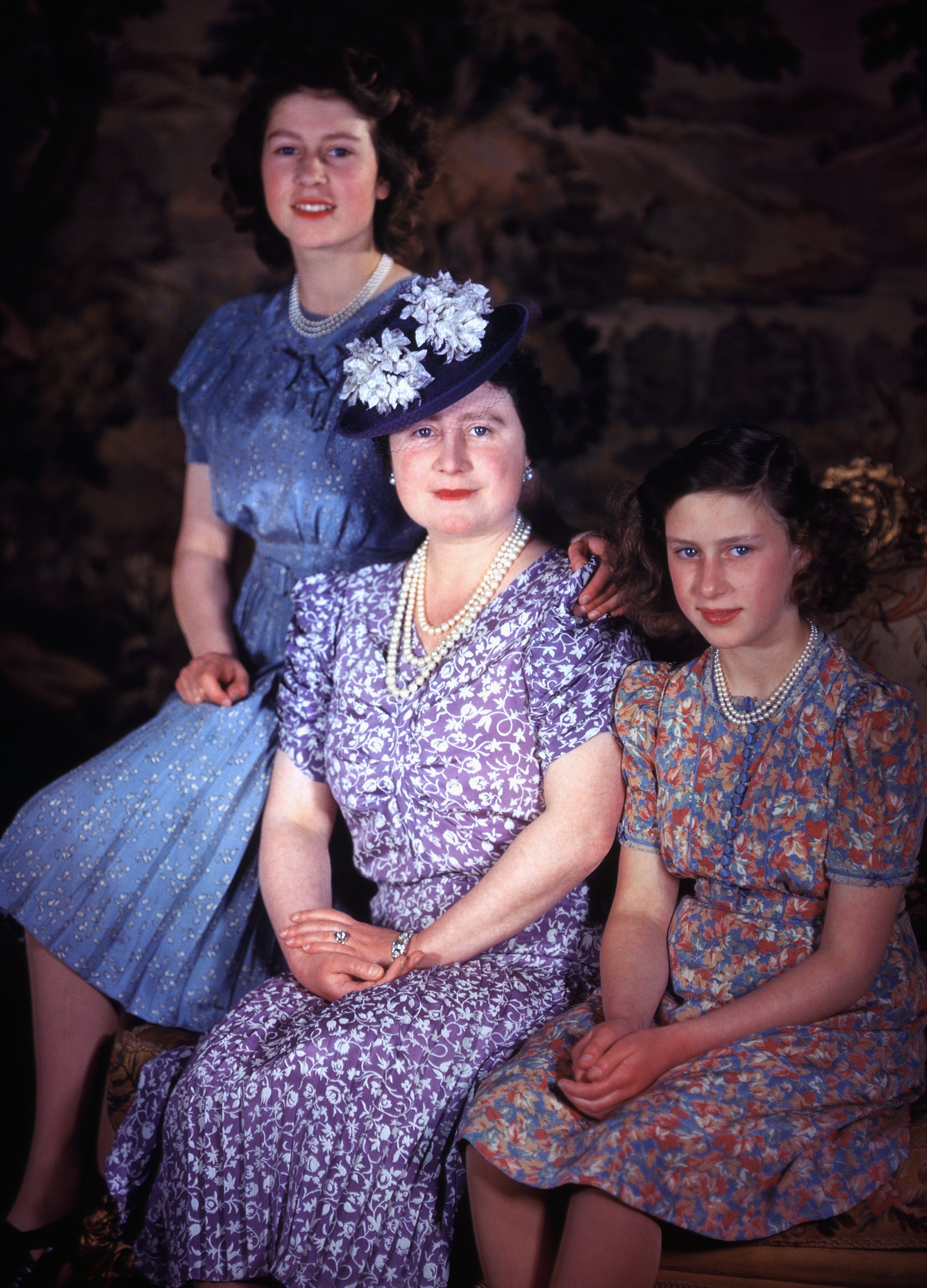 Queen Elizabeth and daughters Princesses Elizabeth and Margaret Rose, March 09, 1944 | Source: Getty Images
Additionally, the Queen handpicked a sea-blue diamond-embellished dual-patterned brooch. This was a significant piece of jewelry to the Queen, who received it from her dad in 1944.
King George VI gifted it to his eldest daughter on her 18th birthday. The priceless piece was carved by Boucheron using three types of diamond cuts, including baguette, oval, and round diamonds.
Reportedly, the Queen has worn the brooch on very few occasions. However, in 2012, she selected it as a part of her outfit during her Diamond Jubilee televised speech.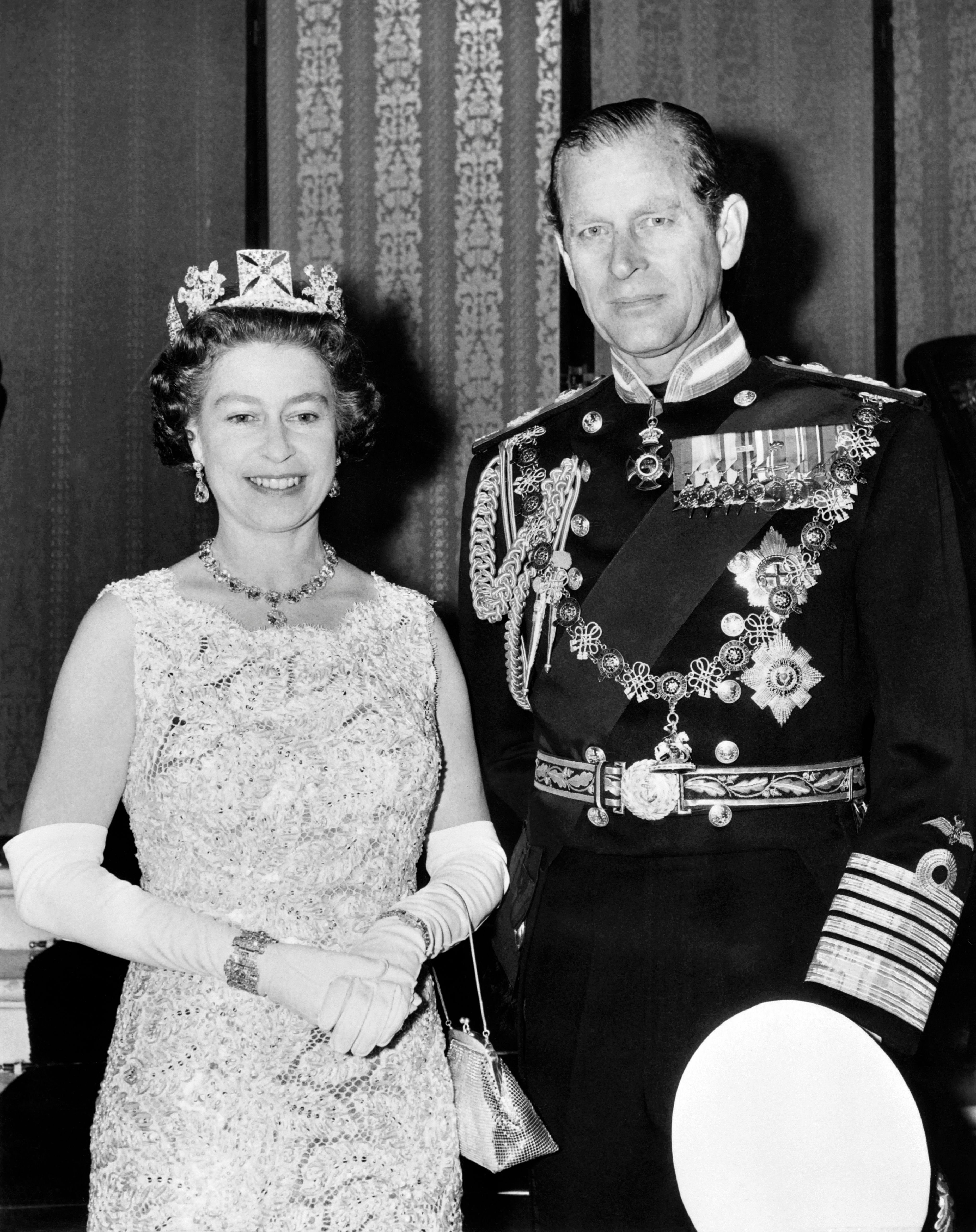 Britain's Queen Elizabeth II, wearing the George IV State Diadem, diamond tiara on British and Commonwealth stamps, and Prince Philip, Duke of Edinburgh, on their 25th wedding anniversary. | Source: Getty Images
Also, in 2020, when the nation marked the 75th anniversary of VE Day, the Queen wore the brooch to address its citizens.
According to sources, the Queen has an impressive collection of brooches, which she adores. Her selection is based on the connection to the person, nation, or organization she prepared to visit.
During her attendance at the Chelsea Flower Show, the 96-year-old wore a floral-themed dress and a pink coat crested with a brooch.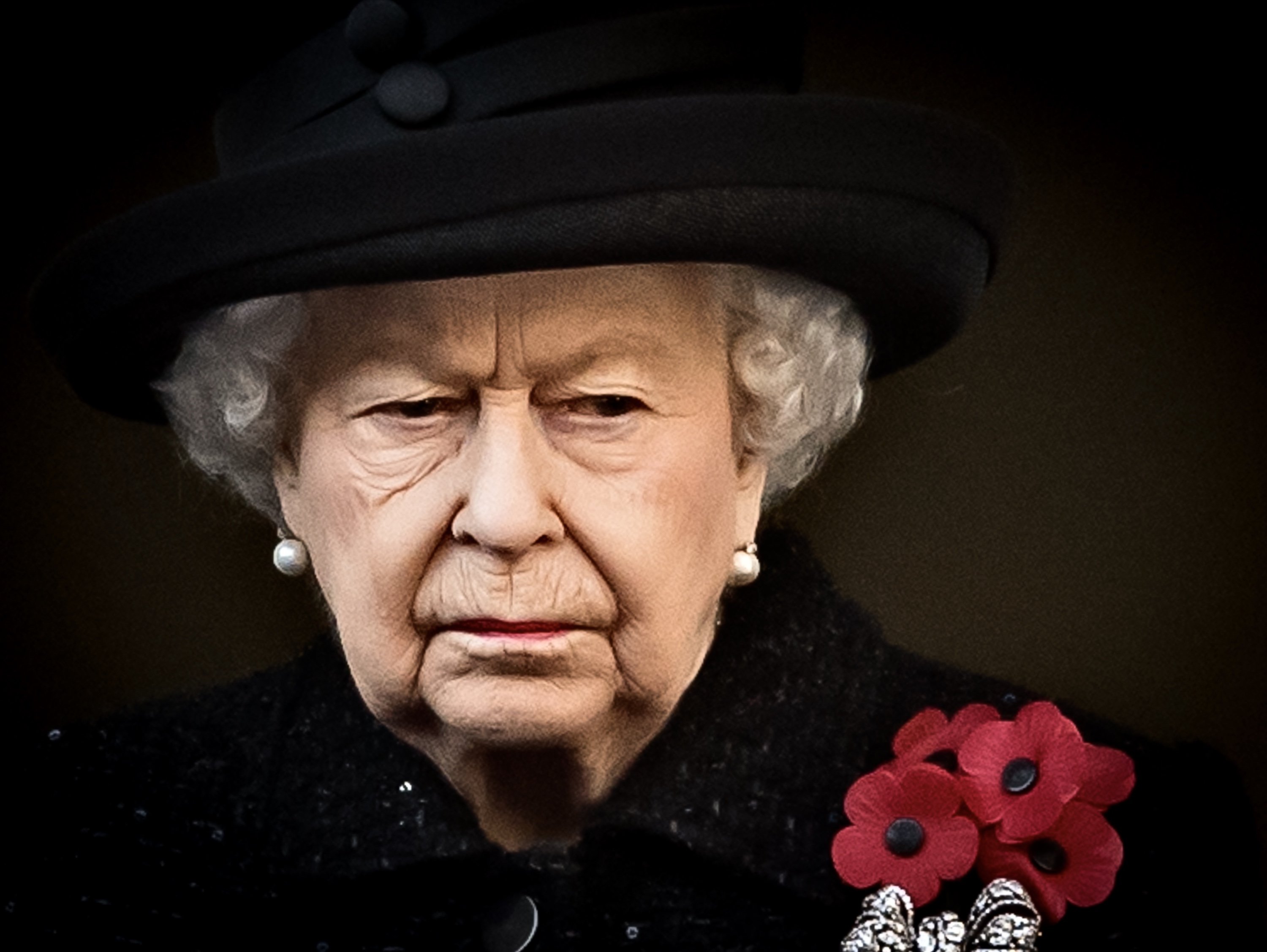 Queen Elizabeth II at the annual Remembrance Sunday memorial at The Cenotaph on November 10, 2019 in London, England. | Source: Getty Images
This brooch is composed of ruby, diamond, and sapphire and is designed like a flower. Like the one recently worn, it was a birthday gift from her parents, Geroge VI and Queen Elizabeth, when she turned 19.
Also, the Queen selected the times she styled her outfit with the brooch. She wore this rarely seen jewelry in 1949 in a portrait session at Buckingham Palace, where she was seen holding an infant Prince Charles.
Queen Elizabeth II and King George VI shared a tight bond. The King was never too busy to spend time with his family, and he always showered his eldest daughter with love and respect, compared to the men of his time.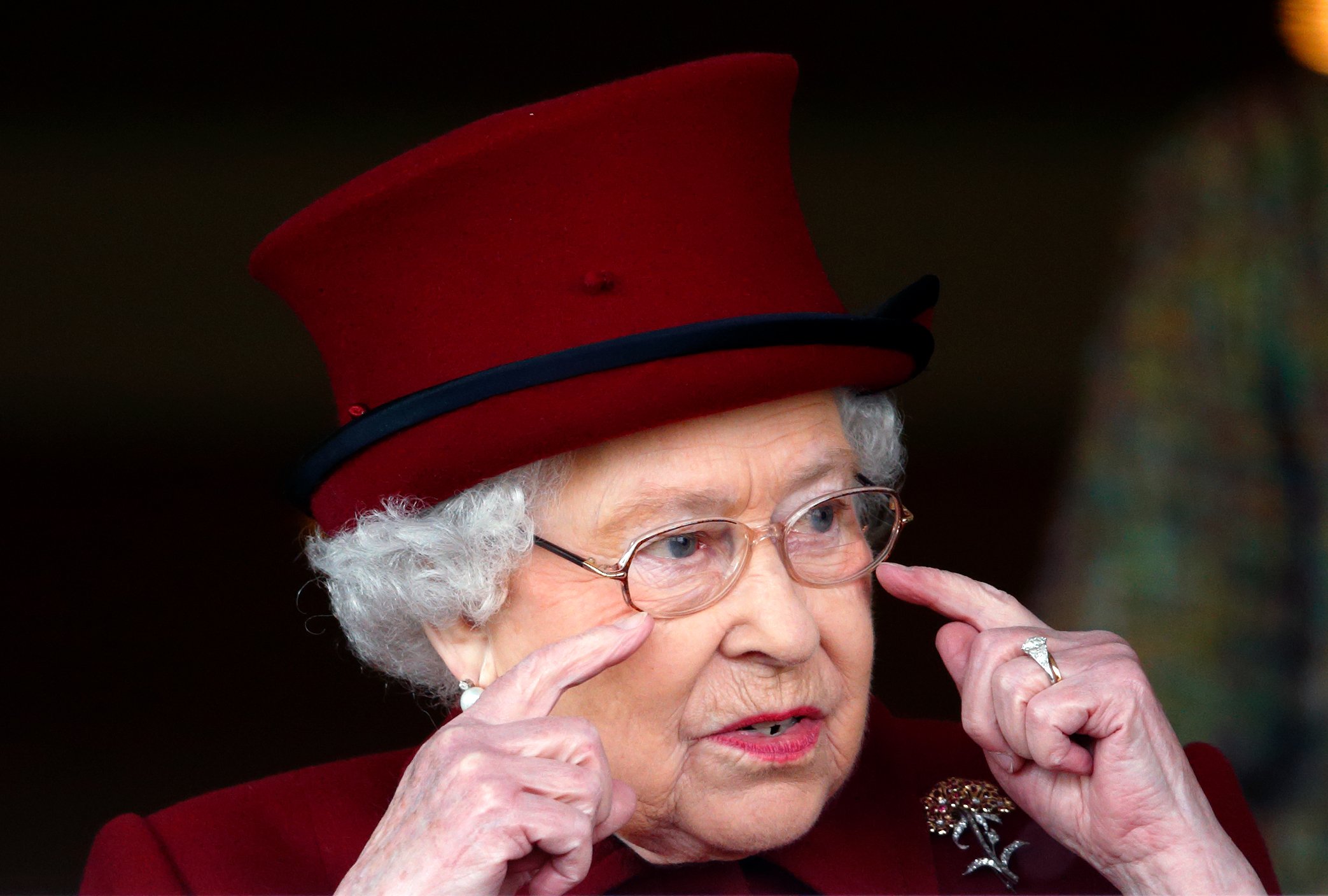 Queen Elizabeth II watches her horse Fiery Sunset run in the Whitley Stud Maiden Fillies' Stakes as she attends the Dubai Duty-Free Spring Trials Meeting at Newbury Racecourse on April 11, 2014, in Newbury, England. | Source: Getty Images
Consequently, the Queen was also fond of her dad; despite his death, she maintained the same emotions. When she ascended the throne, she refused to celebrate the anniversary of her first day as the crown.
Throughout her reign, the Queen made her devotion to her family known. Although she sometimes honored her father by incorporating his gifts into her outfit, she opted for a simple look on her last public engagement but still appeared bright.
The Queen's Final Royal Engagement
When the Queen ascended the throne, she pledged her service to the crown and the people. Truly, she kept to her word. She invested her time in attending to different national matters.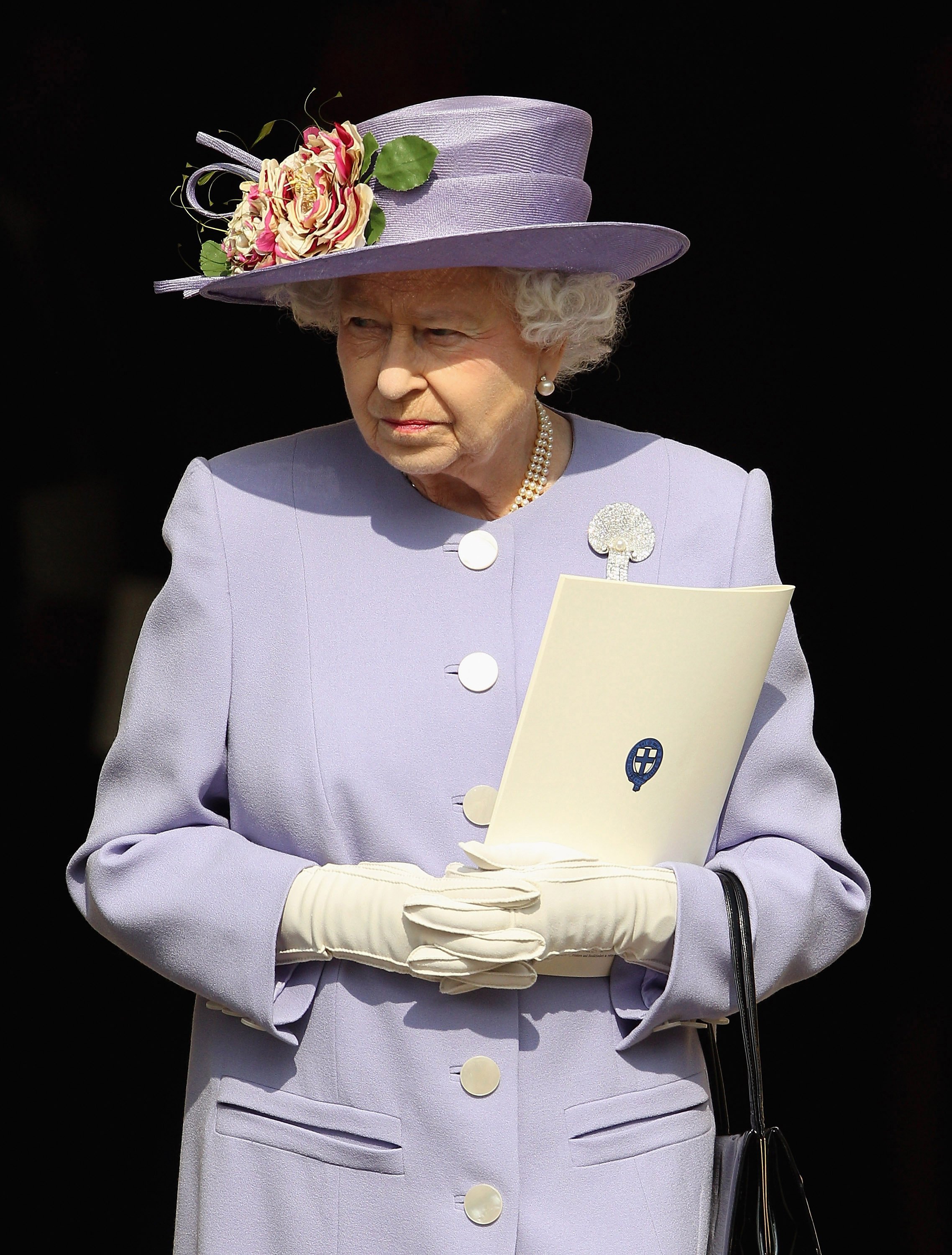 Britain's Queen Elizabeth II leaves a thanksgiving service in memory of the late Queen Mother and Princess Margaret at St George's Chapel in Windsor on March 30, 2012 | Source: Getty Images
Just two days before her demise, the Queen met with Liz Truss, who she was to appoint as the country's new Prime Minister.
For the occasion, she broke royal traditions by inviting audiences, Boris Johnson, his wife, and the incoming PM, to the Balmoral Castle rather than Buckingham Palace—this was because she could not travel to London.
For this official event, the Queen wore a collared shirt tucked in a chequered skirt with a grey coat (the same outfit described above). She also had her pearl necklace and earring on, and it was impossible to miss the infectious smile she framed her face with.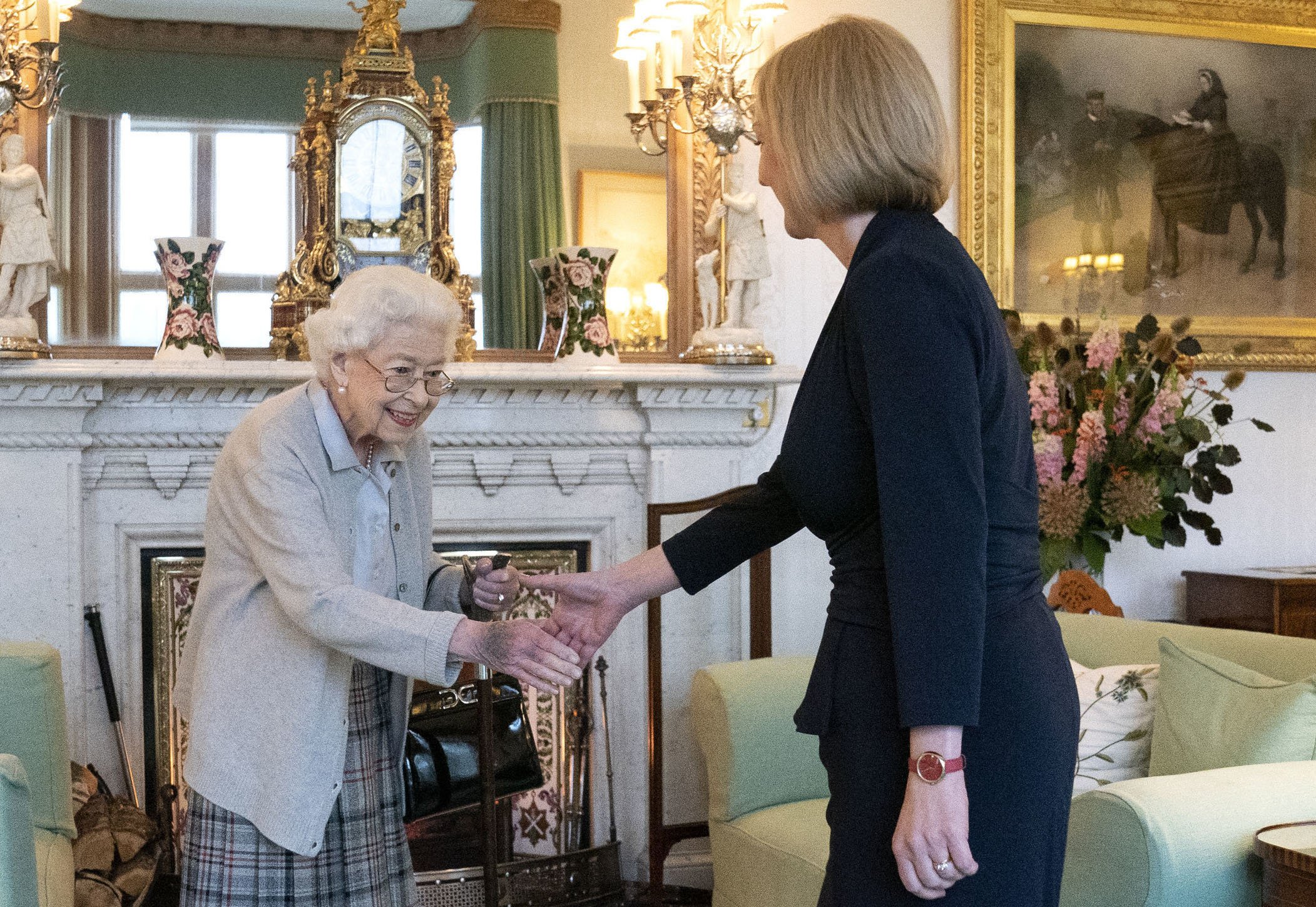 Queen Elizabeth greets newly elected leader of the Conservative party Liz Truss at Balmoral Castle on September 6, 2022 in Aberdeen, Scotland. | Source: Getty Images
The Queen was scheduled to go on with other official engagements, including an online privy council meeting the following day.
However, she was advised to rest as her doctors were concerned about her deteriorating health. Shortly after these engagements were canceled, the Queen took her last breath.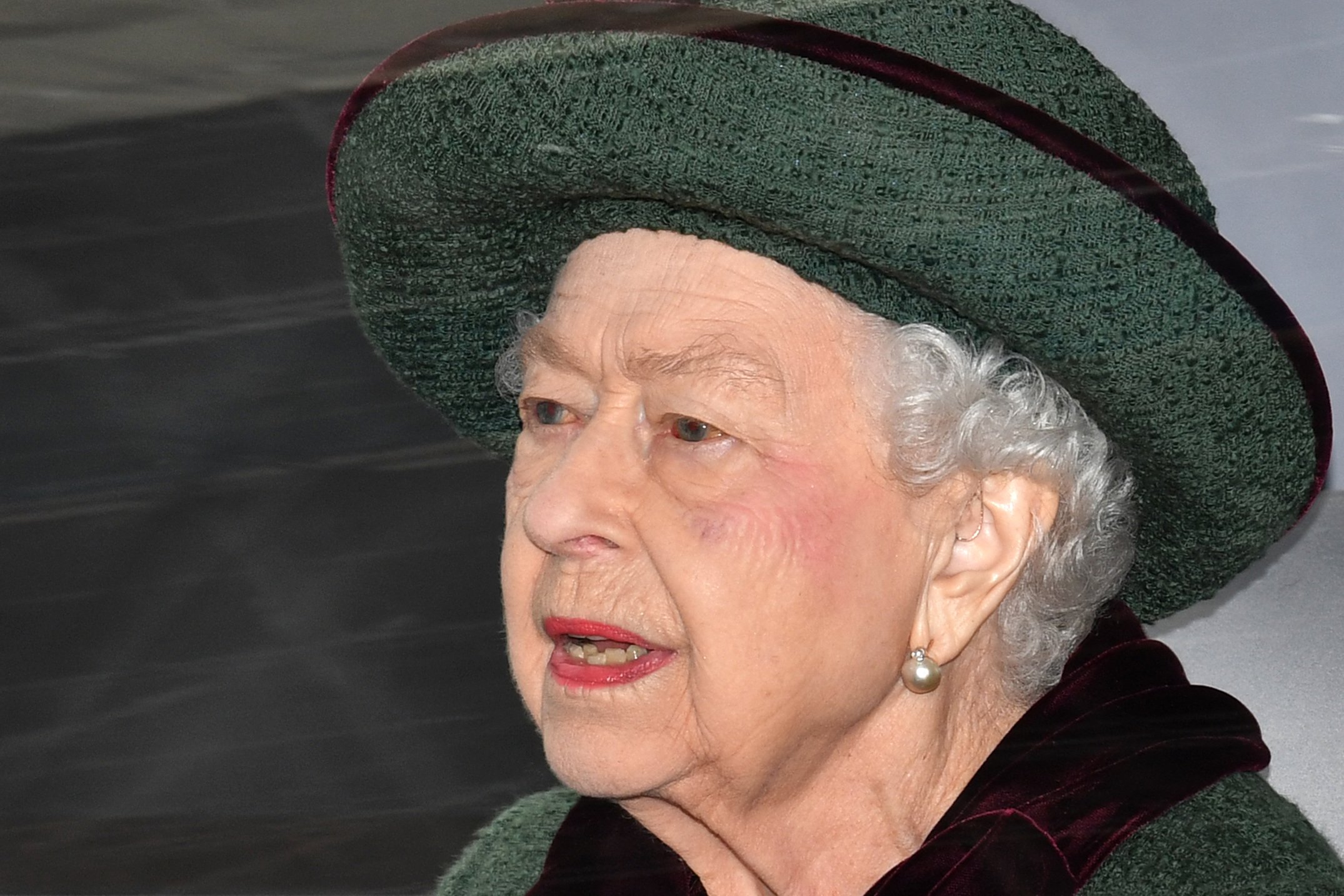 Britain's Queen Elizabeth II at a Service of Thanksgiving for Britain's Prince Philip, Duke of Edinburgh, at Westminster Abbey in central London on March 29, 2022 | Source: Getty Images
An insider noted that she "died peacefully at Balmoral". Indeed, the Queen readily gave her all to the crown.
She showed strength in managing the affairs of the state, the Commonwealth, and, most importantly, her love for family.
Please fill in your e-mail so we can share with you our top stories!