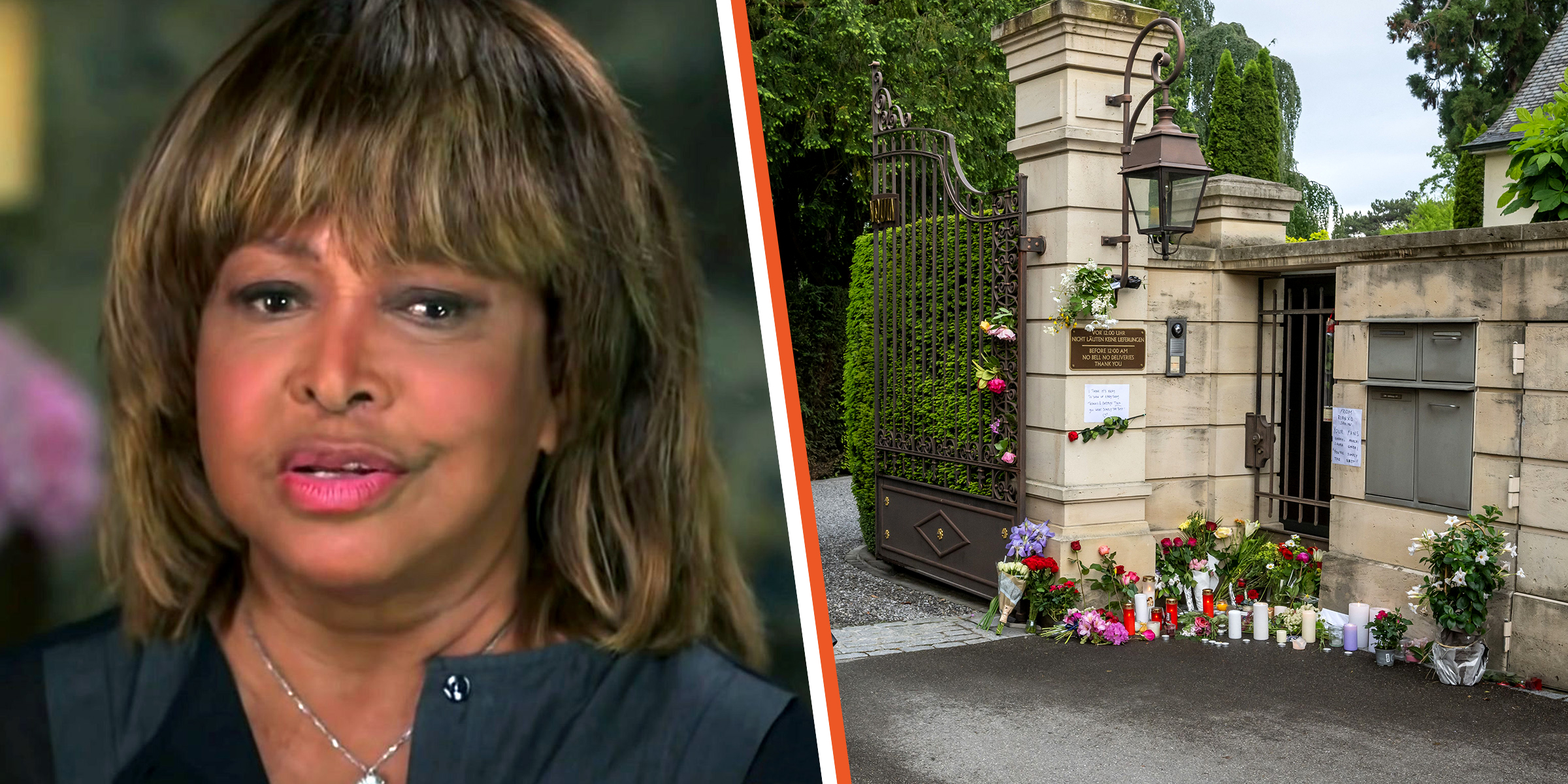 Tina Turner | One of her homes in Zürich, Switzerland | Source:YouTube.com/CBS Sunday Morning | Getty Images
Glimpse into Tina Turner's Light, Cozy Dream Home Where She Took Her Last Breath
Tina Turner, the legendary Queen of Rock 'n' Roll, passed away on May 24, 2023, at 83.
Before her passing and barring her health complications, the beautiful songstress lived a comfortable and cozy life in her fabulous Swiss mansion.
We take an exclusive look into her life inside the residence she spent her last moments in.
Tina Turner was arguably one of the most iconic artists in the world, with her music often transcending the barriers of generational age gaps. Reports stipulate that the beautiful songstress peacefully died in her home at 83 after a drawn-out battle with health complications.
Many people were and still are devastated after hearing the news about the star's death. Turner was celebrated worldwide by many adoring fans and several of her fellow celebrity friends.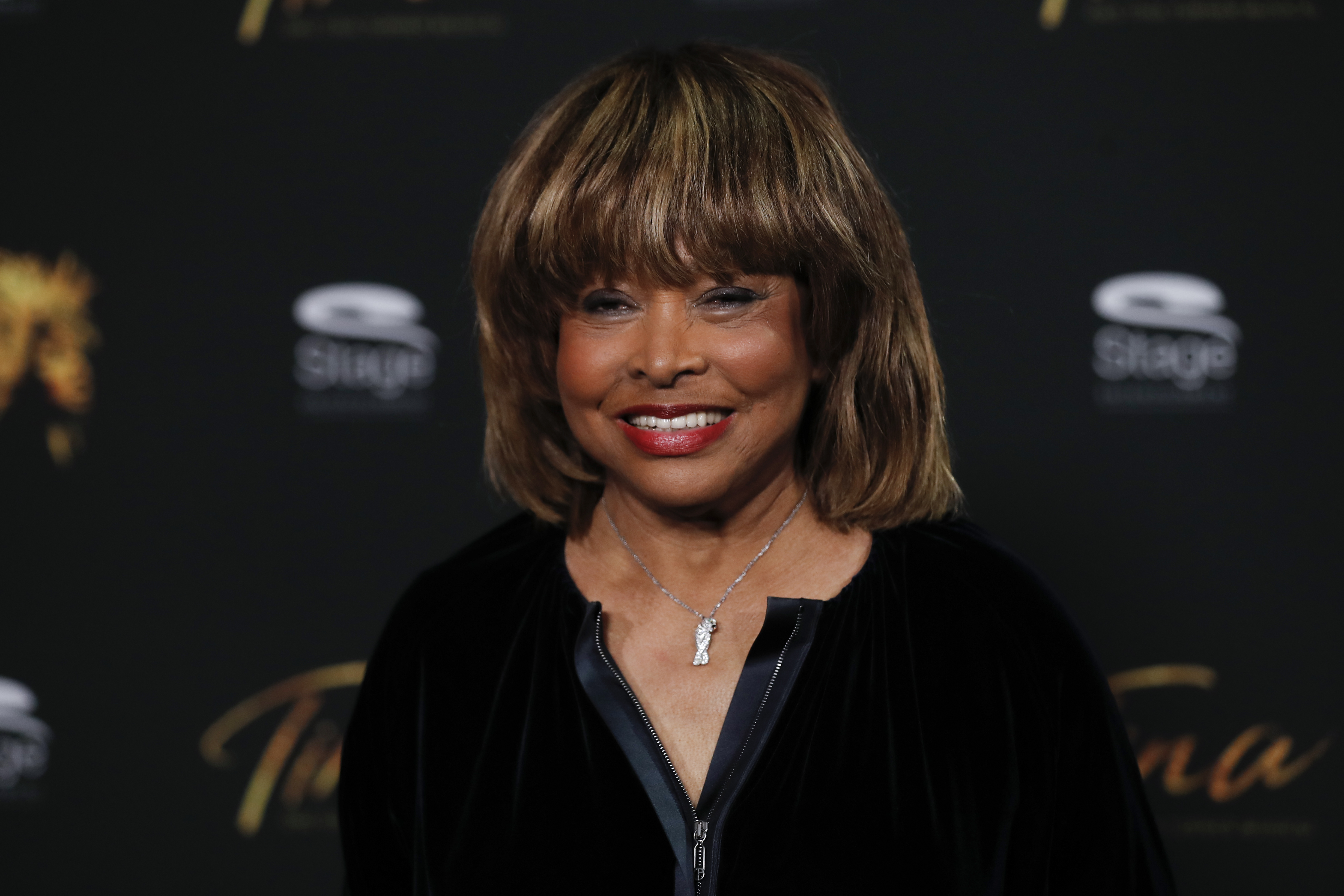 Tina Turner at the photo call for "Tina: Das Tina Turner Musical" in Hamburg, 2018 | Source: Getty Images
The "Proud Mary" singer was primarily known for her powerful, often raspy, throaty, voice filled with emotion. However, outside of her brilliant talents, she perhaps was more well-known for being subject to her infamously abusive relationship with her former husband, Ike Turner, which lasted years until she took her power back and went on to have one of the most successful careers in music history.
When news of her passing broke, social media was flooded with an overwhelming outpouring of loving tributes and condolences for the icon, who quite literally changed lives with her music. A statement from her team read:
"It is with great sadness that we announce the passing of Tina Turner. With her music and her boundless passion for life, she enchanted millions of fans around the world and inspired the stars of tomorrow. Today we say goodbye to a dear friend who leaves us all her greatest work: her music...Tina, we will miss you dearly."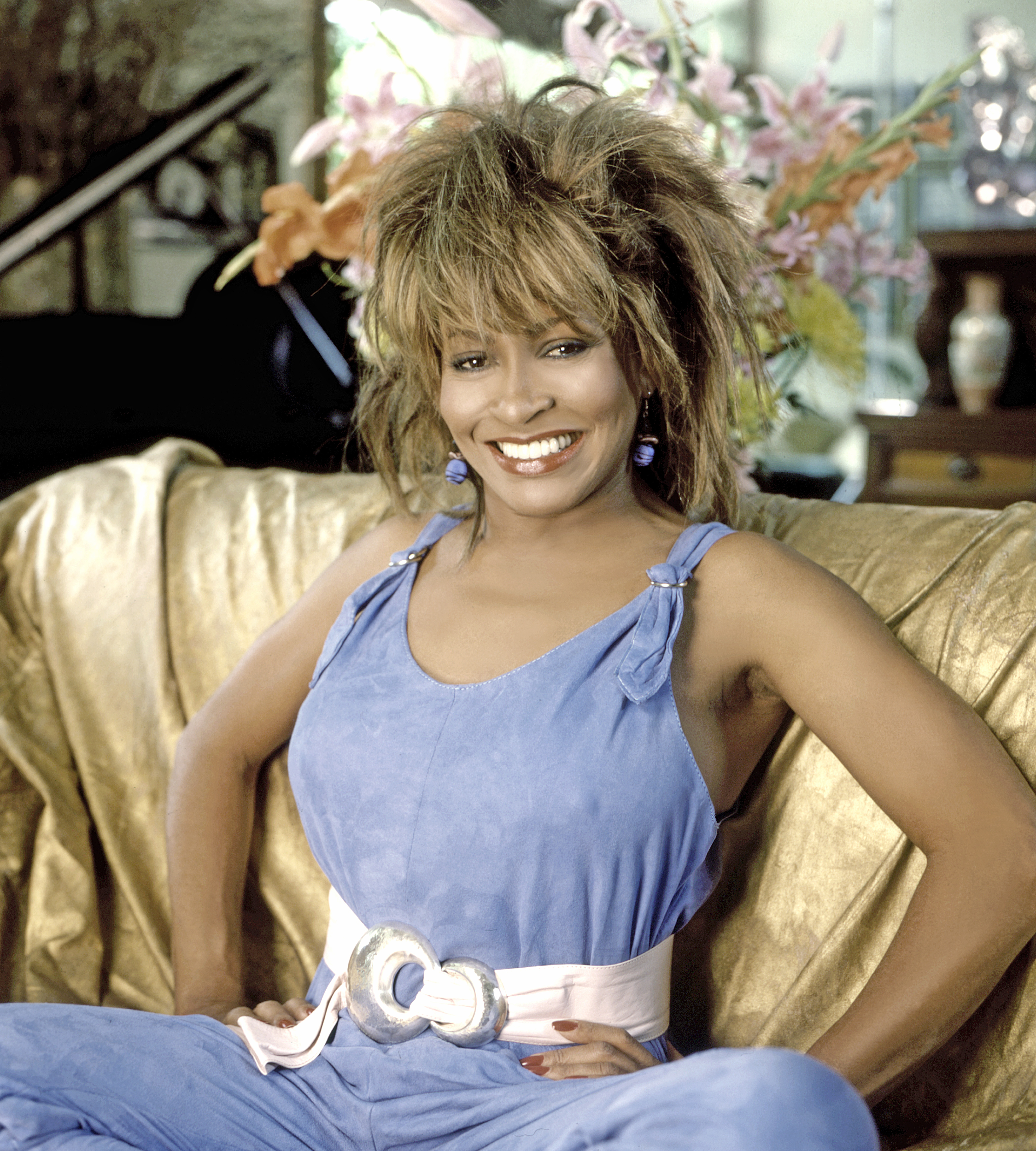 Tina Turner in a portrait session in Los Angeles, 1985 | Source: Getty Images
Turner had set up her base in Switzerland for many years, and when she passed, she was in her longtime home in Küsnacht. According to her spokesman:
"Tina Turner, the 'Queen of Rock 'n' Roll,' dies peacefully today at the age of 83 after a long illness in her home in Küsnacht near Zürich, Switzerland. With her, the world loses a music legend and a role model."
The House Where Tina Turner Lived and Died
Turner adored Switzerland, and when she retired after her tour in 2009, she married her boyfriend of several years, music producer Erwin Bach, at a registry office in Küsnacht—a suburb in Zürich where they lived. She found love with Bach after her tumultuous marriage to her ex-husband, whom she divorced in 1978.
Bach and Turner had lived together in Switzerland for over 20 years, and in 2013, Turner became a Swiss citizen. The couple wed in a Buddhist water ceremony that took place at their lakefront mansion. Iconic artist David Bowie and TV mogul Oprah Winfrey were some of the A-list stars in attendance.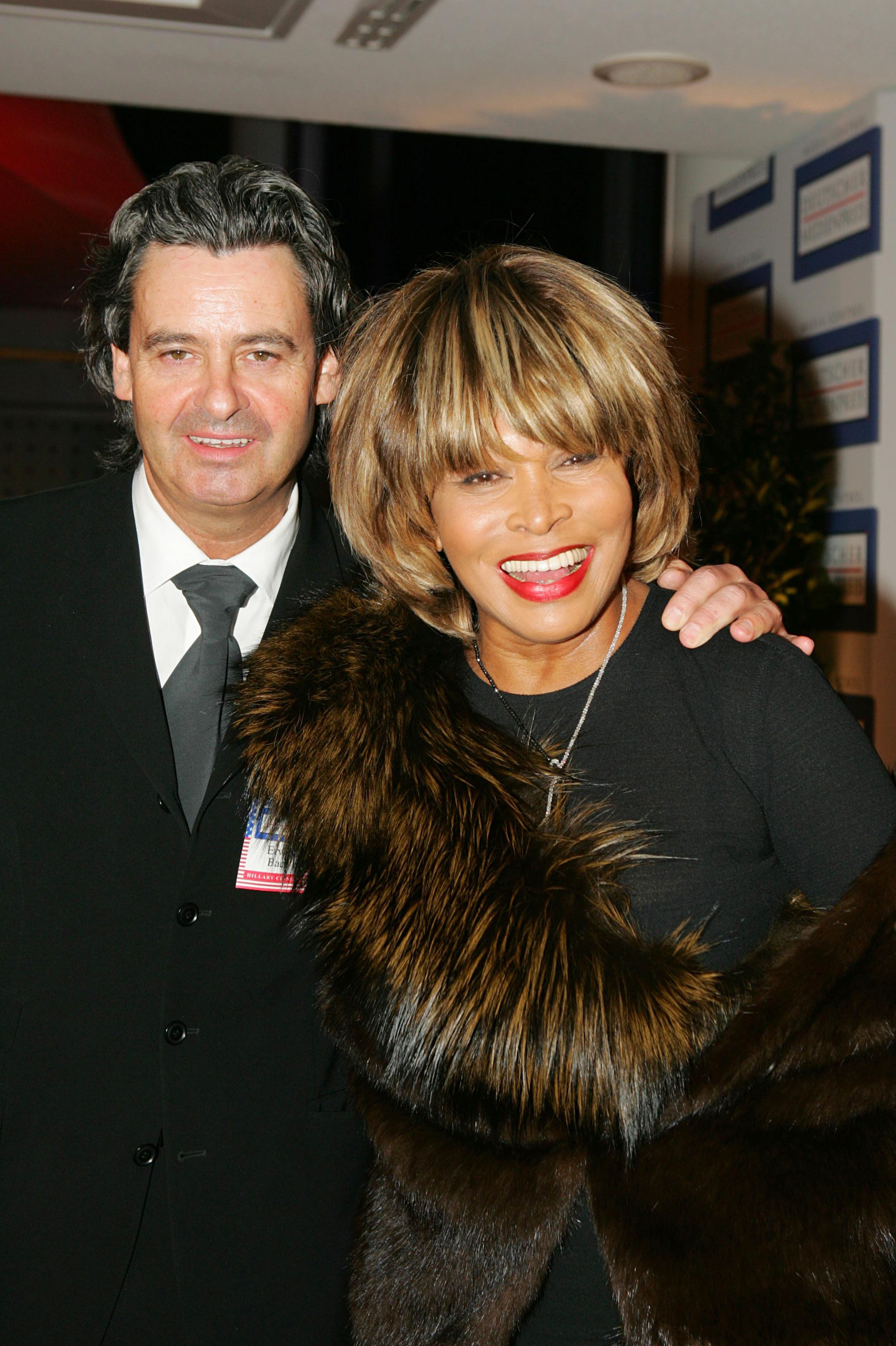 Erwin Bach and Tina Turner at the "Deutschen Medienpreis" event in 2005 | Source: Getty Images
Turner and Bach's luxurious Swiss abode, also known as Chateau Algonquin is a stunning mansion. Upon entering its gates, visitors are instantly met with a German sign that translates to:
"Do not even think about bothering Tina Turner before noon."
As reported by an interviewer who had the pleasure of visiting the legend's house for an interview, the mansion has a cartoon palace vibe to it. The residence boasts manicured shrubs, ivy snaking up the walls, and a life-sized two-legged horse sculpture suspending from a domed ceiling.
The home has a framed portrait of Turner posing as an Egyptian queen and a Louis XIV-styled room, to name a few features. It also has a magnificent, unobstructed view of Lake Zurich.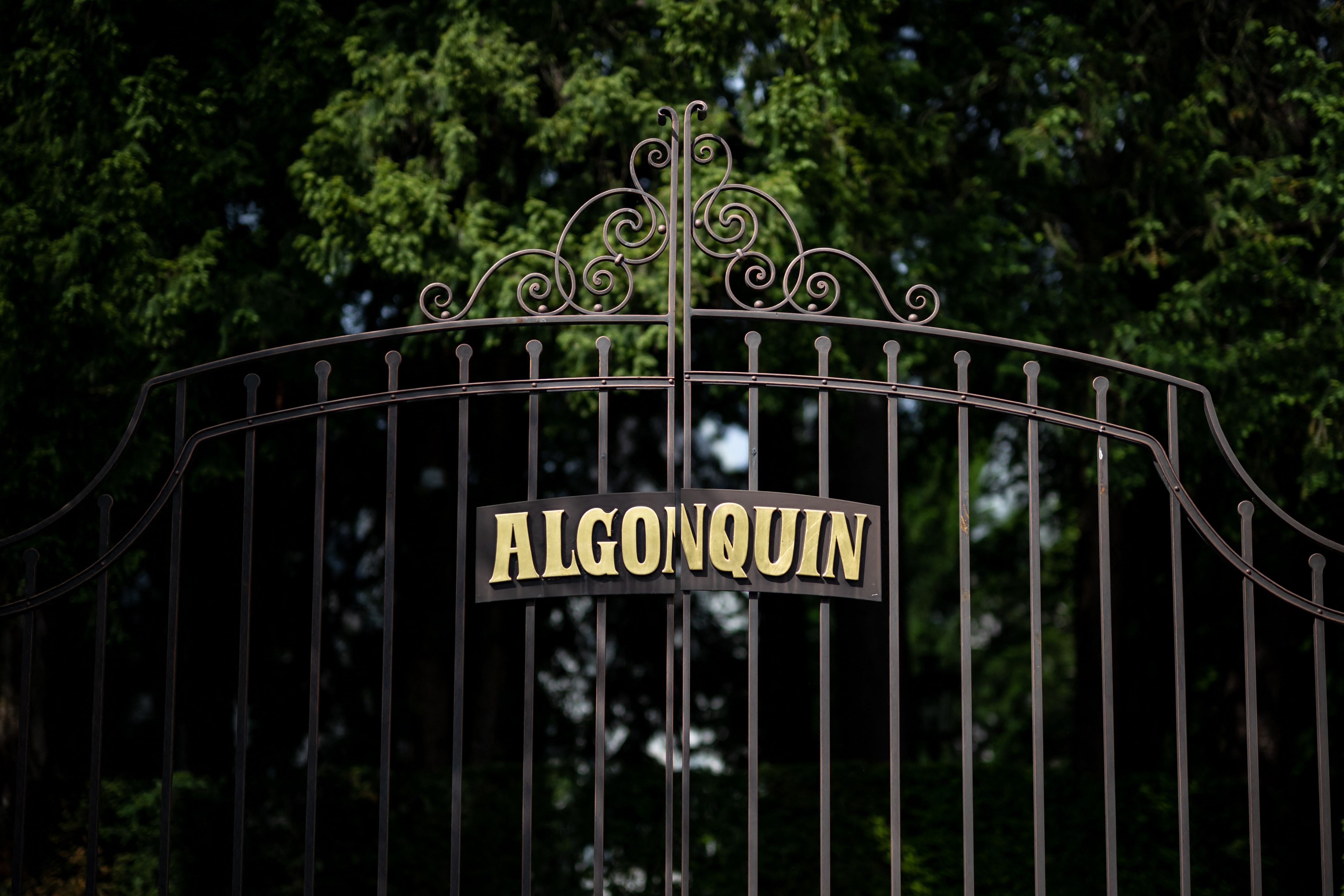 The gate of Chateau Algonquin, Turner's home in Switzerland | Source: Getty Images
The residence has been home to the couple since 1995. The move aligned with Turner's affinity for the Swiss people's enthusiasm for order after leading a chaotic, busy life. Though she is not German-speaking, Turner relied on her husband when interacting with the locals for translation purposes.
Their home is filled with an array of stunningly intricate and customized furniture pieces and ornaments, each telling its unique story. Everything was consciously added to the house, from the shattered fragments of amethyst surrounding the in-ground pool, framed photographs depicting sarcophagi of Egyptian royalty, of which Turner believes she was one in a past life, to the Columbian sword-wielding idol she picked up in the U.S.
The gorgeous estate that overlooks beautiful Lake Zürich was reportedly first viewed by tennis star Roger Federer before he settled on a home outside of the area.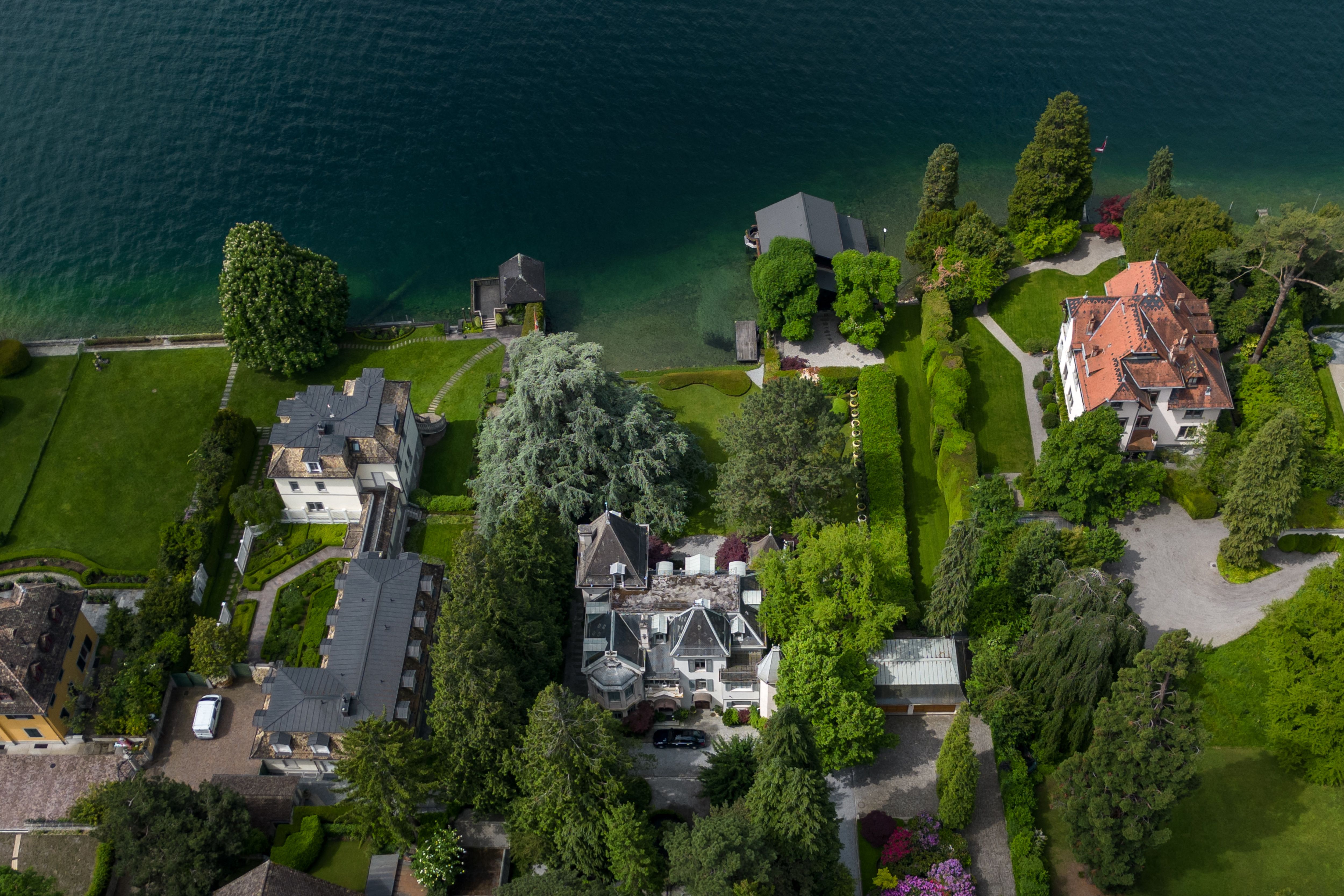 A birds-eye view of Chateau Algonquin in Switzerland | Source: Getty Images
Spacious, unique, personal, and ethereal, the lovely residence sits in complete juxtaposition to the home she shared with her ex-husband. While living with Ike, the songstress had virtually no space to call her own.
Every effort she made to embellish or add order to their home would aggravate Ike, who would immediately thwart it. He would always re-order things she had already changed into his "vulgar style."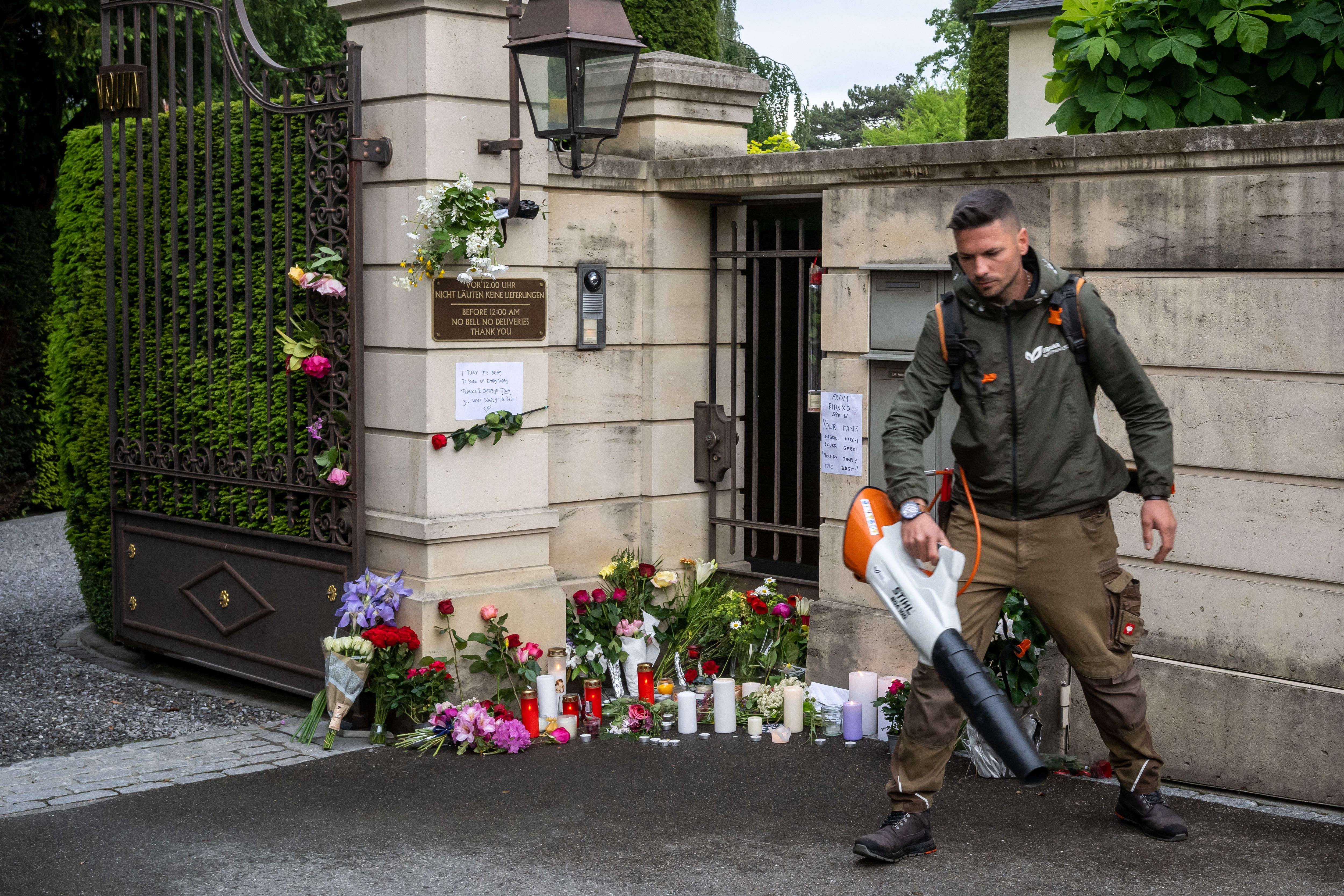 The front of Chateau Algonquin decorated with tribute memorabilia from fans, family, and friends in Switzerland | Source: Getty Images
In contrast, Chateau Algonquin gave Turner the complete freedom she so longed for all her life. During her final years, she reveled in the fact that she could have total control over her physical surroundings.
What's interesting is that Turner did not, in fact, own the mansion, and her landlord—a man named Kaspar, lived in the attic of the house and tended to her boathouse. Before her tragic passing, Turner looked forward to decorating this boathouse in a unique way only she knew how to do.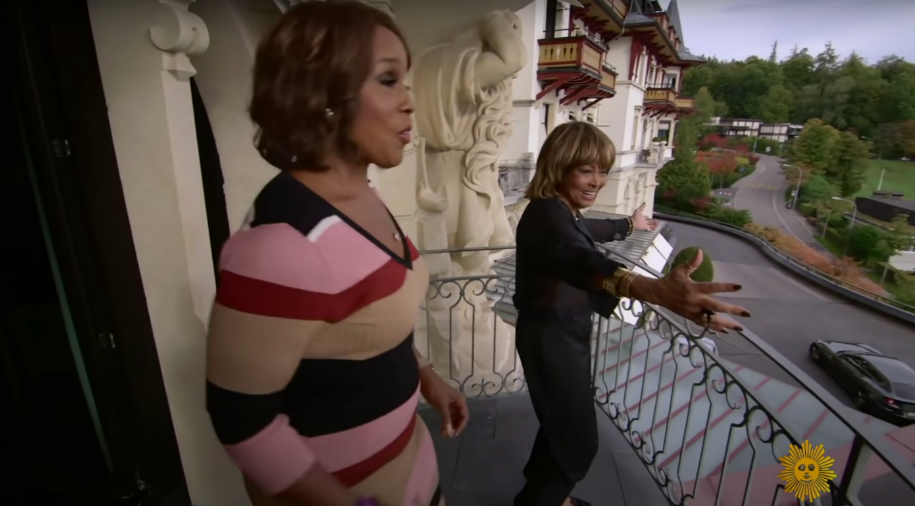 A screenshot of Gayle King being shown around Tina Turner's estate posted on YouTube on June 30, 2019 | Source: YouTube.com/CBS Sunday Morning
As mentioned previously, Turner and Bach got married at Chateau Algonquin. During an interview with Winfrey, Turner described how one of her favorite wedding day memories was looking out of one of the grand main windows of the house and watching as guests entered. The idea came from her husband, Bach, and Turner recalled:
"So I stood in the window, and I had it open just enough, and you could see my face reacting to certain people...Those ladies' dresses were beautiful."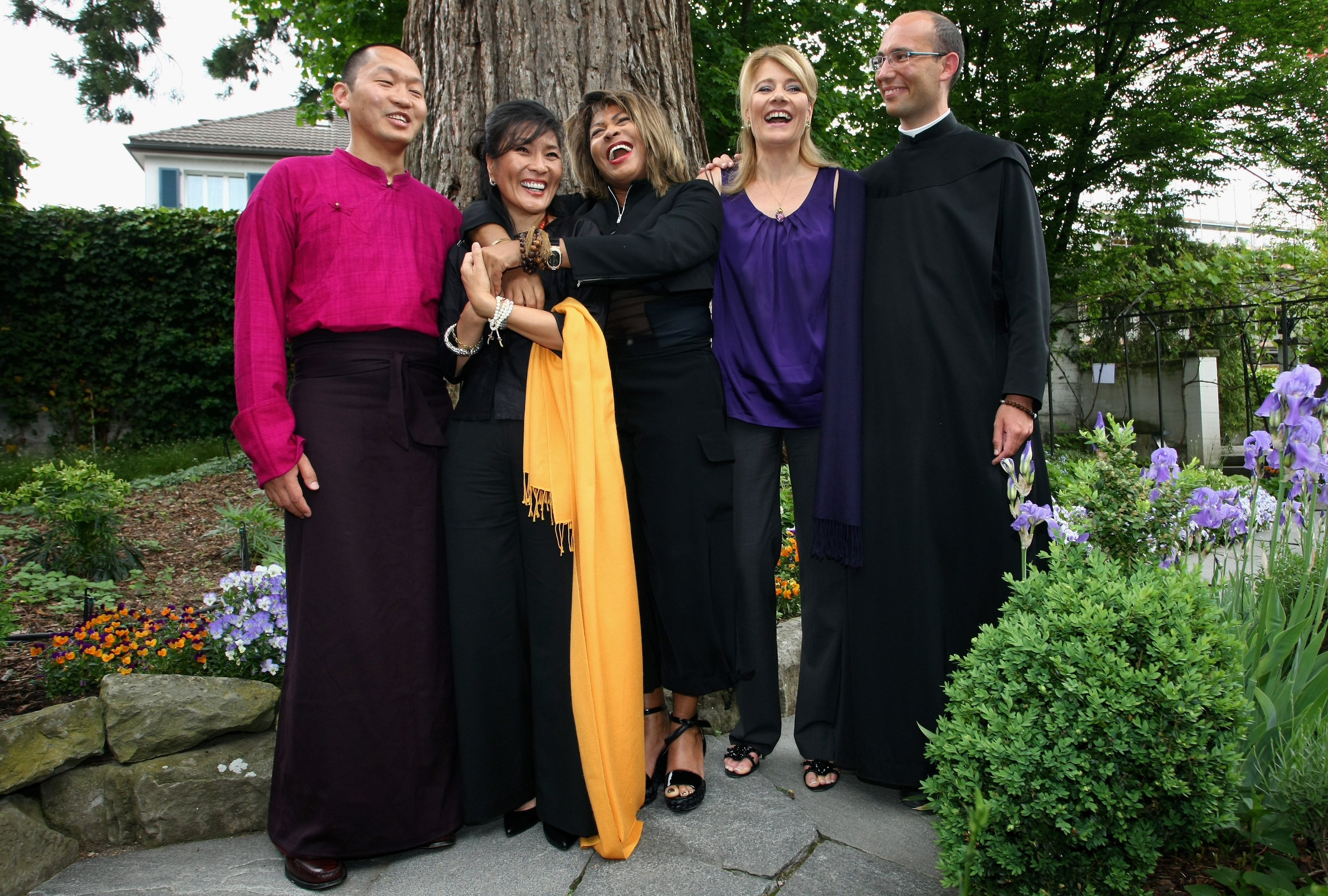 Buddhist Loten Dahortsang, vocalist Dechen Shak-Dagsay, Tina Turner, vocalist Regula Curti and monk Jean Sebastien Cheriere posing for a picture at the "Beyond - Three Voices For Peace" music presentation in Zürich, 2009 | Source: Getty Images
Tina Turner Also Had a Second Home in Switzerland
Though the residence in Küsnacht was the primary home of the legend and her husband, the couple had acquired a second property in Zürich. About three years ago, Turner and Bach decided to purchase another Swiss property— a ten-building waterfront estate for an astounding $76 million.
The gorgeous estate that overlooks beautiful Lake Zürich was reportedly first viewed by tennis star Roger Federer before he settled on a home outside of the area. After acquiring the sprawling property, the duo made it their vacation home.
With 24,000 square meters, the incredible residence has a pond, a stream, a swimming pool, and a boat dock. According to Bach, the purchase was made s the logical next step after the pair acquired their Swiss nationality permits, stating:
"[We] feel very comfortable in Switzerland."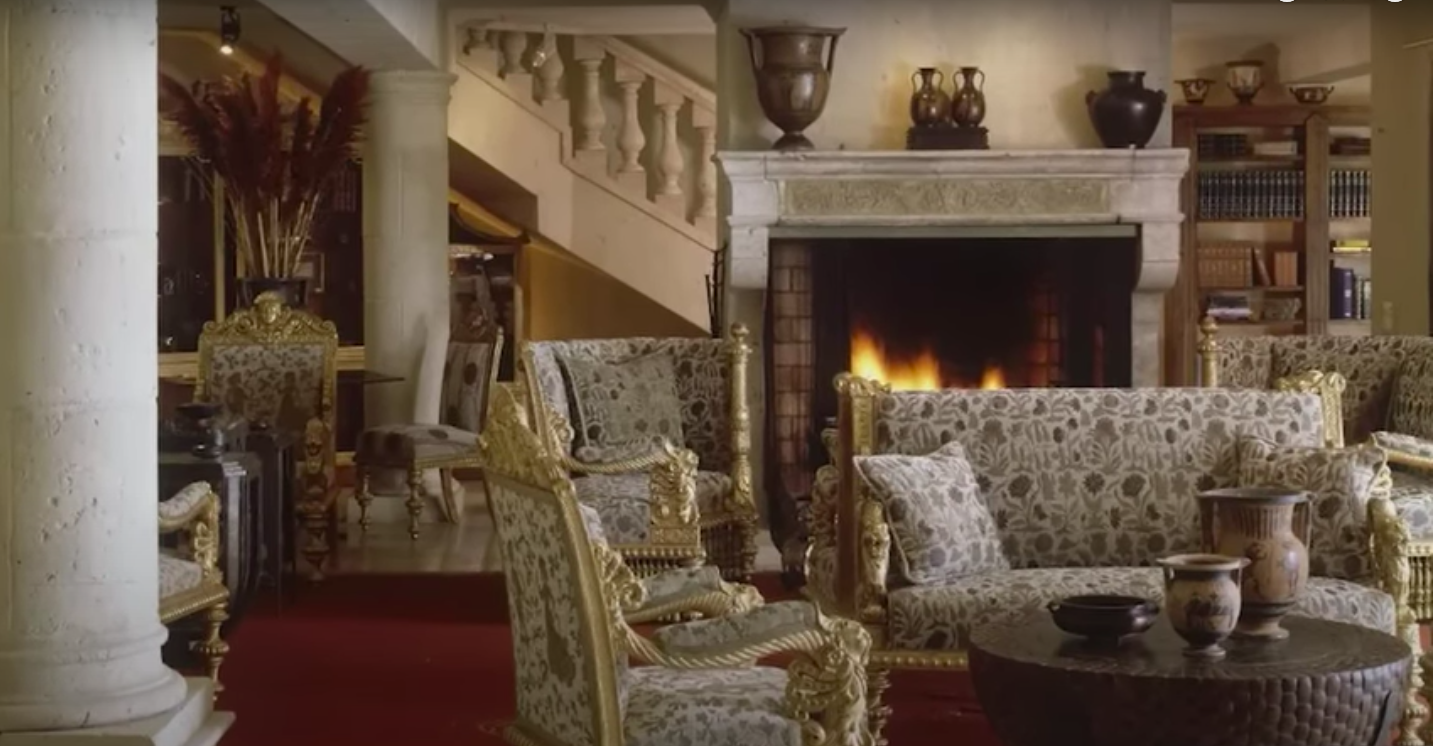 A screenshot of a room inside Turner's mansion posted on YouTube on July 3, 2022 | Source: YouTube.com/Famous Estates
Turner is deeply missed by fans across the globe who have been inspired and empowered by her incredible songs and voice. Though she may be gone physically, her legacy lives on across many generations.
Please fill in your e-mail so we can share with you our top stories!
The information in this article is not intended or implied to be a substitute for professional medical advice, diagnosis or treatment. All content, including text, and images contained on news.AmoMama.com, or available through news.AmoMama.com is for general information purposes only. news.AmoMama.com does not take responsibility for any action taken as a result of reading this article. Before undertaking any course of treatment please consult with your healthcare provider.