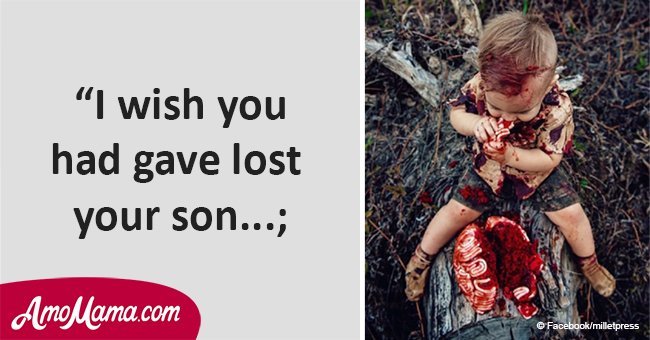 Mom received wave of backlash over son's photo. Then reveals the heartbreaking secret behind it

Social media users lambasted a mother over a photo of her little son eating a zombie-themed cake.
Australian mother, Amy Louise, received harsh criticisms following the controversial photo shoot with her son, Phoenix, as reported by Bored Panda.
Online critics said the little boy doesn't deserve such a 'disgusting,' 'morbid', and 'offensive' experience.
Responding to the criticisms, Amy Louise revealed a heartbreaking story behind the photoshoot.
She admitted that she expected negative comments, but didn't realize that such an amount of hate would be directed at her. She was called names.
"I got told I was a bad mother, that I was going to damage his mental health, that I would make him sick eating that cake off the dirt," she told the Daily Mail.
One woman even told her on social media that she wish she had have lost her son.
Amy Louise said that little Phoenix almost didn't make it when she gave birth to him. He was born without a heartbeat.
When doctors took him out of her body, she didn't hear a cry from her baby. Her heart sank.
She said it was such a whirlwind of emotion from the time the doctors told her that her placenta had detached and there was no heartbeat from the baby, to the time they cut him out.
But the baby fought for his life. On October 31, on Halloween, he was brought back to life.
It was the longest 13 minutes of her life, Amy Louise said.
"What better than a zombie-themed cake smash for the tiny baby boy who was pronounced dead and then miraculously came to life on Halloween," she said.
According to a Washington Post report, Australia has one of highest infant mortality rates among 27 wealthy countries. The country has a rate of 4.1 infant deaths per 1,000 live births.
Please fill in your e-mail so we can share with you our top stories!