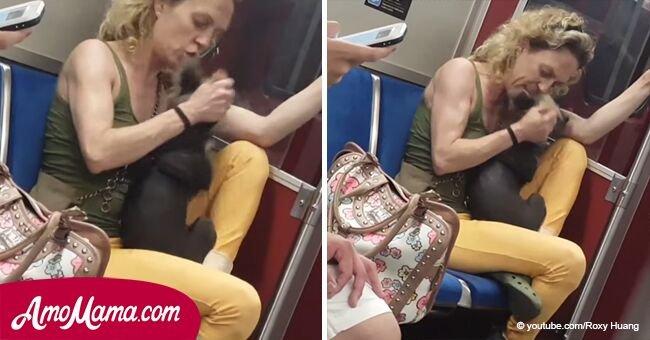 Drug addict woman beats and bites her dog in the subway. Then the man gave her a lesson
While most dog owners are passionate about their animal's safety, some people just seem like they don't like the pets they own.
This is obviously the case with this Toronto woman, who was seen physically abusing her dog on a subway while getting disproval looks from every passenger.
In a three-minute video that already went viral, the dog can be seen sitting on the woman's lap when she violently grabs it by the hair.
According to Newsner, she yelled at the dog several times while hitting it and her slaps were perfectly audible due to the force applied.
After everyone in the subway train was horrified by her actions, a man stepped up and tried to save the dog, trying to talk her into a more sane attitude.
It's not clear what she was telling the dog to stop as she was biting its head to then pull hair out of her mouth after clamping her teeth down in a horrible spectacle.
Roxy Huang, a woman who says she witnessed the abuse on a Toronto Transit Commission subway posted the video on her Youtube page.
'This trash non-stop hits her dog bites and pulled its hair,' she captioned.
Although the dog tried to escape her multiple times and cried when it was dragged back by its leash, she hit it more times.
One passenger couldn't take it anymore and went directly to her, asking her to stop. "You've got to stop hitting your dog," he said.
The woman appeared confused at first, asking "Pardon?" several times before getting angry. "Who are you?" she asked the man. "What the ---- are you talking about?"
Immediately after, other passengers complained about the abuse, but she ignored them and started complaining about the fact that the man was standing too close to her.
As she was feeling the disproval from everyone, the woman took her dog and escaped the subway while other TTC staff complained to her.
While some people suggested the woman suffers from some sort of mental health issue, the majority of people on social media are furious.
They're now asking Huang to send the video to the Ontario Society for the Prevention of Cruelty to Animals or Toronto Animal Services in order to catch her and take that dog away from her.
Please fill in your e-mail so we can share with you our top stories!