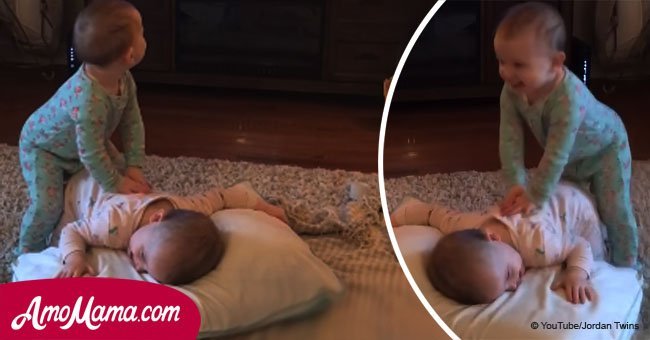 Twins are supposed to be watching movie. Mom sees what's really going on and grabs a camera

This mother decided to catch her twins in the act.
She played the movie, Frozen, and then left the room. The twins didn't know that their mother was secretly recording them using her smartphone, as reported by Shareably.
In the video, they are seen watching the movie and later they began to move around.
The twins have watched Frozen before and it seemed that they were bored with it.
Then, the sister lays down on a pillow, while her brother comes up behind her. He starts giving her a backrub.
The twins continued to play on the floor as they watched the movie. It became clear that they were acting out every scene from Frozen.
They even started mimicking the characters, Anna and Elsa, according to Shareably.
Because these babies have seen the movie many times, they already know what scene is coming out. The little boy uses his hands to make a snowball at one point.
They were putting on a play of Frozen as their mother recorded them with her mobile phone. If the twins could only talk, they probably be singing Let It Go as well.
Touched by how smart and creative her baby twins were being, the mother decided to share the video with the world. As expected, the video has gone viral.
According to Shareably, maybe the twins have a shot at the entertainment industry someday. But for now, they seem contented acting out the movie in their own home.
They don't even know that many people around the world have watched them already. A lot of YouTubers also commented on the twins' video that was posted by YouTuber, Jordan Twins.
'Make sure you start saving for college now because you got 2 smart kids,' YouTuber, kristopher masterson, wrote.
YouTuber, LongEclipse, added that he's looking forward to seeing the twins on the Ellen Show.
'This is the cutest thing I have ever seen,' Youtuber, Lily J, commented.
Please fill in your e-mail so we can share with you our top stories!