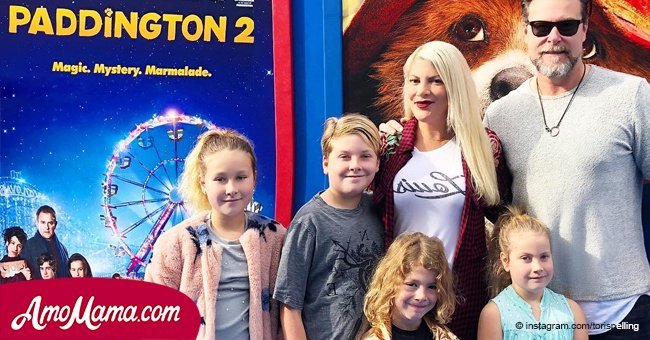 More trouble struck Tori Spelling as she struggles through the 'breakdown' scandal

The 44-year-old actress and television personality, Tori Spelling, has a lot on her plate these days. A 911 call was placed after she had a breakdown at her home.
The 911 call was made on March 4, 2018, when the local authorities received an anonymous call. This follows after rumors that her marriage with Dean McDermott is over.
As reported by Entertainment Daily, the couple tried to make it work, but 'things just aren't going well.' The couple visited a therapist but to no avail.
They tried to 'create a healthy environment' for their five children - Liam Aaron, Stella Doreen, Hattie Margaret, Finn Davey and Beau Dean.
They met in July 2005, one year after Spelling married her first husband, Charlie Shanian. Dean McDermott was also still married to his wife, actress Mary Jo Eustace.
The couple started their affair on the night they met, and walked down the aisle on May 7, 2006, less than a month after Spelling divorced Shanian.
A source told reporters that Spelling takes issue with McDermott not helping with the upbringing of their children. He is taking take off for himself, instead of helping her.
The insider added that McDermott is walking on eggshells. He is scared if he raises his voice or gets upset, Tori would be able to misconstrue it to the authorities.
Spelling is also worried that her husband will cheat on her again, and her 'anxiety goes through the roof' if she doesn't know where he is at all times.
During a 2014 episode of her docu-drama, True Tori, McDermott admitted to cheating on her. Spelling has threatened to leave him before, and McDermott is worried she might leave with the children.
While he doesn't want to see his wife arrested, he made it clear that he is 'serious about watching her behavior and the children' and would do what is necessary to ensure their safety.
Please fill in your e-mail so we can share with you our top stories!