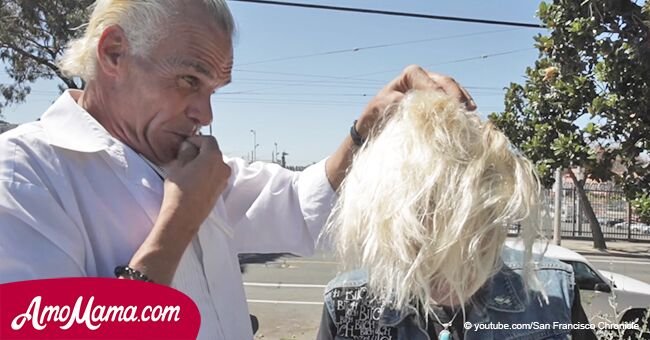 Man cuts hair of poor woman living in the street. But look at her face minutes later
While being homeless is something that most people wouldn't choose as a lifestyle, some homeless people really want to help and support their communities.
That's exactly what J.C. Pearson is doing, as he is currently homeless in San Francisco but has something he is passionate about to enjoy life to its fullest.
He's a talented hairdresser who lives on the streets of San Francisco with his little dog, Lucky, and has been cutting and styling hair for the homeless for some years.
According to Newsner, in this video, which went viral some time ago, he uses all his talent to beautify this homeless woman.
Everything seems quite normal for him, as he was a professional hairdresser for several years, but the reaction of this lady is priceless.
The hairdresser picked out a bottle of hair tamer from his black Ralph Lauren purse and ran it through her hair before smoothing the edges with a comb.
Pearson started living on the street after losing his business several years ago and he's been since volunteering at the hospitality house.
"Why do I cut their hair? Because I think that if you look better and you feel better about yourself, it gives you more confidence to approach the situations or the tests you're gonna be put through," he explained.
The 51-year-old stylist said he owned a successful salon for many years but in his 30s, a series of deaths in his family and his health condition forced him to the streets.
He explained that he had a heart attack, no insurance, and all of his savings invested in his salon. "My heart attack cost me my house, my salon. Literally, within one month I was so broke," he said.
He explained that he helps to build the confidence of may homeless people in his community, claiming that they're neglected everytime they apply for any job.
Though he admitted his personal lack of motivation, claiming that he isn't even trying to "get back on his feet," he always encourages his peers on the streets and at Martin de Porres Hospitality House.
Please fill in your e-mail so we can share with you our top stories!