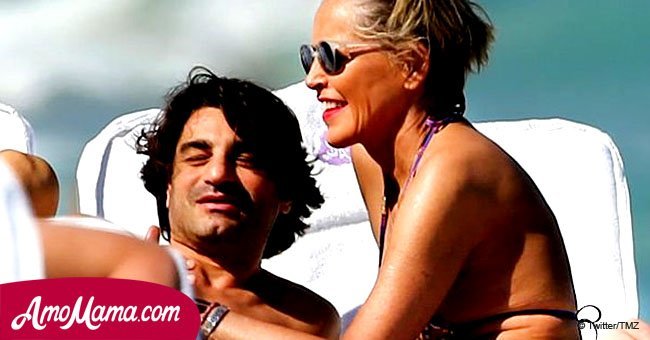 Sharon Stone, 60, caught with a mysterious man, exposing fit curves in a revealing bikini
The 60-year-old star was spotted in Miami with a young mystery man.
Sharon Stone was seen wearing a racy bikini top coupled with striped pants while she was walking around the shores of Miami on March 9, 2018.
She recently turned 60 and she had been celebrating for the entire previous week. Even though she reached a major milestone, age-wise, the star still manages to remain youthful and vibrant, as suggested by Inquisitr.
Stone was spotted getting cozy on the beach together with her mystery man. Her entire ensemble consisted of a headband, which pulled back her short hair, a pair of sunglasses, red lipstick, and various necklaces and bracelets.
Another jewelry item that caught the attention of onlookers was the diamond ring on her left finger.
Stone has been seen with the same mystery man since January 2018. TMZ noted that what seems to be Stone's boyfriend is much younger than her.
People are speculating that perhaps the star is engaged following the spotted diamond ring. Grazia magazine held an interview with the star and she was asked if she was in a relationship. Stone refused to answer but she said she tries not to indulge herself in a romance except if it is an "actual partnership."
Stone had been married twice. Her first marriage was with TV producer Michael Greenburg and the second one was with newspaper executive Phil Bronstein. In 2012, she was also in a relationship with Argentinean model Martin Mica but they ended things a year later.
As for her children, Total Recall revealed that she had adopted three sons, Roan, 17, Laird, 12, and Quinn, 11.
It is evident that despite her age, Stone still keeps her body looking fit and healthy. She revealed that she does Pilates and circuit training to stay in shape.
Also, she only eats healthy foods and refrains from processed food, sugar, caffeine, and alcohol.
Please fill in your e-mail so we can share with you our top stories!