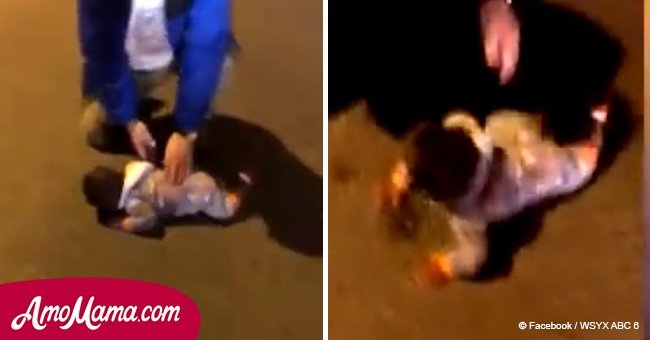 Mom arrested after 9-month-old baby was found lying in the middle of the road

The heart-wrenching video of a small baby boy abandoned in the middle of a busy road in upstate New York was seen by 2.2 million people. The police used it for the investigation.
A nine-month-old baby boy was found and rescued by strangers who saw him lying in the middle of the road and crying in Utica, upstate New York. A video of the incident was posted on Facebook and it rapidly went viral.
According to Inside Edition, a bystander recorded a video of the baby floundering on his stomach all by himself until eventually, a stranger enters the frame to pick up the distressed child.
Seconds before the footage ends a woman who is reportedly the mother of the baby shows up screaming for her son among a small crowd that had assembled around the place where he was found.
'That's my baby! Oh my god!' the woman can be heard yelling in the recording. The bystanders had already called 911 when the woman who claimed to be his mother appeared at the scene and left.
It was only after the video was reported to the authorities that a proper investigation was opened. Finally, a few hours after the incident, the mother was identified as 27-year-old Ledrika E. Ford and arrested on charges of child endangerment.
The Utica Police Department took the baby to a local hospital to be sure that he had not suffered major injuries or damage during the incident. They called Child Protective Services to take part in the case.
The police department also thanked the bystanders who found the infant and helped keep him safe. If it weren't for them and their actions, including the video they shot, the woman might have never be brought to justice.
'The Utica Police Department would like to thank the citizens in the video who attended to the child showing their caring and compassionate spirit of the City of Utica,' reads on the department's Facebook page.
As the authorities have reported, Ford told them that she had secured her baby in the back seat of the vehicle they were in and when she looked back shortly after, the infant was gone. When she noticed it, she ran back to the place where she found him.
After Oneida County Child Protective Services paid a visit to Ford's home the day after the incident, on March 10, her other three children, ages one, two, and five, were taken away from her, as Daily Mail reported.
Please fill in your e-mail so we can share with you our top stories!