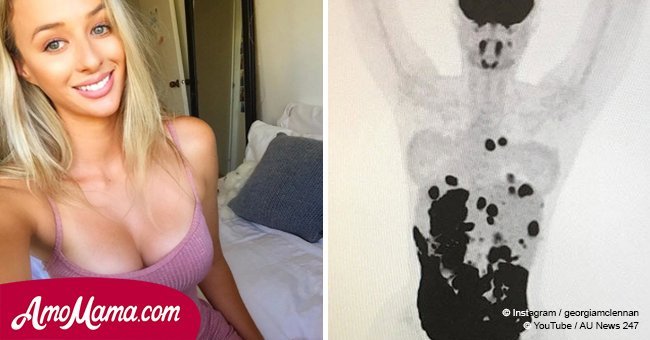 Smiling and healthy woman felt stabbing chest pain, receives shocking scan
A 24-year-old went through the worst case of cancer, but her story of a fightback in really inspiring.
Georgia McLennan suffered an agonizing pain in her chest in 2017, which led to the diagnosis of a worst case of cancer that had spread inside her body, 9 News reported.
Initially, The nursing student from Broadbeach on the Gold Coast made multiple trips to local GPs and suffered three months of continuous aches, and it only left doctors confused about what was wrong with her.
Finally, the pain increased so much that she started visiting the doctors twice every week. She had even started questioning if the pain was only in her head.
But then a doctor finally suggested that she might have tumors on her spleen and liver. It was after she underwent a PET scan that it was revealed just how bad her condition was.
Radiologists were shocked to find that McLennan, whose body had swollen so much that she looked pregnant, had cancer spread out all over her body, including every organ in her abdomen.
"I was just in shock, very shocking I couldn't believe it could happen to me," the source quoted McLennan as stating.
Later, a diagnosis revealed that she had Burkitt Lymphoma, an aggressive form of cancer that caused rapidly enlarging tumors in a person's chest or abdomen.
This kind of cancer usually spreads throughout the central nervous system including the brain and spine, the source suggested.
The medical experts were still in shock about this discovery because they could not believe how healthy McLennan looked despite the worst case of cancer has spread internally.
She then underwent an aggressive three-month course of daily chemotherapy and 10 sets of weekly spinal injections to fight the horrible disease, 9 News reported. The 24-year-old nursing student is now in 'remission' and is even inspiring others with her comeback.
She now aims to become an oncology nurse and help others through her story and her medicinal practice.
Please fill in your e-mail so we can share with you our top stories!