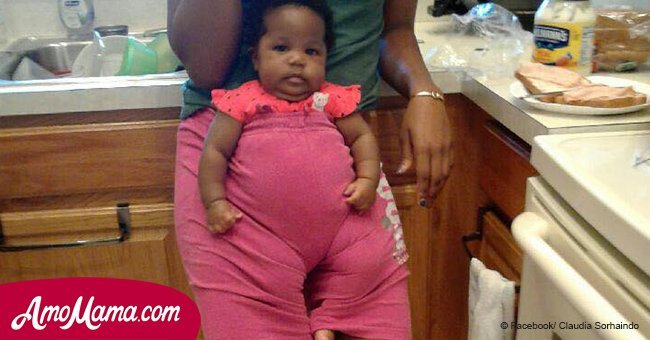 Mom left a little baby with babysitter. Later nanny sent her a really weird photo
A teenager comes up with a creative idea while babysitting her aunt's baby.
When new mother, Claudia Sorhaindo, asked her niece to babysit her daughter, little did she know her niece would take the job this seriously.
Good Fullness reported that being a new mother and leaving the baby with someone else can be very stressful.
There has been news describing incompetent, negligent, and even abusive babysitters.
One woman's teenage niece, however, proved that her first priority is to keep her eyes on the child in her care. She also went adopted strange and hilarious methods to achieve her goal.
Sorhaindo asked her 15-year-old niece, J'ann, to watch her two-month-old baby. The teen was very serious about her job.
She was so serious that when she wanted to make herself a sandwich, she came up with a creative solution for holding baby Ava while keeping her hands free at the same time.
The proud teenager sent her aunt some photos. Sorhaindo was so amused that she immediately took to Facebook to post the photos.
Explaining her situation she said she wanted to step out of the house for a quick minute, hence she asked her niece to babysit her daughter, Ava.
A few minutes later she received a text from J'Ann saying she wanted to make a sandwich but did not want to let the young one out of her sight and came up with a 'creative' solution. The teenager has the baby in the front of her shorts, while her younger sister snapped the photos.
She said she shared the photos because she made her day and wanted to make her friends and family laugh. But she was shocked when the images went viral.
Sorhaindo lives in Lakeland, Florida, and is part of a large family. Many of her relatives live within walking distance of herself.
J'Ann is one of 17 grandchildren and is experienced with looking after her younger cousins. Hence Sorhaindo uses her as a babysitter.
Please fill in your e-mail so we can share with you our top stories!