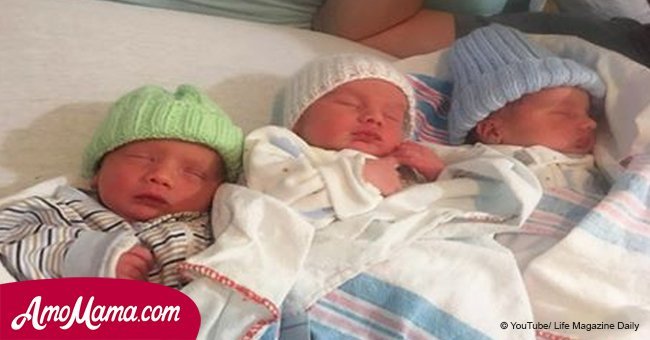 Mom struggle to handle triplets after birth. Several days later, 3 strangers 'knock on her door'

The three grandmothers that came to her rescue was no less than angels for the mother of three.
As reported by Faith Tap, 25-year-old Hayley Arsenault from Canada, who gave birth to triplets, found it difficult to manage three children at once and took to social media to express her struggles and ask for help.
When she gave birth to Hogan, Rylan and Finn, she did not anticipate how difficult it would be to take care of them on a daily basis. Her days were very busy and she could not find enough time even to take a short nap.
Initially, her mother took some time off her work to help Arsenault raise her triplets. Eventually, she had to return to work and when that day came, Arsenault started to panic.
She posted her woes on social media which caught the attention of three grandmothers who rushed to help the young mother. The three women were sisters Alice Mokler, Jenny MacDougall and Anita Arsenault.
They were residents of the same locality as Arsenault at Tignish on Prince Edward Island, which has a population of only 800.
MacDougall was reported saying that she was aware of the tough work involved in raising one baby. When she heard that Arsenault had three, she could imagine how exhausting it could be.
The three grandmothers helped Arsenault by bringing food, lending a hand with the mundane chores and taking care of the three babies when Arsenault was taking a nap.
The grandmothers admitted that they enjoyed every moment of taking care of the triplets. Every woman has assigned one baby to take care of and they enjoy their time as they can bond as siblings.
The biological grandparents of Arsenault's triplets, Billy and Wendy, also joined the three grandmothers to help out with taking care of the boys.
The 25-year-old said that she is very grateful for the three grandmothers and thanks them every time she wakes up from her nap.
Please fill in your e-mail so we can share with you our top stories!