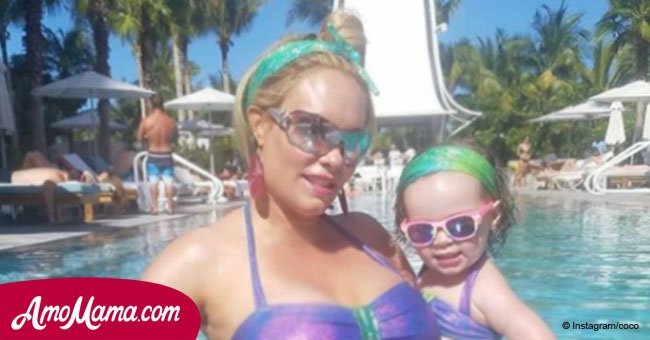 Ice-T's wife Coco Austin shows a creepy video of 2-year-old daughter swimming with sharks
The famous TV personality took to social media to post one of the highlights of her vacation. But not everyone seemed pleased by it.
TV Star Coco Austin took to social media to share a short clip of her swimming with the sharks along with her 2-year-old daughter, Chanel Nicole Marrow, during their vacation trip to the Bahamas
According to Bet, they even posted an adorable photo in swimsuits during their vacation trip. But the cute snapshots quickly turned into shocking clips of Austin allowing her young daughter to swim with the typically dangerous creatures.
Austin captioned the clip and revealed that swimming with the sharks was one of the highlights of her trip to the Bahamas. She also explained that the sharks were friendly and acted 'like dogs.
She further wrote that the 'rush of doing something crazy' was half the fun so she brought along Chanel with her as well.
The source revealed that some social media users also criticized the 38-year-old mother for her parenting skill. They doubted if swimming with the sharks was safe for the young baby and called the entire incident 'crazy.'
Meanwhile, Austin's partner and Chanel's father, Ice-T, was seen missing from all the photos and videos of the excursion that she posted. Several fans questioned the star's absence, although Austin did explain it in her caption by stating that 'Ice didn't make it in the water...'
Besides the surprising video, the mother-daughter duo also took time to take several cute snapshots around the luxurious locations of Bahamas.
One of the photos revealed the cute pair striking a pose for the camera amid the blue water and palm trees of the lovely Bahamas. Austin and Chanel both donned swimsuits and the little girl even managed to imitate her mother in putting her hands on the hip as if giving a pose.
Austin captioned the adorable photo as: 'Striking more poses on our 3rd day in the Bahamas! Chanel went rockin our mermaid suits...'
Please fill in your e-mail so we can share with you our top stories!