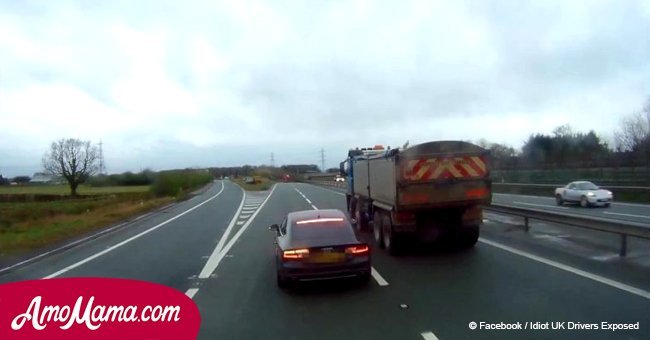 Police released footage that shows near miss between undertaking road rage driver and lorry

From time to time, people see that other drivers do pretty dangerous things on the road but, since they didn't record the situation, they cannot do anything.
Something similar happened at the M56 near Chester, England, when the driver of an Audi A7, Harvey Schofield, undertook a Lorry and hit the brakes right in front of it, something that might have caused a critical accident.
According to NTD, the driver of the truck managed to react quickly and hit his brakes even faster to avoid the accident. It was all recorded by the dash camera of a nearby vehicle. The owner decided to send the footage to the police.
Even though the incident took place on March 30, 2017, Schofield's sentence was determined on February 22, 2018.
After being found guilty of dangerous driving at Chester Magistrates' Court, he will have to spend 12 weeks in prison.
Apart from that, he got his license suspended for a year, was ordered to carry out 200 hours of unpaid work, was fined £620 ($862), and ordered to take an extended driving test.
The truck driver, who has been driving Lorries for more than 45 years, pointed out that if he hadn't braked so quickly, the story would have been different. He added that he thought Schofield was crazy.
It was later revealed that Schofield, of Stockport, Greater Manchester, was a field engineer whose record was completely clean. Everybody, including himself, labeled the incident as his '23 seconds of stupidity.'
The Cheshire police department revealed that it was the first time a motorist was prosecuted thanks to a video recorded by a dash camera.
David Keane, police and crime commissioner for Cheshire, encouraged other people who have recorded similar footage to take it to police stations in order to reduce the number of serious accidents.
'It is one of the innovative solutions police can use to prosecute those who are driving dangerously to ensure their actions don't lead to serious injury or loss of life in the future.'
David Keane, NTD, March 3, 2018.
Please fill in your e-mail so we can share with you our top stories!