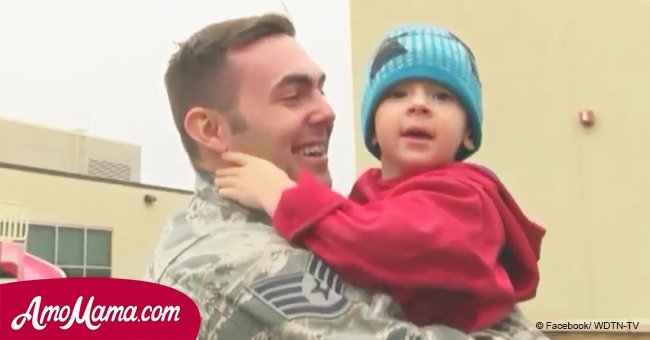 Military dad surprises son at school. Then baby exclaimed "You came back!"

The little boy's words will help everyone to understand how difficult a soldier's deployment is on the family.
As reported by Good Inside Us, Gabe Kohn was reunited with his family after he has been deployed for about 8 months in South Korea on February 5, 2017.
He decided to surprise his 3-year-old son, Michael Kohn, at school. When Micheal saw him, he said enthusiastically, "You came back!" Those 3 words broke the father's heart.
Gabe Kohn serves in the U.S. Air Force 8th Fighter Wing. He left his wife, Frankie Kohn, and two children for this deployment.
The soldier has missed many big milestones, including his daughter's first birthday. Though it's hard, he had to accept the fact that it's a part of his job.
Gabe returned home after months of being gone. He then decided to surprise his son, Micheal, with his homecoming. He went to his young boy's school.
Gabe walked up to his son and called his name while his back was turned. The little boy immediately stopped what he was doing and turned around as he recognized his father's voice.
Micheal was stunned for a moment. He got to see his real-life hero for the first time since he left. The little boy raced over and jumped into his father's arms. "You came back!" he yelled.
According to Good Inside Us, those words were both precious and heartbreaking for Gabe. He could feel his son's happiness during that time, but it broke his heart knowing that Micheal spent every day wondering if he would ever see his father again.
Frankie said that Micheal has not left her husband's side since he has been home. "Michael is very attached to his daddy since being back," she added.
Gabe made the most of his time with his family before he returned to South Korea in early November 2017, Good Inside Us reported.
Please fill in your e-mail so we can share with you our top stories!