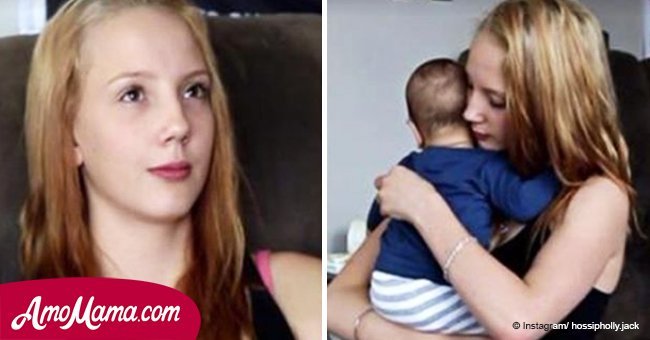 Terminally ill 17-year-old girl has made the ultimate sacrifice for her newborn son!
Although most teenage mothers are thinking about how life ahead of them is drastically going to change, this one doesn't have that luxury.
According to Kid Spot, 17-year-old Rhianna Truman decided to pause cancer treatment while pregnant with her son, and she now has to face the consequences.
This New Zealand mother was recently told that her days are now limited after she refused treatment to help slow her disease.
Her son, Daeshaun, will always know that his mother did everything in her power to protect him, even risking her own life.
This teenage mother was diagnosed with adamantinoma, an extremely rare bone cancer which was found in her leg, in 2012.
After she underwent an operation to remove the bone in her leg, and a metal rod was put in its place, she thought she was clear from cancer.
Unfortunately, in 2015 she was told cancer had moved into her lungs and as it was such a rare form of it, there was little chance of finding a cure.
Although most teenagers would have freaked out given her circumstances, she wasn't willing to let go of her child, feeling that it was sort of a mission for her.
"When I found out I was pregnant, I was like, 'this is my reason, this is my chance to make something good out of my life, and be a proud mother, and for him to eventually be proud of me'," she said.
After discovering her pregnancy in 2016, she was offered a type of treatment which may have helped slow down the disease with the cost of putting her unborn son at risk, but she refused it.
Her doctor told her to make and complete a bucket list while she still has the chance to create happy memories with her son. She made a fundraising page to accomplish this.
"I have recently been told that finding a cure for my cancer is like 'finding a needle in a haystack' and because of this I need your help not just for me but to leave lasting memories for my baby boy," she wrote.
Please fill in your e-mail so we can share with you our top stories!