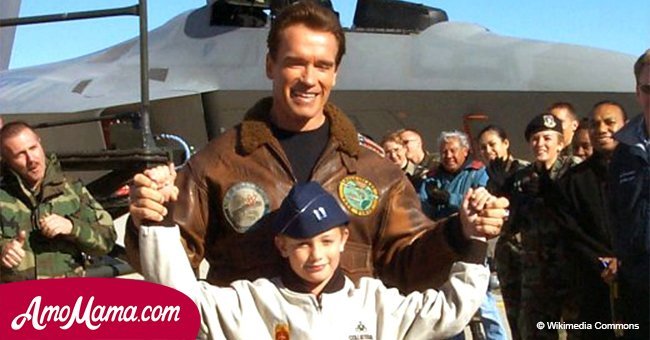 Arnold Schwarzenegger's son isn't a child anymore. Now he's a 24-year-old handsome actor

For those who would like to become a celebrity, being the child of one – or two – is quite helpful. They need to work hard so the people can always remember them, though.
That's the case of Patrick Schwarzenegger, the son of Arnold Schwarzenegger and Maria Shriver. For some people, who immediately recognize him only by reading his last name, he is just the son of a star.
Patrick has done his best to become the star. ET Online reported that he and most members of his family were present at the Arclight Cinemas in Hollywood on March 15, 2018, to honor him in his first major role as an actor.
He will be the heartthrob in the upcoming romantic drama titled Midnight Sun, which will be released on March 23, 2018. In it, he got the chance to work with important people, including Bella Thorne.
Speaking about her son, Shriver admitted to feeling accomplished by the fact that he was happy and excited. The 24-year-old actor's two sisters Christina and Katherine Schwarzenegger, were also with him.
After confessing that she was very proud of him, Katherine revealed that she considers her brother is a man now, 'an adult.' Despite the fact Arnold was in Australia and couldn't make it to the red carpet event, he took to Instagram to share a preview of the film.
In the caption, he wrote that he was very proud of his son. Another person very important in Patrick's life was present: Abby Champion, his girlfriend. She was posing next to him for quite a long time.
When asked, Patrick revealed that it was a different feeling given the fact that he usually is in such events supporting his mother or father, but that it felt great to have them support him on a project of his own.
'My dad and my mom always just want me to follow my passion and what I love and write my goals down and utilize every day to make them become a reality.'
Patrick Schwarzenegger, ET Online, March 15, 2018.
Please fill in your e-mail so we can share with you our top stories!