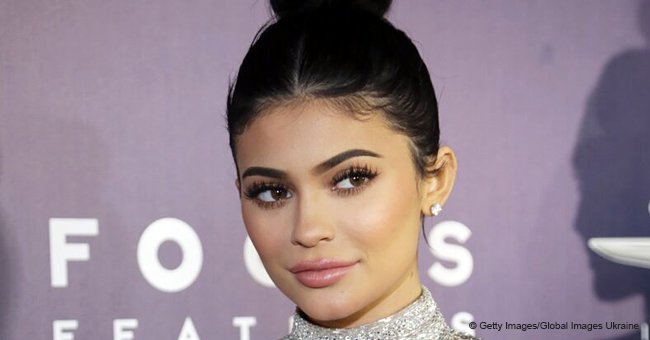 Kylie Jenner warms hearts as she shares pic of baby Stormi looking cozy in a woolen onesie
- AmoMama has just learned from Instagram and Daily Mail that reality television star Kylie Jenner recently delighted her followers with a recent video of baby Stormi.
- The adorable video showed baby Stormi all bundled up in a cozy tan woolen onesie to protect her from the cold.
- This picture comes a few days after Kendall Jenner explained how the birth of Stormi has made her closer to Kylie.
Kylie Jenner became a mother for the first time at the age of twenty just last month.
Since then she has proved herself to be a very capable mother to baby Stormi with doting pictures of the 'love of her life'.
Kylie Jenner has delighted fans with another glimpse of her adorable baby girl.
This time around, she chose Snapchat as a medium with a picture of one-month-old baby Stormi looking cute in a woolen onesie.
Baby Stormi is very beautiful and adorable and she didn't disappoint with as she appeared peaceful when sleeping with her arms stretched out.
Stormi looks super snug despite the beige garment being a little roomy for her tiny frame.
In a second snap, Kylie showed off her matte brown manicure as she cradled her only child on her lap.
A doting mother, Kylie's new baby has already been able to cement the bond of friendship between Kylie and her immediate elder sister Kendall.
Kylie's sister Kendall told the April issue of Vogue that she is thrilled her sibling has welcomed her first child and they have bonded over it.
'It's already made us even closer,'
said the catwalk queen, who also confirmed that she is not gay, is dating basketball star Blake Griffin and wants to start her own family when she is about 28 or 29 years of age.
'It's not that it's more exciting than any other births in the family—it's different exciting because she's my baby sister who I grew up with,''We all grew up in twos: Kourtney and Kim grew up together; Rob and Khloé; Brandon and Brody; Burton and Casey, and then Kylie and I'.
'So to see my best friend growing up have a baby? It's already made us even closer.'
The two sisters have been seen together in recent months and this past Wednesday Kylie uploaded a snap of the two of them.
They were pictured lounging lazily on the hood of a Mercedes Benz G-Wagon.
Do you think Kylie and Kendall are truly close or is it all for the cameras?
Let us know in the comments below.
Source: Instagram, Daily Mail.
Please fill in your e-mail so we can share with you our top stories!