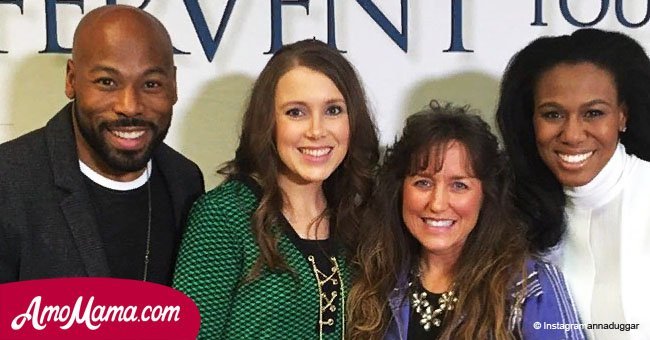 Duggar family member might have broken one of the most cardinal rules: being an actress

Surprisingly, this Duggar family member may have appeared in a television series back when she was a child.
This very controversial family is in the news again and this time it involves Josh Duggar's wife, Anna Duggar. According to an Inquisitr report, fans noticed something bizarre about her IMDB page recently.
Anna is in the headlines because some fans have discovered that Anna was maybe once a part of a very popular television series back when she was a child. The television show in question would be Married With Children.
The mother-of-five, whose maiden name is Keller, is listed as Karin in the popular series and only appeared on one episode, 'I can't find any pictures but it's on her official IMDb page so it definitely happened. So freaking weird, right?!' commented one of her fans.
Anna would've been just 4 years old at the time, and many fans have cited her age as evidence that it's impossible for her to have appeared on the 90's show.
But several others have pointed out that Anna's role was not a speaking part, and she may have appeared in a group shot with other children. Because the character is linked to her official IMDB page, it makes some believe that this actually happened.
Although Anna wasn't raised as a Duggar, her home life was not all that different from her in-laws, but it is possible that her family wasn't as religious when she was very young as she is now, so that might explain her momentary acting career.
Anna Duggar has received plenty of scrutiny for other things in her life, however. The reality TV star has stuck by her husband, Josh Duggar, even after he cheated on her with several different women, as divorcing would go against their religion.
Needless to say, the brief acting career is hardly the biggest scandal that Anna's been involved with. But it would be amusing to find out with certainty that she starred in a show about a miserable marriage decades before she crossed paths with Josh.
Please fill in your e-mail so we can share with you our top stories!