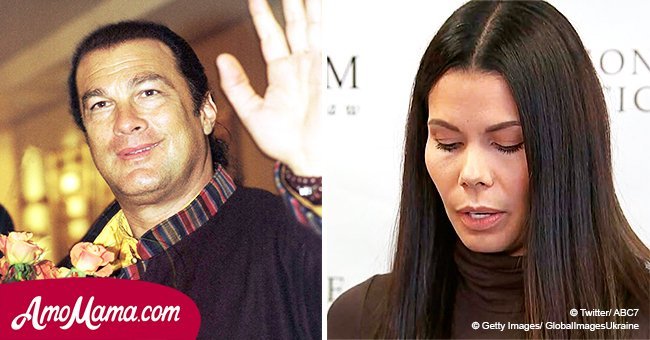 Two sexual assault victims who accused Steven Seagal share scary details of an alleged rape

Two women who accused Steven Seagal of sexual assault detailed their alleged experiences.
In a press conference with attorney Lisa Bloom, two women came forward with harrowing allegations against the '80s action star, who they claim assaulted them when they were still teens.
Actress Regina Simons said she was 18 and an extra on Seagal's 1994 film On Deadly Ground when he allegedly raped her, while former model Faviola Dadis said she filed a police report about Seagal in the last month, saying he groped her during an audition in 2002.
Simons recounted on Monday, March 12, how Seagal allegedly led her into his bedroom, began kissing her, undressed her and proceeded to assault her while she kept her focus on a photo of the actor's then-wife Kelly LeBrock.
According to an Inquisitr report, both women said they were too scared to come forward with their stories because of Seagal's celebrity status as an action hero in the 1980s and 1990s.
But years later, and inspired by the 'Me Too' and 'Time's Up' movements, both women decided to speak up. About a dozen others including Jenny McCarthy and Portia de Rossi have also accused Seagal of sexual harassment.
Faviola Dadis also recounted her own alleged assault. 'In 2002, when I was only 17 years old, I was sexually assaulted by Steven Seagal,' she said. Dadis claimed that she suppressed so many memories of the incident that it wasn't until speaking with her psychologist that they came back.
Dadis claimed that the night of her alleged assault, Seagal invited her to a private audition for him. The pair met late in the evening, which Dadis claimed she felt was strange but didn't comment on at the time.
Once there, Dadis alleged that Seagal told her he wanted to practice a love scene with her and asked her to strip to a bikini. She claimed that he then pinched her nipples and groped her vaginal area, leading her to tell him, 'This audition is over.'
Dadis has left the entertainment industry since then, and as a Ph.D. candidate in her home country of the Netherlands, it's costing her time and money to now travel to L.A. to speak out against Seagal, she said.
Please fill in your e-mail so we can share with you our top stories!