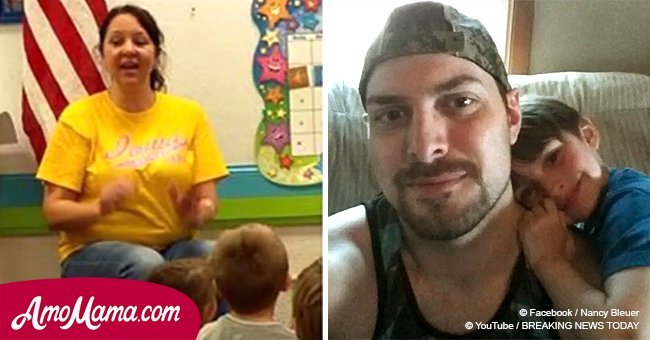 Preschool teacher donates her kidney to a 4-year-old student's father

This teacher deserves an award for doing the unthinkable to help her student and his father.
As reported by Bored Daddy, Nancy Bleur, 54, decided to donate her kidney to Camden's father, Darreld Petersen, who suffered from kidney failure.
Nancy teaches kindergarten at Washington Charlie Brown Preschool & Childcare in Mason City, Iowa.
The teacher noticed that her 4-year-old student, Camden, wasn't his usual self one day. She then decided to have a little chat with him to inquire what the problem was.
Camden confided in her that his 34-year-old father, Darreld, was very sick. Nancy was worried and she immediately gave Darreld a call.
That's when she found out that the boy's father was suffering from kidney failure. Darreld's kidneys were only functioning at 20 percent of their capacity.
Camden was terrified when he saw his father looking very ill during his dialysis treatment, according to Bored Daddy.
Though Darreld was a complete stranger, Nancy decided to help in any way she could. She offered him one of her own kidneys. Luckily, she was found to be a perfect match when she was tested as a possible donor.
"I was really excited about it. I was ecstatic. I don't know what I would've done for closure if I wasn't [a match]," Nancy said.
Shocked and delighted with the teacher's offer, Darreld told ABC News, as reported by Bored Daddy, that such kindness is amazing.
"There are people waiting every day for a kidney, for an organ in general. I wish there were more people like her. She's giving me a second chance at life," he said.
Darreld and his family were very grateful for her selfless gift. They decided to pay a surprise visit to Nancy in the school. They even gave her flowers.
Meanwhile, Camden was extremely happy about the fact that his teacher was willing enough to make sacrifices for his father's life.
Please fill in your e-mail so we can share with you our top stories!