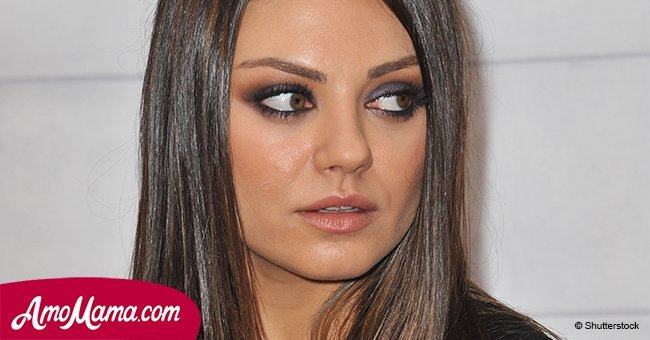 Mila Kunis was spotted looking upset in pajamas sparking family issues

Mila Kunis is devoted to her family, but she enjoyed some quality time alone as she stepped out in Los Angeles last Monday.
The 'That 70's Show' actress caught people's eyes in a statement t-shirt that said 'Love, Love, and More Love' as she ran errands without her husband and their two children.
She donned peach jogging bottoms along with her statement shirt, giving her a casual look. She topped things off with a gray cardigan as she got out of her car.
Trying to keep her lowkey appearance, the star opted for no make-up, and wearing her hair in a tight ponytail.
Mila and Ashton have been married for nearly three years after they had a simple ceremony in July 2015 in Oak Glen, California.
The couple first met when they starred in the same show, 'That 70's Show' from 1998 to 2006.
However, things only caught fire when Ashton split from his wife of six years, Demi Moore, 55, in 2011. Their divorce was finalized in 2013.
Although Mila and Ashton have two children, Wyatt and Dimitri, Kutcher recently revealed that they will not be leaving their fortunes to their kids.
Speaking on Dax Shepard's new podcast, the actor explained that they would not be setting up trust funds for their children as they want them to value what they have and learn the meaning of success and reward.
In the podcast, he stated what he planned to do with his money, which was not to be given directly to his children.
"We'll end up giving our money away to charity. My kids are living a really privileged life and they don't even know it and they'll never know it."
However, it seems Ashton won't be abandoning his kids with no money at all. He explains that if his children want to invest in something he thinks is worthwhile, he would gladly help.
"If my kids want to start a business and they have a good business plan, I'll invest in it."
Ashton wants his children to grow up motivated to have what they had while growing up.
Like her husband, Mila shared the same sentiments during an interview with Marie Claire, saying that her goal is to become a role model for her daughter.
"What I want my daughter to learn from me is the value of hardwork."
Please fill in your e-mail so we can share with you our top stories!