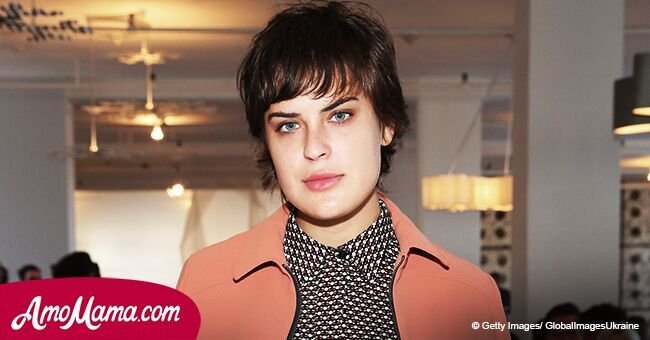 Bruce Willis' grown up daughter Tallulah flashes her fabulous body shape in plunging pink swimsuit

Tallulah Willis has hit the Bahamas for a quick getaway with her friends, and flaunts her gorgeous figure in bright swimwear.
The youngest daughter of Hollywood actors Bruce Willis and Demi Moore seemed to be having the time of her life as she shared photos of her in her best swimwear. The 24-year-old model enjoyed another day tanning herself in the beautiful sun-soaked location.
Tallulah looked stunning in a plunging pink swimsuit as she posed in the sun.
A natural beauty, she kept her skin free from make up, and allowed her orange locks to fall in easy beach waves.
The youngest Moore-Willis flashed a hint of sideboob, having much confidence while she held a can of coke in her hand.
"Thank god she finally got over her shyness."
Tallulah was once the subject of heavy critique. She has previously spoken out about her path to sobriety and the bullying that she had to endure while she was a teenager.
"I had people when I was 13 telling me how ugly I was, and how could two beautiful actors create such hideous troll children?"
She confided in Katie Couric in 2014 after her quick stint in rehab. The star ensures her fans now though that she has taken care of her issues and it caused people to look up to her.
"So many people are telling me, 'you inspired me'. I guess I didn't understand that this is such a communal fault line, that is running through every individual on this planet that whether it's hidden or not hidden, that we all feel this certain sense of insecurity."
Last July, the model shared an honest message about how far she's come.
Posting a photo of herself looking very thin and with a cigarette on her mouth, she wrote on her Instagram:
"3 years ago I was a malnourished string bean with aches that echoed through my soul. However, the internal cries to tend my most blistered and deep wounds repeatedly fell on deaf ears. I did not value myself, my life, or my body and as such I was constantly punishing for not being enough."
Expressing herself is not an easy feat, yet she believed that such matter should be addressed given that many teenage girls experience the same thing around the world.
"Self annihilation fueled with medicating left me a shell, and the world on mute. I was hoisted from my hole, (one so deep I was certain we were nearing the Earths magma core) on the backs of powerful human beings that I will forever be indebted [to], and on that day my life was gifted back to me."
Proud of her new found sobriety, Tallulah shared the message hoping it would reach girls around the world to try and live their lives to the fullest.
"I love the girl in this picture, I cry for her, and I mourn her lost years. She is inside of me always and I must never let her slip too far. I don't push any agenda, I can only speak for my path and staying sober has been far and beyond the most important thing I've done in my wee 23 years."
Please fill in your e-mail so we can share with you our top stories!