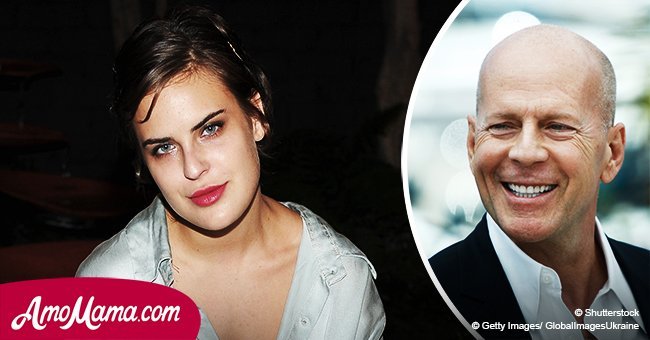 Bruce Willis' grown-up daughter Tallulah shares cute throwback photo of herself with father
Tallulah Belle Willis celebrated her father's birthday by posting a throwback picture of herself with her father.
She shared the funny but cool Instagram photo and wrote:
"happy birthday Pa. You a goon, and I think that's absolutely fantastic. (Clarification: this is 2015). [sic]"
The photo showed actor Bruce Willis shaving her daughter's hair while Tallulah took a selfie as he was doing it. Fans found it amusing and a lot of them greeted the 63-year-old father of five.
One fan said, "Hahaha. This is so cute" while another follower wrote:
"Ha! Love it. Your Pa has always been a class act. Love this bonding time."
Another one commented:
"Happy Birthday to your dad. Hahaha love your spirit."
Other followers found their resemblance to each other and said, "You are like a clone of him! So cool" and a few still admired the handsome Die Hard actor and agreed that he is a beautiful goon.
Bruce Willis is best known for his roles in high-octane action films. His most memorable character is John McClane in the Die Hard movie franchise, which actually had five films from 1998 to 2013.
He also starred in other blockbuster movies like Pulp Fiction, The Fifth Element, 12 Monkeys, Armageddon, The Sixth Sense, and Unbreakable. He has appeared in more than 60 films in his impressive career and he is also a singer who has released three albums.
He currently has 7 films lined up including Glass, Brooklyn, Motherless, Reprisal, and Die Hard: Year One. Surely, all his fans are waiting with excitement.
Let us know what you think of Tallulah's birthday post for her father!
Please fill in your e-mail so we can share with you our top stories!