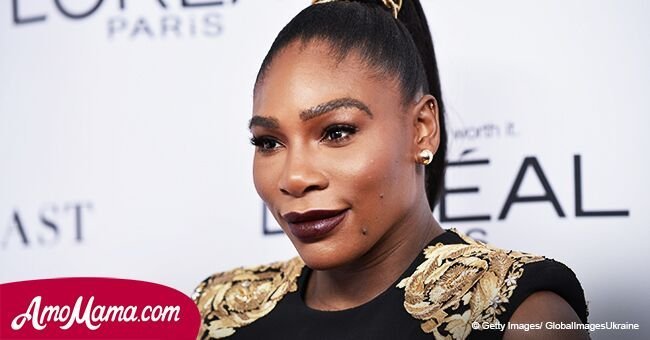 Serena Williams, 36, flashes her toned legs in a black mini dress during her recent appearance
Miami Open, a two-week tennis tournament held in Southern Florida, will have a new home: Hard Rock Stadium. As Daily Mail reports, the project is expected to be completed in 2019. Alongside WME/IMG co-President Mark Sharpiro, the Miami Dolphins owner Stephen Ross, and the Miami Open Tournament Director James Blake, Serene Williams participated in the groundbreaking ceremony, signifying the start of the project. The 36-year-old champion was the only woman in the team and she wore her usual choice of clothing that flatters her figure: an A-line sweater dress and a pair of Air Jordans.
The stadium, which is also home to the Miami Football Team, recently underwent a $500 million dollar renovation, will be transformed into a tennis arena for the Miami Open each year for two weeks. There will be a total of 30 match courts and seating for more than 32,000 patrons. In the past, the tournament has always been held in Crandon Park Tennis Center in Key Biscayne.
Speaking to the press about the project, tournament director James Blake told ESPN said: 'We'll have more practice courts, better facilities, better locker rooms, cutting edge video screens, more parking. Every single aspect is going to be an upgrade.'
Asked by Local 10 News how she felt about the move to new grounds, Serena said it was heartbreaking but advancement.
'When I heard they were going to move it, it literally broke my heart. I'm so happy this tournament is still going to be in Miami. I feel like Key Biscayne had some wonderful memories, especially for me, so many iconic moments (have) happened there. And now I feel like it's time to start new memories and new moments, and I feel it's going to be just as great.'
Here's to new beginnings! Talk to us in comments.
Please fill in your e-mail so we can share with you our top stories!