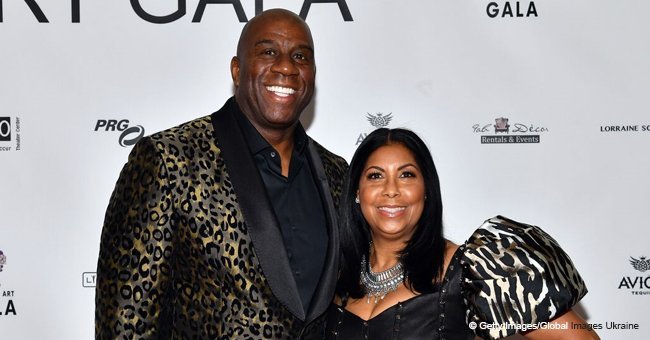 Magic Johnson's wife shares photo with their granddaughter. The girl looks like her grandpa
- AmoMama just got a lovely picture of Magic Johnson's wife, Earlitha Kelly and their granddaughter, from Instagram.
- The picture of them was taken while the granny was on a nice night out with her grandchild and her friend and according to her caption, they had fun.
- They looked so lovely in their comfy evening wears and Gigi is the spitting image of her granddad.
Earlitha, over the years, has proven to be an amazing woman, wife, mother, and grandmother and this recent picture has only given her more stars in the 'Grandmum of the year' department.
Well, it's not everyday grandmums go to see a Broadway Disney show with their grandkids and their friends so once again, she has managed to warm our hearts.
Over the weekend, Earlitha, Gigi and her friend Peyton all went out for dinner and from there, headed to the theatres to watch the famous Disney's animation, Aladdin, live on stage.
Earlitha had shared the lovely picture of three of them, on Instagram as she told us about their night in the caption, ending it all with the hashtag, 'family is everything'.
As can be expected, they sure had fun and we know the girls must have been thrilled, their night made in a memorable way.
Earlitha is truly one of those women who just never stops warming our hearts with all the light and warmth she always manages to share from inside of her.
She and former professional basketball player, Magic Johnson have been married for 26 years and counting.
In 2016, they marked their silver jubilee with a vacation in Italy and a black-tie affair party in Yacht Club Monaco, with close friends and family in attendance.
In that same 2016, she released a memoir 'Believing in Magic', in which she told her story, discussing several journeys like marriage, motherhood, faith and getting through her husband's illness.
It had been only a few days after their wedding in Lansing, Michigan, when Johnson had revealed his positive HIV status but Earlitha had chosen to stay, because of her love for him.
So many years after and they have made a wonderful family with two kids, EJ and Elisa and their beautiful grandkids and are still going beautifully strong.
Indeed, hers is a story that truly inspires.
What do you think about Earlitha Kelly Johnson?
Let us know in your comments below.
Source: Instagram
Please fill in your e-mail so we can share with you our top stories!