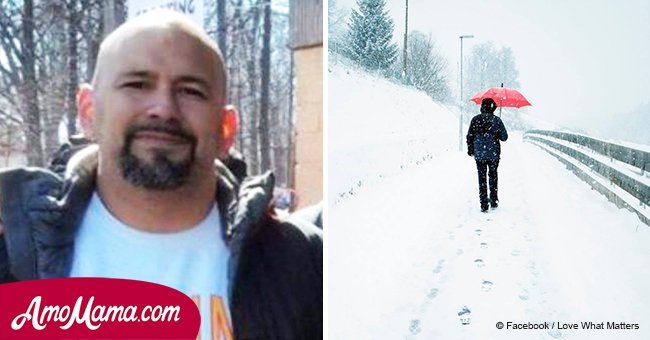 Man sees kid trudging through bitter cold to minimum wage interview, gives him a job
A restaurant owner is impressed by a young boy's dedication for a job interview, then decides to hire him by himself.
Restaurant owner Art Bouvier offered a job to a young boy, Jhaquiel Reagan, after finding out that he was making a journey of over ten miles through the snow on foot for an interview to a minimum-wage job.
According to Uplifting Today, Bouvier was impressed by the work ethic of the young boy and he did not want to let a young person with such determination slip from his hands.
Bouvier later took to Facebook to share the inspiring story of the boy. He revealed that he met Reagan for the first time when he walked into the snow-filled parking lot of his family-owned restaurant, Cajun, at Evansville, Indiana.
The boy had stopped by to simply ask Bouvier how much longer it took to reach 10th and Sherman. He then told him that he was still 6 to 7 miles away. Bouvier also suggested him to take the bus rather walk on foot because of all the 'ice and slush.'
Regan then simply thanked him for his information and continued walking toward his destination. Bouvier had been quite fascinated by this because he had expected the boy to ask for the money for the bus, but he did not.
About fifteen minutes later, Bouvier was done with his work at the restaurant and he had his wife, Colleen, pick him up. They were both heading out in the same way that the boy had gone and eventually they saw the boy walking on his own.
Bouvier asked his wife to pull over and gave Regan a lift. When they got talking, the boy only then revealed him about his motive for walking through the thick snow to such a faraway destination.
Moved by the boy's determination for a job that didn't even pay well, Bouvier asked Regan for his phone number and stated that he would like to offer him a job at his own restaurant.
That way, the boy only had to walk a couple of miles to work rather than walk ten miles. Regan now has a fantastic job and his future looks more secure than ever.
Please fill in your e-mail so we can share with you our top stories!